This post may contain affiliate links. Read my disclosure policy here.
This Ice Cream Sandwich Cake is an easy to assemble, no bake dessert will quickly become an all time family favorite!
We love easy desserts! This M&M Ice Cream Sandwich cake is probably the easiest one we have, but some of our other favorites are our Caramel Apple Crisp Bites (omg they are so good) and our Monkey Bread Recipe (I am obsessed with all things Monkey Bread now)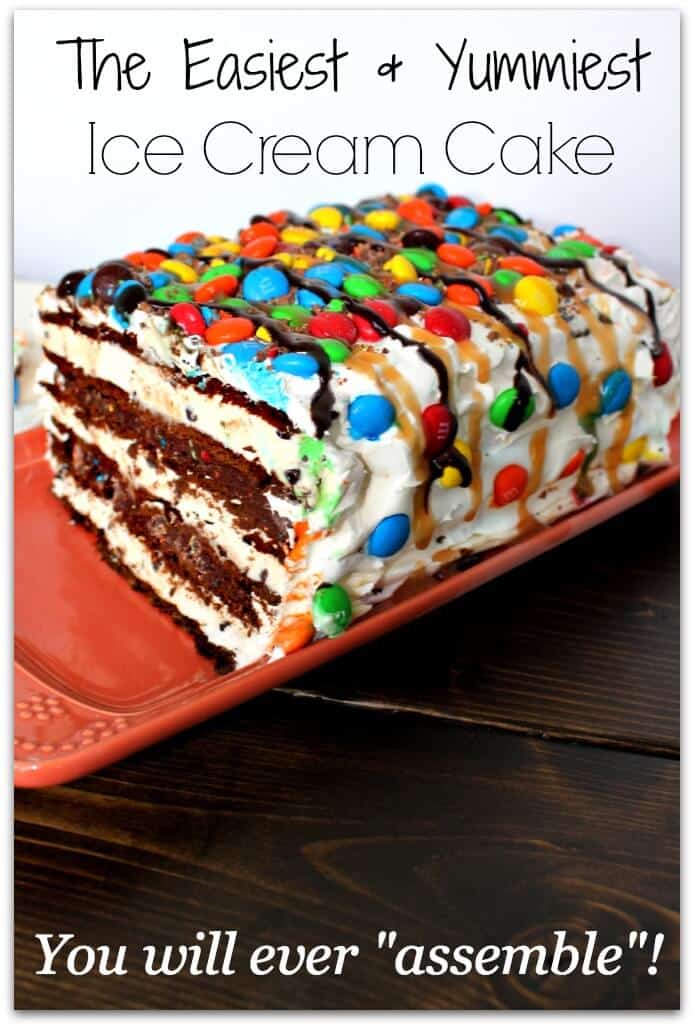 How to make an Ice Cream Sandwich Cake
This Ice Cream Sandwich Cake is an honest to goodness show-stopping dessert that you don't even have to "cook"!  It is more about the "assembly"  – which I wrote the book on!
My cooking is more of an assembly process – or we could even call it a Food Hack!!  The part that resembles cooking the most is the fact that you have to mix together Cool Whip and chocolate pudding mix!  I kid you not!!  If I can make this – ANYONE CAN!!!
This recipe is, no joke, one of my most requested desserts from my kids! I honestly love it too. I think the more caramel sauce you put on it the better!
If you like easy desserts, another great one is this S'mores Snack Mix. It is made with Golden Grahams and is also super easy to make. It let's you enjoy the deliciousness of s'mores all year round!
See below for How-To video and Full Recipe!
You may have already tried my No Bake Ice Cream Sandwich Cake with Oreo Cookie – which was a huge hit!  BUT this M&M version is totally off the hook. The easiest dessert that I make and my kids just love it. It is a great summer treat when you are entertaining a crowd!
INGREDIENTS NEEDED TO MAKE YOUR ICE CREAM SANDWICH CAKE:
Ice cream sandwich cakes
M & M's
Hot fudge (I think Sanders Hot Fudge is by far THE BEST IN THE WORLD!!) (affiliate link)
Cool Whip
Jell-O instant chocolate pudding
Ice Cream Sandwich Cake
This easy to assemble, no bake dessert will quickly become an all time family favorite!
Prep Time: 15 minutes
Freeze: 4 hrs
Total Time: 15 minutes
Course: Dessert
Cuisine: American
Servings: 12
Ingredients
12 ice cream sandwich cakes
1 bag M & M's (take 3/4 of the bag and crush - leave the other 1/4 bag to decorate)
1/2 cup hot fudge
1 8 oz. tub Cool Whip (thawed and divided)
1 package Jell-O instant chocolate pudding
Instructions
WHISK fudge topping and 1 cup Cool Whip in medium bowl until blended.

Add dry pudding mix; stir 2 min. Stir in M&M's (I like to leave a little bit of the crushed M&Ms out to sprinkle over the top of the cake).

ARRANGE 4 ice cream sandwiches, side-by-side, on 24-inch-long piece of foil; cover with half the Cool Whip mixture. Repeat 2 more layers. Top with remaining sandwiches.

Frost with remaining Cool Whip; sprinkle a little of the crushed M&M's over the top and press remaining M&Ms into top and sides of dessert.

Wrap loosely with foil. FREEZE 4 hours.

Drizzle with chocolate sauce & sprinkles (cause sprinkles make everything pretty!)
Nutrition per serving
Calories: 241kcal
Fat: 7g
Saturated fat: 2g
Cholesterol: 14mg
Sodium: 248mg
Potassium: 135mg
Carbohydrates: 40g
Sugar: 23g
Protein: 3g
Vitamin A: 3.5%
Calcium: 6.3%
Iron: 2.2%

Check out the Oreo Cookie Ice Cream Sandwich Cake version!!:
Looking for some other delicious and easy desserts?:
Grandma Gail's Ice Cream Cake is the perfect dessert for the summer. It is very easy to make (of course, because I only make easy things!) and it is beyond delicious!
Oatmeal Cookies – these are a healthy-ier version – I am not saying it is like eating your veggies, but it is a better option than your standard homemade cookies!
Sign up for the Princess Pinky Girl Newsletter and automatically receive our latest & greatest delivered right to your inbox! Follow Princess Pinky Girl on Facebook, Twitter, Pinterest and Instagram for all of the newest recipes, crafts, travels and updates!
If you make a Princess Pinky Girl creation make sure you take a picture and share it on Instagram with @princesspinkygirl ! I love seeing your masterpieces!