The is the Best Butterbeer recipe ever! You can make the same great tasting Frozen Butterbeer from Universal Studios right from home!
Jump to Recipe
Table of Contents
This is the most authentic Butterbeer Recipe ever! With only 7-ingredients, you can make it from home and get that same great taste as the Frozen Butterbeer from Universal Studios Wizarding World of Harry Potter and it is easy to make!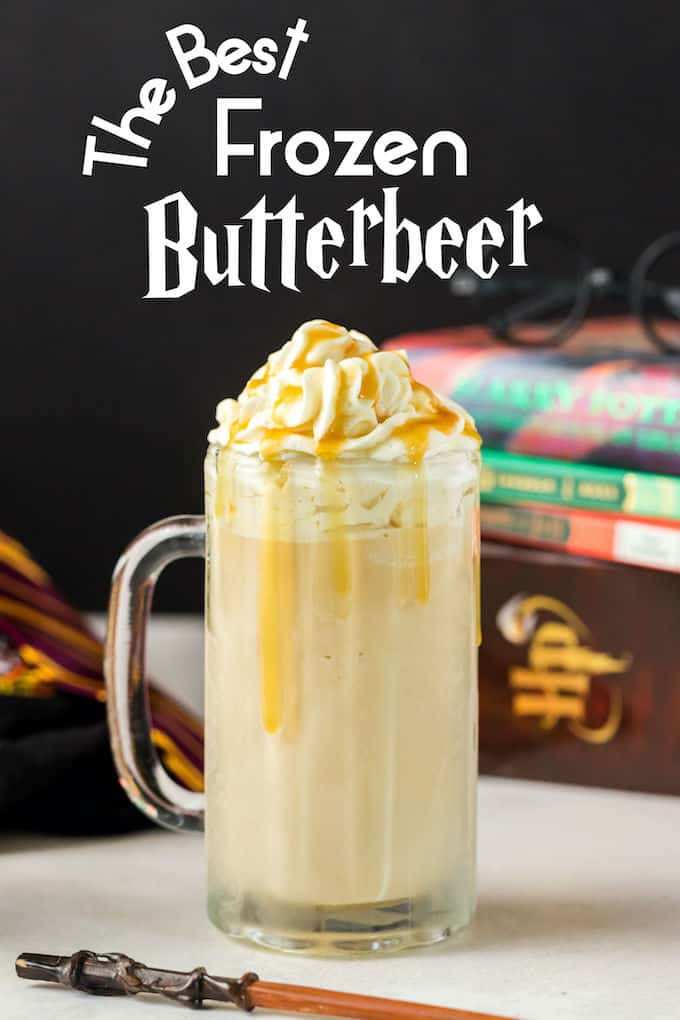 Harry Potter Butterbeer Recipe
If you have been to the Wizarding World of Harry Potter theme parks at Universal Orlando, then chances are you have tried the Butterbeer! Frozen Butter beer or Hot Butterbeer…that is the question!
Ready to have a frozen butterbeer any time you want it from the comfort of your home? We do too!
Not a problem… here is the very best copycat Butterbeer Recipe that Harry Potter fans have been waiting for! We tried all of the versions and we were obsessed. We just knew that we had to figure out how to make this tasty drink at home!
This is the perfect addition to your next Halloween party or Harry Potter birthday party!
Universal has a regular version with its delicious foamy topping, a hot version that is perfect for a cold winter day, but our favorite version was the frozen butterbeer. It was beyond amazing.
Ingredients
vanilla ice cream (splurge and use the full-fat version!!)
2 cans of cream soda (1 will be used to make 2 cups of cream soda ice cubes.)
imitation butter extract
rum extract
butterscotch syrup or butterscotch ice cream topping
salt
whipped topping (try our homemade whipped cream recipe!)
How to make a homemade Butterbeer
There are tons of recipes out there to make Butterbeer, but none are as easy as this one! Grab your chocolate frogs and get ready for the frozen version for your next Harry Potter themed party or just to enjoy with the family!
Freeze the soda: The only thing you really need to do to prep is freezing your cream soda into ice cubes for a few hours before you are ready to make this. Just pour a cup of cream soda into your ice cube trays and freeze until frozen (about 3-4 hours).
Blend: Using a blender, take about 2 cups of the cream soda ice cubes, ice cream, imitation butter extract, rum extract, 1 cup of cream soda, butterscotch topping, salt and blend until smooth!
Add Toppings: Pour into your favorite mug (we like to use a frosted mug) top with whipped cream and drizzle with butterscotch topping and enjoy!
Planning a trip to Universal Orlando? Then be sure to check out my Tips for Visiting Universal Orlando and Tips for Visiting Universal Orlando During the Holidays! You won't want to go without reading these first!
Frequently Asked Questions
What is Harry Potter Butterbeer?
Butterbeer was a beverage from the popular Harry Potter series. It was described as tasting a little bit like butterscotch. It was served in the Harry Potter books at the Three Broomsticks in Hogsmeade.
What is Butterbeer from Universal Studios made of?
No one really knows for sure, because Universal won't release the official ingredients. However, our version base is made from cream soda with some delicious add-ins to give it just the right flavor.
Does Butterbeer contain alcohol?
In J.K. Rollings Harry Potter books, it is said that butterbeer contains the slightest bit of alcohol, but we decided to make it without any alcohol so the kids could enjoy it!
How to make an alcoholic version of Butterbeer?
While our version is totally alcohol-free, I wouldn't be opposed to adding a little butterscotch schnapps or salted caramel vodka! Just add a little in and blend it up with the rest of the ingredients!
What can I substitute from rum extract?
If you don't have rum extract, you can use vanilla in its place. You could also substitute a brown liquor like an actual dark rum (don't worry, you only use a tiny bit). Just swap it for the same amount as in the recipe.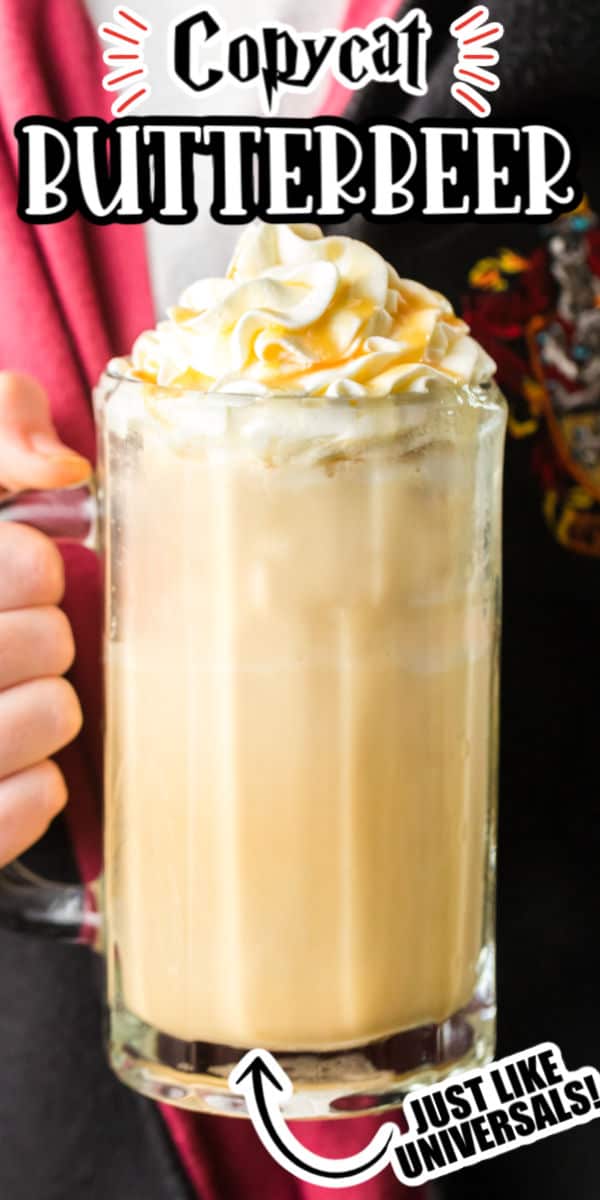 Other Easy Harry Potter Recipes
Best Butterbeer Recipe
The is the Best Butterbeer recipe ever! You can make the same great tasting Frozen Butterbeer from Universal Studios right from home!
Ingredients
2

cups

vanilla ice cream

splurge and use the full fat version!!

2

cups

cream soda ice cubes

see below on how to make them

2

teaspoons

imitation butter extract

1

teaspoon

rum extract

4

tablespoons

butterscotch topping

1

cup

cream soda

1

pinch of salt

Whipped cream
Instructions
Pour one can of cream soda into ice cube trays and freeze at least 4 hours

Once the cream soda is frozen, measure 2 cups of cream soda ice cubes and place in blender

Add in ice cream, imitation butter extract, rum extract, 1 cup of cream soda, butterscotch topping, salt and blend until smooth

Pour into your favorite frosted mug

Add whipped cream and drizzle with butterscotch topping
Nutrition Info
Calories:
312
kcal
|
Carbohydrates:
48
g
|
Protein:
2
g
|
Fat:
7
g
|
Saturated Fat:
4
g
|
Cholesterol:
29
mg
|
Sodium:
82
mg
|
Potassium:
131
mg
|
Sugar:
46
g
|
Vitamin A:
280
IU
|
Vitamin C:
0.4
mg
|
Calcium:
97
mg
|
Iron:
0.2
mg
Originally posted December 1, 2014