SPOILER ALERT – Don't be afraid to go to Universal Orlando during the busy holidays! (These Universal Orlando tips will save you!)
We just got back for the most amazing vacation with our kids! We went to Universal Orlando during the busiest time of the year and it totally rocked!! We have one child in high school and our other two are in 8th and 5th grades. We used to be able to pull the kids out of school for a few days and hit the parks in off season, however, this is no longer an option for us; my kids cannot miss school.
Back in October, Universal Orlando, invited us to come to the Halloween Horror Nights press preview. It was just for my husband and I, my kids were not the happiest – how could we go to Universal without them? We, however, had an amazing time enjoying the park just the two of us – we haven't done that in forever! (see my article about going to Universal without kids :). After that trip, we had such a great time, we knew we had to go back with our kids. When we decided to plan this trip, we asked ourselves are we nuts to go there during the busiest time of the year? The lines and crowds are going to be insane!!!
Let's just say – if you follow a few simple words of advice, you too, will have the time of your life, even during the busiest time of the year!!
This is THE SINGLE most important piece of advice that I can give you! I know you can save money by staying elsewhere, but for the number of times you are going to take this trip, do it right and the benefits fully outweigh the costs.
We stayed at the Hard Rock Universal Orlando and here is what we loved about it! First and foremost, by staying at certain on property resorts, you will receive a Universal Orlando Express Pass – this is your KEY (literally and figuratively) to surviving the holiday lines and it is worth every dollar of the premium you pay at an on-property resort. This Express Pass allows you to skip the regular line and skip the majority of the waits by giving you access to a Express Pass only line which, when we were there, saved us HOURS of waiting time. The Express Pass use is for an unlimited number of times for participating rides and shows – the only attractions that we noticed that this did not work for was Harry Potter and the Escape from Gringotts, Harry Potter and the Forbidden Journey, Hogwarts Express and Olivander's Wand Shop. While using the Express Pass, the longest we waited for any attraction was 20 minutes and this was for The Minion's ride, which had a typical wait time for the normal line of 120 minutes! The typical wait time for us for most rides was 10-15 minutes and some we walked right on! This is unheard of during peak season!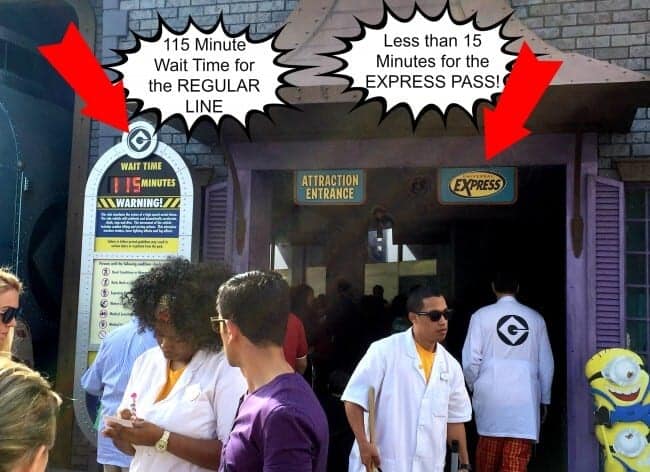 If you are not staying at one of the participating properties, you can actually purchase an Unlimited Express Pass along with your ticket. The price of the pass fluctuates in a supply and demand manner and during the peak time this could run you around $150ish on top of the price of the admission ticket, per person, per day – however, with staying at certain resorts, it is included with your room. What is even better is that you get it for the day you check in and the day you check out – so if you are going to the parks for two days, you can stay at the hotel for one night and get the benefits of the pass for two full park days. It is a super deal and perk! (IMPORTANT note – some of the on-site hotels do not offer this benefit, make sure to double check when you book your room – I know that the Lowes Royal Pacific Resort, Hard Rock Orlando Resort and Lowes Portofina Bay Resort all currently offer it.)
Another great perk when staying on property is that you are able to get early access into the park! The opening times vary, but you get to enter the park 1 hour before the general public. This is great if you want to ride the rides that are not included on the Express Pass.
We absolutely loved the Hard Rock Universal Orlando. In the past we have stayed at the Lowe's Royal Pacific Hotel and the Cabana Bay Beach Resort. All of these hotels have their advantages, but hands down Hard Rock is our top choice.
Hard Rock is only a 5 minute (max) walk from the hotel to the gate at Universal Orlando Theme Park (the closest of the hotels to the park). This was great when we wanted to run back to the room for a bit to freshen up or when we took a quick dip in their amazing pool (did I mention that you can hear music when underwater!!). The rooms were very nice and we were able to fit all five of us in one room (it was tight, but for the amount of time that we spent in the room, it worked out fine). We loved the layout of the bathroom area – there was a shower, toilet and sink and another sink and large vanity outside of the bathroom. This made it much easier to get ready with 5 of us. The rooms were very clean and the queen sized beds were one of the most comfortable that I have slept on in a hotel! There were a ton of food options right in the hotel – we loved the grab and go at Emack & Bolio's Marketplace – it was perfect for our quick coffee and breakfast sandwiches. However, my kids were obsessed with the breakfast buffet at The Kitchen – we ate there one day and we were able to get away with a small lunch at the park.
Rides that were not included with the Express Pass
As I mentioned, there were a few attractions that were not included with the Express Pass – Harry Potter and the Escape from Gringotts, Harry Potter and the Forbidden Journey, Hogwarts Express and Olivander's Wand Shop. You can get up early and use your early access when staying at an on site hotel, but my kids were not having any of those early morning wake up calls – especially given the fact that we were closing down the park at night. So, we chose to go a different route – close down the park and visit these rides when the crowds were thinning down and calling it a night! We were able to get on both of the big Harry Potter rides with less than a 20 minutes wait in the evening. We found that riding the Hogwarts express, however, was best in the morning or early afternoon – late in the evening people were rushing to get to the other parks and the wait times were pretty long. If you child is a Harry Potter fan and wants to visit Olivander's Wand Shop and attend one of the "wand picking the wizard" experiences – try to visit the shop in Diagon Alley, rather than Hogsmeade – they have multiple rooms and the wait time is far less than we experienced at Hogsmeade.
Dinner Reservations
It can be tough to get reservations during the holiday's and peak times at the parks and at City Walk. However, we were able to get seated without much of an actual wait at the newest restaurant NBC Sports Grill and Brew on New Year's Eve with a party of TEN! Here is what we did – so we spent the day in the park and on our way out we stopped at the NBC Sports Grill and Brew and put our name on the wait list. They took our phone number and told us we would receive a text a few minutes before our table was ready. We went back to our hotel, freshened up and relaxed for a few minute – 45 minutes later we got a text and because we were 5 minutes away – we walked back to the restaurant and got seated right away. We loved this restaurant – they had a terrific menu, kids menu, TVs EVERYWHERE (the husband was happy because our team was playing a big game that night – they lost, boo!) the BIGGEST most delicious hot pretzel you have ever had, nachos the size of your head, over 100 beers and they even had foosball tables that you could sit and eat at and play while you are eating!! We ended up eating there two nights in a row and the kids loved it! There is a central reservations number that you can call to make a real reservation (if you are forward thinking and organized like that) and I would totally recommend doing that if you don't have the patience to wait!
Break things up a bit…
We had 2 1/2 days in the parks – after the first day and a half, we were ready for some sitting time! We went to see Blue Man Group and it was the PERFECT break. OMG what a dynamic show. My kids loved it, we loved it….if you haven't seen it, I totally recommend getting tickets and going. There were same day tickets available, even during the busy time and there isn't a bad seat in the house!
Other tips: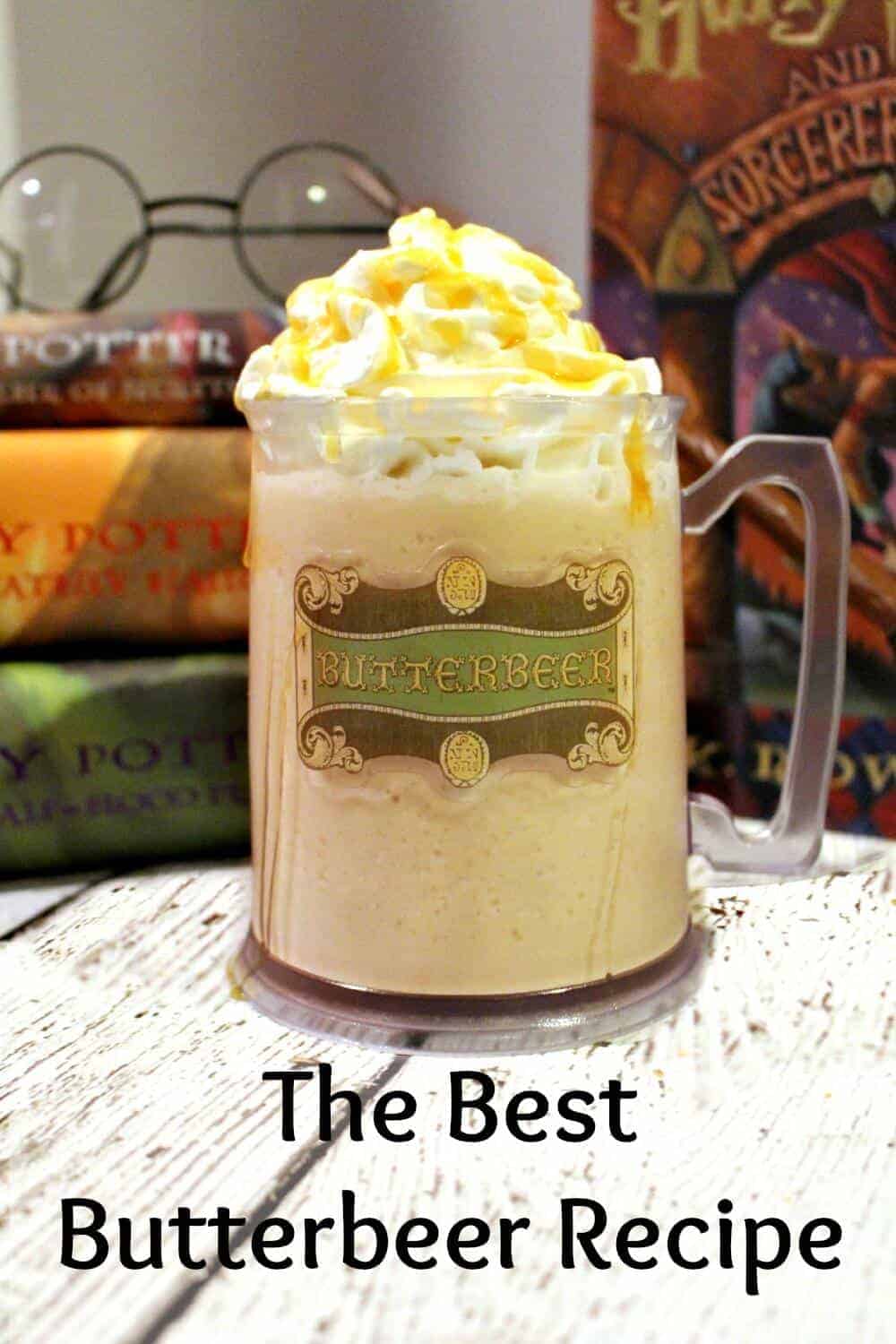 So the moral of the story is if you are considering visiting Universal Orlando during peak seasons, don't be afraid! We did it and we had the time of our life. Yes, it is crowded, but we were able to do everything that we wanted and more! If you are looking for some additional tips for Universal Orlando, be sure to take a look at my post on Tips for Visiting Universal!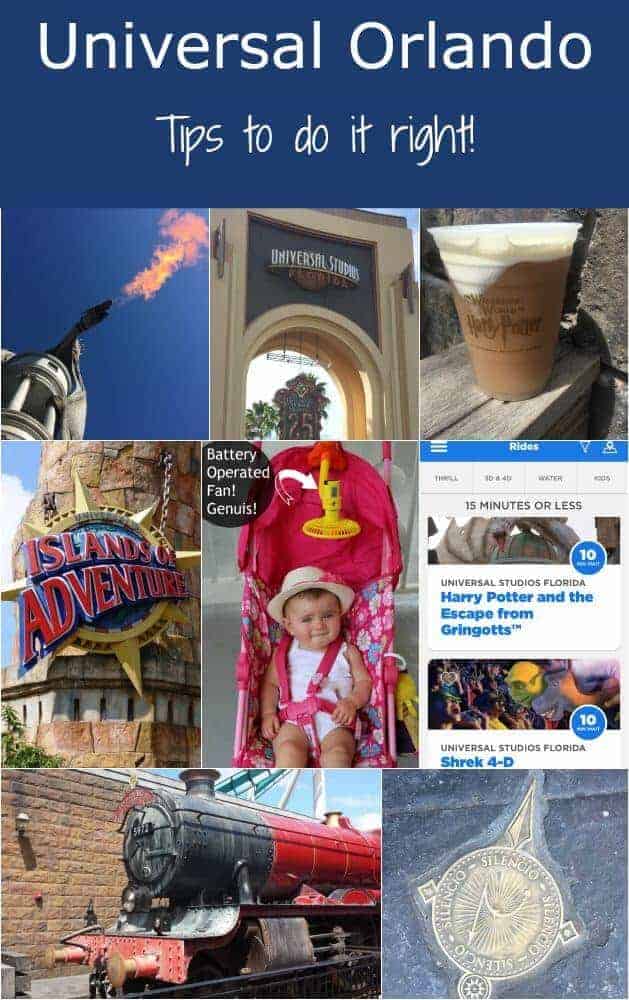 I am a proud partner with Universal Orlando Resorts! While they do sponsor a portion of my trip all views are always mine and mine alone!