This post may contain affiliate links. Read my disclosure policy here.
Rotel Dip is a mouth-watering smooth queso dip recipe with ground beef, Rotel, and Velveeta cheese! This cheese dip is the perfect party food to bring to the big game day!
We are obsessed with all things appetizers!
Rotel Cheese Dip Recipe
I'm from the Midwest where we get pretty excited about football weekends and of course, the party food that goes along with them!
So, when I discovered this simple and delicious Rotel dip recipe with ground beef, I knew I had to share it! It's just so easy to whip up and serve alongside all of your favorite dippable foods!
I promise it'll be a big hit the next time you have all your friends over for a party or to watch the Superbowl. (To be honest, my favorite part of the Superbowl is the snacks, I don't even watch the commercials!)
If you're also a lover of all different types of dips, be sure to check out my other dip recipes.
I've got a dip recipe to please everyone! Beer lovers check out my Beer Cheese Dip! If you favor Southwest flavors, check out my 7 Layer Dip or Taco Dip! For people who are after the classic party dips, check out my Spinach and Artichoke Dip or Buffalo Chicken Dip! (I told you, I get excited about dips!)
What is Rotel Dip
I'm sure you can guess what all of the dips I mentioned above are (if not, check them out!) but I'm guessing that some of you are wondering what the heck Rotel dip even is.
Rotel dip is a nice and easy recipe very similar to a queso dip or nacho cheese dip, and can be made with just three simple ingredients!
For those of you who don't know what "Rotel" is- it's just a can of diced tomatoes packed with a little heat (green chilies)!
Rotel Dip Ingredients
This super simple game-day dip has just three main ingredients!
All you'll need is:
1 pound of ground beef
1 can of Rotel tomatoes (10 oz)
1 box of Velveeta cheese (16 oz) – if you don't have Velveeta cheese, you can substitute any type of processed cheese)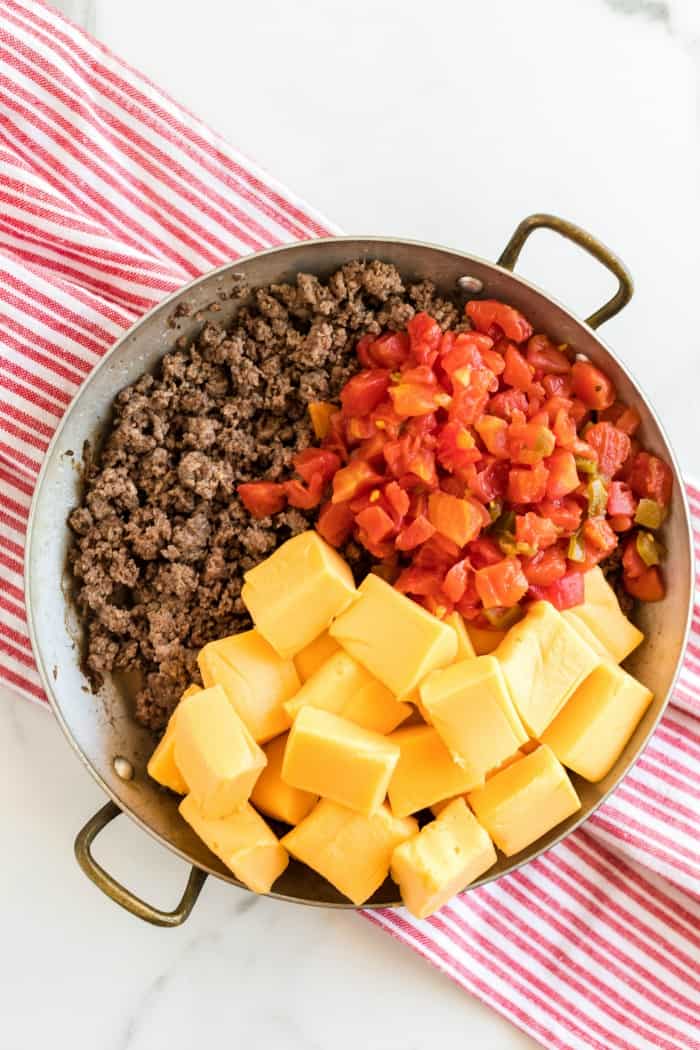 Sometimes I make this recipe with ground sausage or ground chicken or ground turkey instead of ground beef.
If you don't have a can of Rotel on you, you can also substitute a jar of salsa. You won't get the exact same flavor, but it will be pretty close!
Also, if you like a little heat in your dip, I suggest adding some additional green chiles!
How to Make Rotel Dip
As always, I'm on a mission to find the tastiest and easiest recipes for you guys, and this one is no exception!
It's a pretty straightforward dump and stir kind of deal!
Grab a large pot and get it heated on the stove. Add the ground beef and let it brown on medium heat.
When that's done, dump in the whole can of Rotel tomatoes. Stir it up and then add in the Velveeta! I usually cut the Velveeta into chunks first so it melts faster, creating that gorgeous liquid gold queso dip we all know and love. (Cue the drooling!)
Once the Velveeta is completely melted, your dip is ready!
Serve warm along with your favorite dipping foods!
At my house, tortilla chips are always our favorite go-to, but I also make sure to cut up plenty of veggies to serve alongside this dip too (carrots, celery, snap pea pods, etc.) Other favorites include pretzels, crackers, or any flavor of potato chips!
How to Make Rotel Dip in the Crockpot
Making this dip in your crockpot is easy and practical!
I love making this in my crockpot so I can keep it warm during parties or the big game!
To make it in the crockpot, just brown the ground hamburger meat in a frying pan then dump it in your slow cooker along with the can of Rotel tomatoes and the Velveeta cheese.
Let it sit on low heat until the cheese is completely melted and give it a stir to combine through.
Your guests won't be able to get enough of this yummy dip!
How Do You Thin Rotel Dip
If you find that the consistency of your dip is far too thick (let's face it, no one wants a dip that breaks their chip in half when you try to scoop it! Party fail!) it's an easy fix to thin it out.
While your dip is still on the stove or in the crockpot, add in small amounts of milk over medium-low heat until you get the desired consistency you're looking for.
Feel free to test your batch, often!
If you find that you have leftovers, first ask your friends what's wrong with them, and then cover and store in your fridge for up to a week!
You can also freeze Rotel dip for up to 3 months!
More Easy Appetizer Recipes
Serve this delicious dip alongside our Sherbet Punch Recipe – also perfect to serve a big crowd!
Rotel Dip
Rotel Dip is a mouth-watering smooth queso dip recipe with ground beef, Rotel, and Velveeta cheese! This cheese dip is the perfect party food to bring to the big game day!
Cook Time: 20 minutes
Total Time: 20 minutes
Course: Appetizer
Cuisine: American
Servings: 8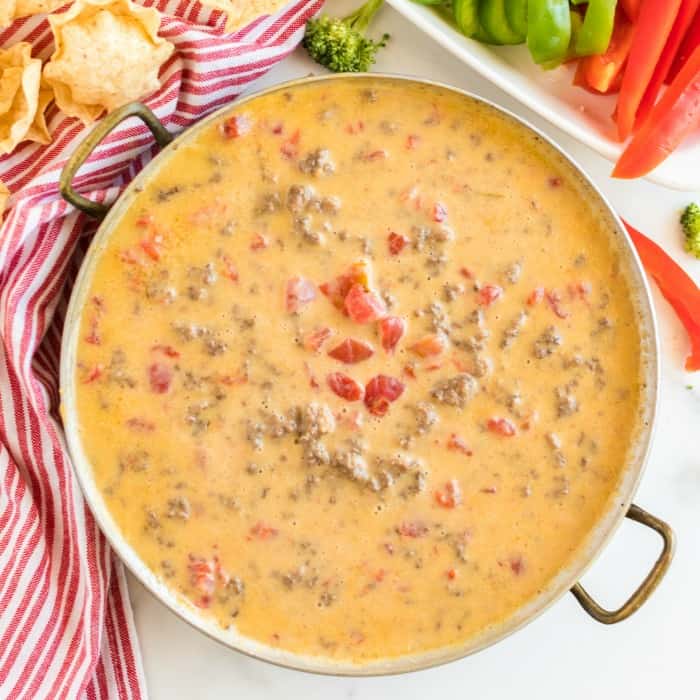 Ingredients
1 pound ground beef
1 10-ounce can Rotel tomatoes (10 oz)
1 16-ounce box Velveeta cheese (16 oz)
Instructions
Place the ground beef in a large pot on the stove over medium heat. Brown the beef until no longer pink.

Cut the Velveeta into chunks (this will help it melt faster)

Add the whole can of Rotel tomatoes and stir in the Velveeta cheese. Stir frequently until the cheese is completely melted.

Transfer to a serving bowl and serve warm along with your favorite dipping foods!
Recipe Video
Nutrition per serving
Calories: 78kcal | Fat: 3g | Saturated fat: 1g | Cholesterol: 35mg | Sodium: 39mg | Potassium: 196mg | Carbohydrates: 1g | Sugar: 1g | Protein: 12g | Calcium: 5% | Iron: 1% |
Keyword: Dip Recipe, Game Day Food, Party Food
Make your next party a success with this awesome Rotel dip recipe!
Sign up for the Princess Pinky Girl Newsletter and automatically receive our latest & greatest delivered right to your inbox! Follow Princess Pinky Girl on Facebook, Twitter, Pinterest and Instagram for all of the newest recipes, crafts, travels and updates!
If you make a Princess Pinky Girl creation make sure you take a picture and share it on Instagram with @princesspinkygirl ! I love seeing your masterpieces!