The greatest part about the Walking Taco Bar is the clean up - I thought paper plates were easy to clean up - believe me, this one is even easier!
Jump to Recipe
Walking Tacos: The best way to feed a crowd!
Our easy Walking Tacos will be your new favorite way to feed a crowd! What is a walking taco? It's all of your favorite taco ingredients piled into a bag of chips (we love Doritos or Fritos!) Soon to become one of your favorite weeknight meals!
The best part is the clean up – I thought paper plates were easy to clean up – but believe me, this one is even easier!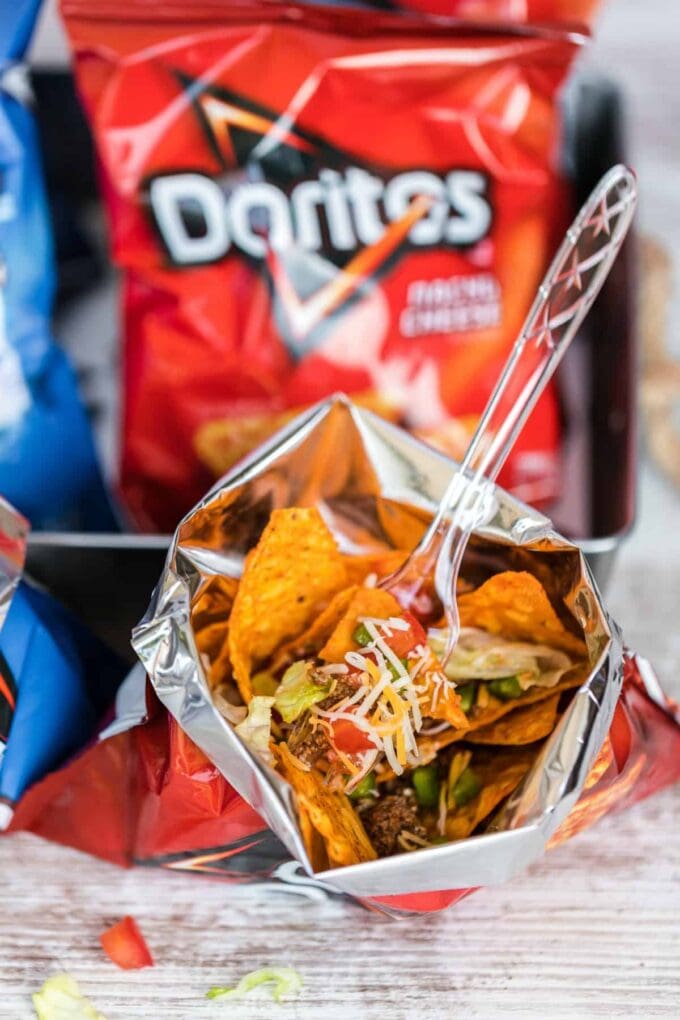 Doritos Walking Taco Recipe
Walking tacos are a fantastic choice for serving at events due to their portability, customizability, and minimal mess.
They allow guests to personalize their tacos with favorite toppings, making them suitable for diverse tastes.
Their versatility, interactive nature, and the lack of need for formal seating make them a fun and engaging food option, perfect for a variety of gatherings and events.
What is a Walking Taco?
A walking taco is a deconstructed taco in a bag of chips.
It is like a taco married a taco salad and had a taco baby! It is great because you don't have to worry about individualized dietary needs because everyone creates their own walking taco!
One of the best things about serving the walking taco bar for a party or barbecue is that I put everything in disposable bowls and use plastic forks and with the chip bags acting as plates, there is virtually no cleanup!
This is really a great recipe for an outdoor summer party or a potluck. It is easy and quick and you can prepare the majority of it before anyone arrives. That way, you can actually enjoy the party, rather than being stuck behind the grill making burgers.
As I said, it is also great for people with different dietary needs. As I mentioned, everyone can put exactly what they want in their bag!
Then if you are looking for a great dessert to serve after dinner – check out my Ice Cream Sandwich Cake. This cake is my biggest crowd pleaser ever. My kids beg for it!
Walking Taco Ingredients
Lunch or snack size Doritos, Fritos, tortilla chip or your favorite chips. (I am low carb, so I love these (affiliate) Quest Chips for my taco! They are packed with protein)
Ground beef, ground chicken or Ground Turkey (if you are having vegetarians, consider a veggie crumble)
Taco seasoning
Walking Taco Toppings
Tomato
Green pepper
Red pepper
Lettuce
Onion
Our Homemade Salsa
Sour Cream
Shredded Cheese
Walking Taco Doritos Substitutions and Add-ins
Beef – Ground beef, turkey, chicken or even thinly sliced steak.
Cheese – We usually use a Mexican Cheese Blend, but Colby Jack or cheddar works great too!
Vegetarian – Lot's of options. You can try meatless crumbles or just go all beans!
Gluten Free – Try some gluten-free chips or skip the chips all together!
Other Walking Taco Toppings – Try grilled corn on top! It adds a delicious crunch and a little bit of sweetness to the mix. Trust me on this one! We also love a sliced avocado because avocado is pretty much delicious on everything!
How to make Walking Tacos
Making a walking taco bar may be one of the easiest meals you have ever made.
Brown the meat of your choice and season with your favorite taco seasoning (or try our homemade taco seasoning)
Put each taco ingredient in their own bowl.
Grab a bunch of lunch size or snack size bags of Doritos, Fritos or tortilla chips and put them in a big basket!
Cut the top off of the chip bag.
Let your guests go at it!
PRO-TIP: when you brown your meat, use a potato masher to break up the meat! It works like a charm!
Doritos Walking Tacos
The greatest part about the Walking Taco Bar is the clean up – I thought paper plates were easy to clean up – believe me, this one is even easier!
Ingredients
1

pound

Ground beef or Turkey

1

package

Taco Seasoning

(The Doritos have a lot of seasoning so cut the amount of seasoning in half to avoid over seasoning)

4

1.75 Bags

Large single serving bags of Doritos

1

Tomato

1

Green pepper

3

cups

Lettuce

shredded

1

jar

Salsa

8

ounces

Sour Cream

1

package

Shredded Cheese

1

box

Spanish rice
Instructions
Prepare the ground meat according to the directions on the taco seasoning package (use only about 1/2 of the seasoning packet), cook rice and cut all of the vegetables.

Cut the bag along the side, rather than opening at the top.

Add the ingredients of your choice.

Grab a fork. Dig in. Enjoy!
Nutrition Info
Calories:
456
kcal
|
Carbohydrates:
40
g
|
Protein:
30
g
|
Fat:
17
g
|
Saturated Fat:
9
g
|
Cholesterol:
100
mg
|
Sodium:
843
mg
|
Potassium:
673
mg
|
Fiber:
3
g
|
Sugar:
5
g
|
Vitamin A:
1810
IU
|
Vitamin C:
34.1
mg
|
Calcium:
88
mg
|
Iron:
3.8
mg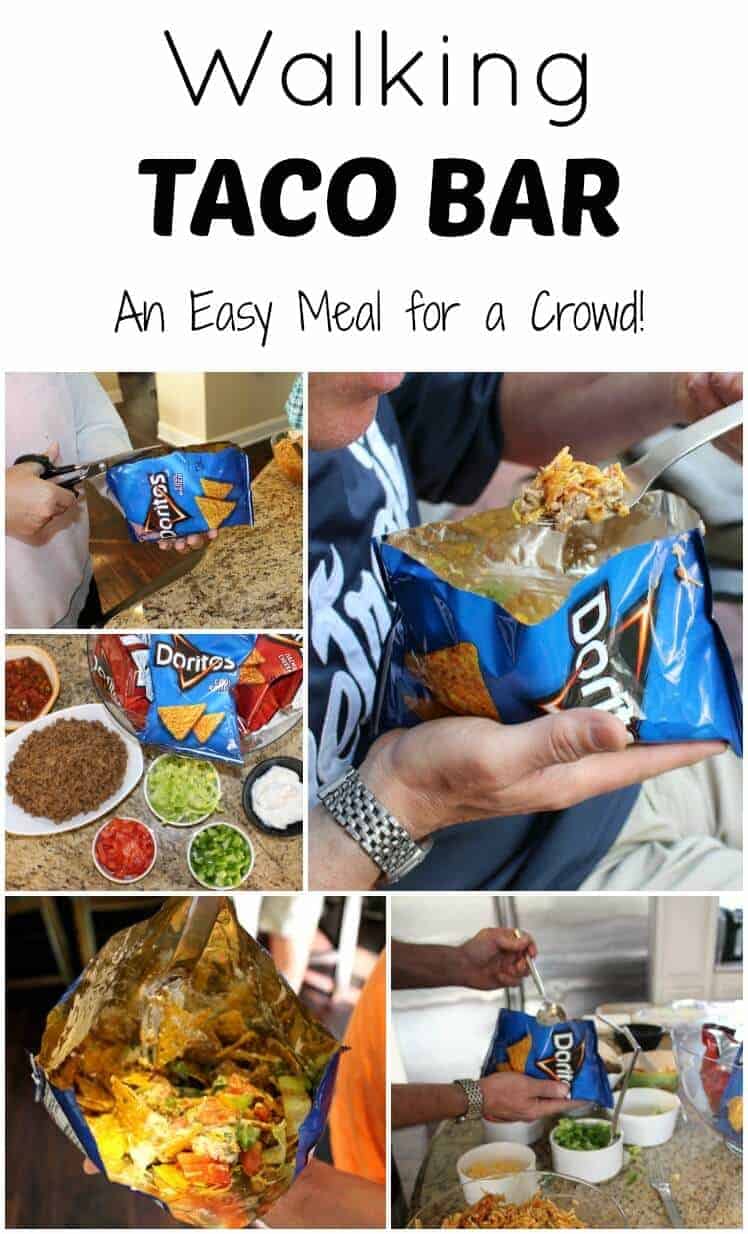 Now we just need portable side dishes! Looking for some other easy meals? Then click on the pictures below!
Originally posted May 2015