This post may contain affiliate links. Read my disclosure policy here.
This homemade white queso dip recipe is the cheesy and creamy and only contains 4 ingredients. Ready in 10 minutes and you will feel like you're sitting in your favorite Mexican restaurant.
I don't know about you, but whenever I hit my favorite Mexican restaurant, I can't say no to queso dip. That stuff is like crack. It's just so dang good.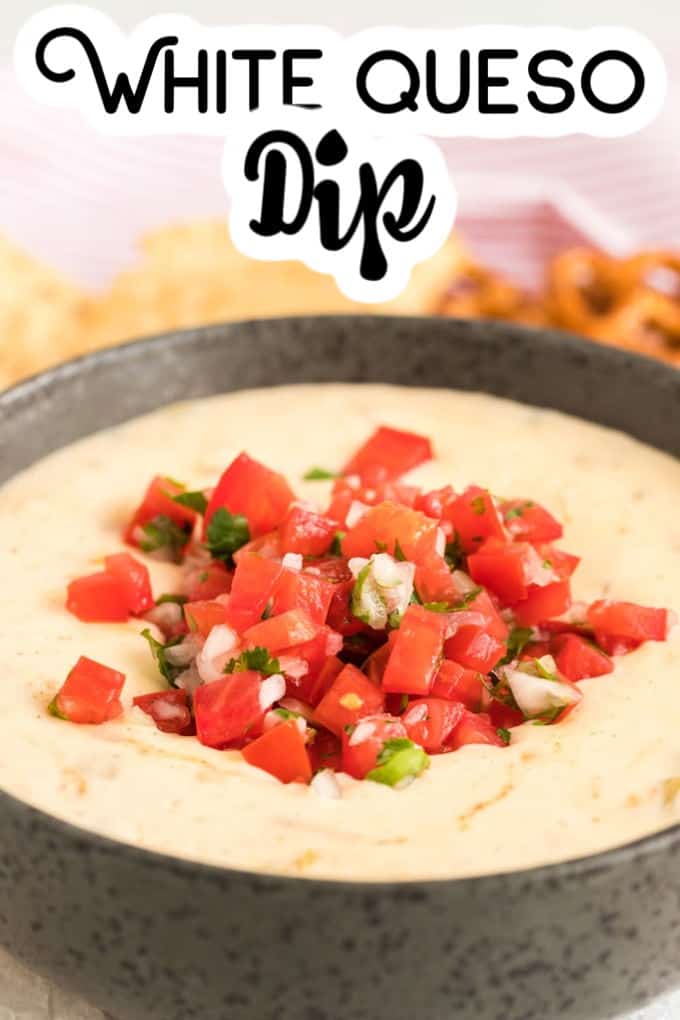 Best Queso Dip Recipe
Every time I order queso at a restaurant, I think to myself, "I should really just start making this stuff at home!" So finally, I made myself the ultimate homemade queso dip recipe, and I'm sharing it with you here today!
Whether it's game day and we need all the dips or its just a simple family taco night, this queso is always a big hit. It makes a great bonus topping for tacos or taco salads! (I love to serve it with our Walking Taco Bar and our Chicken Enchiladas!)
Here are the only ingredients you need!
White American cheese
Milk
Green chilies
Taco seasoning
How To Make White Queso Dip
Step 1: Melt the cheese and milk in a saucepan over medium to low heat until cheese has melted.
Step 2: Remove it from heat and add green chilies and taco seasoning and mix it all together.
Step 3: Serve with tortilla chips, pretzels, or vegetables.
Step 4 (optional): You can top the queso dip with the pico de gallo (recipe listed in notes of the recipe card below) just mix together all of the ingredients from the pico de gallo and use it as a topping for the dip.
(For the Cheesy Pull-Apart Garlic Bread recipe and step-by-step details, see the printable recipe card below)
What to Serve With Queso Dip
I love that this dip can be so versatile. There are many things you can pair it with that taste just as delicious as your classic tortilla chips. We love to serve it with:
Chips: Tortilla chips, pretzels, pita chips
Veggies: celery sticks, broccoli florets, cauliflower florets, zucchini rounds, bell pepper strips, whole mushrooms
Fruits: sliced green apples, pears, and grapes.
How to Reheat Dip
There's a pretty good chance that you won't have any queso dip leftover. I'm not joking when I say this stuff is so dang good. It's hard not to eat it all up. But, if you do happen to have leftovers you can simply store it in an air-tight container in your fridge.
To Reheat: Simply toss it in the microwave and heat. I usually put it in the microwave for 30-second increments and take it out to stir between each 30-second interval. When it reaches the consistency I like, it's ready to eat!
Make sure that if you are adding the pico de gallo, that you do so at the end when it's finished heating up!
PRO-TIPS
Tip 1: I use green chilies in my recipe here, I like to use a mild chili so it won't be too spicy for anyone who isn't a fan of spice! However, if you are a fan of spicy food then you can use hot salsa instead! You could also choose to chop up jalepeños to make it even spicier!
Tip 2: This queso dip is best when it's served very hot, right away! It's definitely a dish that is better when it's served fresh. But, as I mentioned above it can also be reheated.
Queso Dip Variations
There are a variety of ways you could doctor up your queso recipe and make it your own.
Here are a few ideas.
Option 1: Add meat! You can simply add in about a half a pound of ground hamburger or chorizo.
Option 2: Add beans to make a bean and cheese dip. You can use any beans of your choice, but I like to use black beans. To do this, rinse one cup of beans and add to your queso.
---
MORE DIP RECIPES
Beer Cheese Dip | 7-Layer Dip | Spinach Artichoke Dip |Taco Dip | Buffalo Chicken Dip | Rotel Dip
---
White Queso Dip
This homemade white queso dip recipe is cheesy and creamy and only contains 4 ingredients. Ready in 10 minutes and you will feel like you're sitting in your favorite Mexican restaurant.
Prep Time: 10 minutes
Total Time: 10 minutes
Course: Appetizer
Cuisine: Mexican, Tex-Mex
Servings: 10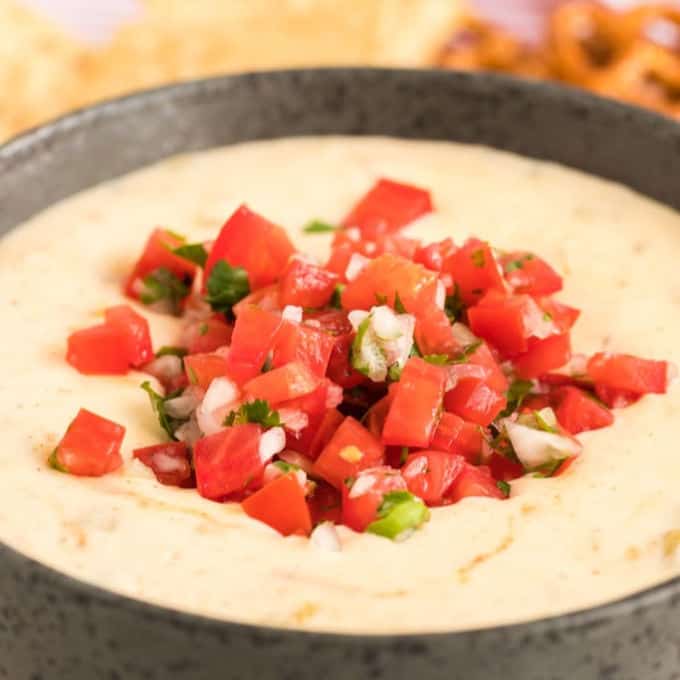 Ingredients
1 pound white American cheese
½ cup milk
1 4-ounce can green chilies
1 teaspoon taco seasoning
Instructions
Place the cheese and the milk in a medium-size saucepan over medium-low heat and stir until cheese has melted.

Remove from heat and add the green chilies and taco seasoning and mix together.

Serve plain with chips, pretzels or vegetables

Or you can top with pico de gallo, recipe below
Recipe Notes
To make the Pico De Gallo topping:
Ingredients:
2 Roma tomatoes, diced
¼ cup onion, chopped
¼ cup cilantro, chopped
1 tablespoon lime juice
Instructions:
Mix all the ingredients together and use as topping for the dip.
Nutrition per serving
Calories: 176kcal | Fat: 15g | Saturated fat: 8g | Cholesterol: 47mg | Sodium: 764mg | Potassium: 76mg | Carbohydrates: 2g | Sugar: 2g | Protein: 9g | Vitamin A: 448% | Calcium: 488% | Iron: 1% |
Keyword: Cheese, dip, Food for a Crowd, Game Day Food
I can't wait for you to try this stuff. You'll be saying goodbye to your favorite Mexican restaurant and hello to more homemade Mexican dinner nights, which will now be complete with the perfect queso dip!
Sign up for the Princess Pinky Girl Newsletter and automatically receive our latest & greatest delivered right to your inbox! Follow Princess Pinky Girl on Facebook, Twitter, Pinterest and Instagram for all of the newest recipes, crafts, travels and updates!
If you make a Princess Pinky Girl creation make sure you take a picture and share it on Instagram with @princesspinkygirl ! I love seeing your masterpieces!