This salsa recipe is so good (and easy to make)! It will have you feeling like you're eating at your favorite Mexican restaurant!
Jump to Recipe
After making this easy homemade salsa recipe you will never buy a jar of salsa again! All you need is 5 fresh ingredients and 10 minutes and you will have this restaurant-style salsa in the comforts of your own home. Perfect to serve with favorites like nachos, burritos, tacos, fajitas and more!
Restaurant Style Salsa at Home
Salsa is one of my go-to snacks. I swear, we always have multiple jars of it around the house. Little did I know, it is one of the easiest things ever to make right at home! This recipe has such a short ingredients list and it only requires two steps. Gotta love that!
Not to mention, it's a healthy, homemade snack, that can be served with a variety of things. I love putting it on my eggs or using it on family taco night! Once you see how easy this homemade salsa is, you will never go back to buying it at the store!
Why We Love This Salsa Recipe
Fresh ingredients
Restaurant-style and quality
Healthy recipe
Chunky texture
So much flavor
Ready in 10-minutes
Super easy recipe
Only 5 ingredients needed
Ingredients
2 cans diced tomatoes
½ yellow onion
½ teaspoon salt
juice from 1 lime
small handful of cilantro
SEE FULL PRINTABLE RECIPE CARD BELOW
How to Make Homemade Salsa
Note: this recipe will explain how to make homemade salsa using a blender. There are definitely other options out there for making salsa, but I have found that a blender is great for getting the desired consistency and mixing all of the ingredients well.
Place all of the ingredients into a 5 cup jug blender chopper.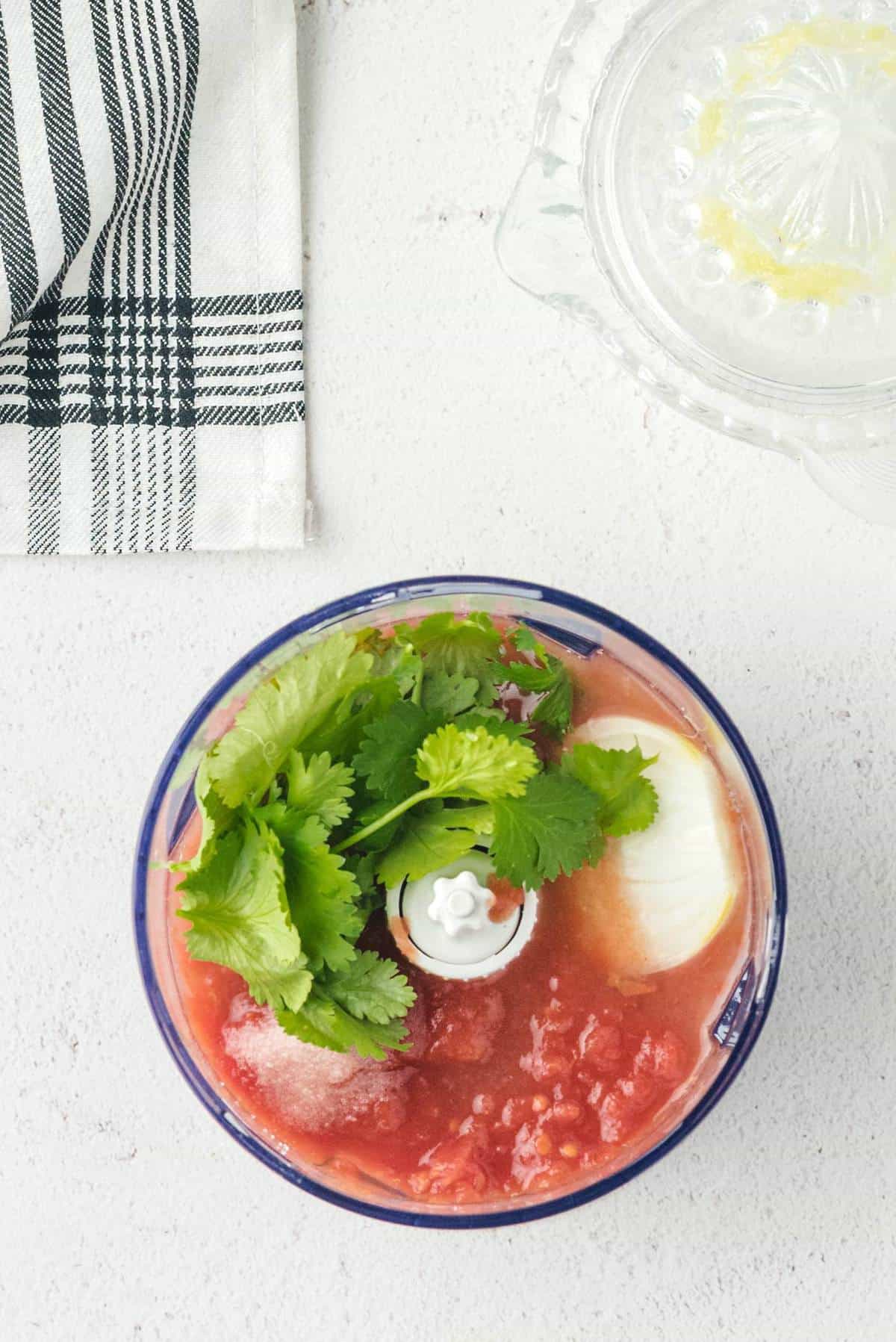 Blend the ingredients together until reaching your desired consistency. You can blend the mixture as much or as little as you'd like for a chunkier or smoother texture to be reached. This is really all about your salsa preference!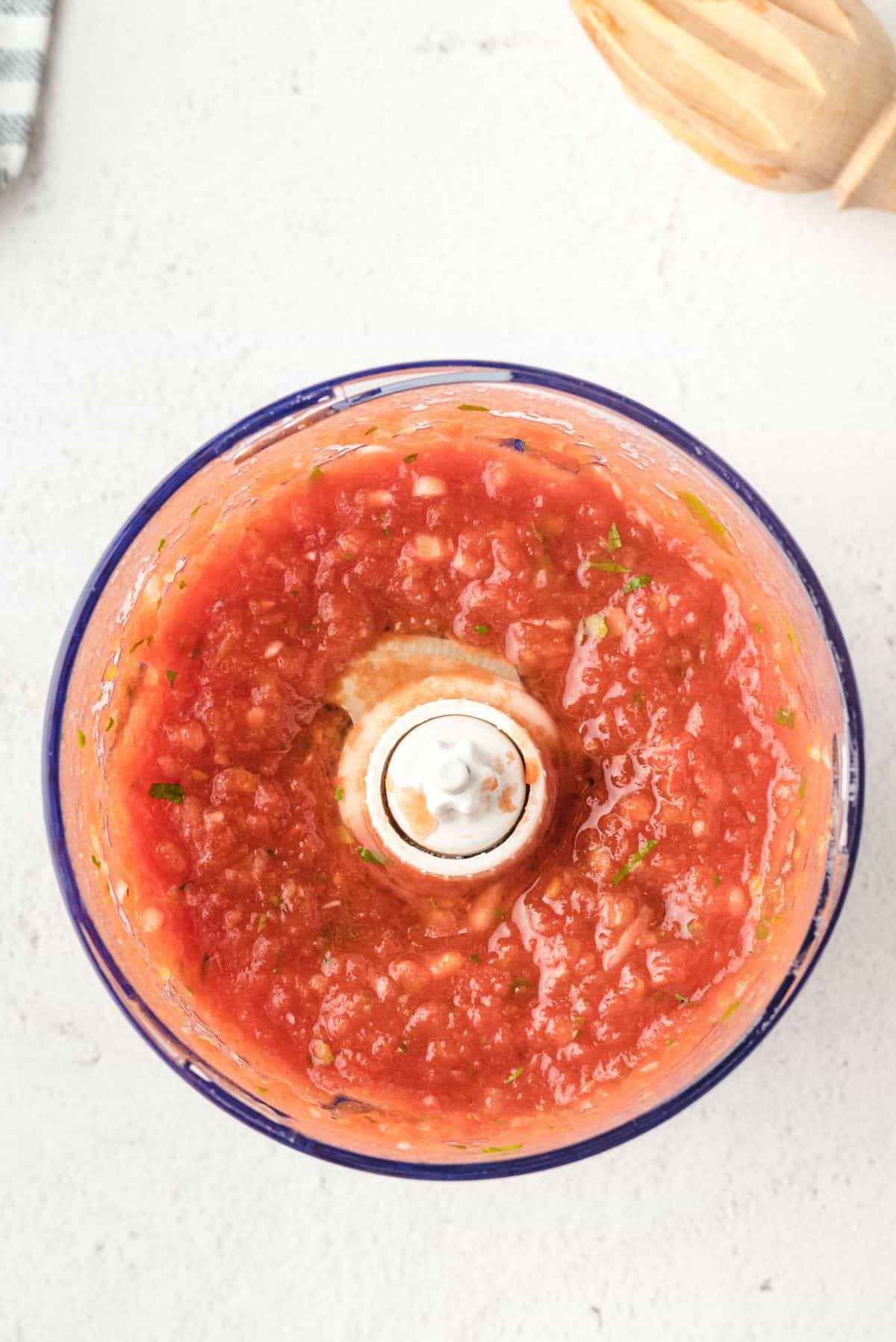 That's it! Just two simple steps for making this salsa. At this point, you may want to add in some of the additional ingredients we list below.
Options for Homemade Salsa Recipe
For more flavor: A half teaspoon of sugar can help to enhance the flavors in a really nice way. Cumin is also a great option to add to salsa. You'll only need about a teaspoon. You could also add in two to three garlic cloves as well. Personally, garlic is my favorite option for an addition to this salsa!
For more spice: If you are someone who lives for spice, then you may want to add in something to bring the fire to this salsa. As is, it will be pretty mild. Try adding jalapeños into the mix for an extra kick. You can take the seeds out for a bit more of a mild spice or leave them in for extreme heat.
Optional add-ins: There are so many options for additions to your salsa. Some of my favorite things to add are black beans or corn. If you're adding any ingredients like this, you'll want to add them in after blending, just before serving
Frequently Asked Questions
What is the best tomatoes for homemade salsa?
I recommend using fire-roasted diced tomatoes because the flavor it adds is amazing! You can choose to use fresh tomatoes, regular diced tomatoes or even whole tomatoes with juice. If you decide to add tomatoes without any flavor, I would suggest that you also add a can of Rotel in, to give it more spice and flavor.
How to store homemade salsa?
Just as with store bought salsa, this stuff has a pretty good shelf life. It should definitely be stored in an airtight container (a jar works great) in the fridge. If so, it will last for at least two weeks.
What to serve with homemade salsa?
What better to go with homemade salsa, than homemade chips?! Homemade tortilla chips are surprisingly easy to make. You'll just have to buy corn tortillas and dry them out by cooking them in the oven. Then, use a pizza cutter to cut them into triangles. Using a pan and oil, you can fry them up right on your stovetop.

If you're not up for making your own chips, simply grab one of the many options you can find at the store! I love to buy a restaurant style chip, I think it pairs really nicely with this salsa recipe. You can also go for the flavored tortilla chips like lime!

If you're looking for other options you can also serve this with fresh cut veggies or pretzels, too!
Serve alongside our Easy Guacamole.
Can you believe how easy this is? Now that you know, you have a healthy, homemade snack right at your fingertips. You will never want to buy salsa again.
This homemade salsa recipe is full of flavor, easy to make, and it's sure to hit the spot every time!
Looking for another homemade salsa recipe? Check out our Copycat Chipotle Corn Salsa recipe!
Recipes to Use Our Homemade Salsa
Sheet Pan Nachos | Blooming Quesadilla Ring | Sheet Pan Fajitas | Puffy Tacos | Oven Baked Beef Tacos | Sheet Pan Quesadillas | The BEST Chicken Enchiladas
Homemade Salsa
This salsa recipe is so good (and easy to make)! It will have you feeling like you're eating at your favorite Mexican restaurant!
Ingredients
2

cans

diced tomatoes

½

yellow onion

½

tsp

salt

1

lime

(juice)

small handful of cilantro
Instructions
Place all ingredients into a 5-cup blender.

Blend until desired consistency is reached. You can make this more chunky or smooth!

When the salsa is done, pour into a bowl and serve.
Nutrition Info
Calories:
15
kcal
|
Carbohydrates:
4
g
|
Protein:
1
g
|
Fat:
1
g
|
Saturated Fat:
1
g
|
Sodium:
104
mg
|
Potassium:
141
mg
|
Fiber:
1
g
|
Sugar:
2
g
|
Vitamin A:
83
IU
|
Vitamin C:
8
mg
|
Calcium:
24
mg
|
Iron:
1
mg