This post may contain affiliate links. Read my disclosure policy here.
Our 7-layer Dip is the perfect appetizer for game day parties with friends! It is layered with beans, sour cream, guacamole, salsa, cheese, olives, and onions. This is THE ultimate party food appetizer!
Easy appetizers are our jam! We adore this 7-layer taco dip and it goes perfectly with our Sheet Pan Nachos and our Beer Cheese Dip!
7 Layer Dip
A party is not a party without amazing appetizers. Right? That is why we are always on the hunt for new easy apps to serve and this 7 layer dip is perfect for just about every party!
Appetizers are always the best part of any meal and that holds true for parties as well. People love to stand around the kitchen and munch away on bite-sized delights and delicious dips.
We love this 7 layer taco dip for so many reasons. First, it is super easy to make. It is no bake, you just layer it, so it is just about foolproof!
Second, it makes a great presentation. The layers look so pretty in a nice glass bowl.
Third, all ingredients are pretty much optional. If you don't like beans, don't use them! Substitutions are totally allowed! If you don't love sour cream – not to worry, leave it out (no one will count the layers!)
Finally, and most importantly, it is beyond delicious!
How to make 7-Layer Dip
Layer 1 – Spread the refried beans
Layer 2 – Spread the sour cream
Layer 3 – Spread the guacamole
Layer 4 – Spread the salsa
Layer 5 – Spread a layer of shredded cheese
Layer 6 – Sprinkle green onions
Layer 7 – Sprinkle black olives
Optional: add tomato and cilantro to the top for a fresh garnish.
Serve cold.
(Try our fresh homemade guacamole!)
What to serve with 7 Layer Dip
You really can't go wrong with just about any dipping chip, but we like to serve our 7 layer dip with tortilla chips! Some other great options are Frito scoops, pretzels, Stacy Chips, crackers or cut up veggies!
What type of dish do I use for 7 Layer Dip?
The presentation is part of the fun with this dip. You want to show off all of the layers – it truly makes it an impressive looking appetizer.
I think it looks amazing using a trifle bowl, but if you don't have one, any type of glass bowl or dish work! A 9×13 baking dish is great if you want it more spread out (makes it a little easier to dip)
If you really want to get creative and cute – get mini mason jars and made individual 7 layer dips for your party guests! They will go crazy over the cuteness!
7 Layer Dip with No Beans
Refried beans seem to be the most controversial ingredient in the 7 layer dip. It is easy to make a version of the 7-layer dip with no beans! You can either just leave the beans out and make it a 6 layer dip, or you can replace that layer.
Some other great additions to the dip:
jalapenos
ground beef (seasoned with a taco seasoning – try our homemade taco seasoning)
green onions
shredded lettuce
black beans
crunched up tortilla chips or taco shells

More Great Game-Day Appetizers
7 Layer Dip
Our 7-layer is the perfect appetizer for game day parties with friends! It is layered with beans, sour cream, guacamole, salsa, cheese, olives, and onions.
Prep Time: 20 minutes
Total Time: 20 minutes
Course: Appetizer
Cuisine: American, Mexican
Servings: 12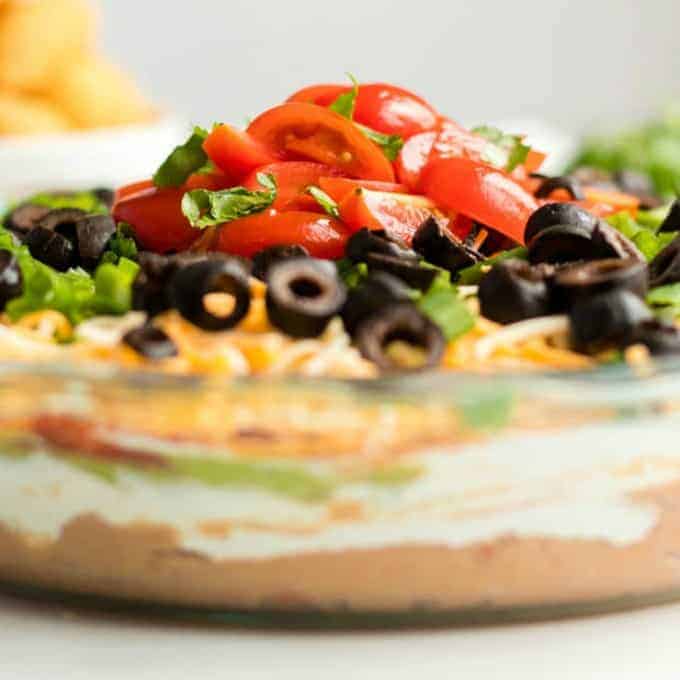 Ingredients
16 oz can refried beans
1.5 cups sour cream
1 cup guacamole
1 cup salsa
2 cups Mexican cheese blend (shredded)
2.25 oz can sliced black olives
1/2 cup sliced green onions
tomato (for garnish)
cilantro (for garnish)
Instructions
Layer ingredients as follows:

Spread refried beans in an even layer on the bottom of your dish.

Spread sour cream on top of the refried beans.

Spread guacamole on top of the sour cream

Spread salsa on top of the guacamole.

Top salsa with an even layer of shredded cheese.

Sprinkle sliced green onions evenly over the cheese layer.

Spread olives evenly over the green onion layer.

Optionally, add tomato and cilantro to the top for a fresh garnish.

Serve cold with tortilla chips or scoop style corn chips.
Recipe Video
Recipe Notes
*I made this in a deep dish pie plate but you can also make it in an 8x8, 9x13, trifle bowl or even a plain glass bowl.
Nutrition per serving
Calories: 196kcal | Fat: 14g | Saturated fat: 7g | Cholesterol: 32mg | Sodium: 607mg | Potassium: 230mg | Carbohydrates: 8g | Fiber: 3g | Sugar: 3g | Protein: 7g | Vitamin A: 530% | Vitamin C: 3.5% | Calcium: 182% | Iron: 0.8% |
Keyword: Dip Recipe, Easy Appetizer, Game Day Food
Sign up for the Princess Pinky Girl Newsletter and automatically receive our latest & greatest delivered right to your inbox! Follow Princess Pinky Girl on Facebook, Twitter, Pinterest and Instagram for all of the newest recipes, crafts, travels and updates!
If you make a Princess Pinky Girl creation make sure you take a picture and share it on Instagram with @princesspinkygirl ! I love seeing your masterpieces!