Table of Contents
Guacamole is such a delicious snack to eat while watching the game and it disappears quickly
With football season well underway, I thought I would share my recipe for Football Guacamole! It is such a delicious snack to eat while watching the game and it disappears quickly! It is the perfect blend of avocado, jalapeno, pinto beans, tomatoes, and green onions. It's a super simple appetizer to whip up and is sure to be a crowd pleaser!
When you dice up the jalapeno, leave the seeds out, that way it won't be too hot and you'll still get a ton of flavor.
Mix all the delicious ingredients together!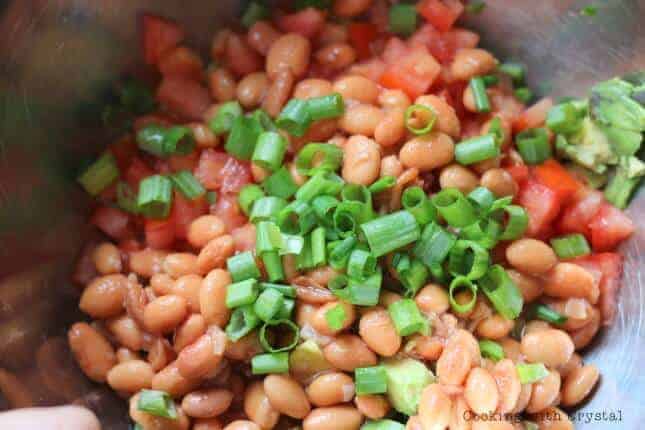 After you mash the avocado and add the jalapeno, lime juice, beans, onion and cheese; just lightly mix it all together and dig in with some tortilla chips!
Ingredients:
2 ripe avocados, seeded/peeled/+diced
1 tomato, diced
1 jalapeno pepper, seeded + diced
1/2 cup pinto beans, drained + rinsed
4 green onions, thinly sliced
1 lime, juiced
1/2 cup extra sharp cheddar cheese, shredded
salt and pepper
To Make:
Add one avocado to a bowl and lightly mash it.
Add tomatoes, jalapeno pepper, lime juice, and carefully mix.
Add the pinto beans, green onions, cheese, and the rest of the avocado.
Stir well and add a little salt and pepper. Serve with tortilla chips.
Looking for some other easy appetizers? Click on the pictures below: