This post may contain affiliate links. Read my disclosure policy here.
This no-churn Harry Potter Butterbeer ice cream is the thing Harry Potter dreams are made of!
Are you a huge butterbeer fan? Have you tried our Frozen Butterbeer Recipe? What about our Hot Butterbeer Recipe? They are as close to the official Universal Orlando's Wizarding World of Harry Potter Butterbeer as I have ever tasted! We love all things Harry Potter and this Ultimate Collection of Harry Potter Ideas will be your go to resource!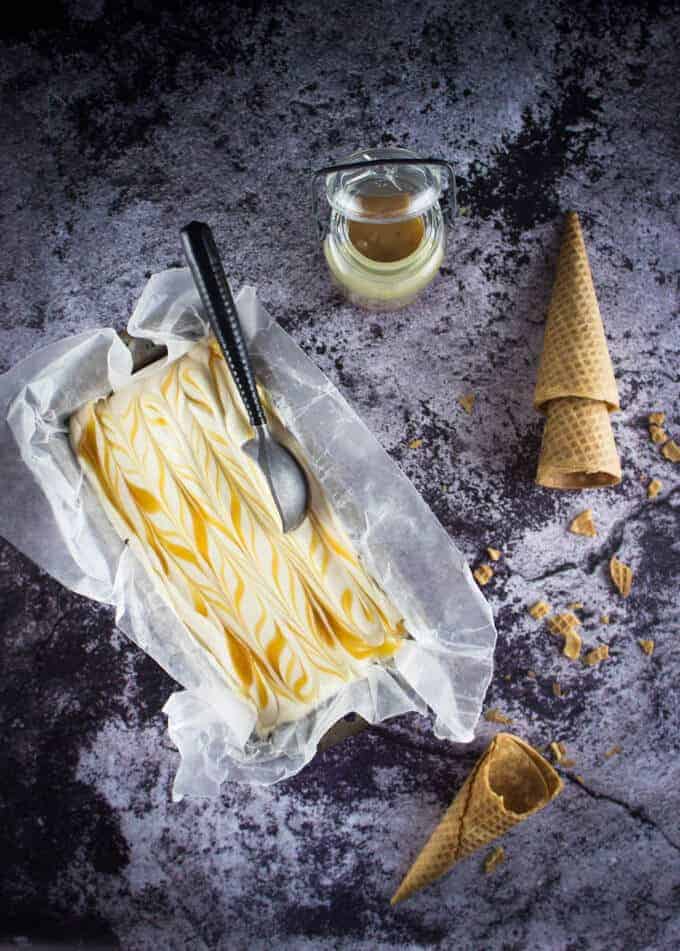 I was so excited to spend a few day over at Universal Orlando Resorts and got to visit the Wizarding World of Harry Potter! While their Butterbeer drinks are amazing (see my Frozen Butterbeer version here), I am totally obsessed with their Butterbeer Ice Cream!
So when I got home, I reached out to one of my most talented contributors, Claire from The Simple, Sweet Life. She is amazing at ice cream recipes. I pretty much begged Claire to make me up my very own Butterbeer Ice Cream Recipe and man did he nail it!
I have some great information on our trip to Universal – be sure to scroll down past the recipe for some great tips and more info!! Also, check out my TOTCHO recipe which was also inspired by my trip to Universal Orlando and their newest restaurant, Toothsome Chocolate Emporium!
My stay at Universal Resort Orlando was sponsored by Universal – but this recipe and resort review are entirely my opinions. A big thanks to Squatty Potty and Kia for additional sponsorships.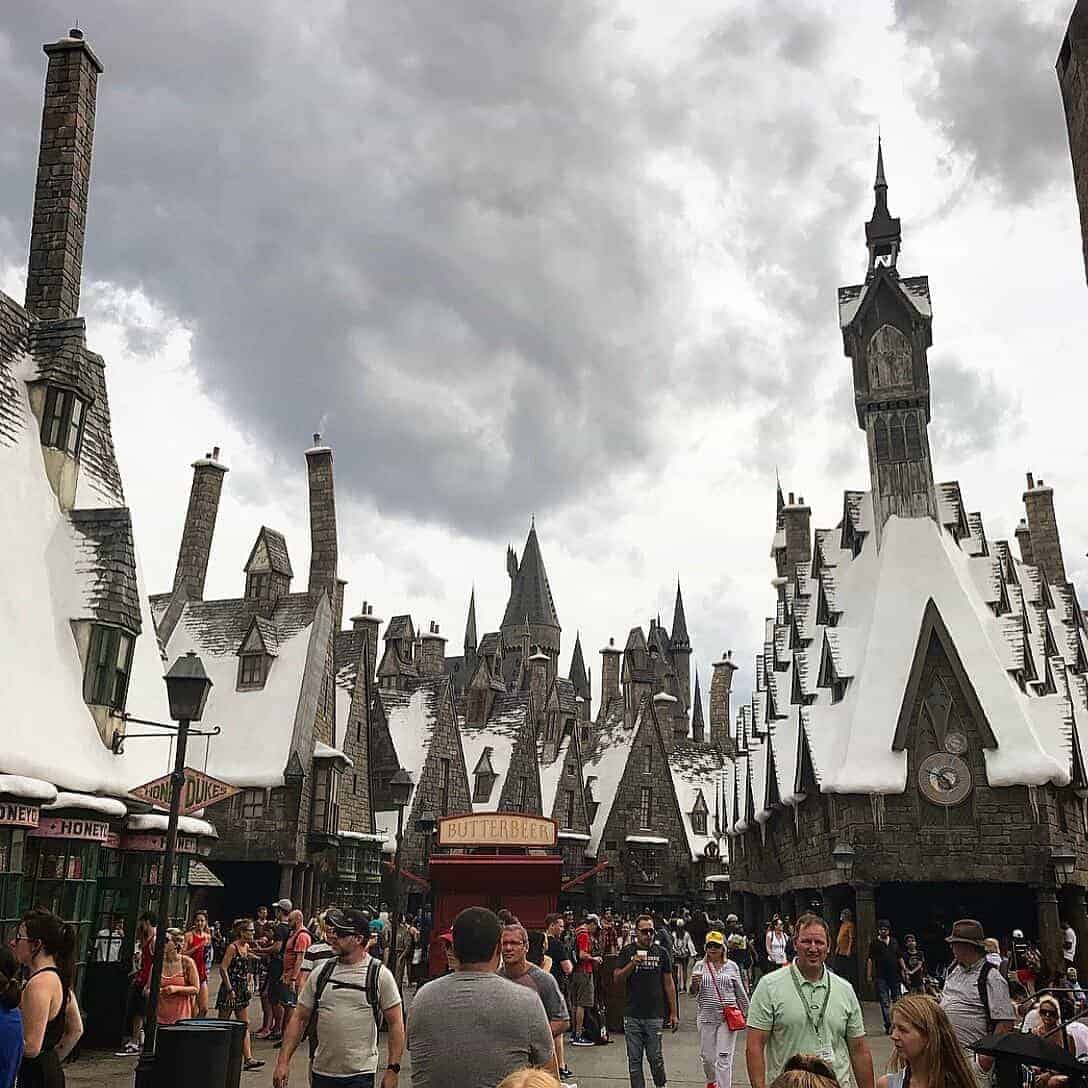 If you have ever been to Universal Orlando and Islands of Adventure, you know how amazing the Wizarding World of Harry Potter is! When you step in Diagon Alley, you feel like you are walking right in to the book!
We loved the rides, the shops and of course the food! Check out this Facebook Live video tour of Diagon Alley and Hogsmeade! We got some AMAZING tips from some of the "wizards" on staff. Heading to Universal soon, check out these great Universal Orlando Tips and How to Survive Universal during the Holidays!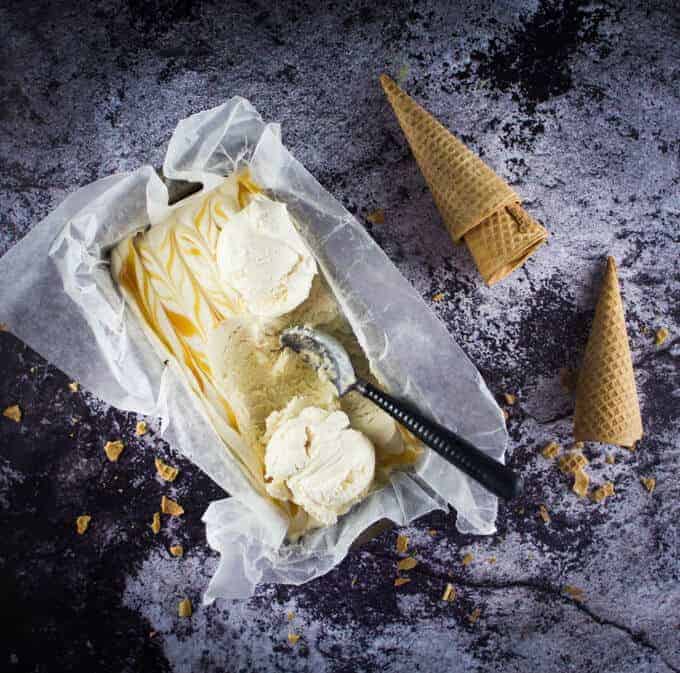 Hello lovely Princess Pinky Girl readers! Claire here from The Simple, Sweet Life back with another sweet ice cream recipe! Who's ready for some more ice cream?! I'm just going to assume you all responded with a resounding yes.
Now raise your hand if you're an avid Harry Potter fan.
Is everyone enthusiastically raising their hands with me? Goooood. I mean, I'm just going to assume if you clicked on something with "butterbeer" in the title, it's because you love Harry Potter and you obviously need some more Harry Potter goodness in your life… Because don't we all?
So when Jennifer asked me a few weeks ago if I'd be interested in coming up with a butterbeer ice cream recipe for her blog, the Harry Potter fan girl in me was all like "Yaaaaaaaaaaaaaass!"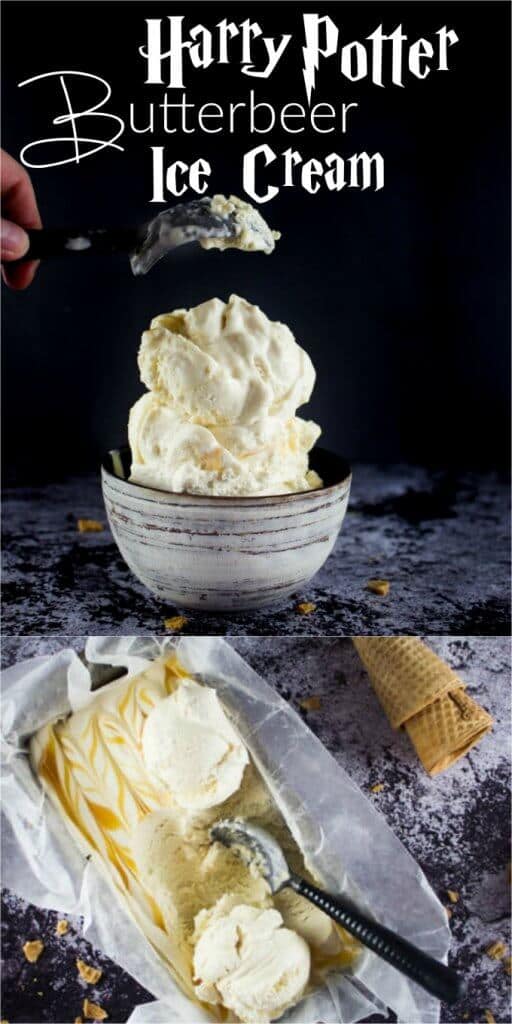 And then my husband was all like "ERMAGHERD score for being taste-tester!" To which I, being the loving wife that I am, was all like "How about no?" <–I'm pretty sure butterbeer ice cream was not made for sharing.
Unless, of course, you're not an ice cream hog like I am (don't give me that look. This is a judgement free zone!).
Sooooooo with butterbeer ice cream in my sights I was left with only one question: what the heck does butterbeer taste like?!
Fast forward through an hour of thumbing through Harry Potter books and "What does butterbeer taste like?"
Google searches and I had my answer: "less sickly butterscotch," according to JK Rowling. Perhaps not the most appetizing way to put it, but less sickly butterscotch I could do!
BEHOLD BUTTERBEER ICE CREAM! Thick, creamy ice cream with a rich homemade butterscotch base (seriously, do NOT try to substitute store bough butterscotch sauce. That stuff does not freeze) and a ripple of butterscotch syrup.
THIS is what Harry Potter dreams are made of!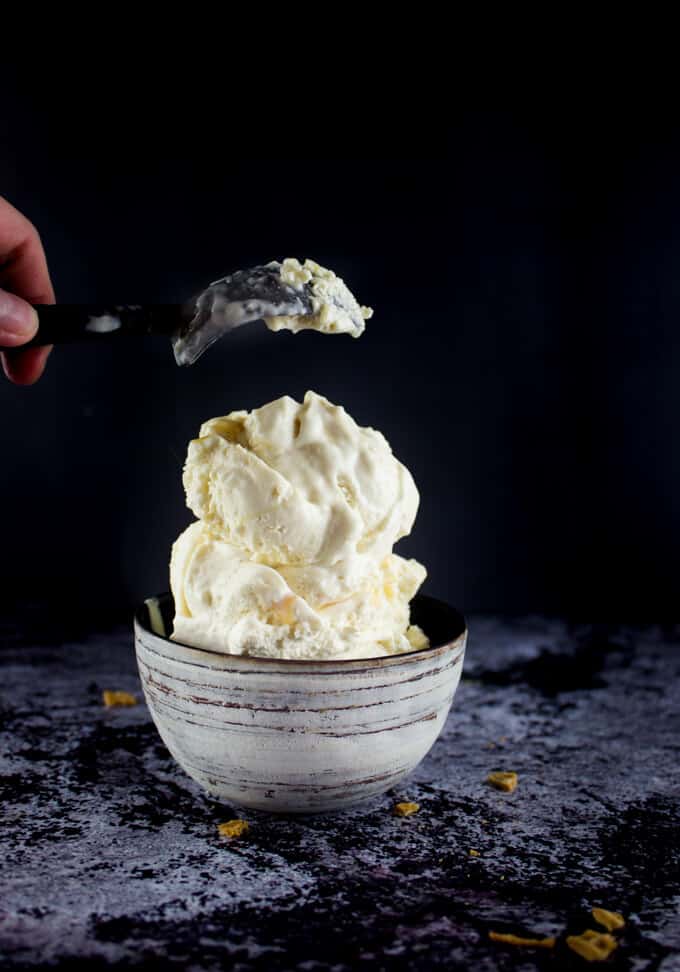 Ingredients needed to make Harry Potter Butterbeer Ice Cream
Heavy Whipping Cream
Sweetened Condensed Milk
Butter
Brown Sugar
Vanilla Extract
Butterbeer Ice Cream
This no-churn butterbeer ice cream is the thing Harry Potter inspired dreams are made of!
Prep Time: 40 minutes
Freeze: 5 hrs
Total Time: 40 minutes
Course: Dessert
Cuisine: American
Servings: 4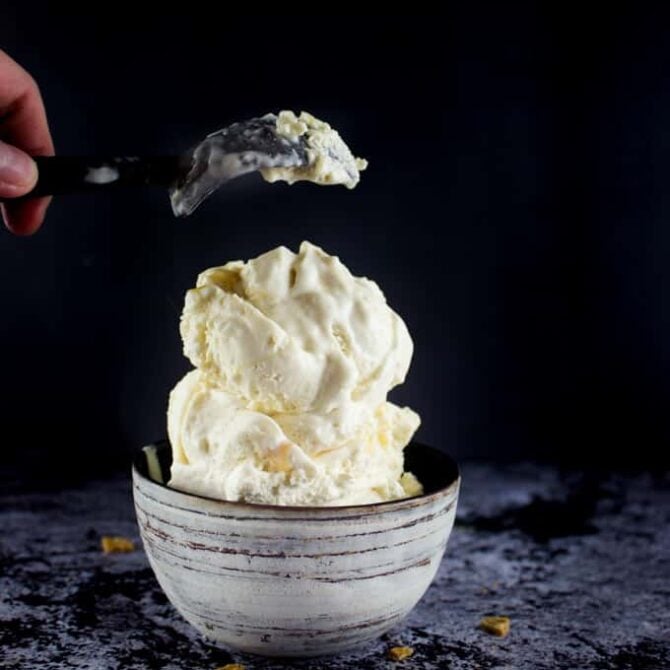 Ingredients
2 1/4 cups heavy whipping cream (chilled)
1 14 oz can sweetened condensed milk (chilled)
2 oz butter
1/2 cup brown sugar
1/2 tsp vanilla extract
Instructions
In a small pan over medium-low heat, combine your butter, brown sugar, vanilla extract and 1/4 cup heavy whipping cream. Stirring frequently, cook your butterscotch sauce for 15 minutes, or until it coats the back of a spoon. Set aside to cool to room temperature.

In the bowl of a stand mixer, whip the remaining heavy whipping cream until it holds stiff peaks. Add the sweetened condensed milk and continue whipping until thick and fluffy. Add your cooled butterscotch sauce (leaving a small amount for drizzling over the top) and whip until just combined.

Pour your butterscotch ice cream into a wax paper lined loaf pan. Drizzle the remaining butterscotch over the top and swirl with a butter knife. Place your ice cream in the freeze and allow to set overnight (or at least 5-6 hours).
Nutrition per serving
Calories: 670kcal | Fat: 61g | Saturated fat: 38g | Cholesterol: 213mg | Sodium: 160mg | Potassium: 136mg | Carbohydrates: 30g | Sugar: 27g | Protein: 2g | Vitamin A: 2320% | Vitamin C: 0.8% | Calcium: 113% | Iron: 0.2% |
Thanks so much Claire for the fabulous Butterbeer Ice Cream Recipe.Let me tell you some more about our amazing trip to Universal Orlando.
We stayed at the cutest hotel ever – Universal Cabana Bay Resort! Cabana Bay is an awesome on property hotel. You get great perks at Universal, like free transportation, early entry (this is important if you want to get on the Harry Potter ride before the lines get too long). You can purchase your tickets at the hotel (no waiting at the gate!)
It has a total retro feel, but with all of the modern conveniences. The rooms are really nicely laid out. They have a split bathroom – shower and sink in one part, toilet in another and a second sink in between. This is a great set up for families! They also have mini kitchenettes. The kitchens have mini fridges, microwaves, coffee makers…all the necessities!
I also love that there is a separate sitting area that is perfect to hang out and watch TV while the little one's sleep (or the parents).
Cabana Bay also has an AMAZING pool and one of the best quick serve food areas I have ever been to (with super reasonable prices!) I cannot thank Universal Orlando enough for hosting us on our amazing blogging retreat! (also, a shout out to Kia for providing transportation for us…BTW Kia's ROCK, they are SO nice! AND Squatty Potty, for you know, making a genius product that even though most won't admit it out loud, we all need!!)
I have two great posts if you are heading to Universal! Surviving Universal During the Holidays and Universal Orlando Tips! Be sure to check them out BEFORE you go!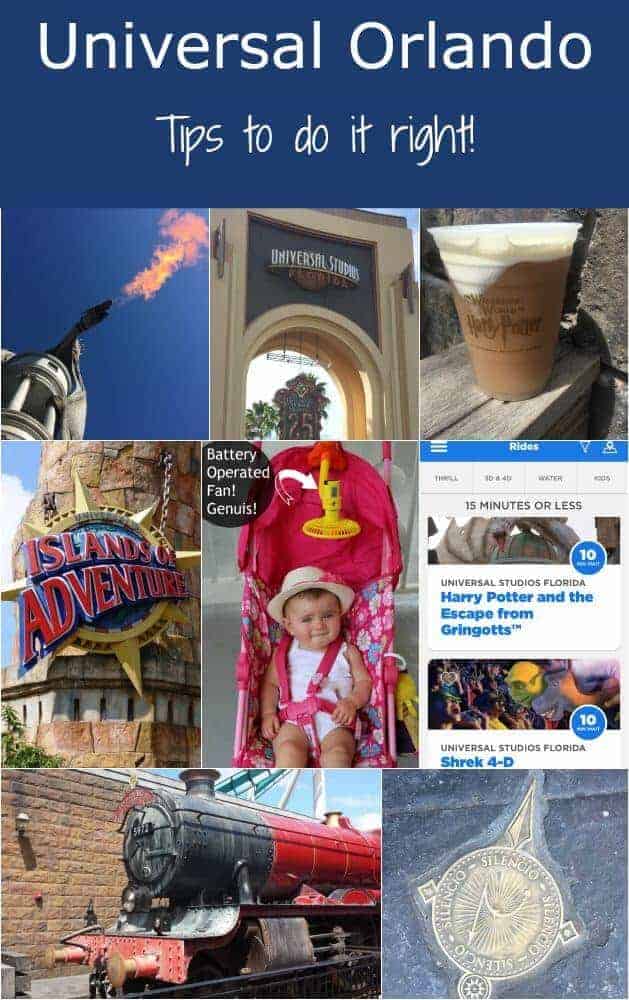 Looking for some more Butterbeer! How about the Best Frozen Butterbeer Recipe??
Love everything Harry Potter – check out these great Harry Potter DIY ideas!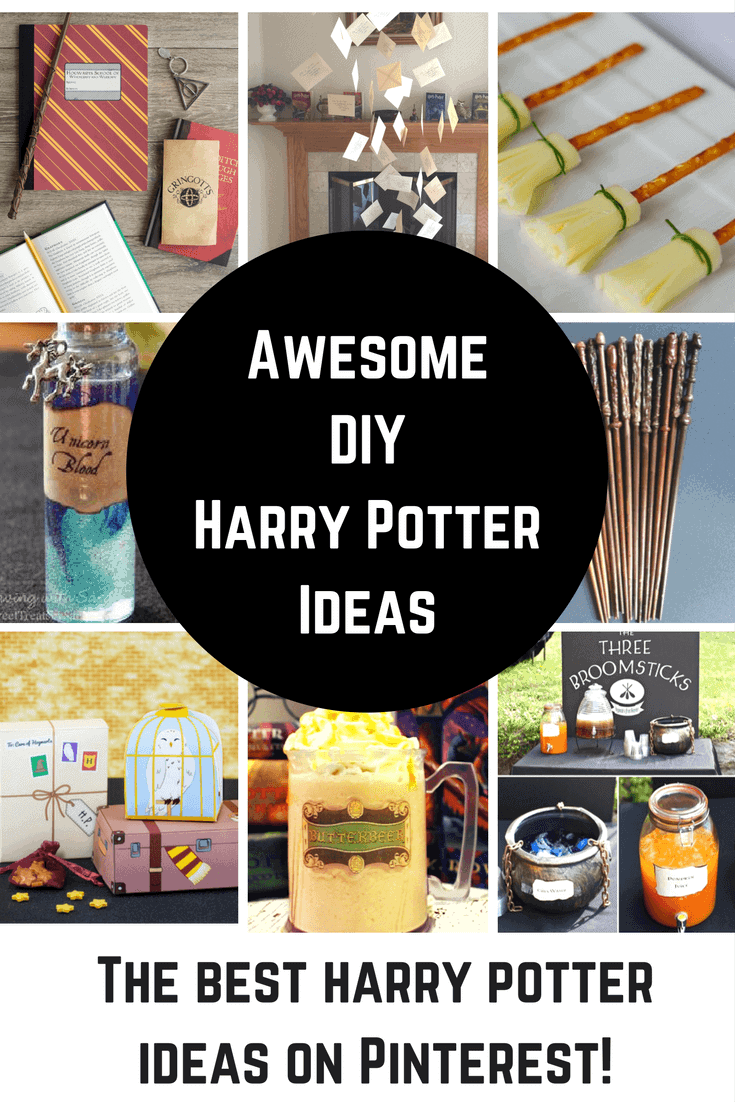 This post is sponsored by Universal Orlando, Squatty Potty and Kia, however, all opinions are my own!
Sign up for the Princess Pinky Girl Newsletter and automatically receive our latest & greatest delivered right to your inbox! Follow Princess Pinky Girl on Facebook, Twitter, Pinterest and Instagram for all of the newest recipes, crafts, travels and updates!
If you make a Princess Pinky Girl creation make sure you take a picture and share it on Instagram with @princesspinkygirl ! I love seeing your masterpieces!