These are the best Christmas Cookie recipes ever! We have gathered a collection of these best Christmas Cookie Ideas, so you will be the envy of your Christmas Cookie Exchange!
The Best Christmas Cookie Recipes
If you are looking for Christmas Cookie Recipes, you have come to the right place, because I'm sharing some the most delectable holiday cookie recipes out there. You have hit the jackpot of all Christmas baking recipes… you are welcome!
Glitzy store shelves are filling up with sweet-smelling candles and brightly colored tins that herald the holiday season. It's Christmas Cookie Season! That long-anticipated sweater weather that beckons warm hugs and warmer mugs.
So, wrap yourself in a blanket of chocolate as the kitchen fills with the familiar aroma of fresh-baked comfort. These cookies are more than sweet treats. They are delectable crumbles of love and friendship – cellophane-wrapped delight, frosted and sprinkled with kindness. Bake them up and share them with your friends and family
This Ultimate Christmas Cookie Recipe Collection will make you feel like a kid again. Except this time – you're old enough to sneak one in before dinner. If it's good enough for Santa…
Enjoy!
Let's see those delicious Christmas Cookie Recipes…
These Hot Chocolate Cookie Cups are super easy to make. They start with ready-to-bake sugar cookie dough and pudding cups! Add a candy cane straw and handle and some mini marshmallow bits for a twist on a cold-weather treat.
Our No Bake Peanut Butter Balls are always a fan favorite! Rich dark chocolate that is melted and surrounds creamy delicious peanut butter balls will be love at first bite.
These Chocolate Covered Oreo Reindeer Cookies are not only adorable, but they are fun to make and eat! Oreos dipped in melted chocolate, pretzel antlers, candy eyes, and red hot nose!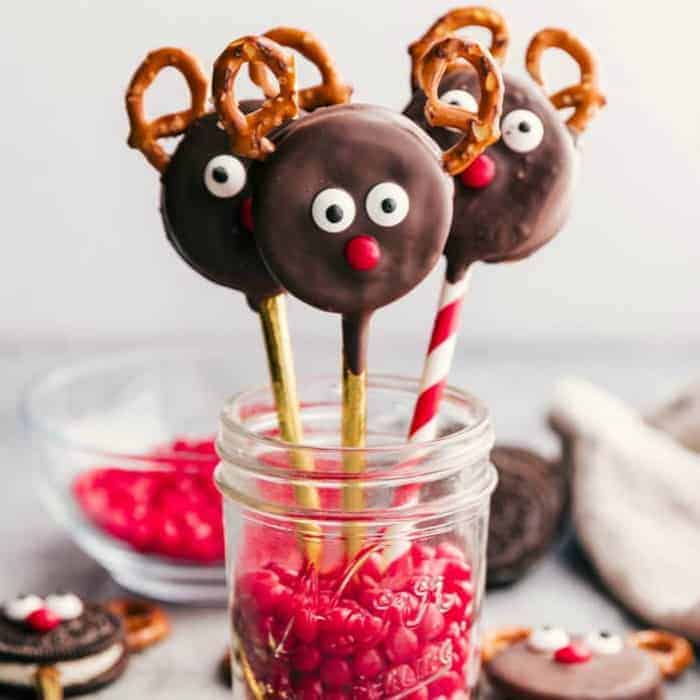 These adorable Christmas Tree Brownie Cups start from a box of brownie mix. In minutes, your whole family can have fun transforming brownie batter and whipped topping into festive holiday edible treats.
Surprise Inside Oreo Balls are made with only 5 basic ingredients, this recipe is so easy, especially because it's no-bake!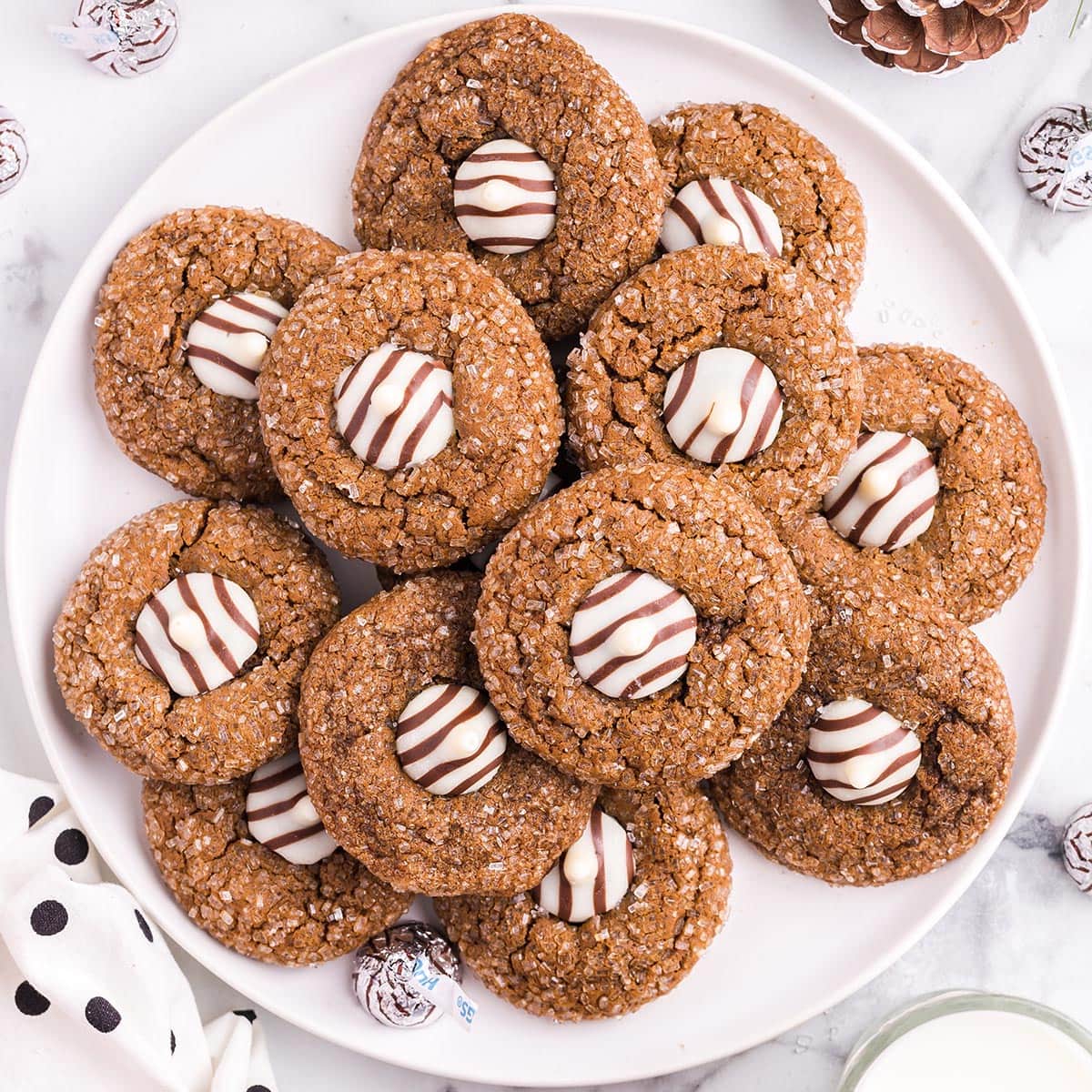 Secret Kiss Cookies soft and chewy sugar cookies, coated in powdered sugar, and are quite literally sealed with a Kiss!
Thumbprint Cookies with jam and other sweet fillings, a classic Christmas cookie recipe!
Peppermint sugar cookies topped with a delicious Hershey's Candy Cane Kiss. They are one of our favorite Christmas cookies of all time!
Snowball cookies come by their name honestly, because they truly look like the perfect snowball sitting atop a plate. These simple, yet classic, Christmas cookies are so delicious and they make for the perfect holiday treat.
These Old Fashioned Christmas Sugar Cookies are a classic Christmas treat. Topping them off with red and green sanding sugar makes these the perfect holiday cookie.
These festive candy cane cookies are made from twisting together red and white cookie dough and they make for the perfect holiday treat.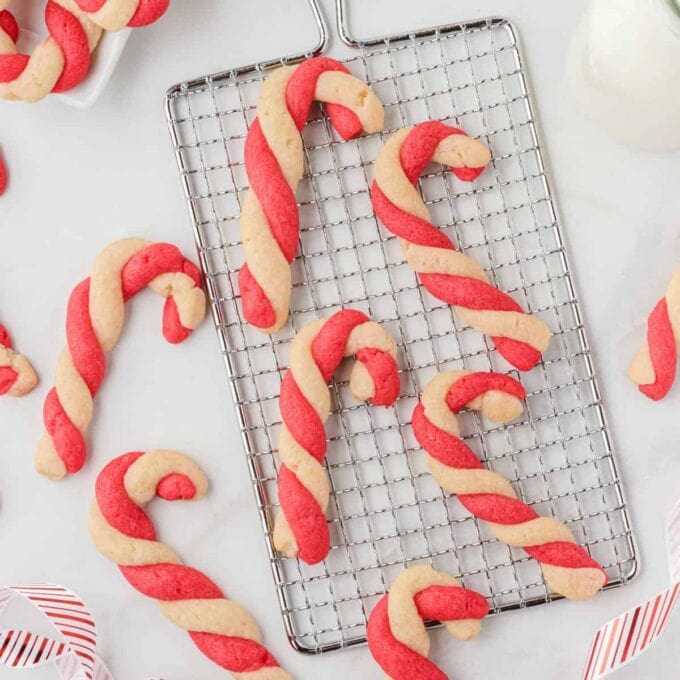 Our festive Peanut Butter Christmas Truffles are the perfect holiday dessert for your parties and cookie exchange! Only 4-Ingredients and super easy to make!
Chocolate Dipped Meringue Cookies, or sometimes known as Meringue Kisses, are a light and airy treat that literally melt in your mouth. Dip them in dark chocolate and crushed peppermint to make the perfect holiday treat!
Peanut Butter Blossom Cookies are a classic tried and true recipe, but add some red food coloring and a Peppermint Bark Hershey Kiss and you have a new Christmas Cookie to share at your cookie exchange!
These Christmas Pinwheel Cookies will be the star of the holiday cookie swap! They are fun and festive and use our favorite classic sugar cookie recipe!
Jello Divinity Candy is an old-fashioned Southern dessert that's perfect for occasions and holidays. After one bite it's easy to see where it gets its name because it's simply divine!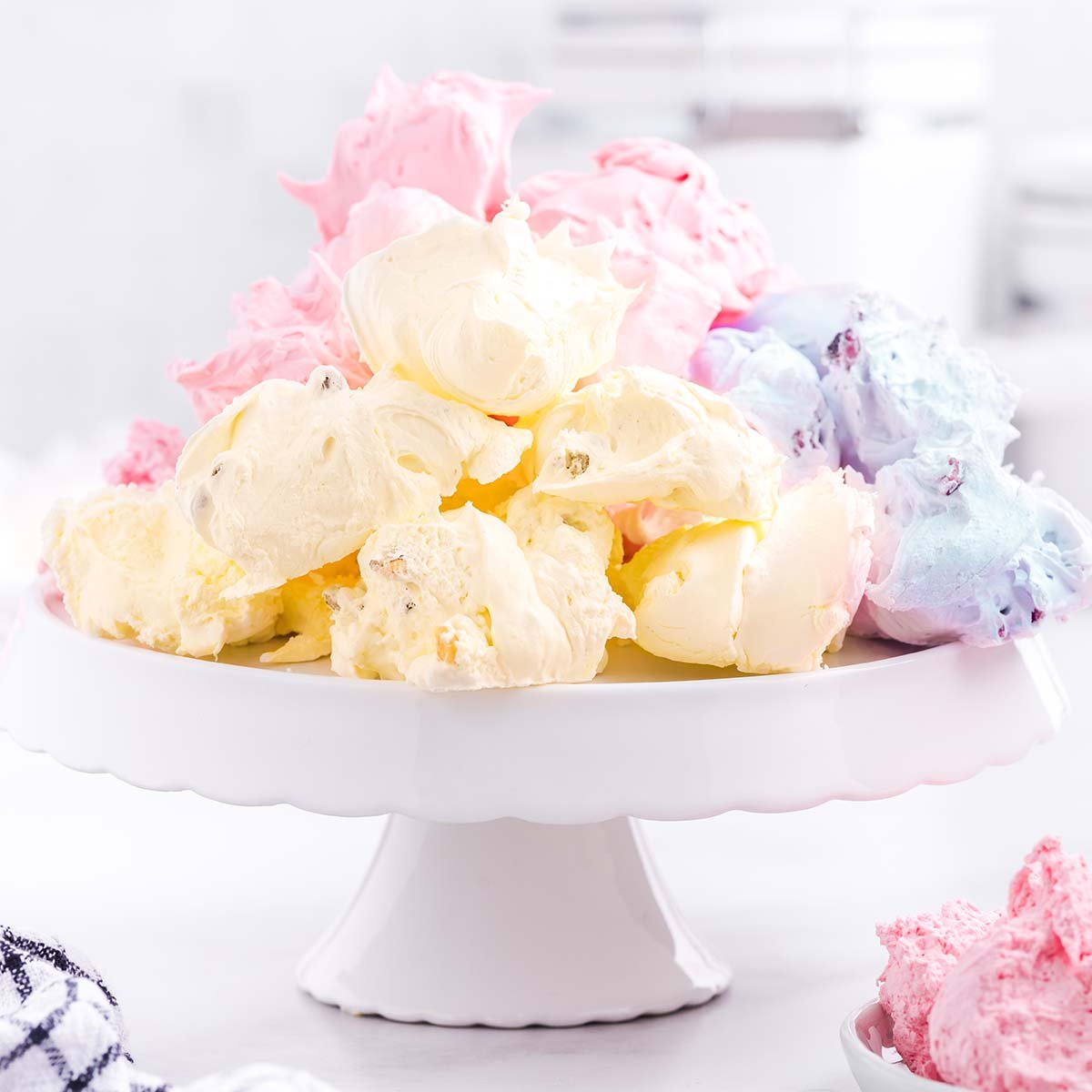 White Chocolate Dipped Ginger Cookies are soft, chewy, and full of delicious seasonal flavors that taste like Christmas in dessert-form. Perfect for your holiday cookie swap!
These ooey-gooey Hot Chocolate Cookies taste just like a delicious mug of hot chocolate in cookie form!
Any kid will love these Pop Tart Cookies! In 30-minutes you will have 2 dozen soft and chewy cookies, loaded with yummy Pop Tarts and topped with sprinkles.