Snowball cookies come by their name honestly, because they truly look like the perfect snowball sitting atop a plate.
Jump to Recipe
Snowball Cookies are a classic Christmas cookie recipe. With their melt-in-your-mouth texture and dusting of powdered sugar, these bite-sized treats have a buttery, nutty flavor and snowy sugar coating. Perfect for cookie swaps or your Christmas cookie tray.
Best Snowball Cookies Recipe
As their name suggests, Snowball Cookies resemble little snowballs, making them a delightful addition to any holiday dessert table or Christmas cookie swap. They stand out on any dessert tray, not just for their taste but for their charming, festive look that's synonymous with holiday cheer.
When you bite into one, it's a tender, crumbly experience that's hard to match. The combination of buttery richness with the nutty crunch of finely chopped almonds or pecans creates a contrast that's both satisfying and addictive.
Whether you prefer them with vanilla, almond extract, or a hint of citrus zest, you can tailor them to your taste. They can be filled with chocolate chips, dusted with cocoa, or even spiked with a splash of your favorite liqueur.
Try our twist on this classic cookie with our Peppermint Snowball Cookies!
Why We Love Christmas Snowball Cookies
Quick to make: Ready in under 30 minutes.
Few ingredients: Simple pantry staples needed.
Melt-in-your-mouth: Buttery and delightfully tender.
Perfect for gifting: Festive and easy to package.
Kid-friendly: Fun and safe for kids to make.
Versatile: Customize with nuts or chocolate chips.
Snowball Cookies Ingredients
Butter: Provides richness and structure to the dough.
Powdered sugar: Offers sweetness and a fine texture for rolling.
Clear vanilla: Imparts flavor without discoloring the dough.
All-purpose flour: The base that forms the cookie structure.
Cornstarch: Gives the cookies their signature tender crumb.
Chopped pecans: Add a nutty flavor and crunchy texture.
Additions & Substitutions
Pecans: If you are not a huge fan of nuts, you can lessen the amount of pecans. Alternatively, if you love nuts, you can also add in more. You could also switch out the pecans for many different types of nuts. Almonds, walnuts, macadamia nuts, or hazelnuts are others that would also work for this recipe.
Flavoring: I love to switch up the vanilla for an almond extract. This will give it a rich, nutty flavor.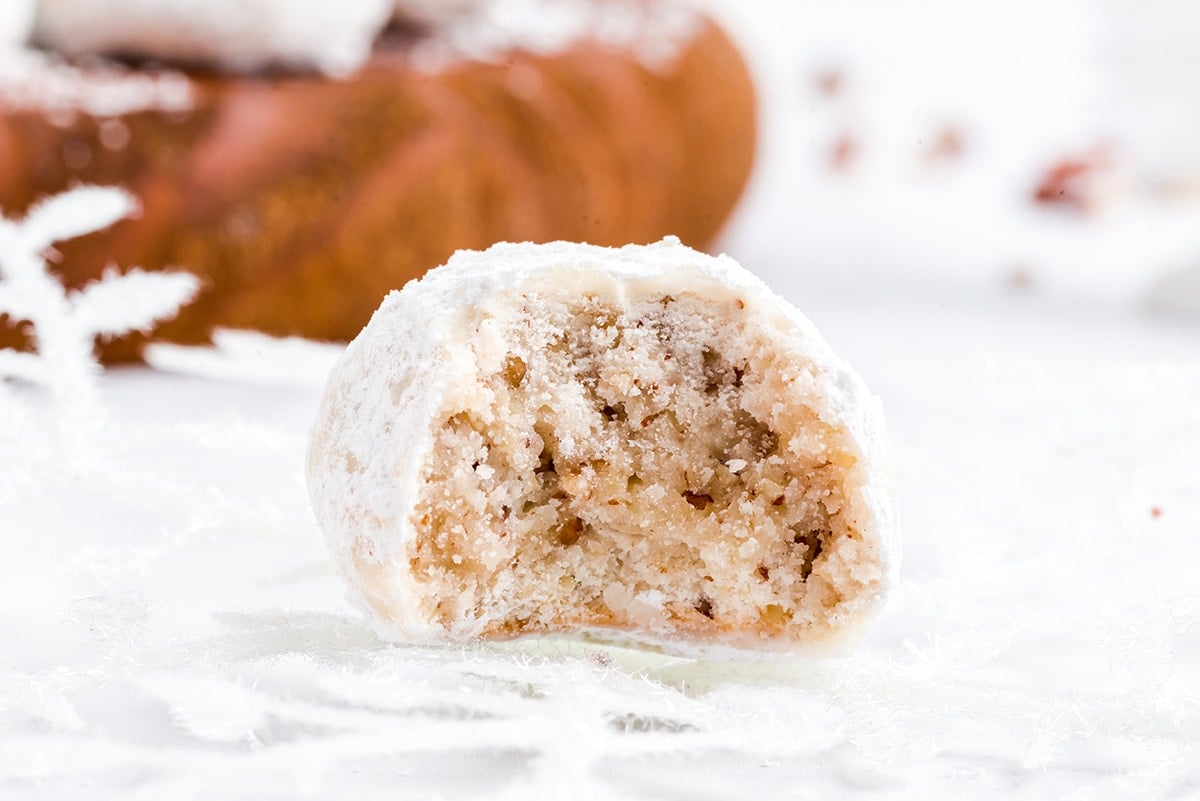 How to make Snowball Cookies
Prepare Dry Ingredients: In a medium mixing bowl, whisk together flour and cornstarch. Set aside.
Cream Butter and Sugar: Cream butter until pale yellow. Slowly add powdered sugar and mix until fluffy. Add vanilla and mix well.
Incorporate Flour and Pecans: Gradually add flour mixture, then mix in finely chopped pecans until evenly distributed. (Images 1 & 2)
Form and Chill Dough: Use a 1-tablespoon cookie scoop to form dough balls. Chill in the refrigerator for 10 minutes, uncovered. (Image 3)
Bake: Bake for 10 minutes until the bottoms are light golden brown. Let the cookies rest briefly.
Coat with Powdered Sugar: Roll the warm cookies in powdered sugar. Use a fork to prevent melting and maintain the sugar's texture. (Image 4)
Cool and Coat Again: Transfer to a tray to cool, then roll in powdered sugar once more for complete coating.
Tips for the Best Snowball Cookies
Chill dough: Prevents spreading and ensures they maintain their shape.
Use room-temperature butter: For easy creaming and uniform texture.
Roll twice in sugar: Once while warm, and once after cooling, for a snowy look.
Don't overmix: Keeps the cookies tender and crumbly.
Use a cookie scoop: For consistent, evenly sized cookies.
Watch baking time: Overbaking can dry them out; they should remain pale.
Store properly: Keep in an airtight container to maintain freshness.
Storing Pecan Snowball Cookies
Storage: Store the coated and cooled cookies in an airtight container for 5-7 days. They can be placed in the fridge or stored on the countertop at room temperature.
Freeze: You also can freeze baked cookies for up to 3 months. Thaw to room temperature before serving. You can also freeze uncooked dough balls and bake them from frozen, adding an additional 1 minute to the instructions above.
More Easy Christmas Cookies
More Holiday Recipes
Snowball Cookies
Snowball cookies come by their name honestly, because they truly look like the perfect snowball sitting atop a plate.
Ingredients
2

sticks

butter

softened

1

cup

powdered sugar

2½

tsp

clear vanilla

2

cups

all-purpose flour

2

tbsp

cornstarch

1

cup

finely chopped pecans

2

cups

powdered sugar

for coating the baked cookies
Instructions
Preheat the oven to 350*.

Line a cookie sheet with parchment paper.

In a medium size mixing bowl, whisk together the flour and cornstarch. Set aside.

2 cups all-purpose flour,

2 tbsp cornstarch

Using a stand mixer, or a medium size mixing bowl and a handheld electric mixer, cream the butter on medium-high speed for 5 minutes or until the butter turns a pale yellow. Using a spatula, scrape down the sides of the bowl.

Reduce the mixer speed to low. Slowly add the powdered sugar a ¼ cup at a time, mixing well until the butter mixture is fluffy. Scrape down the sides of the bowl.

Keeping the mixer on low speed, add the vanilla and mix for a few seconds to make sure the vanilla is incorporated well.

Continue to keep the mixer on low speed. Slowly add the flour mixture a 1/4 cup at a time, mixing well after each 1/4 cup until the flour is incorporated. Do not overmix. Stop the mixing as soon as the flour is fully incorporated.

Add the finely chopped pecans, and mix just until the pecans are evenly mixed into the dough.

1 cup finely chopped pecans

Using a medium size bowl, add the extra 2 cups of powdered sugar for rolling the warm cookie balls in, and set aside.

Using a 1 tablespoon cookie dough scoop or a tablespoon, scoop out the dough. Carefully but tightly, press and roll the dough in your hands to form the rounded cookie ball. The cookie balls should be about the size of a large marble. Place the cookie dough balls 2 inches apart.

Place snowball dough balls in the refrigerator for 10 minutes, uncovered to chill.

Bake for 10 minutes or until the bottoms are light golden brown.

Remove the cookies and allow them to rest a few minutes until they are easy to handle. Carefully transfer the cookie ball to the powdered sugar bowl. Gently roll the cookies in the powdered sugar. Best to use a fork to move them around in the powdered sugar so the heat from your fingers doesn't start melting the sugar and making it mushy.

Transfer the dusted cookies to a tray to finish cooling completely for a few minutes.

Roll the cookies one more time in the powdered sugar to ensure they are completely coated.

Store the coated and cooled cookies in an airtight container.
Nutrition Info
Calories:
159
kcal
|
Carbohydrates:
19
g
|
Protein:
1
g
|
Fat:
9
g
|
Saturated Fat:
4
g
|
Polyunsaturated Fat:
1
g
|
Monounsaturated Fat:
3
g
|
Trans Fat:
1
g
|
Cholesterol:
16
mg
|
Sodium:
54
mg
|
Potassium:
26
mg
|
Fiber:
1
g
|
Sugar:
12
g
|
Vitamin A:
190
IU
|
Vitamin C:
1
mg
|
Calcium:
6
mg
|
Iron:
1
mg