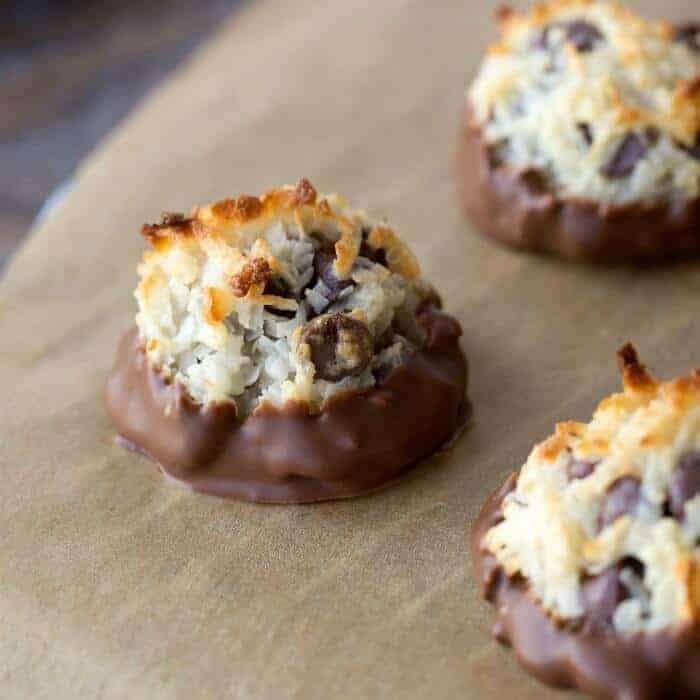 This Chocolate Dipped Coconut Chocolate Chip Macaroon Recipe makes the most sweet and chewy dessert with only 4 ingredients
Jump to Recipe
Coconut Chocolate Chip Macaroon Recipe – This sweet and chewy dessert with only 4 ingredients will be your new favorite! Soft and chewy on the inside, crisp and chocolatey on the outside! Trust the more than 15 Million Facebook and Pinterest readers who have made them and shared it!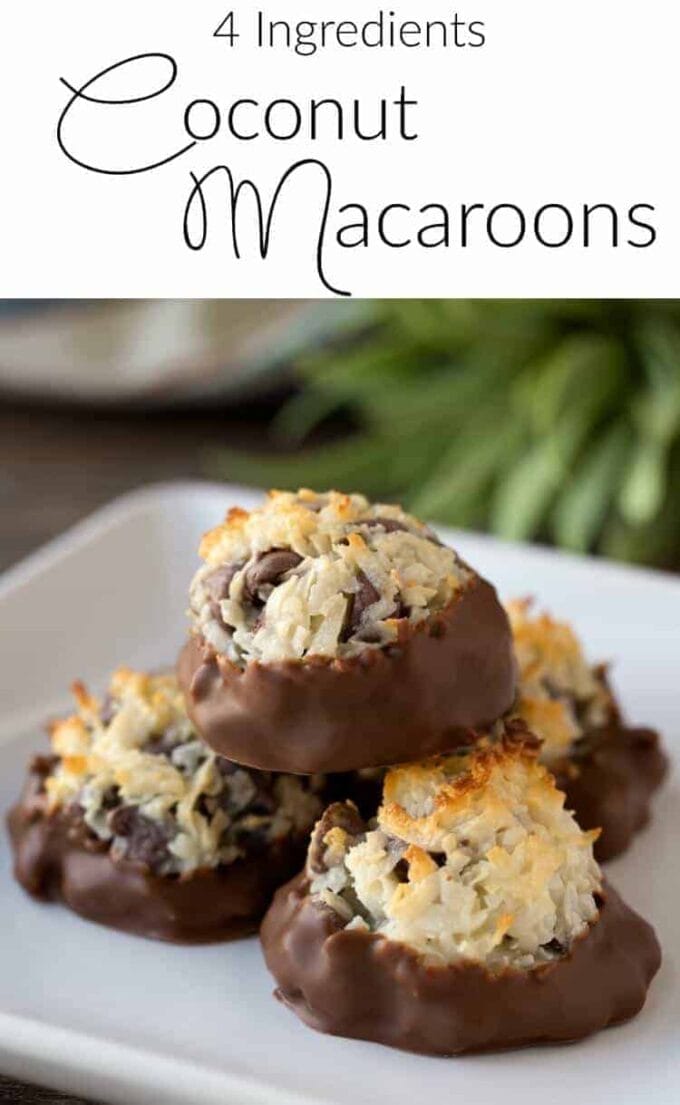 You'll go nuts for this Coconut Macaroon Recipe
Are you a coconut nut? I love Almond Joys more than any other candy. That is why these Chocolate Dipped Chocolate Chip Coconut Macaroons are one of my favorite desserts ever!
Macaroon Cookies are great for holidays…especially Passover!
What is great is that they are also kosher for Passover. On a holiday where there aren't a ton of yummy desserts, these are always a favorite and they are a dessert that I make year-round!
Don't do Passover – no problem! They will also be amazing for your Christmas Cookie swap! That's right! We do all holiday's here at Princess Pinky Girl!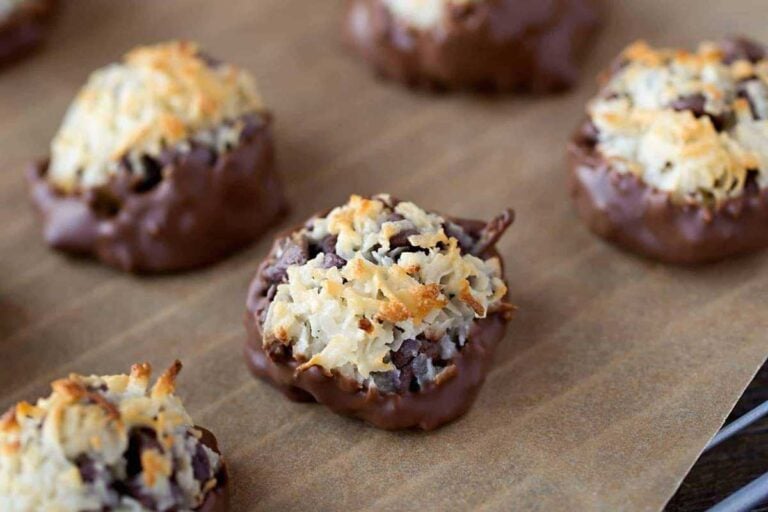 What is even better is that they are incredibly easy to make – they only have four ingredients, five if you choose to dip them in chocolate…and let's be honest, why wouldn't you dip them in chocolate, right??
As I mentioned, Passover desserts are usually dry and tasteless – but not these (and not my mom's chocolate chip mandel bread too, you must have these with a hot cup of coffee- yum!)
These two recipes are desserts that I can not let my family know exist until I pull them out for dessert – they would gobble them up before they even cool off!
I mean, even the batter is delicious! I swear, I could eat it up with a spoon without even baking (don't worry, there isn't any raw egg in it!)
PRO-TIP: Be sure to either use a silicon baking mat (my favorite thing ever) or parchment paper or spray the pan with non-stick spray. You don't want these to stick!
Macaroon vs Macaron
A macaron is a French pastry that has two meringue cookies with a ganache filling in between the two making a pretty and colorful sandwich biscuit. A macaroon is made up of shredded coconut and held together with either an egg mixture or sweetened condensed milk and baked until a little toasted on the top.
There are affiliate links in this post. That means if you buy something from that link, I will earn a small commission, but it won't cost you anything additional.
What you'll need for Chocolate Covered Macaroons
Helpful kitchen tools
How to make Macaroons Recipe
This is one of the easiest, yet stickiest recipes to make ever. I can honestly say it took me longer to take the pictures for this post than to make these. The best, is that people will think you are a cooking guru when they try these delectable desserts.
Mix the ingredients together.
Roll into small, very tight balls.
Bake.
Optional: dip in chocolate.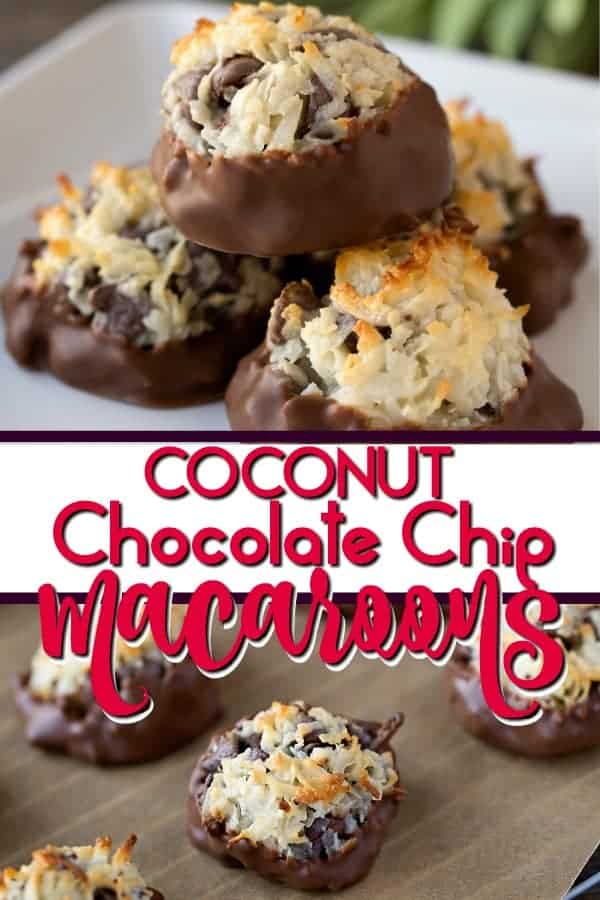 While these Chocolate Covered Coconut Macaroons are great for Passover, they really are a dessert that you can enjoy all year round. You can make these a few days before you need them, but just be sure to keep them in an airtight container.
However, they are best when they are fresh!
Coconut Macaroons Recipe tips
I have had a few people email me that the condensed milk spreads out of the bottom and the macaroons didn't work for them. I have made dozens and dozens of batches and they always work for me, but here are some tips if you are having issues, you should make sure you are following.
When you are forming the macaroons, the tighter that you roll the batter in a ball, the better they come out – they won't spread out as much and will come out rounder and more firm.
If the batter is sticky, put it in the refrigertor for about 10-15 minutes.
I like to actually SQUEEZE them and shift them from hand to hand and then when they are firm, I roll them around into a ball. The squeezing of the mixture in your hands is super important.
For some reason, Eagle Brand Sweetened Condensed Milk works the best for me. I tried a generic brand and the condensed milk seeped out the bottom a little more than usual and spread. But if you follow the steps above with squeezing the balls, that helps.
Some readers put them in a mini muffin pan. Just be sure to spray the cups generously with non-stick spray.
All ovens cook differently. Usually, my first batch will take a bit longer because the oven isn't quite as hot. Also, depending on how large you make your macaroons, will depend on how long they need to bake. I sometimes will go 20-25 minutes. You want the tops a good golden brown.
Make sure to really let them cool before removing from the baking sheet and moving to a wire rack to finish cooling or the macaroons will totally fall apart.
My silicone baking liner is my life! The macaroons totally slide right off of there with zero sticking. If you don't have one, you can get one here!
Macaroon Recipe pro-reader suggestion!
One of our readers, Kelly, made a great suggestion. If you are having trouble keeping the macaroons together, you can bake them in a mini muffin pan and they turn out great!
She mentioned that she was in a rush, and having a tough time getting them to roll into balls and stay together. So she got out her mini muffin pan, sprayed it generously with Pam, and used a cookie scoop to drop a spoonful into each mini muffin cup.
She pressed each one into the cup a bit and then baked at 350 for 15 minutes. Then she let them cool and used a spoon to loosen the edges and they came out perfect!
We adore when our readers share their experiences!! Thank you, Kelly!
How to store Chocolate Dipped Macaroons
How to Make Ahead and Freeze this Macaroon Recipe
The macaroons can be frozen for up to 3 months. You will want to let them cool completely and store in an airtight container.
I would also recommend separating the layers with parchment paper. When you are ready to serve them, remove them from the freezer and let them defrost to room temperature.
How long do Coconut Macaroons last?
These macaroons can be kept in an airtight container for 4-5 days.
Can you freeze coconut macaroons?
Yes, they can be frozen for up to 3 months.
Coconut Macaroons Recipe FAQs
Are these macaroon cookies gluten free?
Depending on the specific brands that you use, these macaroon cookies are gluten-free.
Why are my coconut macaroons soggy?
Coconut macaroons can become soggy if they are not baked long enough or if they are stored improperly, such as in a humid environment.
What do macaroons taste like?
Macaroons have a sweet and chewy texture with a pronounced coconut flavor, often enhanced with vanilla or almond extract.
Are macaroons healthy to eat?
While macaroons can be a delicious treat, they are generally considered to be a dessert or indulgence rather than a health food due to their high sugar and fat content.
More Coconut Recipes?
If you love Mounds Candy Bars – you will just adore these coconut treats – I hope you love them as much as we all do!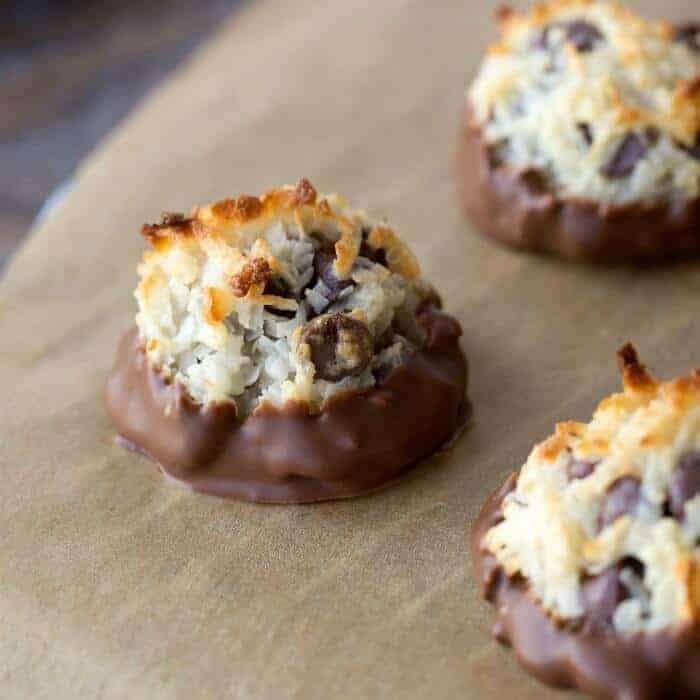 Chocolate Dipped Macaroons
This Chocolate Dipped Coconut Chocolate Chip Macaroon Recipe makes the most sweet and chewy dessert with only 4 ingredients

Ingredients
1

14 oz. bag

sweetened coconut

2

tsp

vanilla

1

14 oz. can

condensed sweetened milk

1-2

cups

chocolate chips

melting chocolate

(optional)
Instructions
Preheat oven to 350 degrees and line cookie sheet or baking sheet with a silicon baking mat or non-stick foil or parchment paper

Mix coconut, vanilla, condensed milk together in large mixing bowl. Add in the chocolate chips.

Take a tablespoon size of the mixture (a cookie scooper works great for this) and roll it in a ball with your hands (see tips above recipe!) You want the balls really tight, so squeeze the mixture in your hands!

Place each on the cookie sheet spaced apart (they will spread a bit)

Bake about 15-20 minutes until golden brown (the baking time really depends on your oven, you don't want them to burn, so watch them carefully)

When totally cool – melt candy chocolate in a double boiler (follow your chocolates instructions) and dip the bottom and roll the bottom sides in the chocolate. Let cool for about 15 minutes in the refrigerator
Jenn's Notes
SEE TIPS ABOVE RECIPE!!
Find more great recipes at https://princesspinkygirl.com
Nutrition Info
Calories:
151
kcal
|
Carbohydrates:
18
g
|
Protein:
1
g
|
Fat:
8
g
|
Saturated Fat:
6
g
|
Cholesterol:
2
mg
|
Sodium:
57
mg
|
Potassium:
59
mg
|
Fiber:
2
g
|
Sugar:
15
g
|
Vitamin A:
35
IU
|
Vitamin C:
0.1
mg
|
Calcium:
19
mg
|
Iron:
0.4
mg

Originally posted April 2014