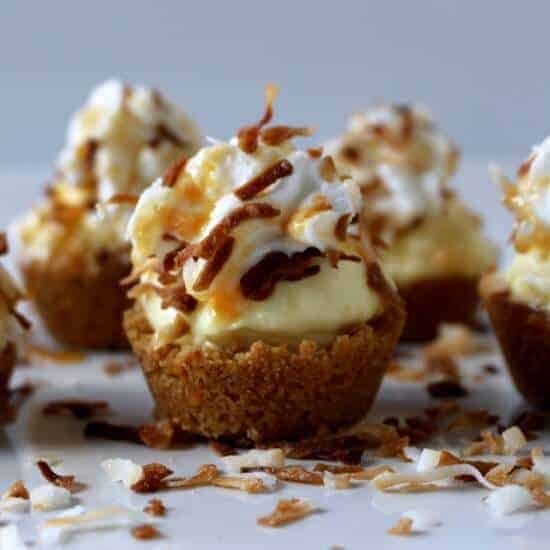 Mini coconut cream pies in a graham cracker crust made in less than 30 minutes.
Jump to Recipe
Mini Coconut Cream Pies in bit form! A homemade graham cracker crust filled with creamy vanilla pudding mixed with fresh pieces of coconut.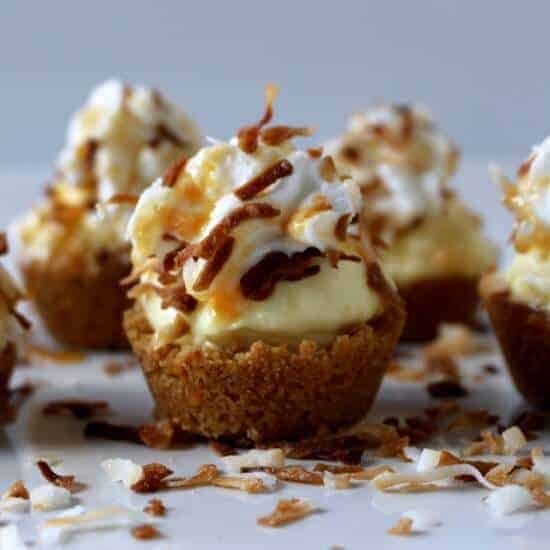 If you know anything about me, you know that I don't really cook as much as I assemble. This recipe is very easy and takes no time at all!
Coconut Cream Pie Bites
Ingredients
1 cup graham cracker crumbs
6 tablespoons melted butter
1/4 cup powdered sugar
1 package Jell-O vanilla instant pudding
1 cup cold milk
1 cup Cool Whip, thawed
3/4 cup sweetened flake coconut
Carmel Sauce (optional)
How to Make Coconut Cream Pie Bites
Preheat oven to 350 degrees
Grease mini muffin pan with non-stick butter spray
In a medium size bowl mix graham cracker crumbs, powdered sugar and butter with a spoon (Some people find that this is too much butter and the butter starts to pool – Melt the butter and add slowly to the crumbs, a little bit at a time, making sure it's not too wet. You can always add more. You want a soft dough that sticks together slightly when you try to form a ball, not a wet dough.)
Evenly distribute mixture to the mini muffin cups (makes about 18-20). Press along the bottom and sides to make a "cup". Do not make the bottom too thick or the butter could pool when cooking.
Bake for 5 minute or until top edges start to get golden brown.
Let cool completely.
When cool, use a knife to loosen cups and "pop" out of muffin pan.
Combine pudding mix and milk in medium bowl with whisk for about 2 minutes. Stir in 1/2 cup of Cool Whip and 1/2 cup coconut.
Place pudding mixture in a plastic sandwich bag and cut the bottom corner off – use this to fill the cups with the pudding (or you can just use a spoon to place a spoonful in the cup.
Refrigerate until firm.
Toast remaining coconut.
HOW TO TOAST THE COCONUT: Heat oven to 350°F. Spread coconut onto bottom of shallow pan. Bake 3-5 min. or until lightly browned, stirring frequently.
Sprinkle toasted coconut on top of pudding cup, top each pie with remaining Cool Whip (right before serving) and sprinkle with toasted coconut.
Drizzle with caramel sauce (optional)
Enjoy!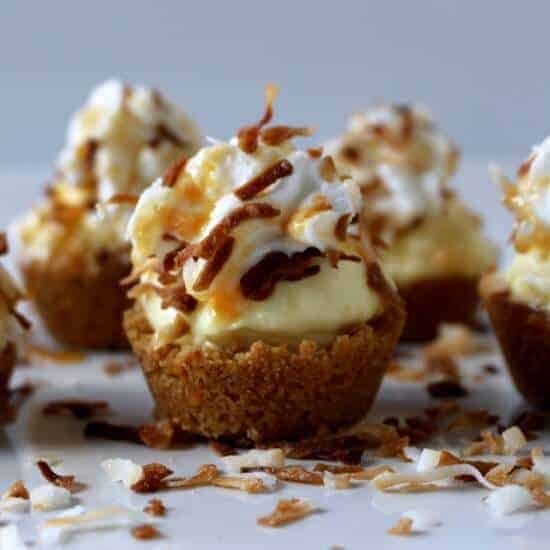 Coconut Cream Pie Bites
Total Time
1

hour
30

minutes
Ingredients
1

cup

graham cracker crumbs

6

tablespoons

melted butter

¼

cup

powdered sugar

1

package

Jell-O vanilla instant pudding

1

cup

cold milk

1

cup

Cool Whip

thawed

¾

cup

sweetened flake coconut

Carmel Sauce

optional
Instructions
Preheat oven to 350 degrees

Grease mini muffin pan with non-stick butter spray

In a medium size bowl mix graham cracker crumbs, powdered sugar and butter with a spoon

TIP: Some people find that this is too much butter and the butter starts to pool – Melt the butter and add slowly to the crumbs, a little bit at a time, making sure it's not too wet. You can always add more. You want a soft dough that sticks together slightly when you try to form a ball, not a wet dough.

Evenly distribute mixture to the mini muffin cups.

Press along the bottom and sides to make a "cup". Do not make the bottom too thick or the butter could pool when cooking.

Bake for 5 minute or until top edges start to get golden brown.

Let cool completely.

When cool, use a knife to loosen cups and "pop" out of muffin pan.

Combine pudding mix and milk in medium bowl with whisk for about 2 minutes. Stir in 1/2 cup of Cool Whip and 1/2 cup coconut.

Place pudding mixture in a plastic sandwich bag and cut the bottom corner off – use this to fill the cups with the pudding (or you can just use a spoon to place a spoonful in the cup.

Refrigerate until firm.

Toast remaining coconut.

HOW TO TOAST THE COCONUT: Heat oven to 350°F. Spread coconut onto bottom of shallow pan. Bake 3-5 min. or until lightly browned, stirring frequently.

Sprinkle toasted coconut on top of pudding
Nutrition Info
Calories:
168
kcal
|
Carbohydrates:
21
g
|
Protein:
2
g
|
Fat:
9
g
|
Saturated Fat:
6
g
|
Polyunsaturated Fat:
1
g
|
Monounsaturated Fat:
2
g
|
Trans Fat:
1
g
|
Cholesterol:
18
mg
|
Sodium:
179
mg
|
Potassium:
69
mg
|
Fiber:
1
g
|
Sugar:
15
g
|
Vitamin A:
219
IU
|
Calcium:
38
mg
|
Iron:
1
mg