This icy, creamy, naturally sweet Watermelon Coconut Slush is possibly the best fruity combination of the summer!
Jump to Recipe
Stay refreshed with our delightful Watermelon Coconut Slush, a thirst-quenching summer concoction that masterfully blends juicy watermelon and tropical coconut flavors into a frosty, invigorating beverage.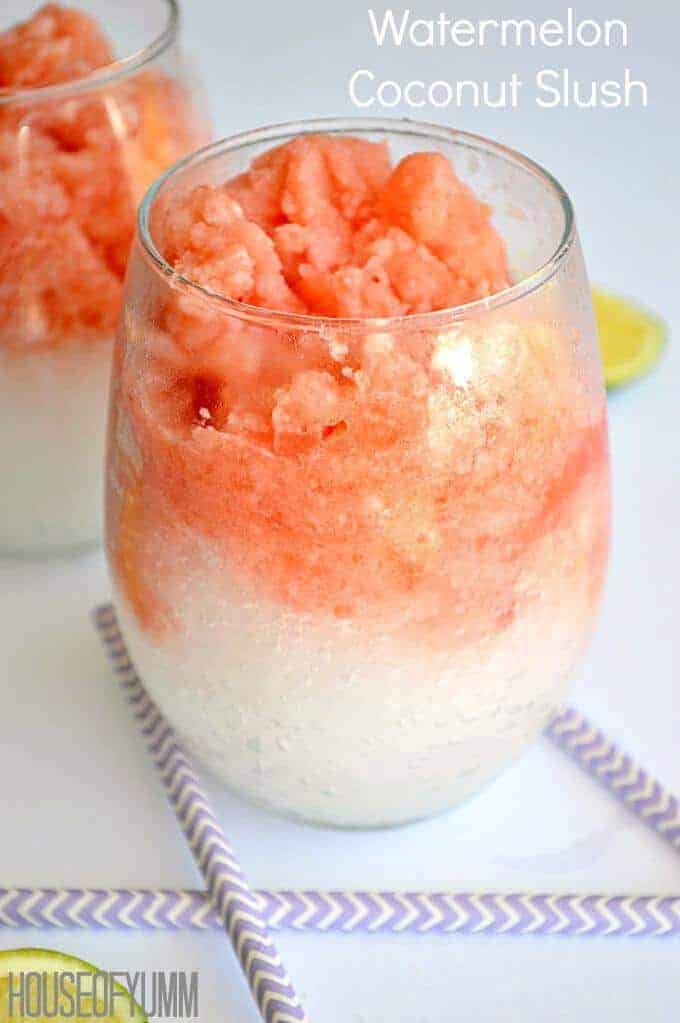 Hey! Serene here with another treat for you this month. Today I'm coming at you with a frozen slush. Do we want to call it a slush, a slushy, or slushie? Does it really matter?
I suppose if we want to take a vote I actually call it a slushie. And yes, I absolutely say it with the ie ending! I'm going with just slush for the purpose of this post though, because I feel like it's more commonly used.
I have a tendency to call things by the wrong name, or random names. Don't even get me started on jojos. If you know what those are you just made my day! Aaaanyways. This Watermelon Coconut Slush is quite possibly the best fruity combination of the summer. Not to mention the perfect amount of ice mixed with frozen fruit and just a hint of almond milk making this icy, creamy, and naturally sweet.
This slush is so easy to make. If you have a blender it will probably go a bit faster. I sadly, do not have a blender, so I use my trusty food processor. I love this thing. I have yet to find a job too difficult for this food processor.
So we start out with 2 cups of ice. Have you ever put ice in your food processor? It turns to snow! Seriously. At this point you can run out and buy some snow cone juices and have yourself a little snow cone party, or we can continue with the recipe and experience a natural, healthier option. Who's with me?!
Ok, so we have our snow. Just look how fluffy it is. Make sure you give the processor time to turn the ice to snow, about 2-3 minutes should do it. I usually will hold onto the lid and tilt the processor side to side to help make sure that all the ice is being ground up in there. If you have a blender, this step will probably go a little bit quicker for you.
Add in the cream of coconut, this is the sweetened version of coconut cream, the same stuff we used in these Pina Coladas. Seriously at this point I would be perfectly happy. I love coconut. And this is basically a coconut snow cone. But if you're like me and happened to end up with a ton of watermelon (not that I mind having watermelon one bit!) let's just keep going! Watermelon and coconut is just one of those combinations that everyone should experience in their lives. So scoop out the coconut slush into your glasses and place them in the fridge while we finish up.
Since we did the coconut first, we don't even need to clean the food processor, toss in 2 cups of frozen watermelon and again, let the processor do it's thing. The watermelon needs to be in the freezer for at least 3 hours to get frozen, or you could be like me and put it in the freezer and not get around to doing anything with it for a month. It will still be good! The watermelon comes out a little drier than the ice did, so that's why we add some almond milk. I added about 1/4 a cup, really you can just add what you want at this point. The watermelon alone will seem dry, adding the milk makes it just a little creamy, a little slush-y like, and I think it makes the watermelon flavor stand out.
Scoop this on top of the coconut from earlier and you have a fancy looking, flavor explosive, creamy, slushy, summer treat.
I hope you enjoy!
Watermelon Coconut Slush
This icy, creamy, naturally sweet Watermelon Coconut Slush is possibly the best fruity combination of the summer!
Ingredients
2

cups

ice

⅓

cup

cream of coconut

2

cups

frozen watermelon

¼

cup

Almond Milk

Juice of one lime

optional
Instructions
Add the ice into a food processor or blender. Process for about 2-3 minutes or until ice becomes snow like, with no big chunks of ice left.

Mix in the cream of coconut with the blended ice. Stir until completely combined. Divide the coconut mixture and spoon into glasses. Place glasses into refrigerator to keep cool while we work on the watermelon.

Add the frozen watermelon to the food processor or blender. We don't need to clean the processor, just empty out all the coconut. If you do the watermelon first you will want to clean it otherwise your coconut mixture will turn pink! Blend or process the watermelon for about 2-3 minutes until no large chunks remain. Watermelon will be ground up and slightly dry.

Add in the almond milk (or milk of preference), you can add more or less based on preference. Stir to combine. Divide the watermelon mixture and spoon into glasses on top of the coconut.

Can squeeze in some fresh lime juice if wanted for an extra little flavor kick!
Nutrition Info
Calories:
132
kcal
|
Carbohydrates:
23
g
|
Protein:
1
g
|
Fat:
4
g
|
Saturated Fat:
4
g
|
Polyunsaturated Fat:
0.1
g
|
Monounsaturated Fat:
0.1
g
|
Sodium:
39
mg
|
Potassium:
85
mg
|
Fiber:
1
g
|
Sugar:
21
g
|
Vitamin A:
432
IU
|
Vitamin C:
6
mg
|
Calcium:
28
mg
|
Iron:
0.2
mg