This post may contain affiliate links. Read my disclosure policy here.
Snow Globe Cookies take Christmas Cookies to the next level – they are cute, delicious and even the glass is edible!!
I've said it before and I will say it again, I really am a horrible cook. Don't get me wrong, I have gotten better over the years.
BUT what I do totally rock at is food crafting! I love creating cute projects with food – preferably dessert! When my sister, Julie, came home for Thanksgiving (and yes, Julie, it is coming home, because this is where you are from) we wanted to make some Christmas Cookies for Princess Pinky Girl.
BUT, not just any Christmas Cookies -we wanted to make something TOTALLY unique and different – Presto – Snow Globe Cookies were born.
Now, we could have just cut a sugar cookie in the shape of a snow globe, put some pretty frosting on it and called it a day – but heck no, that is not how we operate!
We needed to take it to the next level – I wanted it to have "glass", just like a snow globe. So after some experimenting, we did it – we created an actual snow globe cookie with edible glass candy!
Best of all, it was super easy to do!!
See the Full Instructions and How-To Video Below:
Here is what you need:
Your favorite sugar cookie recipe (this is my absolute favorite, go to sugar cookie recipe! They are perfect for this sort of food craft because they don't spread – Wholefully.com.
Isomalt crystals (this is what you use for the glass candy)
Silicon Mat – best thing ever!
Circle cookie cutters (one big, one small)
Here is what you do:
Roll out your sugar cookies dough – I divided mine up into four and wrapped them in plastic wrap and kept the dough that I wasn't working with in the refrigerator. It is much easier to work with when it is cold.
Cut out circles for the globe. In half of the circles, cut a smaller circle out within the larger one (for the window).
Cut out a base for each set of circles and press the base to the full circle.
Bake the cookies according to the recipe directions (until they just start to get golden brown edges)
Let cool completely.
Place the cookies on the Silicon Mat.
Melt the Isomalt crystals according to the directions on the package. Pour the melted candy into the center of the cut out circle and let harden.
Using a pastry brush lightly brush corn syrup on the base of the "snow globe" and immediately dip in the red decorating sand. Lightly brush corn syrup around the side of the cookie with the candy window (careful to not get the syrup on the window" and immediately dip into the green decorating sand.
Brush a little syrup on the base cookie and place the Christmas decorations of your choice in the middle (tree, gingerbread, stars, etc.) and sprinkle with the white nonpareils "snow".
Use the white icing to "glue" the two cookie parts together!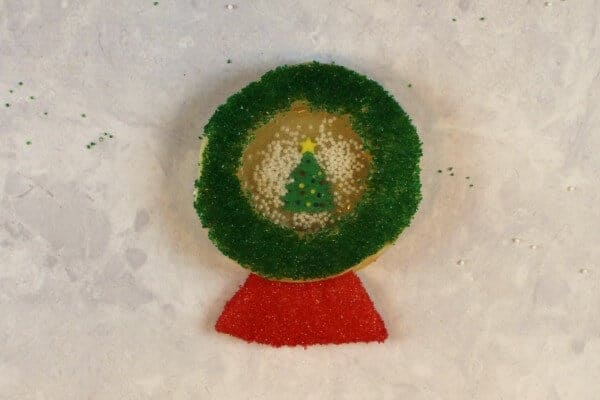 Sign up for the Princess Pinky Girl Newsletter and automatically receive our latest & greatest delivered right to your inbox! Follow Princess Pinky Girl on Facebook, Twitter, Pinterest and Instagram for all of the newest recipes, crafts, travels and updates!
If you make a Princess Pinky Girl creation make sure you take a picture and share it on Instagram with @princesspinkygirl ! I love seeing your masterpieces!