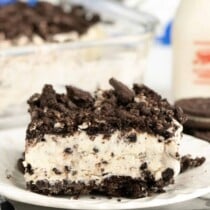 The perfect mix between an Oreo pudding dessert and a delicious ice cream cake!
Jump to Recipe
This No-Bake Oreo Dessert is the ultimate, light and frozen dessert for any Oreo fan! It's so easy to make and only calls for 7 simple ingredients.
Whenever I even think about this frozen Oreo dessert, my mouth begins to water. It's so creamy and delicious. It's like the perfect mix between an Oreo pudding dessert and a delicious ice cream cake!
Oreo Cookie Dessert
With a prep time of only 15 minutes and an ingredients list that's only 7 items long, this is so easy to put together. Then, just pop it in the freezer to chill and when it's finished, you have a delicious dessert that serves about 8-10 people.
I love making this for summer birthdays or gatherings with family. Everyone loves it!
PRO TIP: This is a great make-ahead dessert recipe! I can throw it together the night before, put it in the freezer and just take it out when I'm ready to serve it. You'll love the ease of making this and the deliciousness of it is just an added bonus!
Oreo Frozen Dessert Ingredients
Oreo cookies
Butter
Heavy whipping cream
Vanilla
Cream cheese
Sugar
Sweetened condensed milk
How to make our favorite Oreo Dessert
CRUSH OREOS (except for 12 cookies, set those aside)
MIX crushed oreos and butter to make the crust (press it into the pan and refrigerate)
MAKE cream cheese and whipped cream mixture (this will be the filling)
SPREAD the mixture over your crust and top with remaining crushed cookies
FREEZE until ready to serve (but at least 3 hours)
Tips for the Best Frozen Oreo Dessert
Tip 1: Freeze time for this dessert is important. You definitely want to give it 3-4 hours to stiffen up. However, what's best is if you can leave this to freeze overnight. So, if you can make it work, I suggest making this dessert the day before you plan to serve it.
Tip 2: Take it out a good 15-20 minutes before serving, so that it can thaw just a bit. Just like an ice cream cake, you need to let it soften a bit before cutting into it, otherwise, it's nearly impossible to cut into!
Tip 3: Some people ask if it's absolutely necessary to use Oreo brand cookies. Truth be told, you could choose to use an off-brand that's similar, BUT, in my opinion, it's just not going to be the same!
Oreo's are one of a kind and they truly make this recipe what it is. I suggest sticking with the Oreo cookie brand for this one! Note, you could, however, choose to switch up what type of Oreos you are using, as I mentioned above!
Want another delicious Oreo dessert – try our Deep-Fried Oreos! They are my guilty pleasure!
Oreo No Bake Dessert Variations
This is one dessert recipe that doesn't have a ton of opportunity for switching things up. You will most definitely want to keep all of the filling ingredients the same. The one area of opportunity here is with your Oreos!
I'm sure you know already, but the Oreo brand makes quite a range of Oreo style cookies, and they are coming out with new ones all the time. You could definitely change it up and use one of these variations instead of using the classic Oreo flavor.
Here are a few ideas:
Chocolate Oreo (with a chocolate filling instead of vanilla)
Peanut Butter Oreo (with peanut butter filling)
Red Velvet Oreo (with red velvet flavored cookies and cream cheese filling)
Mint Oreo (with mint filling)
Dark Chocolate Oreo (with dark chocolate filling)
Golden Oreo (with vanilla cookies)
I don't know about you, but I think that ANY of these flavors would make an amazing substitution in this recipe. Double chocolate? Peanut butter? Mint?! YUM! So, if you're feeling adventurous and want to mix things up, you could try using one of these options instead.
That said, you truly can't go wrong with just sticking to classic Oreos!
How to store leftover Oreo Cookie Dessert
When you are finished serving this up, you'll want to be sure to put it back in the freezer right away. Don't let it melt too much before doing so, or it will lose its form! If there are leftovers (if being the keyword here) just put them back in the freezer.
When you want to enjoy said leftovers, simply take it out and serve them up! You shouldn't have to take it out 15 minutes in advance each time. Once you've cut into it, it will be easier to get a piece out –even if it's still pretty frozen.
Chocolate Lasagna Recipe | Eclair Cake | No Bake Peanut Butter Balls | Edible Cookie Dough Recipe | Oreo Cream Pie | Funfetti Dip | Chocolate Trifle | Monster Cookie Dough Bars | Pineapple Delight | 2 Ingredient Oreo Mug Cake | Reese's Pieces Peanut Butter Ball | Rocky Road Bars | Monster Cookie Dessert Dip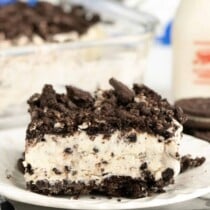 Oreo Cookie Dessert
Ingredients
1

14.3 ounce package

Oreo cookies

crushed and divided

¼

cup

butter

melted

1

cup

heavy whipping cream

1

teaspoon

vanilla

8

ounces

cream cheese

softened

3

tablespoons

sugar

1

14 ounce can

sweetened condensed milk
Instructions
Remove 12 Oreos from the package.

Crush the remaining Oreos either by placing in a Ziploc bag and using a rolling pin or placing in a food processor.

Mix half of the crushed Oreo crumbs with the melted butter. Press into a 9×9 pan to form the crust. Place into the refrigerator while preparing the filling. Set the rest of the Oreo crumbs aside.

In a large bowl whip the heavy cream until stiff peaks form. Set aside.

In another large bowl cream together the cream cheese and sugar. Add the vanilla and mix again.

Next add the heavy whipping cream to the cream cheese mixture folding gently with a spatula.

Add the sweetened condensed milk and continue mixing gently until fully combined.

Mix in the remaining Oreo crumbs.

Spread the mixture evenly over your cookie base.

Crush the remaining 12 Oreos and sprinkle them on top of the filling.

Cover with foil. Return to the freezer and chill until solid (3-4 hours, overnight is best).

Remove from the freezer 15 minutes before serving.
Nutrition Info
Calories:
216
kcal
|
Carbohydrates:
5
g
|
Protein:
2
g
|
Fat:
21
g
|
Saturated Fat:
13
g
|
Cholesterol:
70
mg
|
Sodium:
123
mg
|
Potassium:
49
mg
|
Sugar:
4
g
|
Vitamin A:
796
IU
|
Vitamin C:
1
mg
|
Calcium:
39
mg
|
Iron:
1
mg
You are going to love this frozen Oreo dessert. It's one of my favorite easy desserts. I've made it for so many events that I can pretty much put it together with my eyes shut at this point. Everyone loves this light and creamy frozen dessert!