Are you always looking for new cute ideas for Halloween for your child's classroom party? Well, these easy Halloween Party Classroom Treats are great for school, parties, and more!
These Easy Halloween treats for your child's classroom are about to make your party planning jobs a whole lot easier! Looking for some Halloween treats to make with your kids? We have some super easy suggestions for you!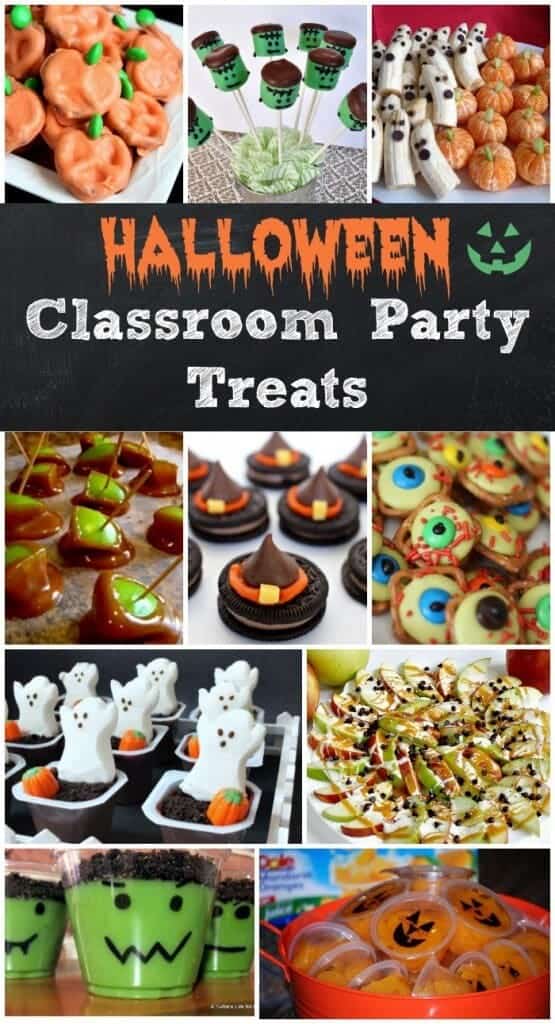 EASY Halloween Party Classroom Treats!
ATTENTION ROOM MOMS – this post is for all of you!!! That's right, we are doing the work for you. Here are some adorable and easy Halloween treats to make for your child's classroom party!
Every year the pressure gets greater for some yummy and scary snacks for the much-anticipated classroom Halloween party. So we Room Moms need to keep it fresh!
These amazing bloggers have come up with some GREAT ideas and the best news…. they are SUPER easy desserts to make!!! Side note – these also make great ideas for your neighborhood BOOing! Don't know about the You've Been Booed craze? See our great Halloween Boo Ideas for tons of great ideas.
The BEST Halloween party Classroom Treats
Halloween Spider Cookies – these are one of my favorite Halloween treats ever! They are super easy to make and I just think candy eyes make everything adorable (even a spider!)
Love no-bake ideas? Me too! Well, these Halloween Rice Krispie Treat Zombie Graveyard are totally no-bake! They are basically just assembling!! It doesn't get much cuter (or easier) than this!
Pretzel Pumpkins from Butter with a Side or Bread – I love these not only because they are cute, but who doesn't love that sweet and salty combination!
Oreo Witches Hats from Princess Pinky Girl! – another super easy one and they literally take just a few minutes to make!! Perfect if you are short on time!
Caramel Apple Nachos from Butter with a Side of Bread – need something slightly healthier? My kids just adore these caramel apple nachos!
Speaking of a healthy Halloween treat. How about these Cyclops Halloween Fruit Kabobs? Great way for your kids to get some healthy snacks in with all of this candy around!
Zombie Eyes Pretzels – again….sweet and salty! Need I say more! (see our version of Monster Eyeball Pretzels here!)
Frankenstein Marshmallow Pops from Craft-O-Maniac – Frankenstein holds a special place in my heart and I just adore these Marshmallow pops! See our Frankenstein Edible Bowl – it is formed by dipping a balloon into chocolate and forming the bowl.
Banana Ghosts & Clementine Pumpkins – Cute and healthy! It is always nice to have a healthier option. All you need is bananas, chocolate chips, clementines and celery.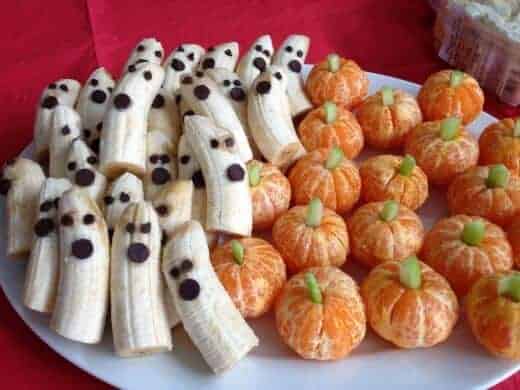 Caramel Apple Bites from Try it Mom – These are just so much easier to eat than a full caramel apple – SO smart!
Frankenstein Pudding Cups – from A Turtles Life for Me – Can't get enough of my Frankenstein! How great are these pudding cups!!! They will just gobble them up!

Looking for some other great Halloween ideas?
Halloween Hacks – great Halloween DIY decoration ideas.
Pretty Pumpkin ideas – Pumpkins don't have to always be scary!
Here are some HEALTHY Halloween Treat options for you: