Got left over Halloween candy (if not, no worries, just go to the store and buy your favorite!) This recipe has it all - cookie...candy...and more cookie!! You cannot go wrong with this delicious and easy dessert
Jump to Recipe
Halloween – I love it and hate it. I love the decorations, the treats, the costumes and all of the wonderful candy! However, I hate all of that wonderfully delicious leftover candy….especially when the kids are at school and I am having a sugar craving and that leftover candy is literally staring me in the face. That is why I adore this yummy treat that my friend, Erica, baked with me – Leftover Halloween Candy and Cookie Skillet.
What's great about this treat is EVERYTHING! Two types of cookies and candy smooshed together to make one delicious treat. My youngest son told me today that this was the best thing I have ever made!!! Now that is a compliment! One of the best things is that you can use your own cookie recipes or if you want to make it REALLY easy, just use store bought cookie dough (shhhhhh….I won't tell!!)
Candy and Cookie Skillet
Got left over Halloween candy (if not, no worries, just go to the store and buy your favorite!) This recipe has it all – cookie…candy…and more cookie!! You cannot go wrong with this delicious and easy dessert
Ingredients
1

Ready to bake sugar cookie dough

or use your favorite recipe

1

Ready to bake chocolate chip cookie dough

or use your favorite recipe

Any candy you can get your hands on – cut any larger candy up in small bite-sized pieces
Instructions
Preheat oven to 350 degrees

Spray a 10 or 12 inch cast iron skillet with non-stick spray

Press sugar cookie dough along the bottom of the skillet – make an even layer

Press any type of candy on top of the sugar cookie dough – the more the better

Place spoonfuls of the chocolate chip cookie dough on top of the the candy layer and press down with either the back of a spoon or your fingers to make an even layer over the candy and the sugar cookie dough.

Place in oven and bake about 40 minutes until edges are starting to brown and middle is set.

Let cool completely, cut and serve

Enjoy!
Nutrition Info
Calories:
1
kcal
|
Carbohydrates:
0.1
g
|
Protein:
0.01
g
|
Fat:
0.03
g
|
Saturated Fat:
0.01
g
|
Polyunsaturated Fat:
0.003
g
|
Monounsaturated Fat:
0.02
g
|
Cholesterol:
0.02
mg
|
Sodium:
0.5
mg
|
Potassium:
0.2
mg
|
Fiber:
0.002
g
|
Sugar:
0.1
g
|
Vitamin A:
0.1
IU
|
Calcium:
0.01
mg
|
Iron:
0.003
mg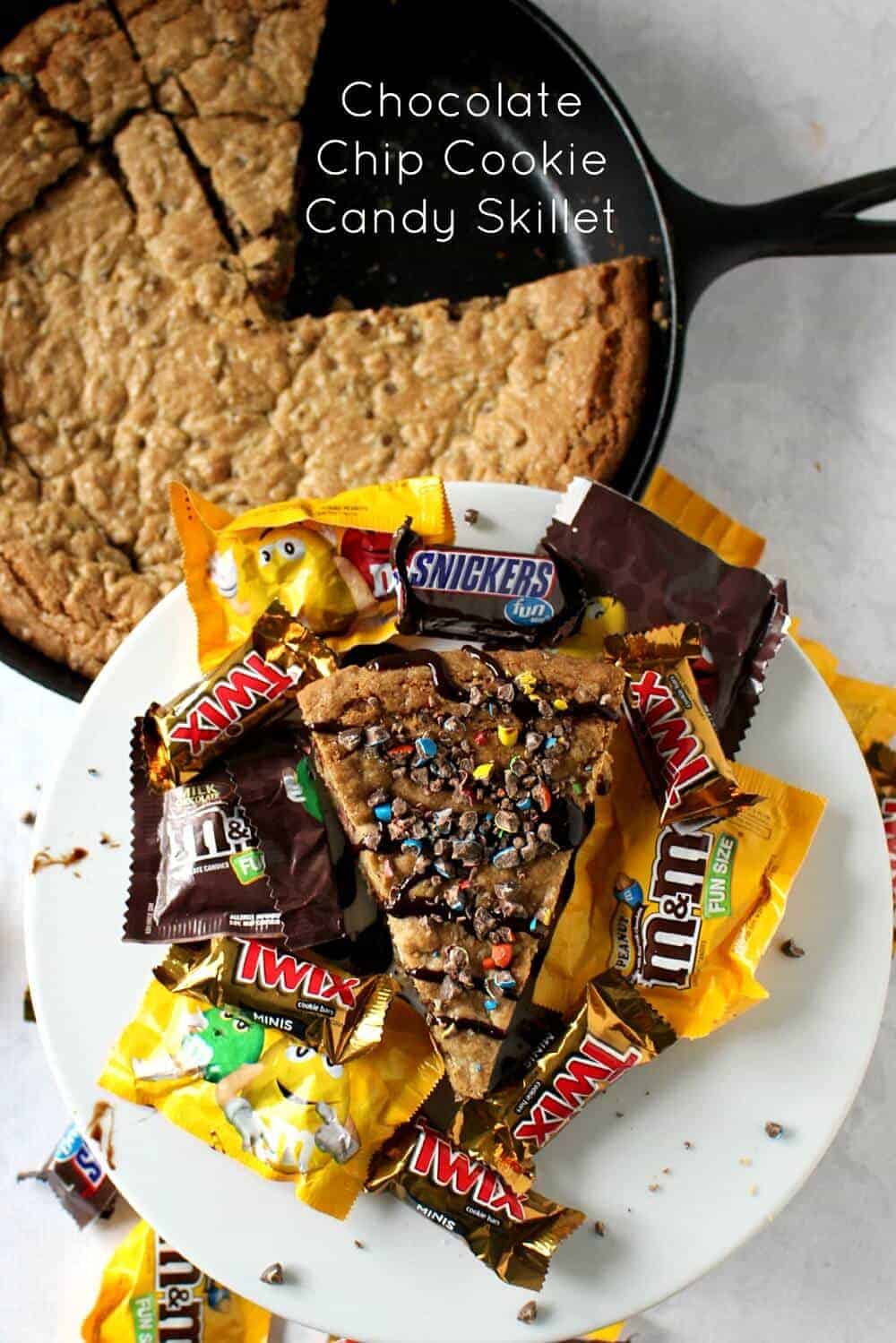 Looking for some other super easy desserts? Just click on the pictures below: