This post may contain affiliate links. Read my disclosure policy here.
Easter Bunny Bark – Marshmallows, chocolate and any of your favorite Easter candy make up this easy treat and great project to make with your kids! Put some in a cute Easter cellophane bag and add them to your Easter baskets!
Easter bunnies. They are so darn cute. Combine an adorable Easter bunny with something delicious and that is what I call a home run – Easter Bunny Bark!
This delicious Easter Bunny Bark is sure to hit one out of the ballpark (notice the clever spring references, Easter, baseball, etc. is it obvious that I am super done with winter and ready for Spring?)
What's really great about this chocolate bark is that you can get creative with it. There is so much fun Easter candy out there. Grab your favorite and crush it up and add it!
Try some Robin Egg candy, M&M's, jelly beans, malted milk eggs, Easter sprinkles – the more the merrier! Have fun with it.
The other great thing about making chocolate candy bark is that it is really easy to make! It is a no-bake dessert and take not time at all (it is literally impossible to mess up).
I became obsessed with all things chocolate bark after I made my Melted Snowman Bark which went crazy viral! Now I am all over all things bark! (If you love bark, be sure to try my Peppermint Bark! It is a peppermint lovers dream dessert and so easy to make!)
This doesn't even start when I started including popcorn with the bark making Popcorn Bark – OMG – this takes bark to a whole new level!
Side note, if you are looking for some other fun Easter desserts and you haven't seen my BUNNY BUTT COOKIES – take a quick second to check them out too – they are super cute and really easy to make as well!
Pro Tip: Did you know you could melt chocolate perfectly using an Instant Pot? This is a great alternative to using the microwave (which can scorch the chocolate) or using a double broiler.
How to Melt Chocolate using an Instant Pot
Put water in the Instant Pot and turn it on saute
Place a bowl on top of the Instant Pot
Put the chocolate in the bowl
Stir occasionally until completely melted
Okay, so back to Easter and Easter Bunny Bark. This is a really fun activity – craft – treat to make with your kids. They will love making it and I can promise that they will love eating them even more!
Be sure to check out the marshmallow trick to get the sprinkles to stick – I used this method when I made my giant flower cupcakes – these look complicated, but they are CRAZY easy to make – you won't believe actually, how easy they are!
Want the Printable Recipe?

(just scroll down?)
How to Make Easter Bunny Bark –
?Printable Recipe BELOW!?
Ingredients Needed (affiliate links):
HELPFUL KITCHEN TOOLS (click the link to see the actual product)
There are affiliate links in this post. That means if you buy something from that link, I will earn a small commission, but it won't cost you anything additional.
Easter Bunny Bark
Easter Bunny Bark - Marshmallows, chocolate and any of your favorite easter candy make up this easy treat and great project to make with your kids! Put some in a cute Easter cellophane bag and add them to your Easter baskets!
Prep Time: 15 minutes
Cook Time: 10 minutes
Total Time: 25 minutes
Course: Dessert
Servings: 10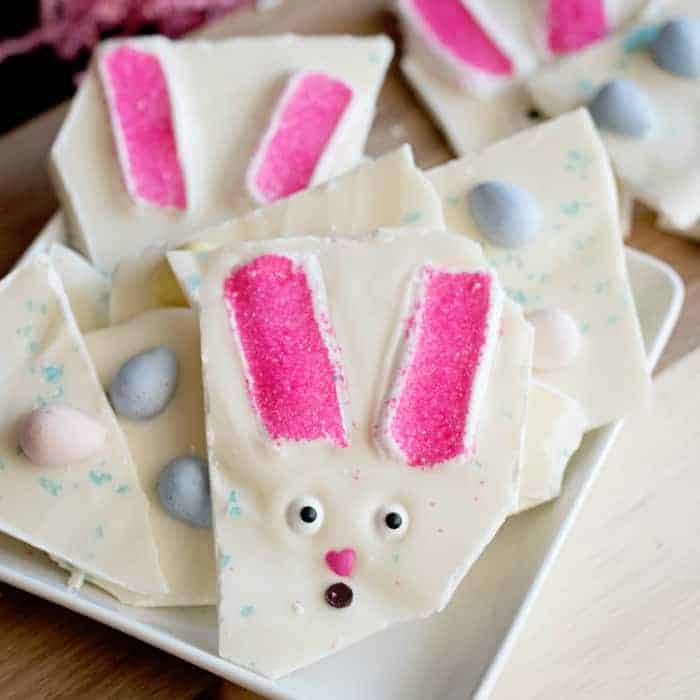 Ingredients
Melting chocolate
Jet Puffed Stackermallows (flat marshmallows for s'mores)
Pink sparkling sugar sprinkles
Mini Chocolate Chips
Cadbury Chocolate Eggs
Instructions
Line baking sheet with a silicon baking liner or wax paper

Cut marshmallows in strips (about 5 strips per marshmallow)

Pour some of the pink sprinkles in a small bowl

Dip the "sticky side" of the strips of marshmallows in the sprinkles and set aside (these make the bunny ears)

Melt the chocolate according to the directions on the package

Once fully melted, pour the chocolate on the baking sheet and spread evenly using a spatula (don't make it too thick, or it will be difficult to "break" in the right places)

Immediately (before the chocolate begins to set) place the marshmallow "bunny ears", candy eyes and one mini chocolate chip (as the bunny mouth) scattered throughout the chocolate. Leave some space between the bunnies to "break" them in pieces

Place in the refrigerator for about 10 minutes

Once the chocolate is completely set - use a knife to "guide" the breaks to make the bark
Other Great Easter Desserts
Bunny Butt Cookies – I mentioned these up top – they are soooooo fun and really easy to make!!
Also – These EASTER BASKET SUGAR COOKIES are another favorite Easter Dessert
Sign up for the Princess Pinky Girl Newsletter and automatically receive our latest & greatest delivered right to your inbox! Follow Princess Pinky Girl on Facebook, Twitter, Pinterest and Instagram for all of the newest recipes, crafts, travels and updates!
If you make a Princess Pinky Girl creation make sure you take a picture and share it on Instagram with @princesspinkygirl ! I love seeing your masterpieces!