This post may contain affiliate links. Read my disclosure policy here.
These Nutella French Toast Roll-Ups are quick and easy to make and a fun, finger-friendly treat for breakfast or brunch (silverware optional). They are filled with Nutella and rolled in cinnamon sugar – does it get any better?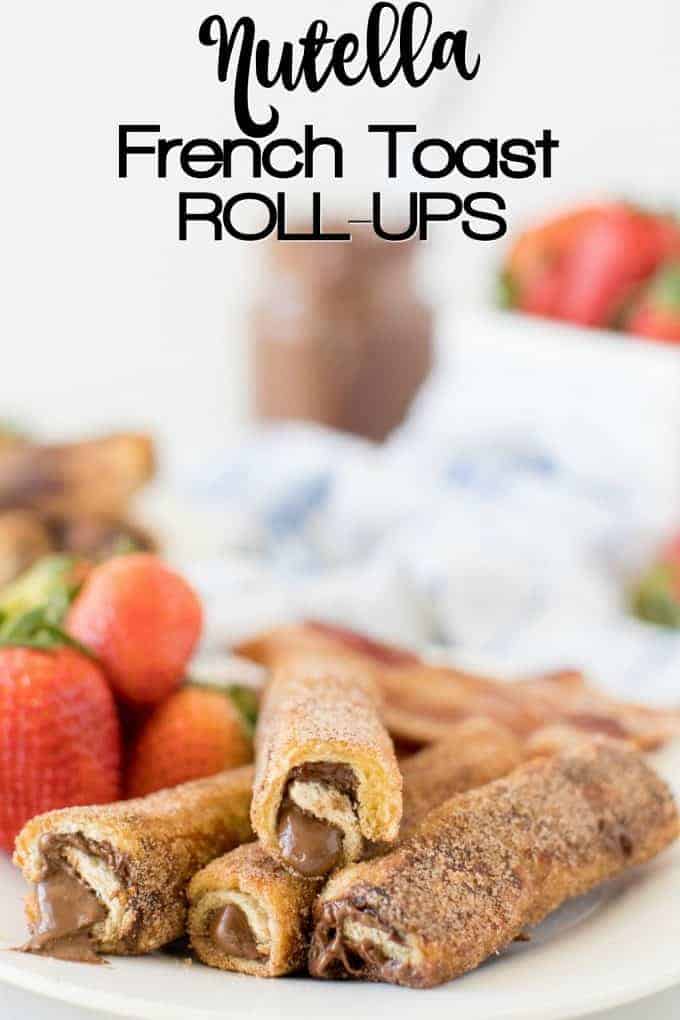 Nutella French Toast Roll-Ups
If you love breakfast and traditional French toast, you are going to love these Nutella French Toast Roll-Ups. They are bursting with flavor and are so much fun to eat.
Hi everyone, this is Kathy from Lemon Blossoms and I am glad to be back as a contributor for Princess Pinky Girl!
I cannot begin to tell you how much my family loves these French Toast Roll-Ups! The thin layers of bread are slathered with creamy Nutella, dunked into sweet custard, sautéed to perfection and then rolled in cinnamon sugar. The result is mouthwatering deliciousness.
Serve these along side our Omelette in a Hole or Sheet Pan Pancakes for a breakfast that will have everyone talking!
Are you as crazy about Nutella as I am? After you try this recipe, be sure to check out some of Jenn's other Nutella recipes. This Cinnamon Nutella Pull-Apart Bread is another favorite and don't miss her Nutella Banana Bread Bites.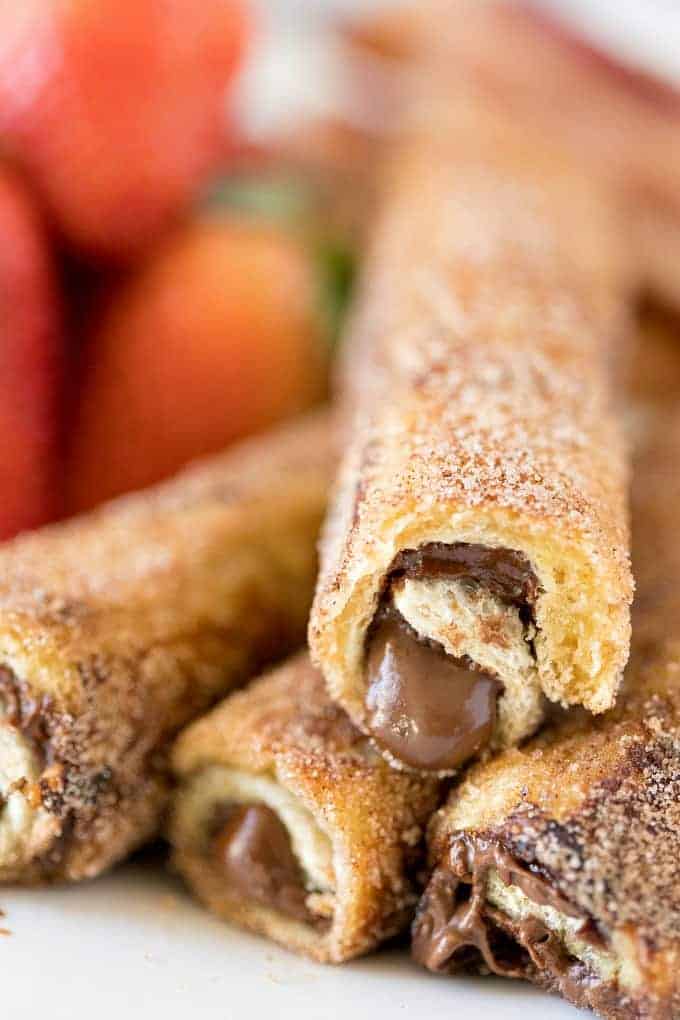 Ingredients needed to make French Toast Roll-Ups
Just a few common ingredients (that you probably already have at home) is all you need to make this delicious treat!
Nutella
Bread (white works best, but whole grain will work too!
Milk
Eggs
Sugar
Vanilla Extract
Cinnamon
Butter
Syrup (optional…but come on!)
PRO TIP: Looking for some other ingredients to make your stuffed french toast? Try replacing the Nutella with peanut butter or cream cheese mixed with cinnamon sugar. You can even slice some fresh fruit, like bananas or strawberries, and include them in the spread!
How To Make Nutella French Toast Roll-Ups
The process is super simple.
First, trim off the crust from each slice of bread.
Then get a rolling pin and flatten the piece of bread. No need to work out your frustrations here – the bread is pretty soft and not much effort is needed.
Spread each slice of bread with a layer of Nutella. Control the urge to eat everything that has Nutella on it.
Tightly roll each bread slice.
In a shallow dish or bowl, whisk the eggs and milk, sugar and vanilla extract and set aside. In a separate bowl, mix the sugar and cinnamon.
Dip each Nutella French Toast Roll-Up into the milk and egg mixture. A quick dip is all you need! We don't want to soak up too much of the liquid custard.
Then saute each roll over medium heat in melted butter until golden brown and slightly crispy. Remove from the pan and roll each roll-up in the cinnamon sugar.
By now, I can guarantee your kitchen smells amazing and you are more than ready to start eating (that is if you have not already taken a bite of a warm and sugary Nutella French Toast Roll-Up – I know they are hard to resist!)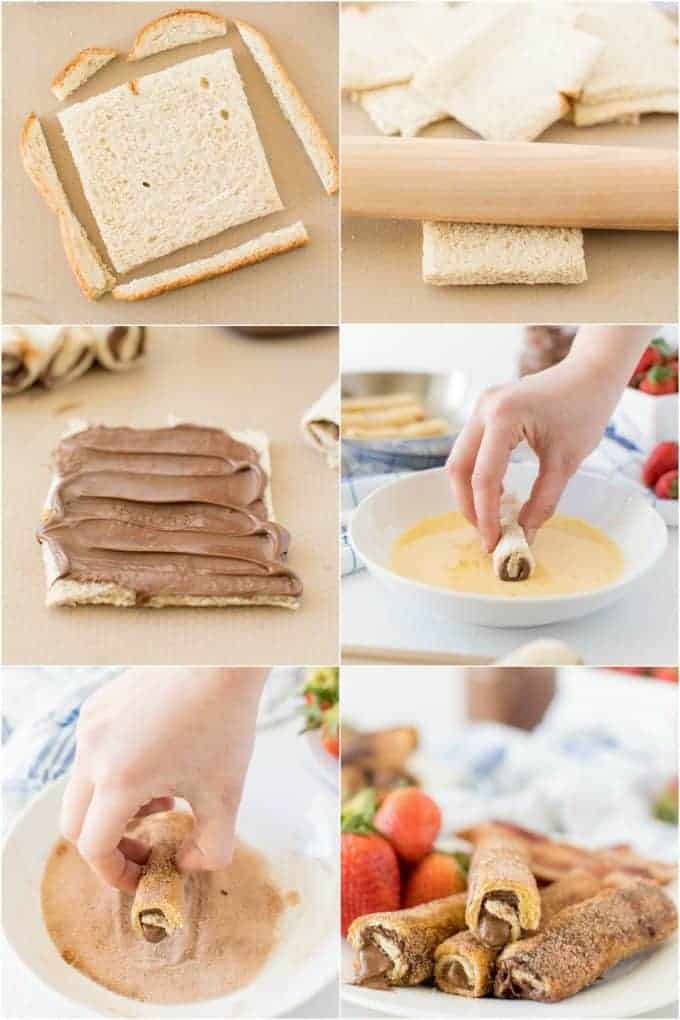 These Nutella French Toast Roll-Ups are amazing by themselves or dunked into some warm maple syrup.
Serve them with a few bacon slices, check out my tips for How To Perfectly Cook Bacon in the Oven the way restaurants do it – no mess, no splatters, crispy bacon every time, add some fresh berries for breakfast/brunch or serve them as an appetizer at a children's party, or let's be honest, adults love them too!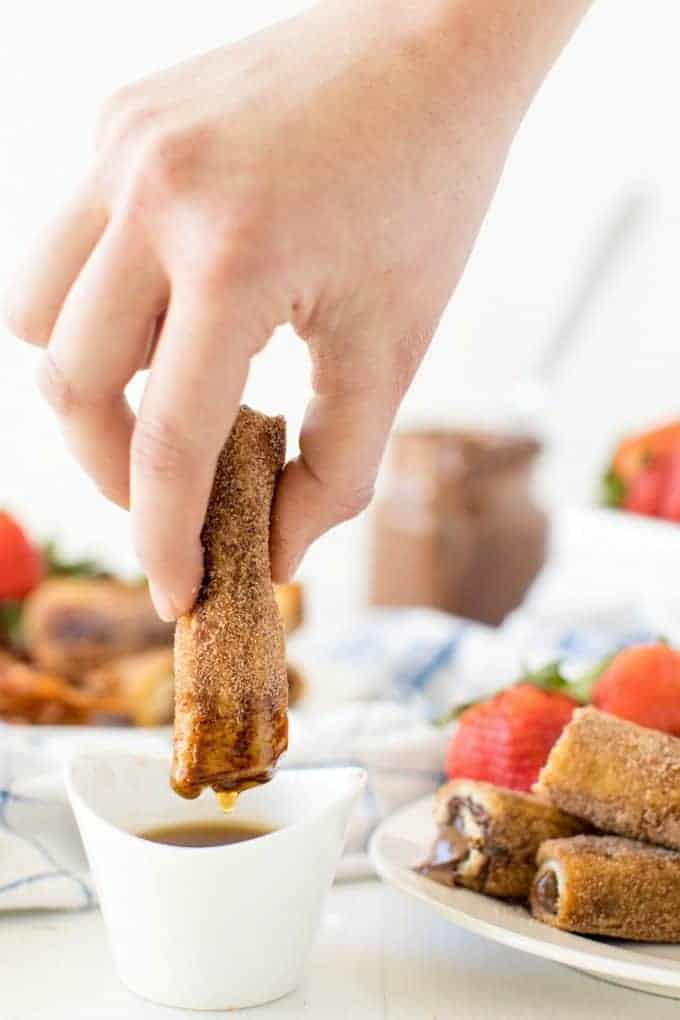 Nutella French Toast Roll-Ups
These Nutella French Toast Roll-Ups are quick and easy to make and a fun, finger-friendly treat for breakfast or brunch.
Prep Time: 10 minutes
Cook Time: 8 minutes
Total Time: 18 minutes
Course: Breakfast
Cuisine: American, French
Servings: 8 roll-ups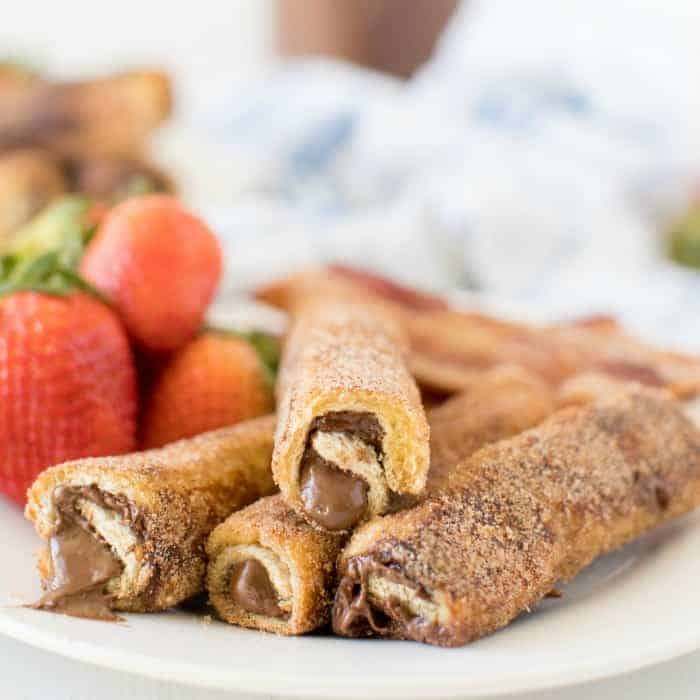 Ingredients
8 slices white or wheat bread
4 tablespoons Nutella
1/4 cup milk
1 large egg ((or 2 medium eggs))
2 tablespoons sugar
1/4 teaspoon pure vanilla extract
3 tablespoons sugar
1 teaspoon cinnamon
3 tablespoons butter
Maple syrup for serving (optional)
Instructions
Trim the crusts off the bread. With a rolling pin, roll each slice of bread until flattened.

Spread each slice of bread with a layer of Nutella (about 1/2 tablespoon per slice), and tightly roll up the bread slices.

In a small shallow bowl, whisk together the milk, egg, sugar and vanilla. Set aside.

In a separate small shallow bowl, mix together the sugar and cinnamon and set aside.

In a large nonstick saute pan over medium heat, melt the butter. Dip each Nutella French Toast roll-up in the milk and egg mixture. Place the roll-ups in the pan and cook for about 2 minutes, turning them as needed until they are golden brown and slightly crisp on all sides. Repeat until all the roll-ups are sauteed.

Immediately after removing the roll-ups from the saute pan, roll them through the cinnamon-sugar mixture until all sides are coated. Serve them warm with some maple syrup on the side.
Nutrition per serving
Calories: 197kcal | Fat: 8g | Saturated fat: 5g | Cholesterol: 35mg | Sodium: 176mg | Potassium: 85mg | Carbohydrates: 26g | Fiber: 1g | Sugar: 14g | Protein: 3g | Vitamin A: 175% | Calcium: 91% | Iron: 1.4% |
Keyword: brunch, Nutella
More great breakfast and brunch ideas
These Double Chocolate Waffles a La Mode are amazing! They are the perfect excuse to eat ice cream for breakfast! Who wouldn't want that?
If you love French Toast, you must try these Baked Cinnamon French Toast Muffins, their crunchy sugary topping is irresistible. These easy to make treats are the perfect grab-and-go breakfast! Yes, that is Nutella drizzled on the top!
This crazy easy Monkey Bread Recipe will be your new go-to dessert. All you need is store bought biscuits and four other simple ingredients and you will have a delicious cinnamon sugar dessert.

Love our recipes?
Tag us!

If you make any of our recipes,
Snap a pic and hashtag it #princesspinkygirl
We love to see your creations on Instagram, Facebook, & Twitter!
Sign up for the Princess Pinky Girl Newsletter and automatically receive our latest & greatest delivered right to your inbox! Follow Princess Pinky Girl on Facebook, Twitter, Pinterest and Instagram for all of the newest recipes, crafts, travels and updates!
If you make a Princess Pinky Girl creation make sure you take a picture and share it on Instagram with @princesspinkygirl ! I love seeing your masterpieces!