This post may contain affiliate links. Read my disclosure policy here.
Campfire Cones are a great alternative to the messy s'mores and the perfect camping recipe! Stuffed with chocolate, marshmallows, strawberries, bananas and anything else you have around the house!
I love everything s'more! Especially these delicious S'more Bites, but I am an equal opportunity s'more lover and my other favorites, S'mores Dip and S'moreo brownies cannot be forgotten either! These are all great options with the Campfire Cones when you want to shake up your s'more routine!
Campfire Cones Recipe
You can make this delicious dessert on the grill or cook them in the campfire. Campfire cones are the perfect camping recipe or even great for a summer party or barbecue!
They may be my new favorite summer dessert! The Campfire Cone originated by Kids Activity Blog, is a treat that my kids beg for every summer (and trust me, I have no issue with complying with this request!)
This may have surpassed my obsession with s'mores! The great thing about campfire cones is that they are so easy to make and not as messy as traditional s'mores.
(Score one for those that hate the sticky marshmallow oozing out of the graham cracker and getting all over your kids' shirts, but LOVE the oozing marshmallows!!)
Heading on a camping trip this summer? Be sure to check out our Genius Camping Hacks and The Ultimate List of Camping Recipes!
But, if you are looking for the best camping recipe ever – you must make our Campfire Pizza, Campfire Potatoes in foil and our Campfire Nachos! They are super easy to make and clean up is a breeze! Don't have a campfire? No worries, these can also be made right on your grill!
What is a Campfire Cone?
Campfire Cones are a fun twist on the traditional s'more. Basically, you take everything you can find in your pantry and shove it in a waffle cone, wrap it in foil and throw it on the grill!! Let it get nice and melted and enjoy your sweet treat!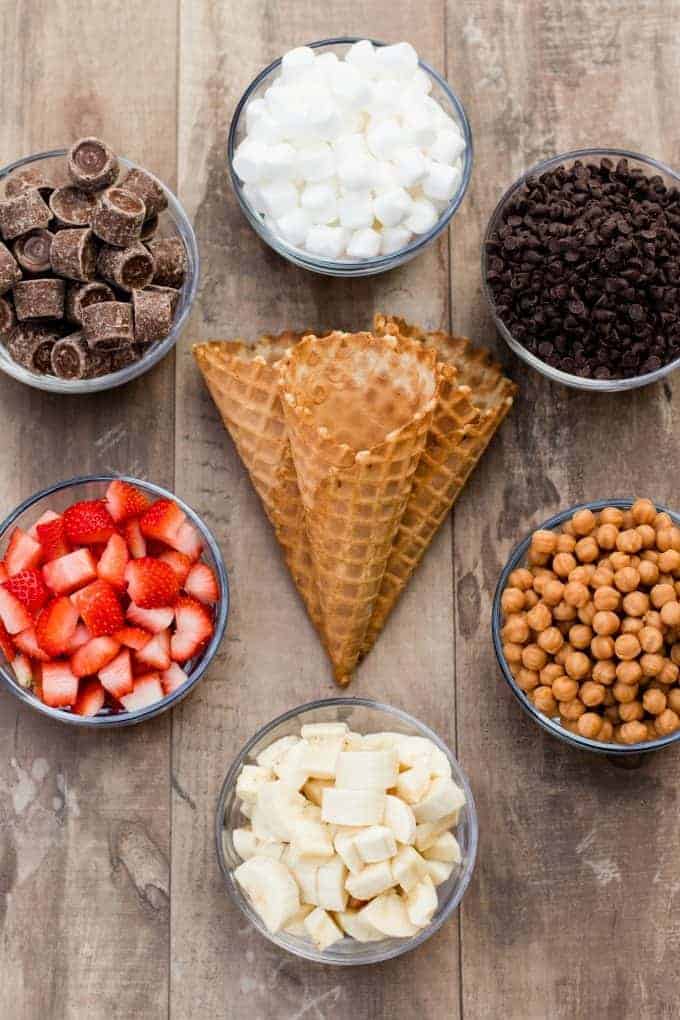 How to make Campfire Cones?
It is super easy to make campfire cones. First, you grab your favorite ingredients:
waffle cones
fruit – strawberries, sliced bananas, blueberries, raspberries
chocolate – chocolate chips, Reese's, etc.
mini marshmallows
Optional (but delicious)
Reese's peanut butter cups, Rolo's, Peppermint Patty's, caramel chips – the sky's the limit!
Caramel sauce – optional, but go for that option!!
Next, you take your favorite ingredients and load them into the cone. Make sure those the cones filled with tons of fruit, marshmallows, and chocolate! We particularly love the peanut butter chocolate combined with the fruit and marshmallow!
Then, take your cone and wrap it in tin foil and place it on the grill or over the campfire for about 3-5 minutes! Unwrap the foil (it is a good idea to use oven mitts to unwrap) and enjoy!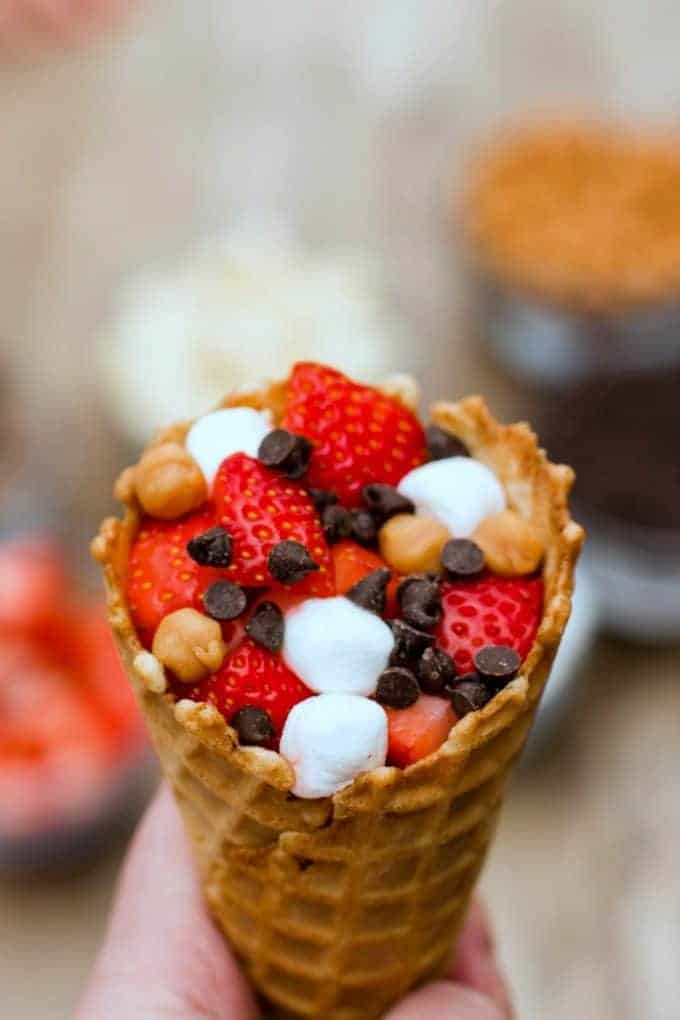 SEE THE PRINTABLE RECIPE and VIDEO BELOW!!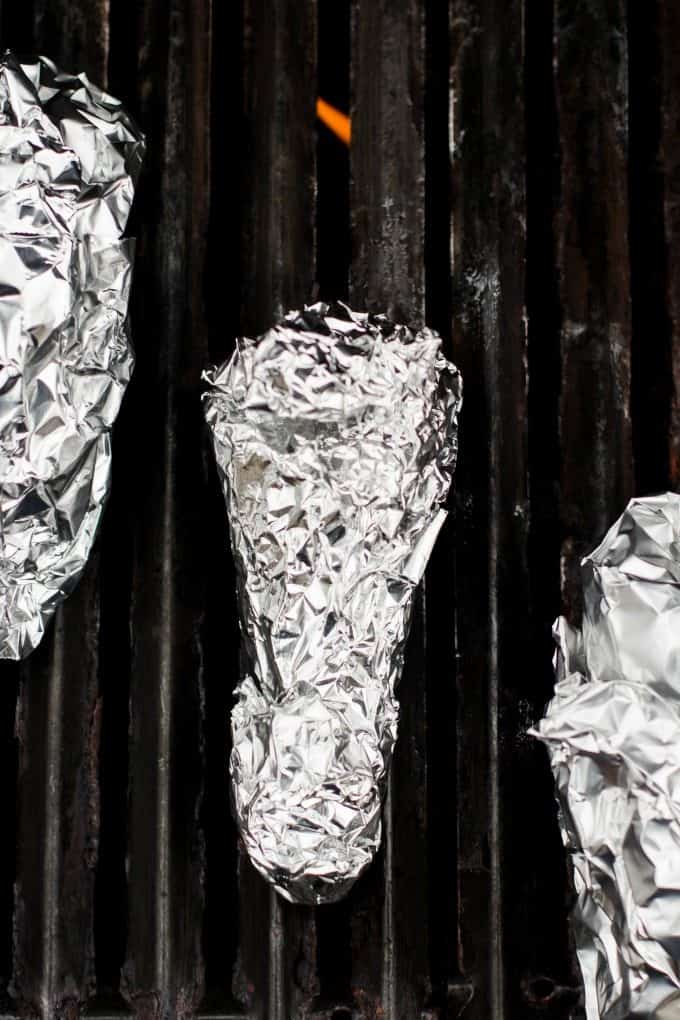 I found the more fruit you put in, the better it is! The fruit is honestly what makes this delicious treat!
See how-to video and full instructions below:
More Great Summer Desserts
Campfire Cones
Campfire Cones are a great alternative to the messy s'mores! Stuffed with chocolate, marshmallows, strawberries, bananas, and anything else you have around the house!
Prep Time: 5 minutes
Cook Time: 5 minutes
Total Time: 10 minutes
Course: Dessert
Cuisine: American
Servings: 1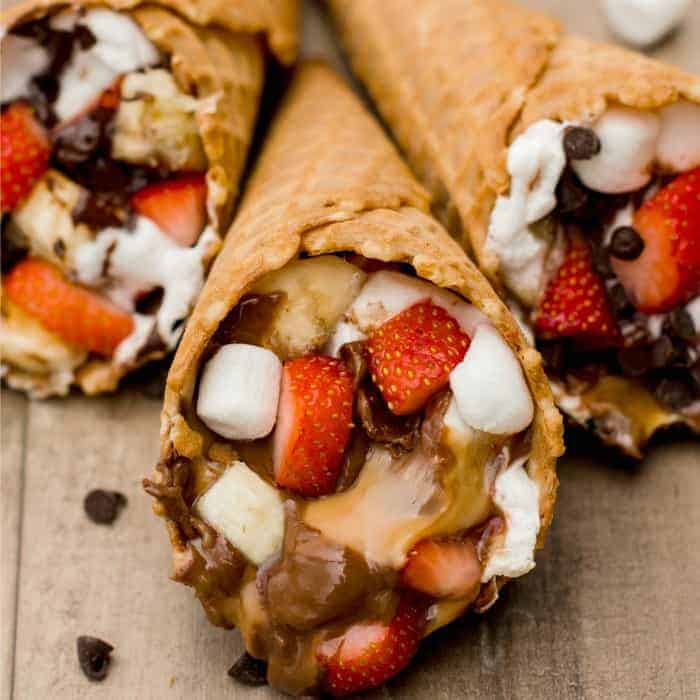 Ingredients
1 Waffle cone
1/4 cup Mini marshmallows
1/4 cup Chocolate chips
1/4 Banana
5 Strawberries
10 Raspberries
Instructions
Place a few mini marshmallows in the bottom portion of the cone

(this is important so the chocolate doesn't melt out of the hole in the bottom of the cone)

Stuff the cone with ingredients of your choice

Stuff it very full and high (the marshmallows really meltdown)

Wrap completely with tin foil

Place on grill or over the campfire for 3-5 minutes

Carefully unwrap & enjoy!!!!!!
Recipe Video
Nutrition per serving
Calories: 361kcal | Fat: 11g | Saturated fat: 6g | Cholesterol: 6mg | Sodium: 71mg | Potassium: 197mg | Carbohydrates: 63g | Fiber: 4g | Sugar: 45g | Protein: 4g | Vitamin A: 100% | Vitamin C: 43.1% | Calcium: 52% | Iron: 1.2% |
Keyword: camping, summer dessert
Sign up for the Princess Pinky Girl Newsletter and automatically receive our latest & greatest delivered right to your inbox! Follow Princess Pinky Girl on Facebook, Twitter, Pinterest and Instagram for all of the newest recipes, crafts, travels and updates!
If you make a Princess Pinky Girl creation make sure you take a picture and share it on Instagram with @princesspinkygirl ! I love seeing your masterpieces!