This post may contain affiliate links. Read my disclosure policy here.
Looking for new ways to make s'mores,? Then these S'mores Bites will be your new favorite S'mores recipe that you can make in the oven all year round!
Sure, some people may think s'mores are only for a warm summer night. But, with this amazingly delicious S'more Bites, you will be able to enjoy them all year round! This s'mores recipe isn't just for summer anymore! (love indoor s'mores – try these s'mores bars too!)
Easy S'more Bites
When I tell you that this may be THE most ridiculously good dessert that I have made… I am totally not kidding! These s'more bites are sick…. I mean sick in the good way, not the yucky way!
The best news is that they are not only amazing, but they are also crazy easy to make – If I can make this ANYONE can!
Can you make s'mores at home in your oven?
Heck yes, you can make s'mores in your oven! You not only can make s'mores in your oven, but you may never make s'mores over a campfire again after you try these s'mores recipe – Mini S'mores Bites!
What's in a S'more?
S'mores can be whatever you want them to be, but the traditional version of the s'more includes:
Graham Crackers
Chocolate
Marshmallows
If you are like me, you may like to spice them up a bit and go gourmet s'more!
What is in a Gourmet S'more?
Think out of the traditional s'mores recipe box here! I love to include other ingredients like:
Reese's Peanut Butter Cups
York Peppermint Patty
Almond Joy
Strawberries
Bananas
Sweetened Coconut
But we are here to talk about one of my favorite desserts of all times, Mini S'mores Bites!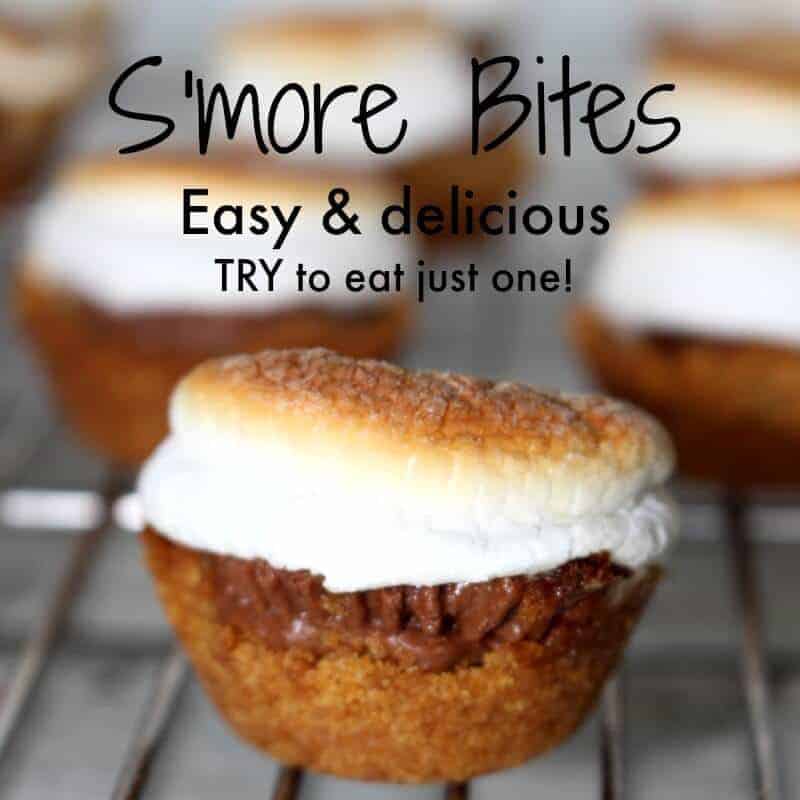 Word of caution…. my friend Maria and I were making these the other day and let's just say we may have gotten a little bit distracted while they were in the oven on broil!
That batch – not so great – little too toasted :), but the second batch – incredible!! Just stay alert and keep an eye on the oven when finishing them off! (we get distracted easily!)
Here is what you need to make S'mores Bites:
Graham cracker crumbs – I prefer the store bought crumbs as opposed to breaking them up yourself. I think they just work better!
Butter
Powdered sugar
Marshmallows
Reese's mini peanut butter cups or Hershey bars
Mini muffin or cupcake pan (24 count total)
See the how-to video and instructions below:
S'mores Bites
Looking for new ways to make s'mores, then these S'mores Bites will be your new favorite S'mores recipe that you can make in the oven all year round!
Prep Time: 10 minutes
Cook Time: 8 minutes
Let cool: 1 hr
Total Time: 18 minutes
Course: Dessert
Cuisine: American
Servings: 24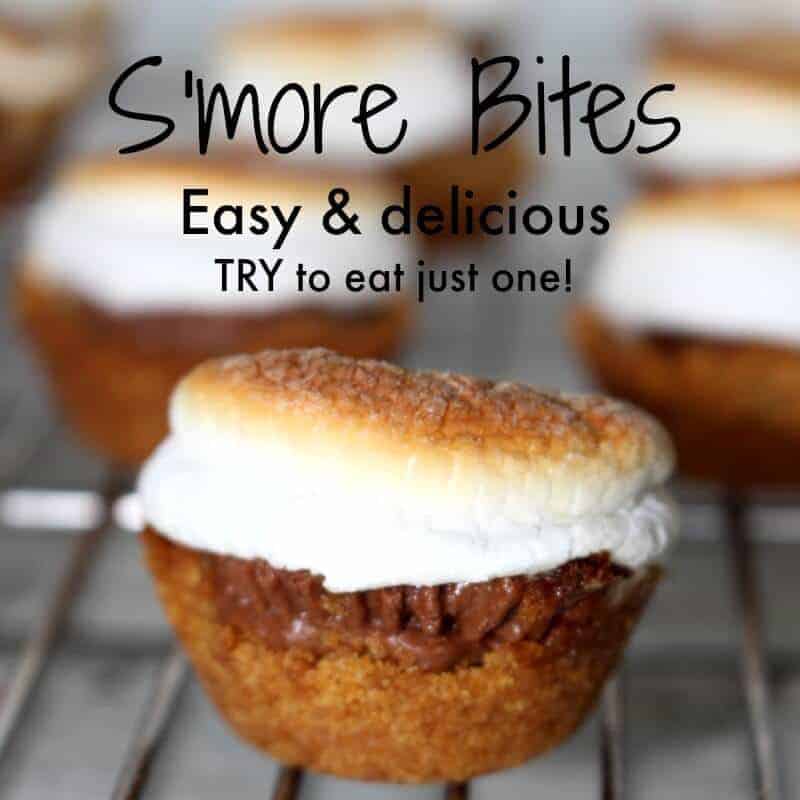 Ingredients
1 cup graham cracker crumbs
6 tablespoons melted butter
1/4 cup powdered sugar
12 Marshmallows
Reese's mini peanut butter cups or Hershey bars
Instructions
Preheat oven to 350 degrees

Grease mini-muffin pan with non-stick butter spray

In a medium size bowl mix graham cracker crumbs, powdered sugar and butter with a spoon

Evenly distribute mixture to the 24 mini muffin cups. Press along the bottom and sides to make a "cup".

Bake for 5 minutes

While they are baking cut 12 large marshmallows in half

Remove the pans from the oven and place either one Reese's or two sections of a Hershey bar in the graham cracker cup and cover with 1/2 of marshmallow (cut side facing down)

Turn your oven on broil

Put the pan back in and broil for 2 minutes (WATCH THEM!!) Take them out as soon as they start to brown

Let cool for one hour

Use a teaspoon or knife to wedge under the s'more cups and they should just pop right out!
Recipe Video
Nutrition per serving
Calories: 93kcal | Fat: 5g | Saturated fat: 2g | Cholesterol: 7mg | Sodium: 77mg | Potassium: 30mg | Carbohydrates: 10g | Sugar: 7g | Protein: 1g | Vitamin A: 90% | Calcium: 9% | Iron: 0.3% |
Keyword: summer dessert
All things s'mores! Check out all of the great s'mores recipes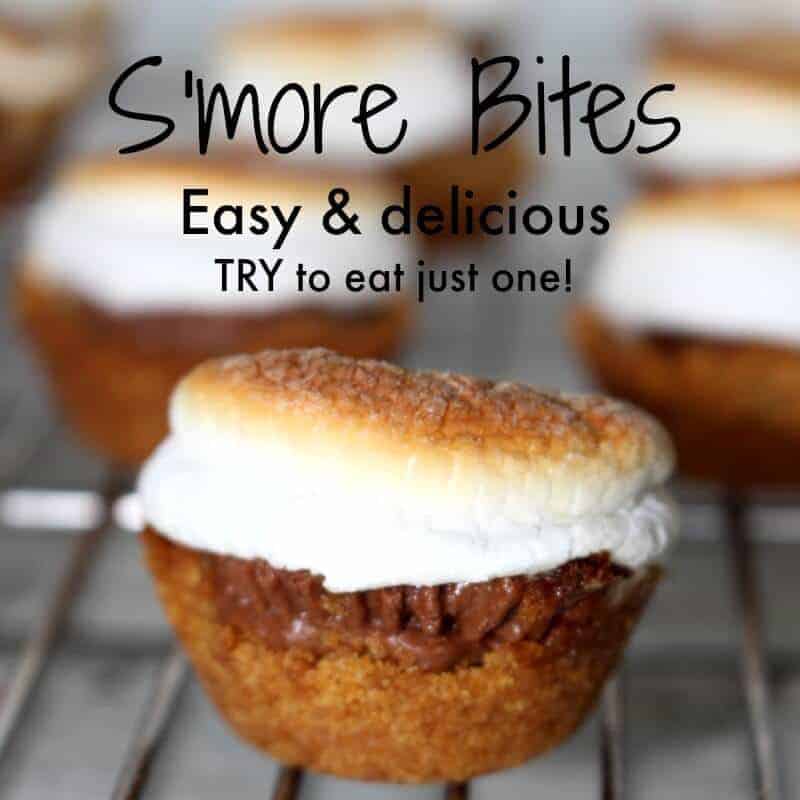 Check out some of my other yummy desserts (easy yummy desserts!!)
Sign up for the Princess Pinky Girl Newsletter and automatically receive our latest & greatest delivered right to your inbox! Follow Princess Pinky Girl on Facebook, Twitter, Pinterest and Instagram for all of the newest recipes, crafts, travels and updates!
If you make a Princess Pinky Girl creation make sure you take a picture and share it on Instagram with @princesspinkygirl ! I love seeing your masterpieces!