This post may contain affiliate links. Read my disclosure policy here.
S'mores Hand Pies are bite sized, gooey and delicious! Pie crust dough dipped in butter and graham cracker crumbs and filled with marshmallow and chocolate!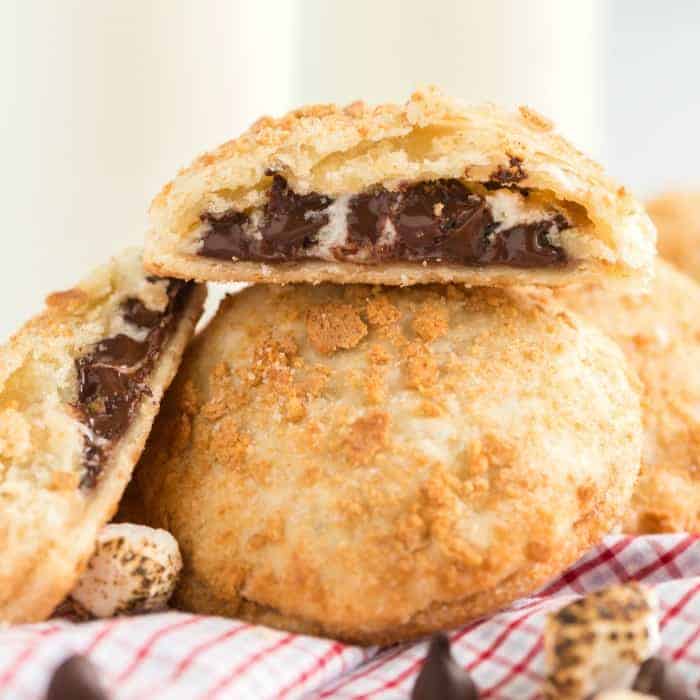 Fair warning: these S'mores Hand Pies are gooey, delicious, and likely to become the favorite dessert of anyone who tries them! Pie crust dough dipped in butter and graham cracker crumbs and filled with marshmallow and chocolate – s'mores will never be the same!
We love to shake up our s'mores recipes! Traditional s'mores are perfection, but sometimes you just need to change things up. Some of our favorite Creative S'mores Recipes are our Delicious S'mores Dip and our S'mores Bites! These need to be on your next to-do list!
S'mores Hand Pies Recipe
One of my favorite things about summer coming up, is the fact that we can have bonfires in the backyard. Can anyone relate?
I love the relaxing crackle of a fire on a nice summer night. But let's be honest, what I love the most is the s'mores that tend to go hand in hand with bonfire nights.
I am a total sucker for the gooey marshmallows, melted chocolate, and graham cracker goodness. Who isn't? I mean, they are called s'mores for a reason!
Alright, now I'll be super honest. Sometimes, I just can't wait for the bonfires to make myself an ooey gooey, delicious s'more. Luckily, with this s'mores hand pie recipe, I don't have to!
With this recipe, I can make amazing mini s'mores dessert pies in the oven in a quick 15-20 minutes! It like like your own personal mini pies!
They are quite simple to put together and don't require too much prep or ingredients. I typically have most of the ingredients on hand! The one ingredient I always have to make sure to pick up is the marshmallow cream. You'll find the rest of the ingredients needed below.
When cooked to golden brown perfection, I'm willing to say that these might be just as delicious as classic s'mores. The crunchy graham cracker crumb mixture and melted butter spread on the outside of the dough makes it nice and crispy. It's almost like pie crust! I may like it better than graham crackers…
Read on to see how to make these mouthwatering, gooey marshmallow and chocolatey mini hand pie desserts!
What is a hand pie?
A hand pie is a delicious mini pie pastry! You make them using refrigerated pie crust dough, which are cut in small circles. They are then filled with either sweet or savory filling. Then they are sealed up by crimping the edges together. Then they are either baked, air-fried or even deep fried!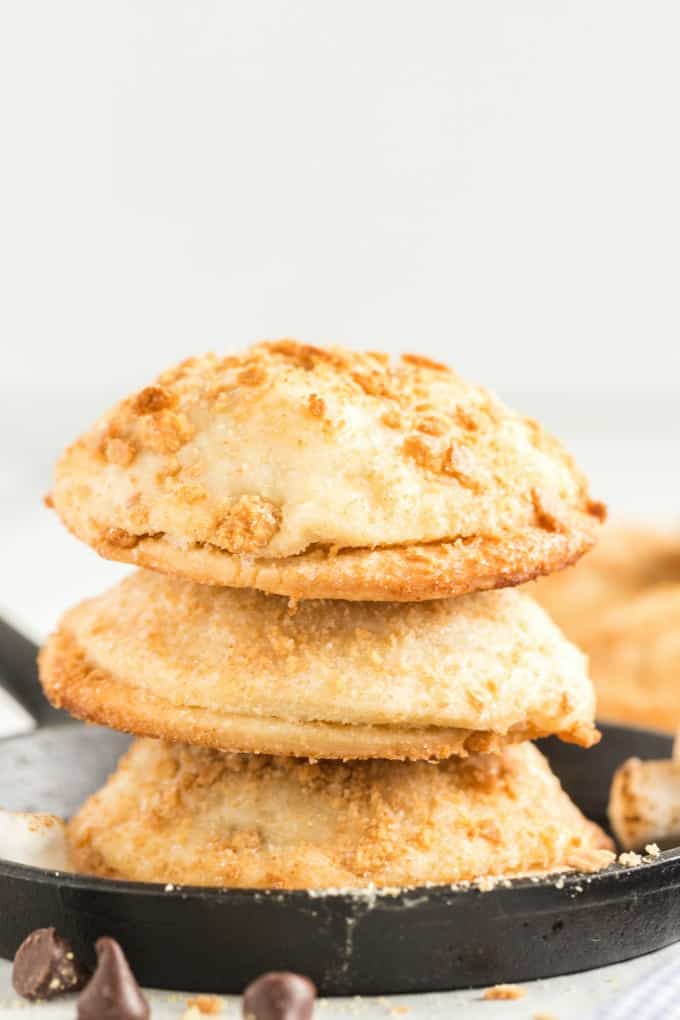 Mini S'mores Hand Pies Ingredients
1 box refrigerated pie crust dough
1/2 cup of graham cracker crumbs (crushed graham crackers)
1/4 cup of sugar
3 tablespoons butter, melted
1/2 cup marshmallow créme
2 tablespoons cream cheese
2 tablespoons sugar
1/2 cup of chocolate chips
How to Make S'mores Hand Pies
First, you will need to preheat the oven to 425 degrees and let it heat up while you prep. Next, you'll want to line your cookie sheet with parchment paper or I love my (affiliate link) silicone baking mat!
Tip: You may want to do this step on a lightly floured surface. Unroll the pie crust and using a 3 inch round cutter, cut eight round dough circles from each crust. When you're finished, you will have a total of 16 rounds.
Next, In a shallow container (I like to use a pie plate) mix together the graham cracker crumbs and the ¼ cup of sugar.
Brush both sides of eight of the rounds with the melted butter. Then, dip them into the crumb mixture coating both sides and pressing the mixture lightly onto the round. Place these eight rounds on the parchment-lined baking sheet. You won't need the other 8 until later, so just let those sit for now.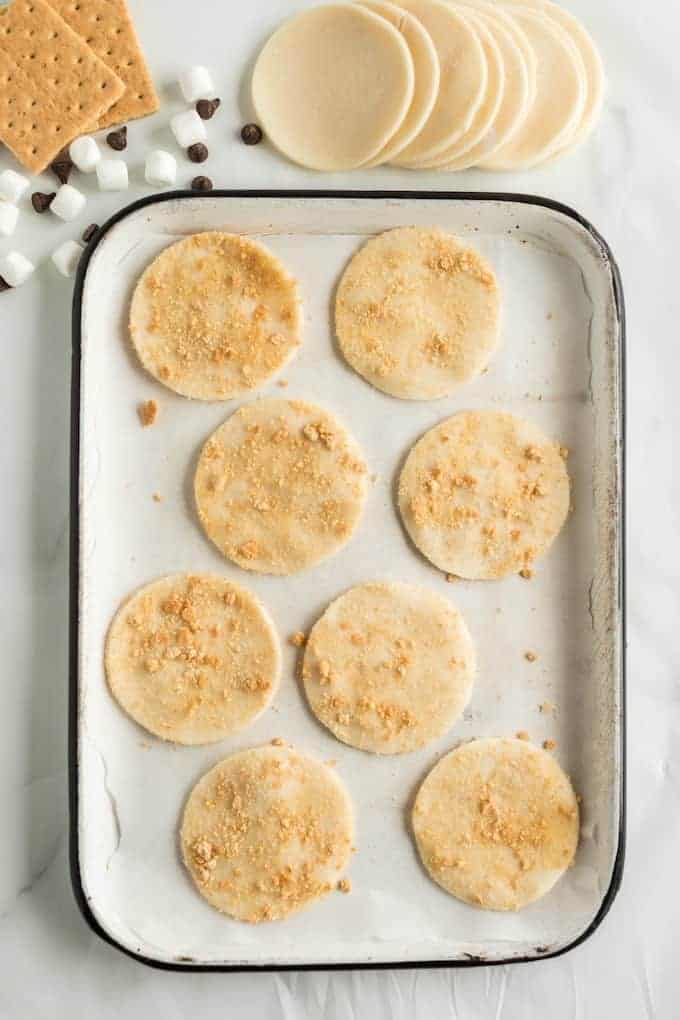 In a small bowl, mix together the marshmallow créme, softened cream cheese, 2 tablespoons of sugar and chocolate chips. You can save a few of the chocolate chips out to add on top of the filling if desired.
Place a heaping tablespoon of filling onto each of the rounds that are on the cookie sheet. If you saved a few chocolate chips, now is the time to place them on top of the filling.
Now take the remaining eight rounds and brush them with the melted butter on both sides. Then, coat them in the graham cracker mixture, as you did for the other 8 rounds. Place them on top of the rounds with the filling and pinch the edges together to seal in the filling.
Finally, you will bake the hand pies for about 9-12 minutes or until golden brown. Serve warm or at room temperature. Store covered in the refrigerator. If you're serving after storing them in the fridge give them a little warm up to serve the hot! They are much better that way.
Tips for Making Mini S'mores Hand Pies
The biggest tip is do not forget the parchment paper or silicone baking mat!! You will save yourself a lot of trouble and your pies will turn out much nicer.
It's also important to make sure that you have a heaping tablespoon of filling for each of the hand pies, however, do not overfill them! It's tempting to do so, because that gooey marshmallow and milk chocolate filling is scrumptious, but trust me on this one, you DO NOT want to overfill these guys.
How to Store Mini S'mores Hand Pies
It's best to store your mini s'mores hand pies in the refrigerator when you're all finished with them… but, that's assuming there are any leftover! I'm willing to bet that they will all be gone in a flash!
When storing them in the fridge, you'll also want to cover them. I usually just put mine in a Tupperware or airtight container, but you could also use a pan and put some plastic wrap over it!
Make sure you sneak one of these straight out of the oven. That's when I think they are the best, because the chocolate chips and marshmallow cream are nice and warm and melted. Plus, if you don't, there's a chance you might not get any. They are that good! They usually don't last long around our house.
More Great Summer Desserts
If you're like me and you can't wait for the next bonfire to enjoy a gooey and delicious s'more at the next bonfire, give these S'mores Hand Pies a try… you'll be screaming for some more!
Sign up for the Princess Pinky Girl Newsletter and automatically receive our latest & greatest delivered right to your inbox! Follow Princess Pinky Girl on Facebook, Twitter, Pinterest and Instagram for all of the newest recipes, crafts, travels and updates!
If you make a Princess Pinky Girl creation make sure you take a picture and share it on Instagram with @princesspinkygirl ! I love seeing your masterpieces!