This post may contain affiliate links. Read my disclosure policy here.
This homemade Pineapple Upside Down Cake made with an easy buttery and moist vanilla cake and topped with delicious caramelized pineapple topping and even a cherry on top. The perfect spring and summer dessert!
We love entertaining in the summer! Mother's Day, Summer Barbeques and neighborhood get-togethers! Some of our favorite desserts for a crowd to pass around are our Pizookie (chocolate chip cookie skillet!), chocolate chip cookie bars and our famous sugar cookie bars!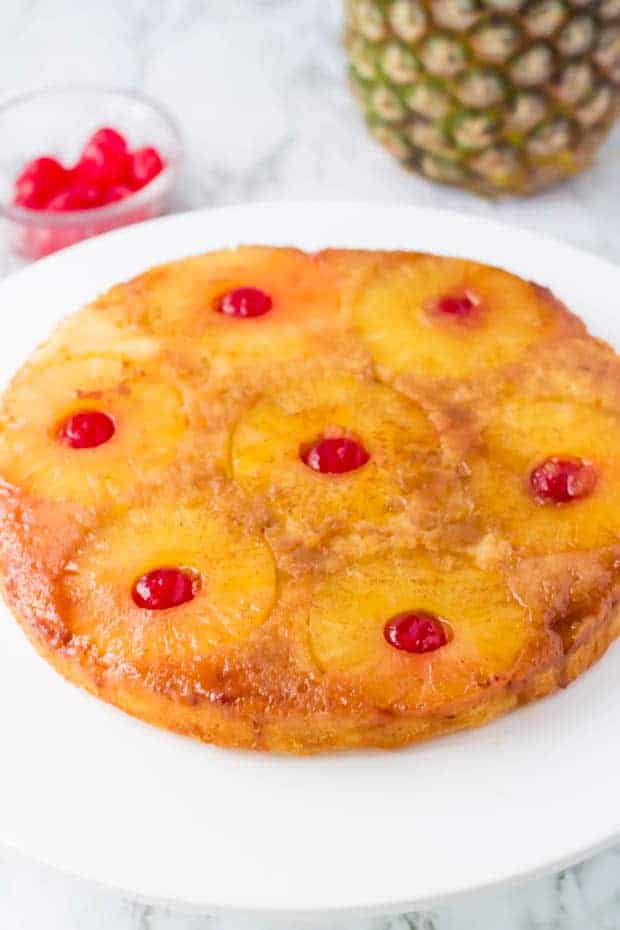 Easy Pineapple Upside Down Cake
There is nothing like a classic recipe to have in your baking back pocket to pull out when you need an easy dessert to serve to guests or bring to a party or potluck dinner. This Pineapple Upside Down Cake recipe is going to be your new go-to dessert to have in your recipe arsenal.
The easy cake recipe is made from ingredients that you probably already have in your pantry! It is totally made from scratch, but I swear to you, it is super easy to make.
You know me, if it is not easy, it is not on my website! I am all about the easy recipe wins!
The key to getting this recipe just right is baking a cake that is not only moist but fluffy and soft too. It needs to have enough weight to support the caramelized pineapple, but you don't want it too dense.
You want it to have some spring to it once you flip it over and it is "upside down"!
How to make Pineapple Upside Down Cake from Scratch?
The first thing we are going to do is preheat your oven to 350 degrees.
Take a 9-inch or 10-inch cake pan and either spray it with non-stick spray or line with parchment paper (be sure to get the sides as well).
Next, we are going to make the pineapple glaze. Melt butter, brown sugar, and cinnamon in a pan for 5 minutes stirring continually. Pour and spread the pineapple glaze into your cake pan.
Place pineapple rings over the pineapple glaze with the maraschino cherries in the center of each pineapple ring and set aside.
In a large mixing bowl, cream butter and sugar and cream cheese together either using an electric mixer until light and fluffy. In a medium bowl combine the dry ingredients (flour, baking powder and salt.)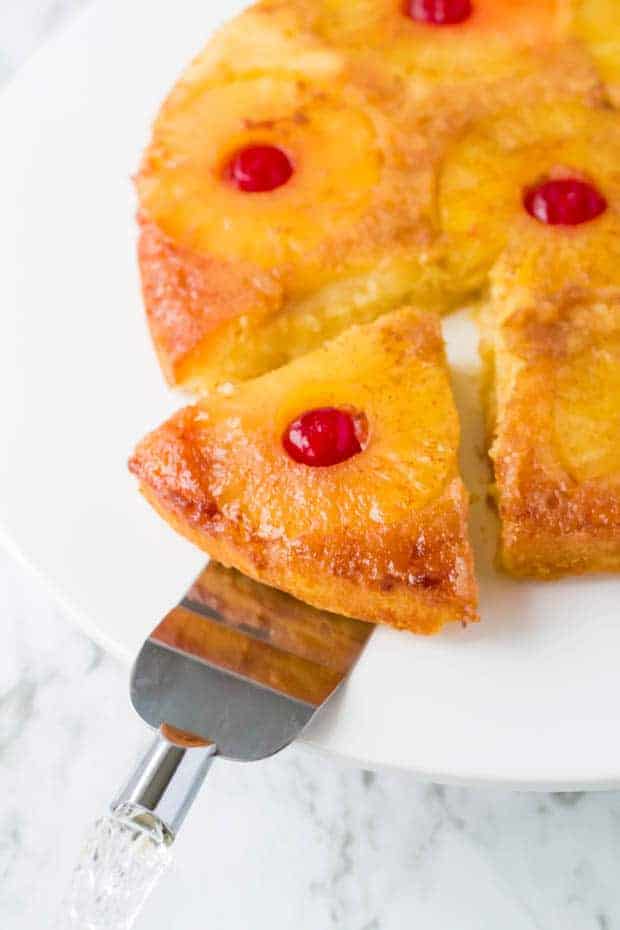 With your mixer on low speed, beat in the eggs one at a time. Add in the vanilla and crushed pineapple. Slowly add in the dry ingredients just until combined – do not overmix!
Spoon your batter over the pineapples and bake for 30 minutes. FYI – all ovens cook differently and bake time can vary. My oven cooks slow and takes a little longer. You can tell if your cake is done if a wooden toothpick inserted into the cake in the center comes out clean.
How to flip the Pineapple Upside Down Cake?
Take a knife and gently run it along the side of the baking pan to gently loosen it from the cake.
Take a plate or platter that is larger than your cake pan and place it face down on top of the cake pan (the cake part should be touching the top of the plate.)
Grab ahold of both the plate and the cake pan and quickly flip them over so the plate is now on the bottom and the cake pan is on top.
Set down the plate or platter and gently remove the cake pan by lifting it up.
The pineapple upside down cake will still be warm. Let it cool for a few minutes, but you can enjoy it while still warm or serve when it is cool. We love to serve it with some whipped cream and vanilla ice cream – yum!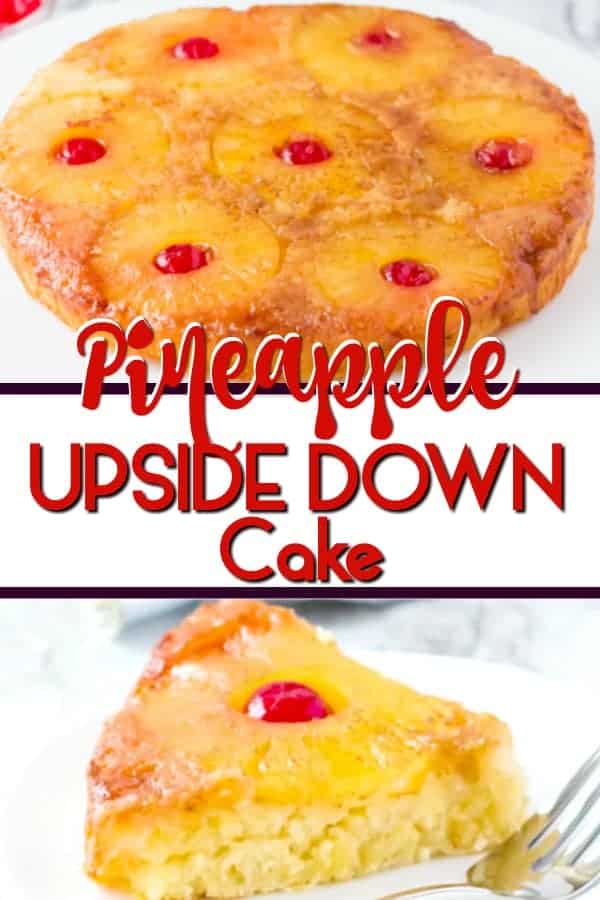 More Great Summer Dessert Recipes
Pineapple Upside Down Cake
This homemade Pineapple Upside Down Cake made with an easy buttery and moist vanilla cake and topped with delicious caramelized pineapple topping and even a cherry on top. The perfect spring and summer dessert!
Prep Time: 10 minutes
Cook Time: 40 minutes
Total Time: 50 minutes
Course: Dessert
Cuisine: American
Servings: 8 slices
Ingredients
Pineapple Glaze:
¼ cup Butter
½ cup Brown Sugar
½ tsp Cinnamon
24 oz. can Pineapple Rings
Maraschino Cherries
Cake Batter:
6 tbsp Butter (softened)
¾ cup Granulated Sugar
⅓ cup Cream Cheese (softened)
2 Eggs
1 tsp Vanilla
¾ cup Crushed Pineapple (in Juice)
1 ¼ cup All Purpose Flour
½ tsp Baking Powder
½ tsp salt
Instructions
Pre-heat oven to 350 degrees. Line a 9 or10 inch cake pan with parchment paper or spray with non-stick cooking spray. Be sure to cover the sides thoroughly to prevent sticking.

Add the pineapple glaze ingredients to a saucepan and melt for 5 minutes. Pour the glaze into the cake pan and spread around the pan.

Arrange pineapple slices over the glaze and place a cherry in each ring. Set aside.

Cream Butter, Sugar and Cream Cheese in a stand mixer or using a hand mixer until light and fluffy.

In a medium bowl combine dry ingredients.

With the mixer on low-speed beat in eggs one at a time, followed by vanilla and crushed pineapple until combined.

Slowly add dry ingredients until combined. Do not over mix!

Carefully spoon batter over pineapples in the pan.

Bake for 30-40 minutes. Let cool for 5 minutes. Invert onto serving platter. (see tips for removing cake from the pan in the post above.)
Recipe Video
Nutrition per serving
Calories: 456kcal | Fat: 19g | Saturated fat: 11g | Cholesterol: 89mg | Sodium: 324mg | Potassium: 270mg | Carbohydrates: 69g | Fiber: 2g | Sugar: 52g | Protein: 4g | Vitamin A: 700% | Vitamin C: 13% | Calcium: 71% | Iron: 1.6% |
Keyword: cake, pineapple
Sign up for the Princess Pinky Girl Newsletter and automatically receive our latest & greatest delivered right to your inbox! Follow Princess Pinky Girl on Facebook, Twitter, Pinterest and Instagram for all of the newest recipes, crafts, travels and updates!
If you make a Princess Pinky Girl creation make sure you take a picture and share it on Instagram with @princesspinkygirl ! I love seeing your masterpieces!