This post may contain affiliate links. Read my disclosure policy here.
Jello poke cake is one of the most refreshing and light poke cakes, topped off with smooth and creamy Cool Whip!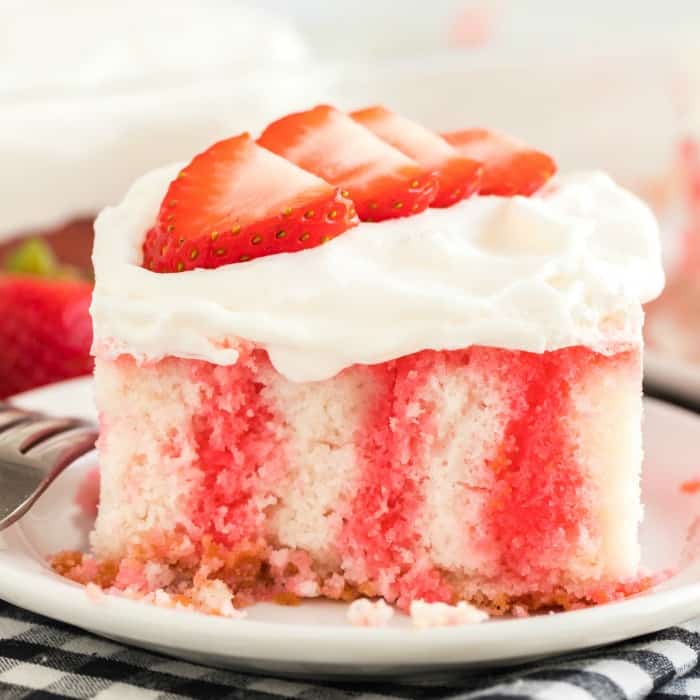 You can't go wrong with a classic jello poke cake recipe, and this strawberry poke cake is one of the most refreshing and light poke cakes, topped off with smooth and creamy Cool Whip!
Jello Poke Cake Recipe
A moist white cake topped with strawberries and creamy whipped cream is a classic and refreshing dessert. And that is exactly what you'll get with this amazing strawberry jello poke cake! We just love this recipe.
Poke cakes are like the magician of all cakes. In just looking at them, you'd never know the secret deliciousness that they are infused with. They look just like any other cake!
But once you cut or bite into them, you can see and taste the delicious filling infused into every single bite! Poke cakes can be filled with all kinds of different fillings (condensed milk, pudding, fruit cream, chocolate, etc.) but in this particular recipe, we are using none other than strawberry jello!
I love using jello in a poke cake because it keeps the cake super moist and infuses it with crazy flavor. I love the combination of a white cake with strawberry flavored jello, but if you're not a big strawberry fan you could always change up the flavor of jello in your poke cake!
I love the freshness of this dessert. It's super tasty, and topping it with cool whip instead of frosting keeps it nice and light. It's a great dessert to pair with a heavy meal, because it offers a sweet tooth satisfying treat, without being over-rich or heavy. There's always enough room for a piece of delicious cake!
This recipe is one of the easiest dessert recipes I make, which is another reason I love it so much. I can put it together in no time. I can also put it together a few days (or even weeks) in advance and store it in the freezer or fridge until I'm ready to serve it.
Why is it Called a Poke Cake?
Poke cakes, as the name suggests, are cakes that have holes poked in them!
Usually, you will poke holes into the cake after baking, then fill the holes with a liquid or filling of some sort. In this case, the filling is jello!
Doing this makes it so that every bite is full of the delicious flavor of whatever filling you've used.
Ingredients
This cake is really so simple, which is why I make it all the time! I like to use a box cake. It tastes delicious and it's super easy. But, if you have a cake recipe that you love, you can choose to use a homemade cake recipe instead!
1 box white cake mix (plus the ingredients it calls for on the box)
1 package of strawberry jello
1 cup boiling water
1/2 cup cold water
1 tub of Cool Whip
How to Make Jello Poke Cake
Bake cake according to instructions on the box.
Poke holes in the cake using a fork.
Pour Jell-O mixture over the cake into the holes.
Let cool completely then cover with Cool Whip or frosting right before serving.

Tips
You can choose to make a homemade cake as well! I find a box cake to be easier and just as tasty with this type of recipe.
I usually let the cake chill for a couple of hours in the fridge before frosting.
Can I Use Any Flavor Jello in a Jello Poke Cake?
The short answer is: YES! You can definitely switch up this recipe to use a different type of jello. I personally love the refreshing flavor of strawberry gelatin with white cake and whipped cream. But, I know some people who are huge strawberry fans.
You can use any flavor of jello that you like. You could also switch up the flavor of the cake mix as well. This recipe can be very versatile in that way. Get creative with it!
Love all things strawberry? Check out our Strawberry Pretzel Salad. Another classic (and easy recipe!)
Can You Freeze a Jello Poke Cake?
Could this recipe possibly get even easier? The answer is: yes. You can freeze your jello poke cake so that it's ready to go when you need a quick dessert for a get-together or gathering.
It works best if you freeze the cake after adding the jello and letting it set in the cake. To freeze it just be sure to wrap it tightly with plastic wrap before freezing. It will last about one month in the freezer.
When you are ready to eat it, put the cake in the fridge a day in advance to give it time to thaw, then top it with Cool Whip and you're ready to go.
You can also store the cake in the fridge for 1-2 days if you want to make it in advance. Follow the same instructions for freezing, but place it in the fridge instead!
More Easy Cake Recipes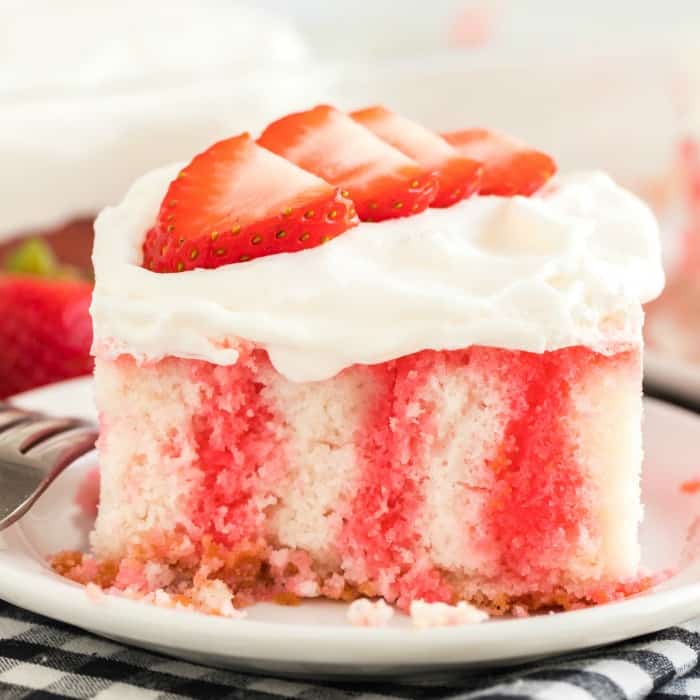 Jello Poke Cake
Jello poke cake is one of the most refreshing and light poke cakes, topped off with smooth and creamy Cool Whip!
Ingredients
1 box white cake mix + ingredients called for on box
1 3.3 ounce package strawberry jello any flavor will work
1 cup boiling water
½ cup cold water
1 tub Cool Whip or whipped topping
Instructions
Prepare cake according to directions on the box and bake in a 9x13 baking dish.

Let cool for 15 minutes and poke holes in the cake using a fork.

Mix boiling water with jello and stir until dissolved, then stir in the cold water.

Pour evenly over the cake and let seep into holes.

Chill in refrigerator at least 1 hour (3-4 hours is ideal)

Cover with Cool Whip or other whipped topping. Garnish with fruit.
Nutrition
Calories: 151kcal | Carbohydrates: 32g | Protein: 2g | Fat: 2g | Saturated Fat: 1g | Cholesterol: 2mg | Sodium: 251mg | Potassium: 38mg | Fiber: 1g | Sugar: 17g | Vitamin A: 26IU | Calcium: 92mg | Iron: 1mg
Nutrition Disclosure
Nutrition information is an estimate. Please utilize your own brand information to double check against our estimates.
If you haven't ever tried a Jello poke cake recipe, now is the time! You will love the flavorful dessert that you get out of it! As I said, these cakes are magic!
Sign up for the Princess Pinky Girl Newsletter and automatically receive our latest & greatest delivered right to your inbox! Follow Princess Pinky Girl on Facebook, Twitter, Pinterest and Instagram for all of the newest recipes, crafts, travels and updates!
If you make a Princess Pinky Girl creation make sure you take a picture and share it on Instagram with @princesspinkygirl ! I love seeing your masterpieces!