A poke cake is an easy way to doctor up a boring box of cake mix. These 8 delicious poke cake recipes all start with a box of cake mix, but you won't believe the upgrade! Everything from a Cinnamon Roll Cake to an easy Red Velvet Cake to the ultimate Death By Chocolate Poke Cake!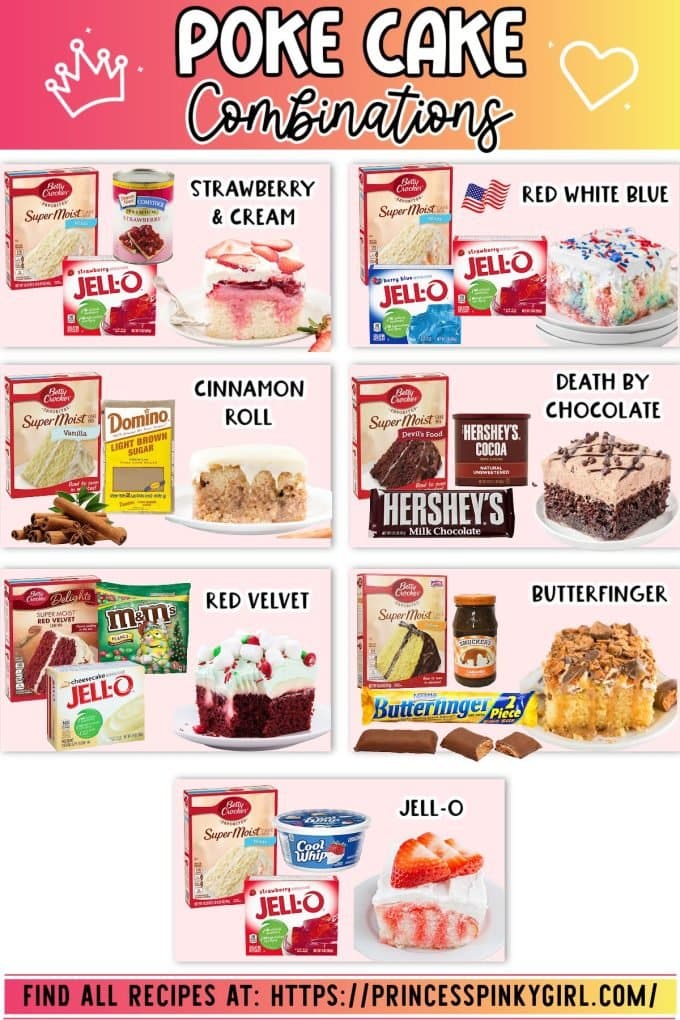 What is a Poke Cake?
A poke cake is a basic sheet cake literally with holes poked into it after it has baked. The cake is then poured over with either a pudding, frosting, Jell-o mix – basically something sweet and creamy. That liquid then fills the holes that were "poked". The result is an extra moist delicious cake with a burst of creamy flavor in every bite.
What do you use to make the holes in a poke cake?
You can use any type of kitchen tool to make the holes in a poke cake, however, we found the end of a wooden spoon or spatula works the best for us! If you want to make smaller holes, you can also use a skewer. Personally, I prefer the larger holes and the handle of a wooden spoon end works perfectly for that!
8 Delicious Poke Cake Recipes
Poke cakes may have a funny name but they are no joke! These cakes made their fame in the 70's but have grown up to be some of the most moist, delicious, and easy cake recipes out there!
All you need to get started is your favorite flavor of cake mix. Here are some of our most popular Poke Cake recipes!