This post may contain affiliate links. Read my disclosure policy here.
Tons of easy Halloween Treats for kids and adults! All of these great Halloween recipes will make for a frightfully delicious Halloween!
We have no bake, bite-sized, treats for adults, treats for kids. We have rice krispie treats, cookies, cake balls and even some hamburgers! This is THE PLACE for all of your Halloween treat needs! (looking for some non-candy Halloween treats, not to worry, we have you covered!)
Easy Halloween Treats
I was overwhelmed by the great response for my post on Great Halloween Treats for Your Classroom Party. So, I thought I would do an additional post of Halloween Treats!! I have received tons of emails with great ideas! Here are a few of the best of the best!! Keep on sending me your great recipes!
When it comes to making Halloween treats for my kids, I am always looking for easy ideas. It is a hectic time with school, after school activities, class parties and, of course, trick or treating!
We also love Boo-ing at Halloween (don't know what Boo-ing is? Check out our Halloween Boo Ideas). Many of these Easy Halloween Treats can be put in a cute Halloween treat bag and put in your Boo Bucket!
So when I started going through Pinterest to find the best of the best Halloween treat ideas, my criteria was that I had to be able to make them! After all, if I can make them, any one can (and I mean ANYONE)! So feel good about these recipes and that almost all of them, you should be able to make them with your kids!
Also, if you are looking for Halloween Treats for classroom parties, many of these will work for that too! We have gluten free Halloween treats and many peanut-free Halloween treats too! We even have a few Healthy Halloween treat options!
All things Halloween
We do much more than just Halloween treats! We also have some other great Halloween hacks, crafts, tips and ideas!
The Best Halloween Desserts
Our Candy Corn Fudge is a delicious and easy Halloween treat. This no bake homemade fudge only needs 5 ingredients and 15 minutes to make!
These adorable Halloween Chocolate Truffles are filled with rich, bittersweet chocolate, covered in sprinkles and only 3 ingredients needed. The perfect easy easy no-bake dessert for Halloween.
Witches Hat Cookies – these are a no bake dessert that basically takes as much time as unwrapping a Hershey Kiss! Quick and easy and perfect for a classroom Halloween party!
Candy Corn Punch –
This yummy delicious non-alcoholic Halloween punch will be sure to delight your ghosts and goblins! BUT… if you want to delight your over 21+ ghosts and goblins I may recommend some flavored vodka to cocktail it up!
Peek-A-Boo Pumpkin Cake from She Knows. How fun would it be to slice into this adorable peek-a-boo cake! Such a cute idea and my mind is twirling with other holiday possibilities with this!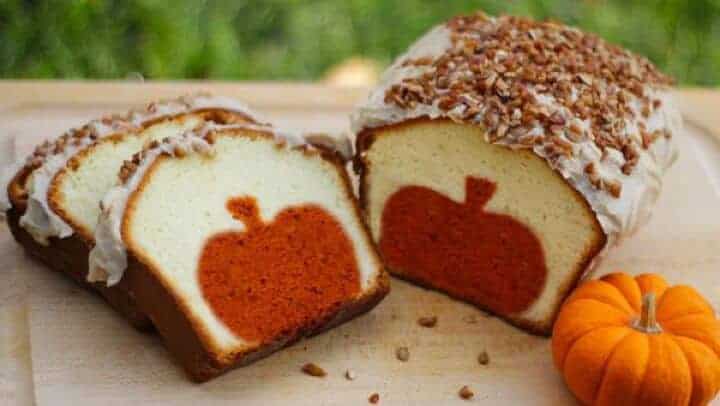 Ghosts in the Graveyard Pudding Cups – Need a quick treat for a classroom party? These are super easy to make and the kids will love them!

Our Halloween Punch is made from Orange Sherbet, juice and soda! It is super easy to make and would be super cute with some floating gummy worms or other gummy candy!
Owl Cupcakes made with Oreo cookies are such a cute idea from The Recipe Critic! I love the huge eyes (and how easy they are). I mean, you could probably just buy store bought cupcakes and pop the cookies on top with some M&M's for the eye balls! Done and Done!
These Mummy Cookies bites from The Recipe Critic look almost too scary to eat! Okay, maybe not! They are adorable and I would eat them up in a second. And with that, I mean probably ten of them!
Peanut Free Halloween Treat Ideas
Our Halloween Monster Eyeball Pretzels are the definition of easy Halloween treat. They don't get much easier than this. Only 4 ingredients (and calling them ingredients may be a stretch) and about 10 minutes to make! Be sure to check this one out!
Looking for some easy no-bake Halloween treats for your kids classroom party or just as a fun Halloween dessert? These Halloween Rice Krispie Treats made into a Zombie Graveyard are just the ticket!
These Halloween Candy Bowls from Oh Nuts! are EDIBLE candy bowls!! Are you kidding me!!! They are made similar to my Frankenstein edible bowls, from a balloon!
Vampire Bite Halloween Brownies – How about these crazy cute Vampire Bite Brownies from Oh Nuts!!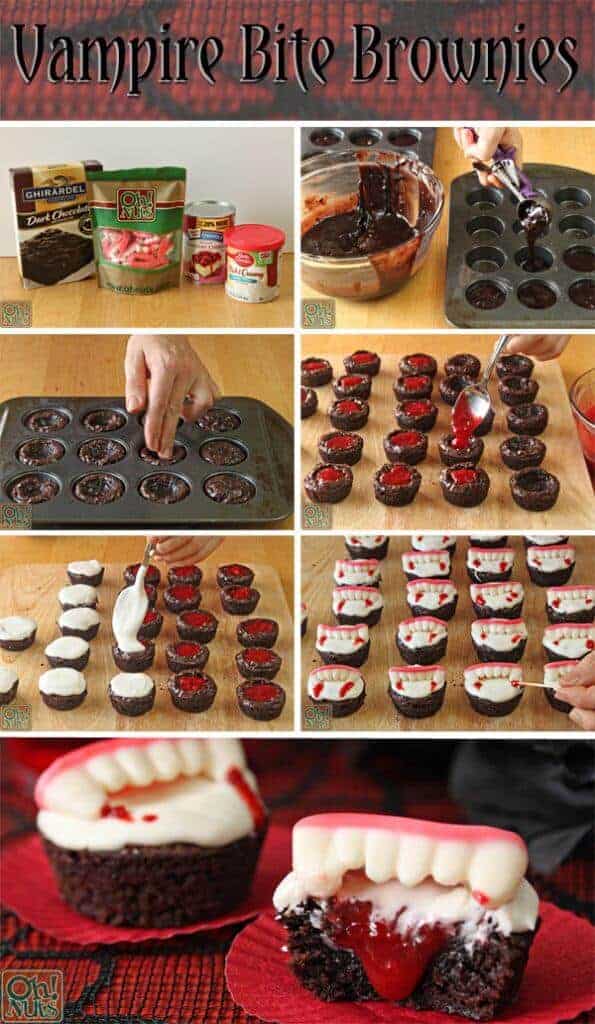 Halloween Food Ideas
Who says a Halloween treat needs to be dessert? Why not surprise your kids with a fun Halloween dinner or lunch for their lunchbox!
Halloween Cheeseburgers – How fun are these Halloween Cheeseburgers for Halloween dinner? Super easy and I am sure they will get a "howl" – get it? Howl for Halloween???
Shredded Chicken and Rice Stuffed Peppers Pumpkins by Everyday Jenny – How great are these for your adult Halloween party! Great for those watching their calories and saving room for yummy Halloween desserts. These are adorable!
Halloween Spaghetti and Meat Sauce from The 36th Avenue. Who doesn't love purple spaghetti for Halloween? My kids will go crazy for this! I never thought of using food coloring in pasta before – oh, the pasta-bilities are endless!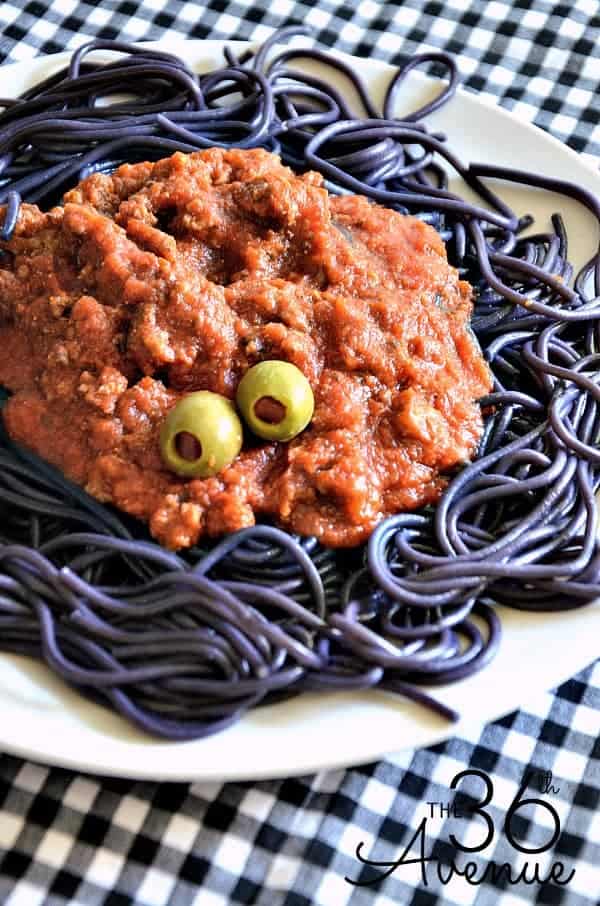 Whole Wheat Witches Fingers from Texan Erin. A little whole wheat and some jam makes for a great Halloween lunch! Such a cute idea for a classroom party too!
Healthy Halloween Treats (or at least "healthier options")
These Evil Apples from Wilton are so creative! I haven't tried this color mist food coloring spray before (totally edible), but you can bet that I am going to!
Low-Fat Chocolate Mummy Cupcakes from Skinny Taste– Low fat and adorable! But wait, did I mention they are also easy to make! Enjoy some halloween treats without the guilt!
Halloween Meringue Ghosts
– I am not going to exactly call this a Healthy Halloween Treat, buuuuuut…it only has about 20 calories, so it is a better alternative than many of those Halloween desserts out there!
Cyclops Halloween Fruit Kabobs
are a great healthy options. They are no-bake (LOL) and a quick and easy snack that your kids will love! They are the perfect treat to serve for your Halloween Party or classroom party!
Sign up for the Princess Pinky Girl Newsletter and automatically receive our latest & greatest delivered right to your inbox! Follow Princess Pinky Girl on Facebook, Twitter, Pinterest and Instagram for all of the newest recipes, crafts, travels and updates!
If you make a Princess Pinky Girl creation make sure you take a picture and share it on Instagram with @princesspinkygirl ! I love seeing your masterpieces!