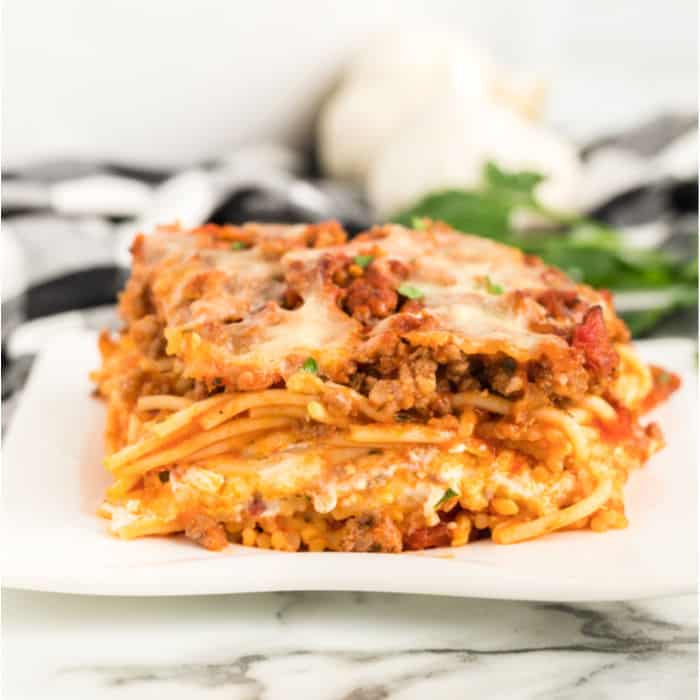 Million Dollar Spaghetti is a tasty, cheese and meat-filled pasta casserole that will feed and fill up a big family or group!
Jump to Recipe
Million Dollar Spaghetti is a tasty, cheese and meat-filled pasta casserole that will feed and fill up a big family or group! This easy casserole is the perfect dinner recipe for even the pickiest eaters (and trust me, I have a household of those!)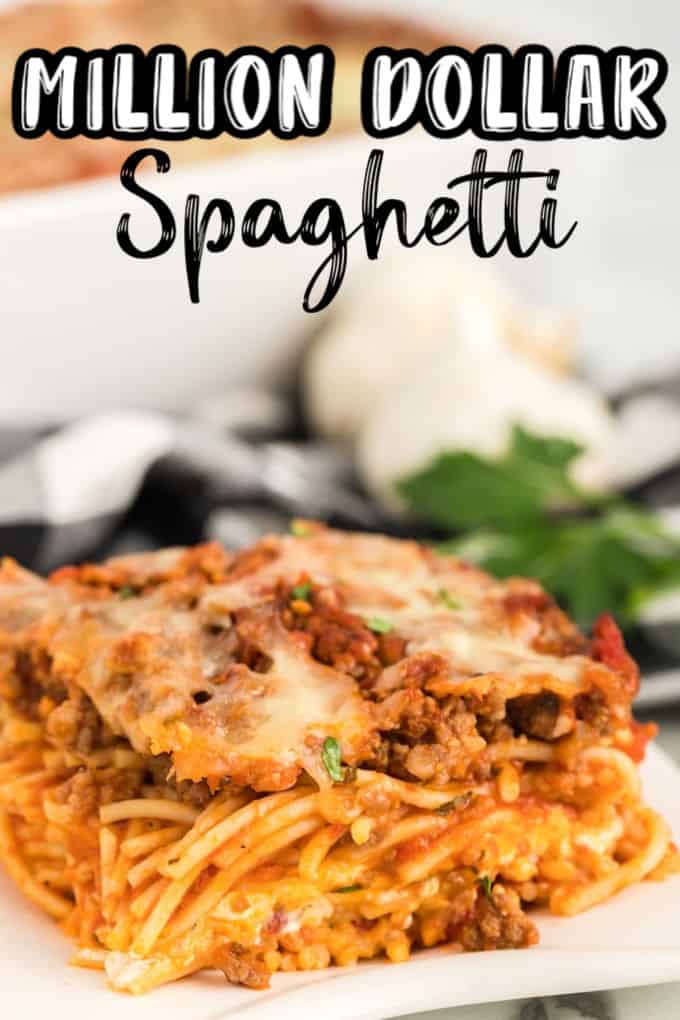 YOU WILL LOVE THIS MILLION DOLLAR SPAGHETTI CASSEROLE
Million Dollar Spaghetti is a fun combination of two classic pasta dishes, spaghetti with meat sauce and lasagna. If these two had a baby, it would be Million Dollar Spaghetti casserole, and as you can imagine, it would taste incredible!
This recipe takes about 1 hour and 15 minutes, including prep and bake time. And it makes 8 large servings, so it's perfect for feeding a big group of people or, you can make it for your family and you will likely have leftovers.
In my opinion, this is one of those dishes that the leftovers are even better!
What is Million Dollar Spaghetti?
Million Dollar Spaghetti is a homemade pasta casserole that's easy to make, delicious, and hearty! It makes for an easy way to feed an entire family or a large group of people (perfect for a potluck).
Why is it called Million Dollar Spaghetti?
Well, not because it costs a million dollars to make! It is actually a very affordable dinner! However, the taste is what inspires the name! This casserole really packs a punch when it comes to flavor and it has been said that it "tastes like a million bucks!"
I like to think of it kind of like a spaghetti version of lasagna or baked spaghetti on steroids. It is a layered casserole with sauce, meat, cheese, and pasta (but what really sets it apart is the secret ingredient – CREAM CHEESE!)
You will have various layers of each ingredient and you will put them in a pan to create a casserole. Then, bake it in the oven!
Million Dollar Spaghetti Recipe Ingredients
PASTA – I use spaghetti noodles, but other types of noodles will work as well. I have made this with ziti and penne as well.
MEAT – We used a combination of ground beef and Italian sausage, but ground chicken or turkey is also an option.
CHEESE – Cottage cheese, mozzarella cheese, and cream cheese make the perfect combination, but for people who are not cottage cheese fans, ricotta cheese can be substituted.
SAUCE – Make your life easy and grab 2 bottles of your favorite jarred spaghetti sauce.
OTHER – Make sure you have some garlic, onion, sour cream and butter.
Baked Spaghetti Casserole Tips
Tip 1: Ricotta cheese can be substituted for cottage cheese if you prefer!
Tip 2: If you want more of a cheese filling, the cheese components could easily be doubled!
Tip 3: You can use all ground beef and forego the Italian sausage meat mixture if you prefer!
Tip 4: Just as you can change up the meat and cheese options, you could also change up the noodles in this dish! Spaghetti is just one option. I've also used penne or ziti noodles at times!
Tip 5: This dish is likely to have leftovers because it will make such a large dish. The leftovers are even better than when it's served fresh!
How to make Million Dollar Spaghetti Casserole
This easy recipe is totally fail-proof for even the newest cooks!
Boil the pasta, drain, mix in half of the butter and one jar of sauce and set aside.
Brown the beef, sausage, and onion. Add garlic. Drain.
Stir in other jar of sauce.
Mix cottage cheese, cream cheese, sour cream and part of the mozzarella. Set aside.
Spread half spaghetti in pan. Then layer with cheese mixture. Repeat.
Layer the meat sauce on top and sprinkle with rest of cheese.
Bake let cool for 5-10 (so you can cut the perfect square!)
(For the detailed Million Dollar Spaghetti recipe and step-by-step details, see the printable recipe card below)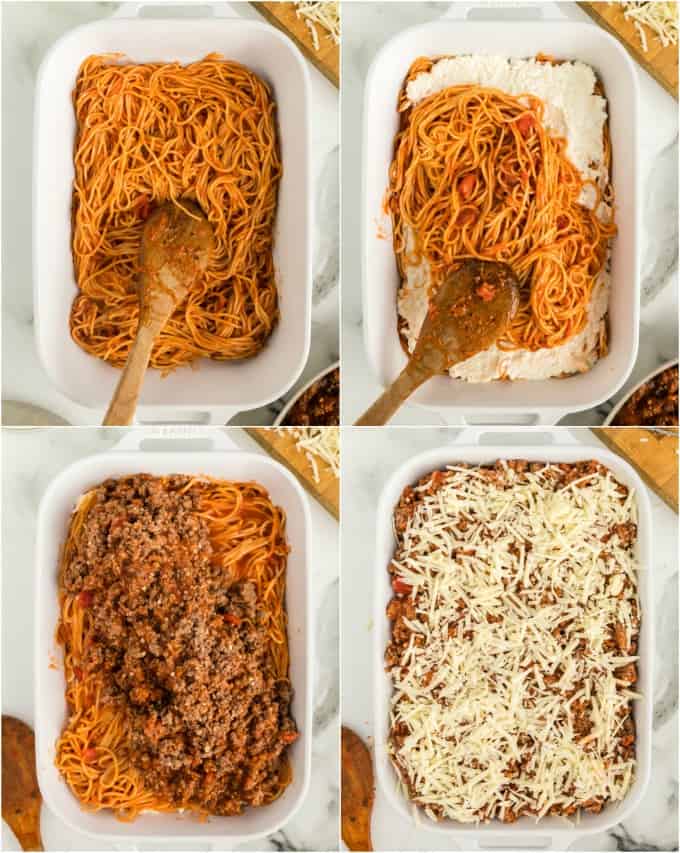 What to serve with Spaghetti Casserole
As I've noted a few times here, this will make a very hearty meal for a large group or family! You are likely to have some delicious leftovers, especially if you serve your Million Dollar Spaghetti with some tasty side dishes.
You can't have pasta without garlic bread, right? I always make our pull-apart garlic bread or Easy Cheese Stuffed Garlic Rolls to go with this pasta casserole. That way there is no sauce left behind!
Another great idea is to serve a salad with this. It really completes this dish and adds in the green vegetable that's lacking from the casserole itself. I love to do a hearty Caesar salad with tomatoes, cucumbers, parmesan, and fresh crunchy romaine lettuce!
You could also make this the appetizer before the meal.
Make-Ahead Million Dollar Spaghetti Casserole Tips
If you are a meal prepper or just want to get ahead in the game, Million Dollar Spaghetti is a great make-ahead meal!
Baking from Refrigerated: You can make this casserole up to 24 hours in advance. Just make sure you cover it well and refrigerate. When you are ready to cook it, just follow the instructions in the recipe card!
Baking from Frozen: If you want to really get ahead, you can make two casseroles at once and freeze one of the pans of spaghetti and use it for a later day! To freeze, I like to wrap it in plastic wrap and then wrap it in aluminum foil and then freeze. This should prevent any type of freezer burn!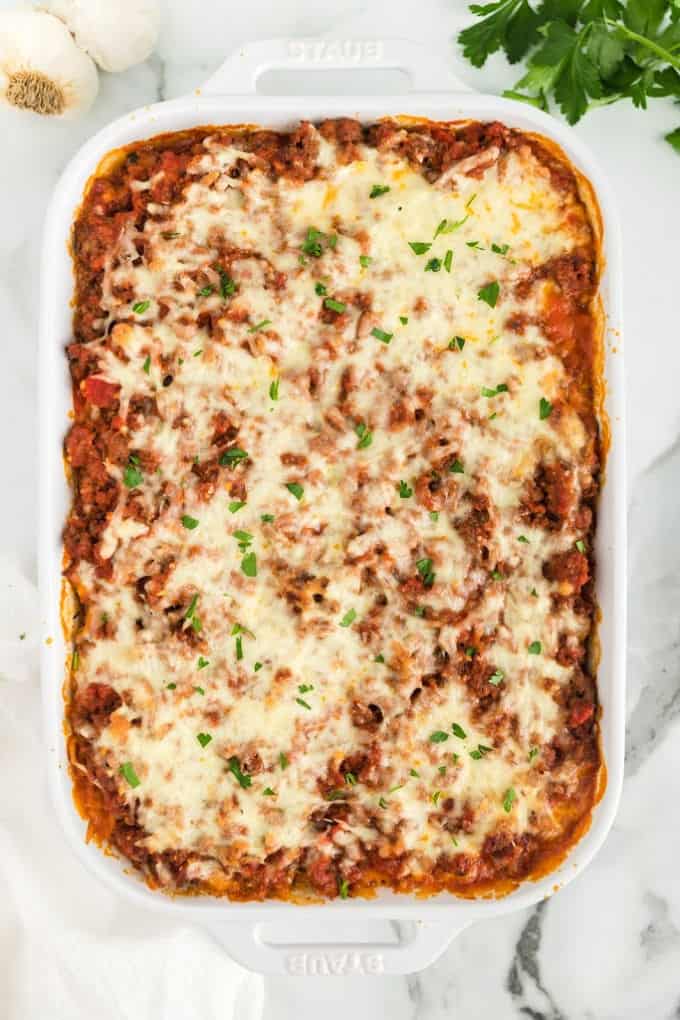 When ready to bake, let it sit in the refrigerator for at least 24 hours to thaw. If you don't have time to let it thaw, you can bake it from frozen as well. Just bake covered for about 40 minutes, then uncover and bake 20-30 minutes longer. You want the cheese to get bubbly and make sure the center is warm.
How to store Baked Spaghetti Casserole
I tend to make this casserole in a dish that has a lid that goes with it! That way, when we have leftovers, I can simply pop the lid on and store it in the fridge. It makes it super easy.
If you don't have a dish with a lid, that's no problem! Just transfer your leftovers from the pan to a plastic container with a sealed lid, and store in the fridge.
When you are ready to reheat your casserole, you can just pop it in the microwave! Or, you can also pop it back in the oven to heat it up as well.
MILLION DOLLAR SPAGHETTI CASSEROLE FAQS
Should I put foil over pasta bake?
If the cheese is browning too quickly, cover with foil and continue baking.
Can I use different ground meat instead of beef and sausage?
Yes, you can substitute ground chicken, ground turkey and even vegetarian meatless crumbles
Can I freeze this dish unbaked?
Yes, this can be kept covered in the freezer for up to 3 months. Let the dish thaw overnight in the refrigerator prior to baking.
---
MAKE AHEAD MEALS Easy Chicken Enchiladas | Oven-Baked Sliders | Ground Beef Stroganoff | Baked Mac & Cheese | Lasagna Roll Ups | The BEST Homemade Alfredo Sauce
CASSEROLES Hamburger Casserole | Ravioli Lasagna Casserole | Chicken Alfredo Bake | Chicken Pot Pie Casserole | Easy Stuffed Shells Lasagna Casserole | Mexican Casserole | Leftover Turkey Casserole | Baked Tortellini
---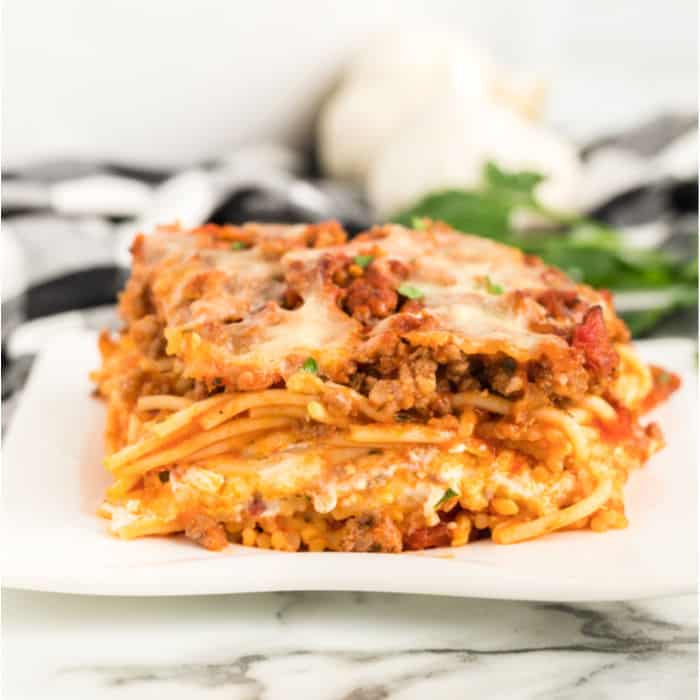 Million Dollar Baked Spaghetti
Million Dollar Spaghetti is a tasty, cheese and meat-filled pasta casserole that will feed and fill up a big family or group!
Total Time
1

hour
5

minutes
Ingredients
16

ounces

spaghetti

1

pound

ground beef

1

pound

Italian Sausage

3-4

cloves

garlic

minced

1

medium onion

diced (or ½ cup)

2

24-ounce jars

spaghetti sauce

1

cup

cottage cheese

8

ounce

cream cheese

softened

¼

cup

sour cream

3

cups

shredded mozzarella cheese

divided

8

tablespoons

butter

cut in half (4 tablespoons in each half). Each 4 tablespoons cut into slices.

Chopped parsley for garnish

optional
Instructions
Preheat oven to 350 degrees.

Cook the spaghetti per package directions to al dente (about 8 minutes). Drain and return to the pot it was cooked in. Stir 4 tablespoons of sliced butter into the hot spaghetti.

Stir one jar of the spaghetti sauce into the cooked noodles. Set aside.

In a large skillet brown the ground beef, Italian sausage and onions. Add the garlic and cook one more minute. Drain any extra grease. Pour the remaining jar of spaghetti sauce into the meat mixture. Set aside.

In a medium size bowl mix together the cottage cheese, cream cheese, sour cream and 1 ½ cups shredded mozzarella cheese. Set aside.

In a deep dish 9×13 (or a 10×14 lasagne pan) place the remaining 4 tablespoons butter slices into the bottom of the pan.

Spread half of the spaghetti noodles in the bottom of the pan.

Next spread the cheese mixture over the noodles.

Next place the remaining spaghetti noodles over the cheese mixture.

Pour the meat sauce on top of this layer of spaghetti.

Sprinkle the remaining 1 ½ cups of mozzarella cheese on top of the casserole.

Bake for 30-40 minutes. Let the casserole sit 5-10 minutes before serving.
Jenn's Notes
FAQs & TIPS
Ricotta cheese can be substituted for the cottage cheese
If you want more of a cheese filling the cheese components could easily be doubled!
You can use all ground beef instead of the mixture of meats
This is even better as leftover (see tips in post above!_
Nutrition Info
Calories:
854
kcal
|
Carbohydrates:
48
g
|
Protein:
42
g
|
Fat:
54
g
|
Saturated Fat:
27
g
|
Cholesterol:
181
mg
|
Sodium:
1013
mg
|
Potassium:
599
mg
|
Fiber:
2
g
|
Sugar:
4
g
|
Vitamin A:
1096
IU
|
Vitamin C:
3
mg
|
Calcium:
305
mg
|
Iron:
3
mg