This post may contain affiliate links. Read my disclosure policy here.
Cheesy Pull Apart Bread that is stuffed with butter, garlic, bacon, jalapeno and of course cheese! This decadent side dish doubles as an amazing appetizer. The perfect appetizer to bring to a dinner party, holiday dinner or even gameday food (can anyone say Super Bowl party!).
I would seriously give up dinner and just eat the appetizers! We are always looking for new ideas to bring to parties and some favorites include our Sheetpan Nachos, Crockpot Nacho Dip, Baked Crab Dip and Mozzarella Stuffed Meatballs!
Cheesy Pull Apart Bread
Do you see a theme with our favorite appetizers? They all include cheese. Not only am I a huge appetizer fan, but I am a totally cheese obsessed.
So, when Cabot Cheese invited me to come to visit Vermont to learn about their co-op, they could barely finish their sentence – I was IN!
This post is sponsored by Cabot Cheese and Vermont Tourism, but the recipe and opinions are 100% my own!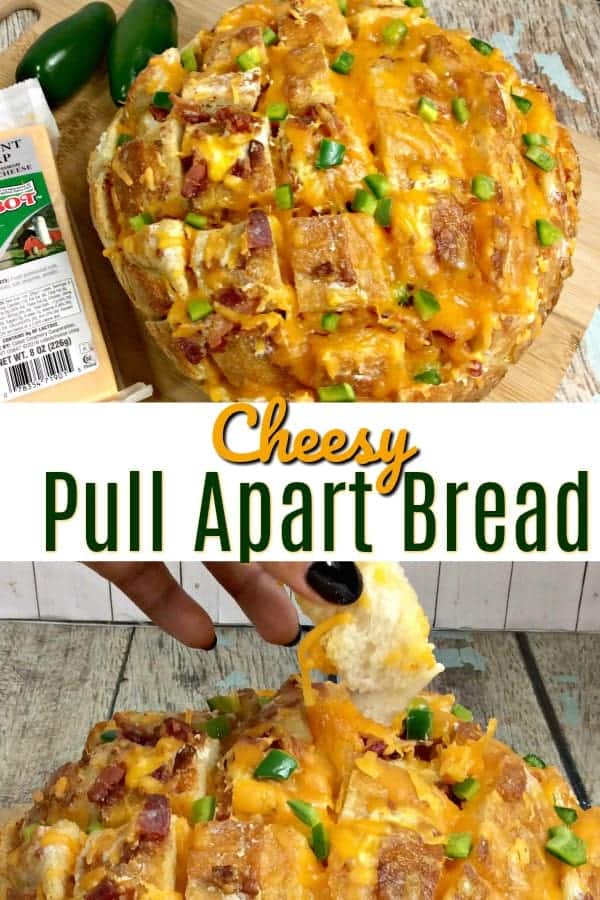 I don't know a lot about cheese, but I do know that I love it. This is why I found my time that I spent with Cabot so interesting. I had no clue all that went into making such wonderful products.
Cabot is a co-operative owned by more than 1,000 families throughout New England and New York. 100% of their profits go back directly to the farmers!
We had the opportunity to visit one of the farms when we were in Vermont, Fairmont Farm. It was really amazing what goes on there. First of all, the cows were the cutest things ever. I had no idea all that was involved in a dairy farm, but it is a 24/7 operation and wow, was it impressive!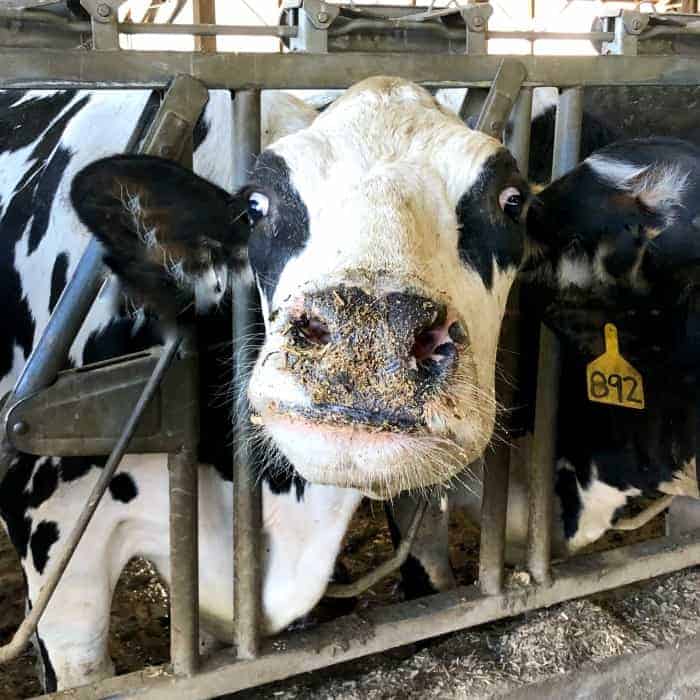 We also visited the Cabot Farmers' Store in Waterbury, Vermont. We had so much fun there! They had more than 30 varieties of cheese that we got to sample along with other amazing specialty products and Vermont goodies. If you are visiting the area, be sure to stop by there!
We also had the chance to sit with Cabot's own Chef Jimmy Kennedy and have our own private cheese tasting, while learning more about the company. I had no idea that all Cabot Cheddars are 100% naturally lactose-free and gluten-free. I also didn't realize all of the other products Cabot's has. In addition to their full line of cheeses, they make an amazing Greek yogurt, sour cream, cottage cheese, butter and whey protein.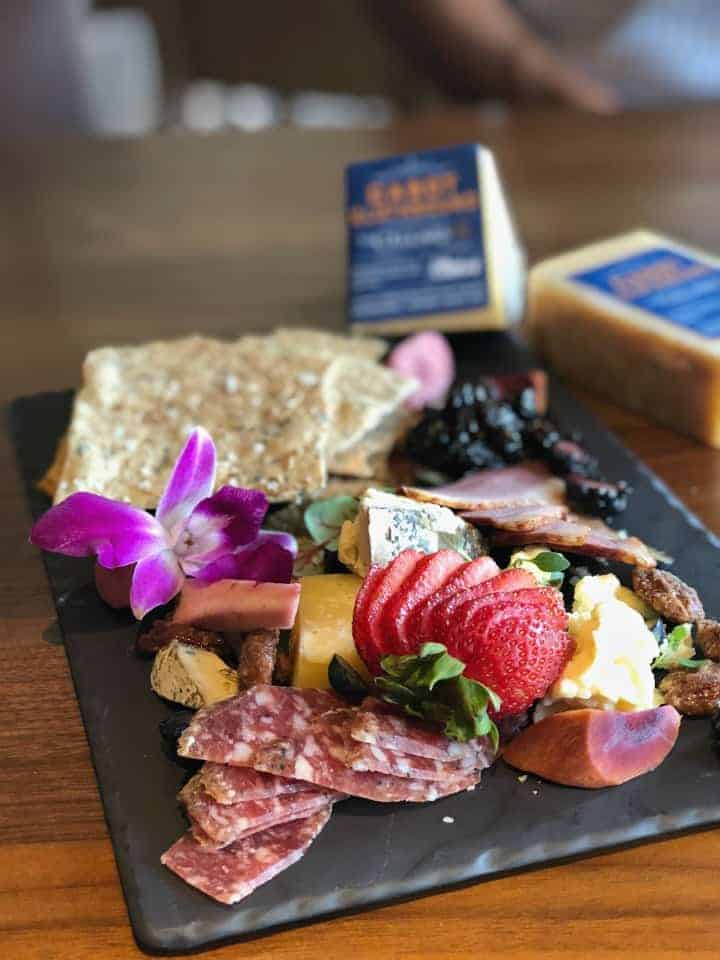 You can bet now that I have seen how Cabot Cheese is made, and after tasting the unbelievable quality, Cabot Cheese will be my go-to when creating new recipes!
Speaking of which, when we were sitting with Chef Jimmy, I was asking him about a new cheesy pull apart bread I wanted to make and we discussed what would be the best cheese to use for the recipe. He recommended Cabot's sharp cheddar, so that is precisely what I used for my new Cheesy Pull Apart Bread with garlic, bacon, and jalapeno!
Want to see more about my amazing trip to Vermont and all there is to do there? Check out The Best things to do in Vermont Guide here!
The Best Melting Cheeses for Pull-Apart Bread:
As I mentioned, we went with sharp cheddar, based on Chef Jimmy's recommendation, but you really cannot go wrong here with whichever cheese you choose. Some other great Cabot cheeses that I am planning on trying out for future Pull Apart Breads are:
Pepper Jack
Everything Bagel Cheese – yes, that is actually a cheese and it was freaking amazing!
Mozzarella
Smokey Bacon Cheddar Cheese
Cabot has some amazing shredded blended cheeses like 5 Cheese Italian, 4 Cheese Mexican, Bacon Cheddar, Fiery Jack (these would all work really well!)
What is the difference between Cheddar Cheese and Sharp Cheddar Cheese
According to Cabot, the difference between mild cheddar and sharp cheddar is the aging time. The longer cheese is aged naturally, the sharper and more pronounced the Cheddar flavor becomes.
Mild Cheddar cheese is aged for about 2 to 3 months, while an extra sharp might be aged a year. The sharpest Cheddar cheeses, such as Cabot Private Stock, are aged between 16 months and two or more years!
How to Make Cheesy Pull Apart Bread
What is great about this recipe is that you can go with the base recipe and add in the optional bacon and jalapeno, to shake things up a bit, or leave out the bacon and jalapeno if you want to tone it down a bit. Either way, this pull apart bread is about to become a new staple in your house!
Cheesy Pull Apart Bread
Cheesy Pull Apart Bread that is stuffed with butter, garlic, bacon, jalapeno and of course cheese! This decadent side dish doubles as an amazing appetizer. The perfect appetizer to bring to a dinner party, holiday dinner or even gameday food (can anyone say Super Bowl party!).
Prep Time: 10 minutes
Cook Time: 25 minutes
Total Time: 35 minutes
Course: Appetizer, Side Dish
Cuisine: American
Servings: 8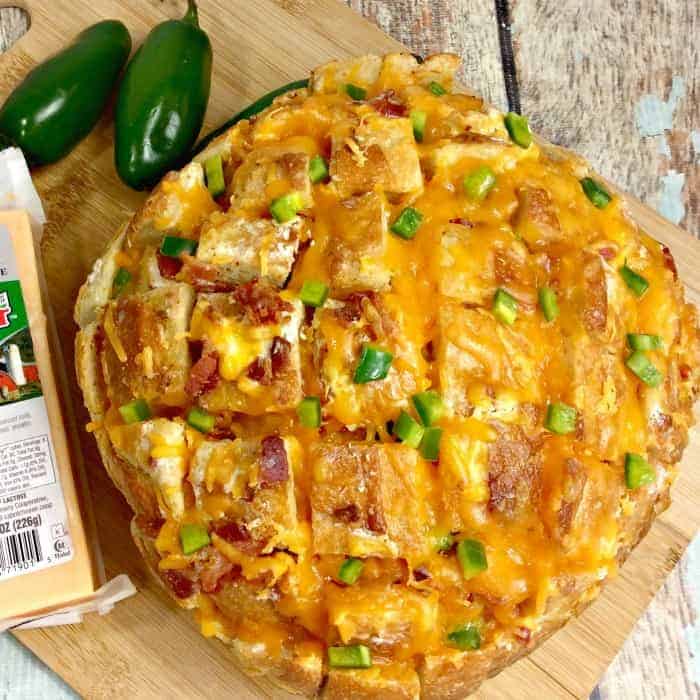 Ingredients
1 sourdough bread ( large round )
1/2 cup butter (melted)
4 oz cream cheese (softened)
1 tsp garlic salt
1 cup Cabot Sharp Cheddar cheese (shredded)
8 oz cooked bacon (crumbled)
1/4 cup Jalapenos (diced)
Instructions
Preheat oven to 350 degrees and cover a cookie sheet with foil

Using a bread knife, slice the bread diagonally into 1 inch slices about 3/4 way into the bread. Make sure you do not cut all the way through

Turn the bread about 90 degrees, and cut the diagonal slices to create a criss-cross pattern

Using a standing mixer, cream together the melted butter, cream cheese and garlic salt until combined

Using a knife, spread the butter cream cheese mixture in between the bread slices

Push crumbled bacon in between the bread slices as well as the shredded cheese and chopped jalapenos

Wrap the bread in foil and place onto the cookie sheet and bake in the oven for 20 minutes

Unwrap the bread and bake for an additional 5 minutes or until cheese is fully melted
Nutrition per serving
Calories: 489kcal | Fat: 33g | Saturated fat: 17g | Cholesterol: 79mg | Sodium: 1003mg | Potassium: 168mg | Carbohydrates: 33g | Fiber: 1g | Sugar: 2g | Protein: 14g | Vitamin A: 725% | Vitamin C: 3.5% | Calcium: 145% | Iron: 2.3% |
Sign up for the Princess Pinky Girl Newsletter and automatically receive our latest & greatest delivered right to your inbox! Follow Princess Pinky Girl on Facebook, Twitter, Pinterest and Instagram for all of the newest recipes, crafts, travels and updates!
If you make a Princess Pinky Girl creation make sure you take a picture and share it on Instagram with @princesspinkygirl ! I love seeing your masterpieces!