This lasagna casserole is the easiest version of a classic lasagna recipe that you'll ever make!
Jump to Recipe
This Lasagna Casserole is the easiest version of a classic lasagna recipe that you'll ever make! This recipe is an easy and delicious alternative to the tedious task of making a traditional lasagna recipe!
This recipe is like the dump cake of lasagna! Just dump everything in and bake! Easy as pie!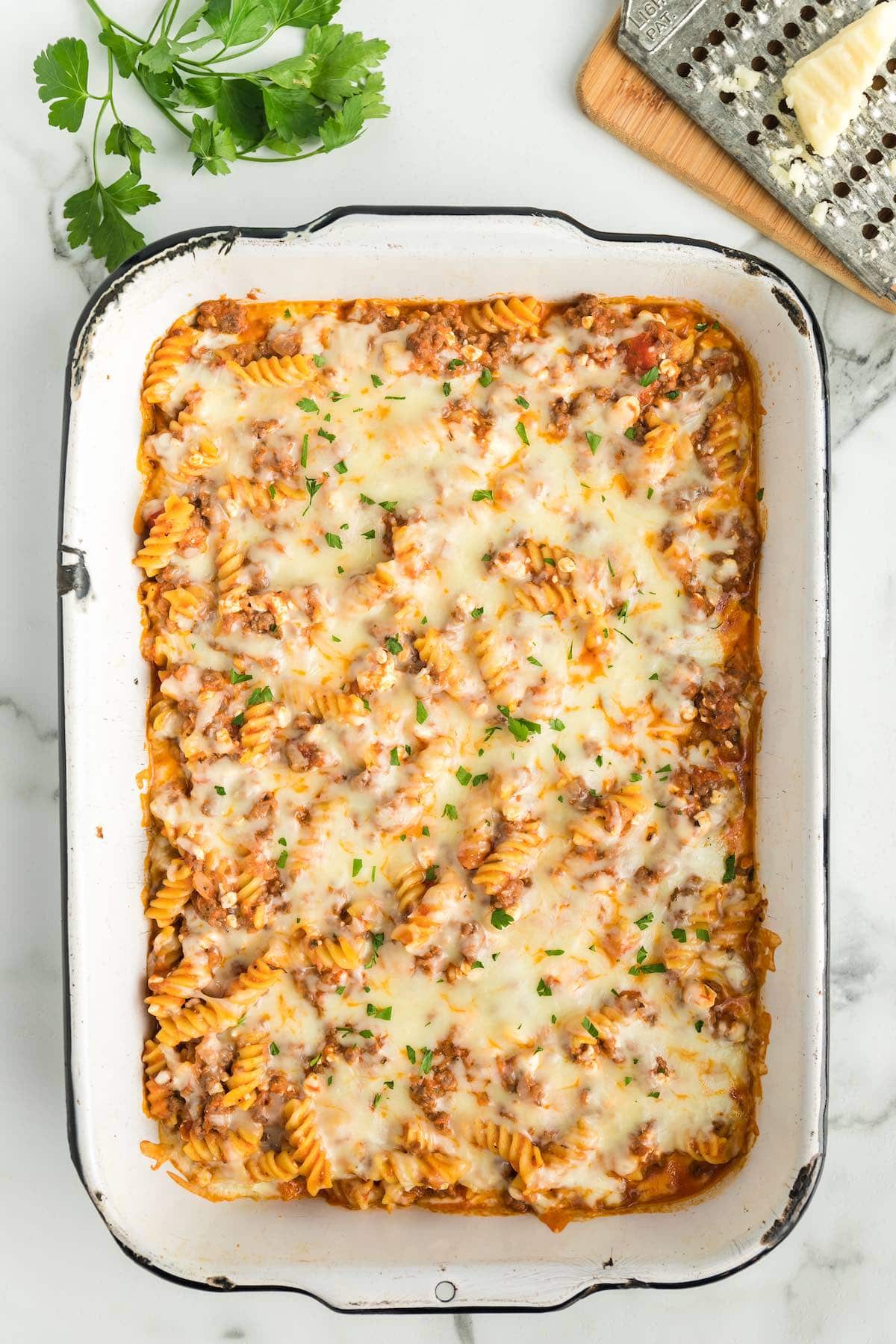 Recipe For Lasagna Casserole
Craving lasagna, but don't want to go through all of the work required to make it? Well, I've got a solution for you!
My family goes crazy for pasta dishes! Lasagna is one of our all-time favorites, but I'll admit, it's not always ideal to make. It just takes too much time on those busy nights at home. So our lasagna casserole is the perfect alternative.
This recipe is so quick and easy to make. Plus, it's simple to switch up a few ingredients to make it something completely different each time. You and your family are going to love this one!
Lazy Lasagna Recipe Ingredients
1 pound of hamburger
1 large sweet onion diced
1 cup of cottage cheese
24-ounce jar of pasta sauce
2 cups of rotini pasta
8 ounces of mozzarella cheese (shredded)
Salt and pepper to taste
Lazy Lasagna Recipe Substitutions
Pasta: The ingredients list above calls for rotini. I really like to use spiral noodles in this recipe. It pairs nicely with the other ingredients. However, you could pretty much substitute any type of shaped noodle in this recipe!
Examples are: penne, bowtie, shells, or elbow macaroni. I just wouldn't recommend using a long noodle-like spaghetti or linguine in this recipe.
Sauce: Just like the noodle options, the sauce options for this recipe are endless. You can use any of your favorite sauces. They make so many types and flavors of pasta sauces now. If you're looking for some extra flavor you could do basil or garlic flavored red sauce. You could also even opt to make a homemade red sauce, too!
To take this a completely different direction, you could choose to use a white sauce such as Alfredo instead! I recommend using chicken instead of beef if you do. My kids love white sauce, so I like to switch this recipe up from time to time by making it this way.
Spices: As mentioned above, you can get a more intense spice flavor simply by using a garlic or basil flavored sauce! Other options would be to use extra Italian seasoning or oregano.
Vegetable Options: You'll notice that the ingredients only call for onions in the veggie department. However, this recipe is SO easy to add extra veggies. My go-to is always to add fresh mushrooms! I love them, and they mix in super well with this recipe whether you're using a white or red sauce.
Other options for veggie additions could be spinach, olives, eggplant, zucchini, fresh tomatoes, or peppers. No matter what type of vegetables you choose to add, just be sure to do so in a subtle way. You don't want to overpower the taste of the sauce and cheese flavors.
How to make Lazy Lasagna Casserole
Boil rotini al dente, according to the package directions.
Fry hamburger with diced onion; season with salt and pepper to your taste.
Stir in the cottage cheese, tomato sauce, and cooked pasta.
Spoon mixture into greased 10 x 15 casserole dish and top with mozzarella cheese.
Bake at 350 for about 15 minutes, or until cheese is bubbly.
How to serve Lasagna Casserole
My first thought for a side dish with any type of pasta dish is always bread. You simply can't have pasta without a delicious dose of garlic bread! Plus, it's the perfect pair for the sauce leftover on your plate.
Try our favorite artisan No-Knead Bread recipe or our Cheesy Pull-Apart Garlic Bread – it would compliment the dish perfectly!
Another option is to make a nice big salad. This is another great way to add in more veggies with this dish. Toss up a garden salad or Caesar style salad with fresh lettuce, tomatoes, cucumbers, and any other toppings you like!
Can I freeze this recipe for lasagna casserole?
Yes, you can! That is another aspect of this recipe that I absolutely love. This is super easy to make in advance and freeze for a later date. Or, you can simply freeze your leftovers for another night!
To freeze properly, you want to wrap it up tightly in aluminum foil and a freezer bag. Then, when you're ready to make it, you will want to remove it from the freezer and let it thaw out in the fridge.
I find that it's best to let it thaw for a day or two days, but if you forget to take it out (been there, done that!) it's totally fine to take it out on the day you plan to eat it. If you do this, just add a little bit of extra baking time and check it occasionally to make sure the edges are not burning.
More Casserole Recipes
Hamburger Casserole | Tater Tot Casserole | Ravioli Lasagna Casserole | Lasagna Roll Ups | Chicken Alfredo Bake | Chicken Pot Pie Casserole | Million Dollar Spaghetti Casserole | Pizza Casserole | Crack Chicken Casserole | Baked Feta Pasta | Swedish Meatball Pasta Bake
Lasagna Casserole
This lasagna casserole is the easiest version of a classic lasagna recipe that you'll ever make!
Ingredients
1

pound

hamburger

1

large sweet onion

diced

1

cup

cottage cheese

1

24-ounce jar

pasta sauce

2

cups

rotini pasta

8

ounces

mozzarella cheese shredded

Salt pepper to taste
Instructions
Fry hamburger with diced onion; add salt and pepper to taste.

Boil rotini al dente, according to package directions.

Add cottage cheese to hamburger/onion mix.

Pour pasta sauce over mix.

Stir in cooked pasta.

Scoop mixture into greased 10 x 15 casserole dish.

Top with mozzarella cheese.

Bake at 350 for about 15 minutes, or until cheese is bubbly.
Nutrition Info
Calories:
337
kcal
|
Carbohydrates:
44
g
|
Protein:
17
g
|
Fat:
10
g
|
Saturated Fat:
5
g
|
Cholesterol:
27
mg
|
Sodium:
562
mg
|
Potassium:
204
mg
|
Fiber:
2
g
|
Sugar:
7
g
|
Vitamin A:
228
IU
|
Vitamin C:
3
mg
|
Calcium:
274
mg
|
Iron:
2
mg
I have no doubts that this will become your go-to pasta recipe for those busy nights. It's easy to make, it can be frozen for even more simplicity, and it's super versatile. I hope your family will love it just as much as mine does!