This TikTok famous Baked Feta Pasta is a quick and simple weeknight dinner ready in just about 30 minutes!
Jump to Recipe
Baked Feta Pasta (Made famous on TikTok) is a quick and simple weeknight dinner! Quickly made by oven-baking a block of Greek feta cheese and cherry tomatoes, mixed with noodles and topped with fresh basil, this flavorful pasta dish definitely lives up to the hype!
TikTok Viral Pasta with Feta Cheese
Have you seen the viral baked pasta made with feta cheese and cherry tomatoes that has been taking the Internet by storm?
If you totally missed it, don't worry! I have you covered with my own version of this insanely delicious pasta dish. Once you taste it, you will totally see why it gained such popularity.
It's such a simple pasta dish to make, which means it's perfect for a busy weeknight. The feta cheese gives it so much flavor.
If you are a fan of feta, you are absolutely going to go crazy for this delicious Greek-style cheese and fresh tomato and basil-baked pasta dish!
Why We Love This Recipe
Quick and easy recipe
Flavorful and fresh
Delicious as leftovers
Can be frozen for 3 months
Perfect for a busy weeknight
Able to add a number of ingredients to customize
Flavors and spices can be altered to your preference
Great as a main dish or side dish
Ingredients/Shopping List
12 ounce container cherry tomatoes
3 garlic cloves
7 ounce block Greek feta cheese
⅓ cup olive oil
1 tbsp red wine vinegar
1½ tsp italian seasoning
1 tsp salt
½ tsp red pepper flakes
½ tsp onion powder
Basil leaves
12 ounces small to medium sized pasta
SEE FULL PRINTABLE RECIPE CARD BELOW
How to Make Baked Feta Pasta Recipe
This delicious pasta recipe will come together quickly and easily. It's prepped in just 10 minutes and only requires about 20 minutes to bake.
Fill the baking dish with garlic cloves and tomatoes. Place a block of feta in the center of the dish.
Combine oil, vinegar, and seasonings and pour over the entire dish.
Bake in the oven at 400 degrees for 20-25 minutes.
Pro-tip: Bake time might be a bit different depending on your oven. A great way to tell when the tomatoes and feta are done is by looking at the tomatoes. If they are starting to burst, you can take it out of the oven!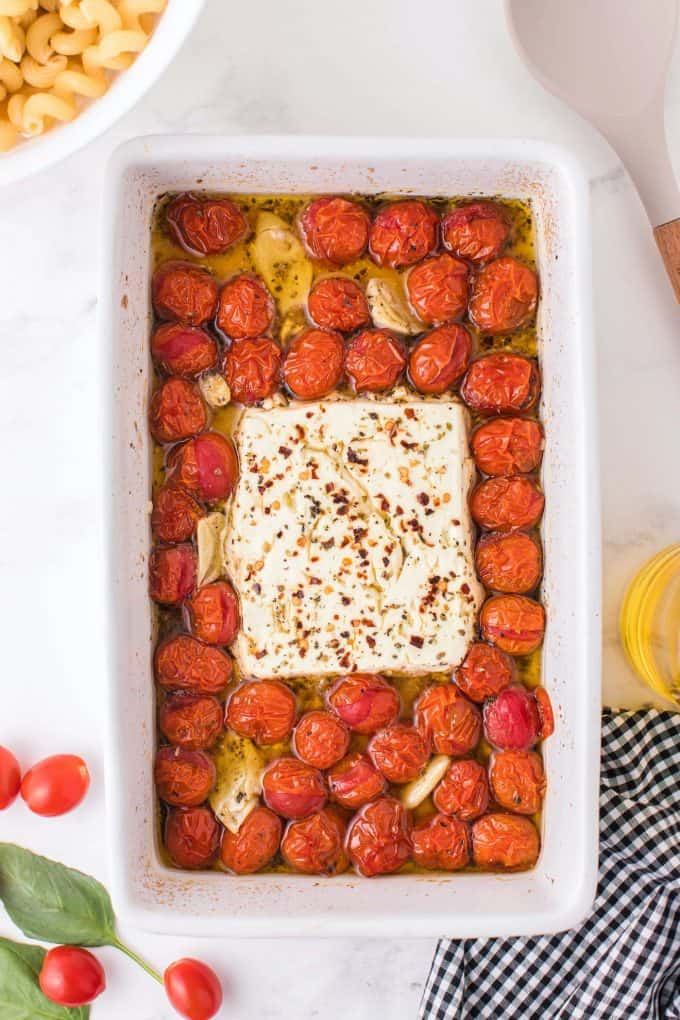 Cook pasta according to directions, saving ¾ cup of pasta water when draining. Remove the feta and tomato dish from the oven and stir baked ingredients, adding the pasta and water.
Pro-tip: I found that without the pasta water, the taste might be too strong for some people. However, the consistency was fine without it if you served the meal right away.
If the pasta has to sit for a while, the pasta water helps it keep a good, creamy consistency.
Top with fresh basil and serve!
Variations / Options / Add-ins
PROTEIN: While it's delicious without, it would be really easy to add protein to this recipe. You could cook some chicken breasts or Italian sausage, cut it up and serve it over the top or mixed in with your pasta.
VEGETABLES: This recipe would be great with the addition of veggies. Try adding cooked spinach, mushrooms, onions, or all of them! I haven't tried this yet, but I'm sure it would be absolutely delicious.
RED PEPPER & BASIL: The red pepper flakes in this recipe can be left out if you aren't a fan of the spiciness or basil flavor.
NOODLES: You can use pretty much any type of medium-sized noodles. See below for more details and ideas.
What Type of Pasta Should I Use For Baked Feta Dish?
You can use any type of medium sized pasta with this dish. Honestly, you could use long pasta too, but typically most people use noodles with some type of ridge or texture to ensure maximum flavor.
Some options include Campanelle, Cavatappi, Shells, Farfelle, Rotini, Macaroni, Penne, Rigatoni, or Ziti. I love any type of thick twisty pasta, so Campanelle or Cavatappi are personal favorites.
Frequently Asked Questions
Can You Make This With Crumbled Feta Cheese
You sure can make this pasta using crumbled feta cheese, I just recommend placing it in a pile in the middle of the dish similar to the block.
Where Did This Baked Feta Pasta Go Viral?
This delicious pasta dish went crazy viral on TikTok and was based on the pasta dish created by Finnish blogger Jenni Häyrinen.
How to Store Leftover Baked Feta Pasta
Store leftovers in an airtight container, and place them in the refrigerator for 2-3 days.
You can also freeze this dish for 3 months, then thaw in the refrigerator or heat it up on the stovetop.
When reheating, it helps to add a teaspoon of water. Otherwise the leftover pasta can get a bit dried out.
More Easy Pasta Recipes
One-Pot Chicken Parmesan Pasta | One Pot Pasta | The BEST Homemade Alfredo Sauce | Lasagna Casserole – Lazy Lasagna! | Million Dollar Spaghetti Casserole | Taco Spaghetti | Everything Bagel Pasta | Homemade Bacon Mac and Cheese | Cacio e Pepe | Skillet Lasagna
Baked Feta Pasta
This TikTok famous Baked Feta Pasta is a quick and simple weeknight dinner ready in just about 30 minutes!
Ingredients
12

ounce

container cherry tomatoes

whole

3

garlic cloves

halved lengthwise

7

ounce

block Greek feta cheese

⅓

cup

olive oil

1

tbsp

red wine vinegar

1½

tsp

Italian seasoning

1

tsp

salt

½

tsp

red pepper flakes

½

tsp

onion powder

Fresh basil leaves

(optional garnish)

12

ounces

small to medium sized pasta

(or about 4 cups pasta)
Instructions
Preheat the oven to 400 degrees Fahrenheit and pull out a 9×13 baking dish.

Fill the baking dish with cherry tomatoes and garlic cloves. Place the block of Greek feta cheese in the center of the dish.

Combine the olive oil, red wine vinegar, Italian seasoning, sea salt, red pepper flakes, and onion powder in a bowl and whisk together. Pour over the entire dish and add a sprinkle of red pepper flakes directly on the block of feta cheese.

Bake in the oven for 20-25 minutes or until the tomatoes have completely cooked and the feta cheese has melted.

While the dish is baking, cook pasta according to directions in salty water. Reserve ¾ cup of pasta water when draining.

Once the dish is done in the oven, crush feta, tomatoes, and garlic cloves with a fork. Stir everything together and then stir in the pasta. Check on the consistency and taste, and add in whatever amounts of pasta water you might need to improve either.

Top with fresh basil leaves (optional garnish) and then plate and serve.
Nutrition Info
Calories:
419
kcal
|
Carbohydrates:
47
g
|
Protein:
13
g
|
Fat:
20
g
|
Saturated Fat:
7
g
|
Cholesterol:
29
mg
|
Sodium:
770
mg
|
Potassium:
289
mg
|
Fiber:
3
g
|
Sugar:
4
g
|
Vitamin A:
475
IU
|
Vitamin C:
13
mg
|
Calcium:
194
mg
|
Iron:
2
mg