It's almost time for spring and that means pulling out our favorite Easter cookie recipes! Our Easter cookies are all so adorable, too cute to eat, and make the most beautiful color displays! Best of all… they are SUPER EASY!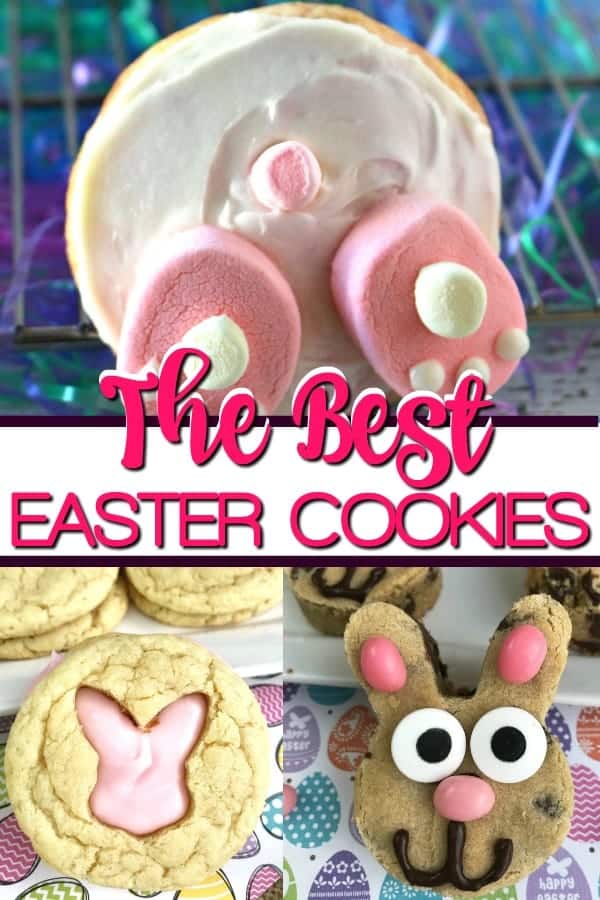 Easy Easter Cookie Recipes
Easter cookies are not only a great treat that makes you feel like it is spring, but they are a great family project for spring break or a fun weekend treat. Every bunny will love these!
We love crafting with food! In our world, food should not only be delicious, it should be cute too! Do you have a young chef in your house? A little one who loves to bake? Put your apron and chef hat on and dig into some of our most popular and favorite Easter Cookie Recipes!
Looking for a little twist to your super-cute Easter desserts this year? These Easter cookie cups are the answer!
They are all about the decorations. Once you make your sugar cookie cups in a mini muffin pan and let cool, simple sprinkles and cute toppings are all that's needed.
The children will have a blast decorating these super simple cookie cups!
If sweet, salty and absolutely adorable is your thing, look no further! These gorgeous spring flower pretzel bites are a great food craft for the family, and couldn't be easier to make!
Three simple ingredients and a kitchen full of laughter are all that's required. The results are colorful, delicious, and best of all – can be made ahead!
Plan to make a big batch, because no one will be able to resist these beautiful edible flowers!
These chocolate bird nests use only 5 ingredients, are a delectable sweet and salty combination, and require NO BAKING!
They only take about 20 minutes to make and are a perfect family food craft for spring break! They make perfect wrapped treats for Easter baskets!
This Easter bunny bark is ridiculously cute, so fun to make, and you literally can't mess it up!
There's no baking time required, and you can use any kind of your favorite Easter candy for decorations!
Dip the sticky side of a marshmallow in sprinkles to get that adorable sparkly bunny ear effect! EveryBUNNY will want in on these!
Chocolate chip cookies shaped like Easter bunnies are a must-have for every Easter basket!
Homemade dough is always better, but pre-made refrigerated cookie dough can save you a little time!
With jelly bean ears and sugar candy eyes, they're almost too cute to eat! This one is a must-try!
Not only are these bunny cut-outs so easy to make, but they also use one of our favorite food hacks: cake mix – that's right our famous Cake Mix Cookies!
Mini cookie cutters make these cookies perfect for really any holiday or season. They're so simple to make and take only 9 minutes of baking time! Guaranteed to bring a smile to your favorite some bunny this spring!
Easter basket sugar cookies are SO fun to make, MORE fun to eat, and make a wonderful family project!
The best part is you can use refrigerated ready-made sugar cookie dough, and then add whatever decor you like!
Let each family member pick a favorite candy to put in the basket. Nothing brings a family together like delicious food crafts!
Cutest. Cookie. Ever. Can you even say "bunny butt cookies" without smiling?
Use any type of sugar cookie (or our Cake Mix Cookies or even pre-made dough from the grocery store), frosting, and strategically placed marshmallows to make this laugh-out-loud dessert the whole family will enjoy!
You can whip up a whole batch in less than 15 minutes, so invite some friends to join in on the fun!
Rice Krispie treats are an all-time favorite because they are so easy to shape and mold.
These robins' nests simply need a little coconut grass, some melting chocolate, and gorgeous colorful eggs of your choice to welcome spring!
You'll love making this tasty, creative, Easter treat! Wrap them in gift bags to share as treats!
Be sure to pin this post for later!