These Peppermint Candy Spoons are the perfect DIY Christmas Gift! They are easy to make and are the perfect gift for Teachers, Friend, Co-workers and family!
Jump to Recipe
These Peppermint Candy Spoons are the perfect DIY Christmas Gift! They are easy to make and are the perfect gift for Teachers, Friend, Co-workers and family!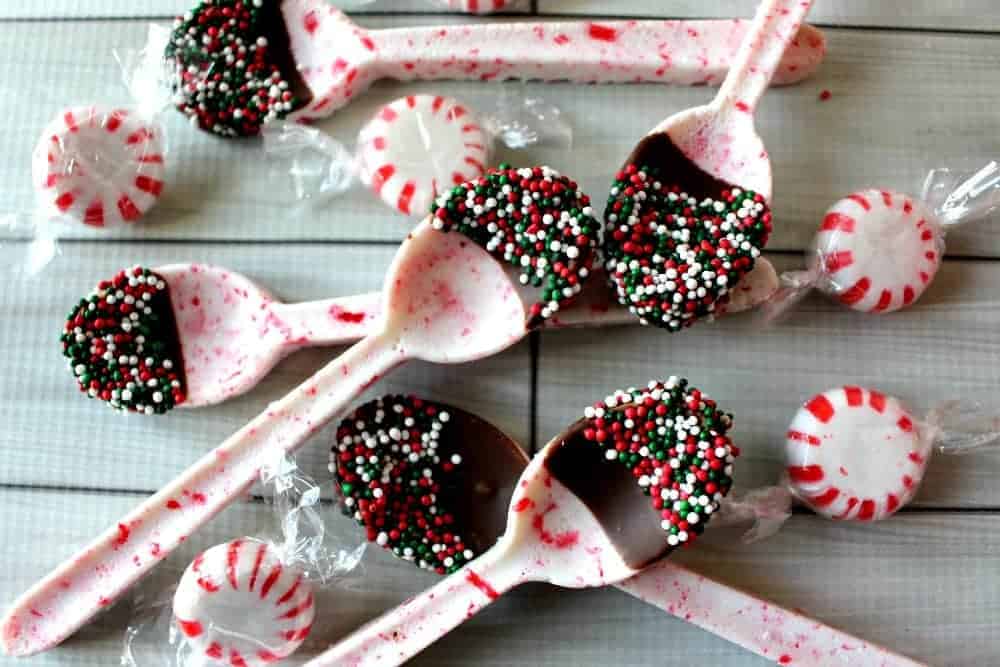 Peppermint Candy Spoons
If you are looking for the perfect holiday project and DIY Christmas gift, then look no further! These Peppermint Candy spoons are so easy to make and if you pair them with a cute mug and some hot chocolate, they are perfect for a holiday gift exchange.
So it is possible I may be a little obsessed with making things out of melted candy! Ever since my Peppermint Candy Dish and Peppermint Shot glasses, I have been busy in my kitchen melting away!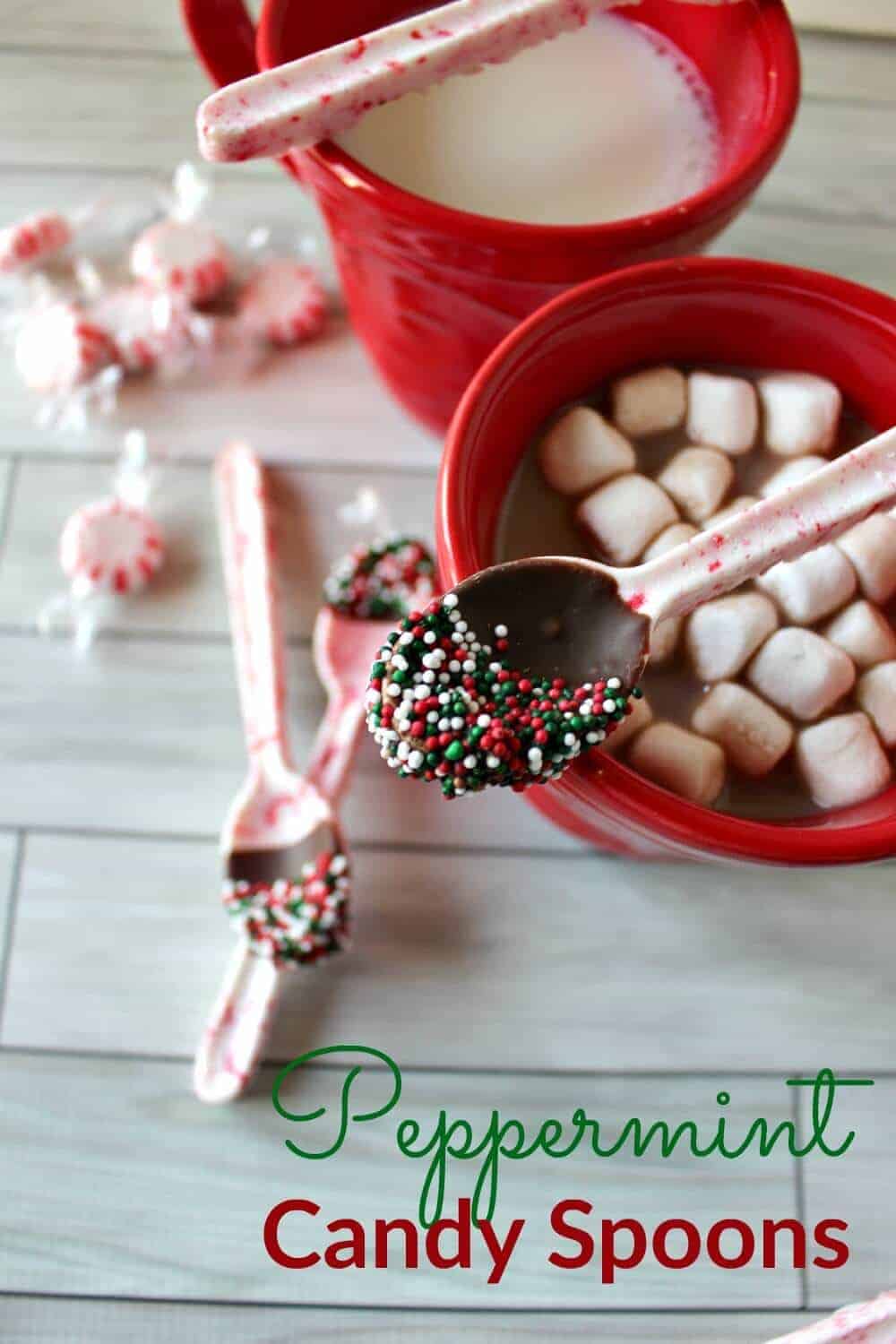 (Speaking of melting, check out this Melted Snowman Chocolate Bark! Also a great holiday treat!!)
But let's get back to today's project! I want to share with you one of my personal favorites – DIY Peppermint Candy Spoons – eeeeeeeekkkkkkk these are SOOOO cute and, of course, they are really easy to make!
Disclosure, you do need a silicone spoon mold. Mine says it is for microwaving chocolate, but I used it in my oven over and over – no problem!
Here are the items you will need to make Peppermint Candy Spoons!
Starlight Peppermint Candy – So, I really prefer this brand! I know it sounds crazy, but I find that the spoons come out the best with this particular brand of peppermints. (this is also true with the shot glasses and candy bowls.)
Silicone Spoon Mold (got mine here – click link) – They sometimes sell out around Christmas, so get it early! Others will work too, but just make sure that you are allowed to put them in the oven. Personally I prefer the shape of this one.
Holiday/Christmas Sprinkles – I prefer nonpareils, but any will work!
How to make Peppermint Candy Spoons
Crush peppermints
Fill spoon mold with crushed peppermints
Bake in oven
Melt chocolate and dip top of spoon in the chocolate
Cover chocolate with holiday sprinkles
TIPS
After removing the spoons from the mold to make the edges smooth use a new, clean fingernail file and gently file away the wonky edges not pushing too hard so as not to break the spoon.
One full bag of mints from Target makes two full spoon molds. The spoons that broke (and yes they break sometimes later) I save them and toss them in my coffee (which I have added chocolate syrup) so I can have my own version of Peppermint Mocha coffee (like Starbucks LOL)
An alternative to dipping the chocolate-coated spoon into the candy sprinkles – hold the spoon over the sprinkle bowl and use a spoon full of sprinkles and sprinkle them onto the chocolate spoon as you turn the spoon. Dipping the chocolate spoon into the sprinkles can make the candy sprinkles clump together with some of the melted chocolate that inevitably dripped off into the bowl of sprinkles.
A whole bag of chocolate candy melts was way more than sufficient. Probably half a bag would work but make sure you melt them in a deep enough little bowl to be able to dip the spoon to the depth needed.
Easy DIY Christmas Gift
Our Peppermint Candy Spoons make the perfect easy DIY gift for Christmas or the holidays! We give them to teachers, friends, family, etc! I usually keep a bag of them all ready to go in my car in case I find myself in a gift emergency! (You know what I mean, we have all been there!)
How to Make an easy DIY Christmas Gift
You will need the following to make these into a quick and easy gift:
To fill the treat bag:
Stand the treat bag in a glass.
Put a spoonful of chocolate mix.
Gently push the spoon down into that little bit of hot chocolate mix. TIP: Remember to face the pretty part of the spoon to the front of the bag.
Either using a spoon or a spoon and small funnel, add more chocolate mix into the bag behind the spoon.
Add the marshmallows and tie.
More Great Peppermint Recipes
WATCH THE HOW TO VIDEO!!
Think about pairing these spoons with our delicious Hot Chocolate on a Stick! It would make a super cute gift together!!!
Peppermint Candy Spoons
These Peppermint Candy Spoons are the perfect DIY Christmas Gift! They are easy to make and are the perfect gift for Teachers, Friend, Co-workers and family!
Ingredients
1

bag

Wilton Candy Melts

Holiday Sprinkles
Instructions
Preheat oven to 300 degrees.

In a ziplock bag, crush the peppermints (I used a kitchen mallet).

Use a teaspoon to fill the spoon mold with the crushed peppermint – be sure to put extra by the top of the spoon part and at the neck of the spoon (where the spoon and handle meet). These are areas that break easy.

Place in oven and let melt completely. Mine took about 10 minutes, but every oven is different and you just have to watch it. Once it was pretty melts (about 8 minutes in or so) I took mine out and added some additional crushed peppermint wherever it looked thin. (the peppermint melts down a bunch, so you may have to fill it in) – then I let it cook for a few minutes longer.

Take out of oven and let cool completely.

Separate the sides from the candy carefully and remove. If one breaks, just add some more crushed peppermint and cook for a few minutes more.

Optional – Melt the chocolate candy melts according to instructions on package. Did spoon end into the chocolate and immediately dip into sprinkles. Place on wax paper until dry.
Nutrition Info
Calories:
272
kcal
|
Carbohydrates:
9
g
|
Fat:
4
g
|
Saturated Fat:
3
g
|
Sodium:
15
mg
|
Sugar:
9
g
ORIGINALLY POSTED NOVEMBER 15, 2015 – updated November 16, 2018