This post may contain affiliate links. Read my disclosure policy here.
This lemon lush layered dessert is like a twist on lemon cheesecake and lemon bars put together. It's insanely delicious and so easy to put together. It just takes 3 easy layers.
If you ask me, it's a must to have a lemon desserts recipe up your sleeve. They are fresh, light, and always seem to be enjoyed by everyone! Some of our favorite lemon desserts are our Lemon Cheesecake Bars, Lemon Ice Box Cake and our Lemon Blueberry Muffins.
Lemon Lush Recipe
When you think of lemon recipes, I'm sure that the classics come to mind (like, lemon bars or lemon meringue pie). But, today I've got a new delicious lemon recipe to share with you!
If you are looking for a refreshing, light, and creamy dessert, then do I have a treat for you… this Lemon Lush layered dessert checks all the boxes!
To start, you have a rich, crunchy pecan crust. This crust is SO simple but adds that perfect crunch and flavor to the recipe.
Then, comes the lemon cheesecake layer, personally this is my favorite layer! It's so rich and creamy.
Finally, you'll have the lemon pudding layer. Top it off with Cool Whip and a lemon garnish and you're good to go.
One thing I especially love about this dessert is its lightness. I have a major sweet tooth, so I'm always in the mood for dessert after a meal, but sometimes I'm just so full.
This is the perfect solution because it's not overly rich or filling. I always have a little bit of room left for lemon lush!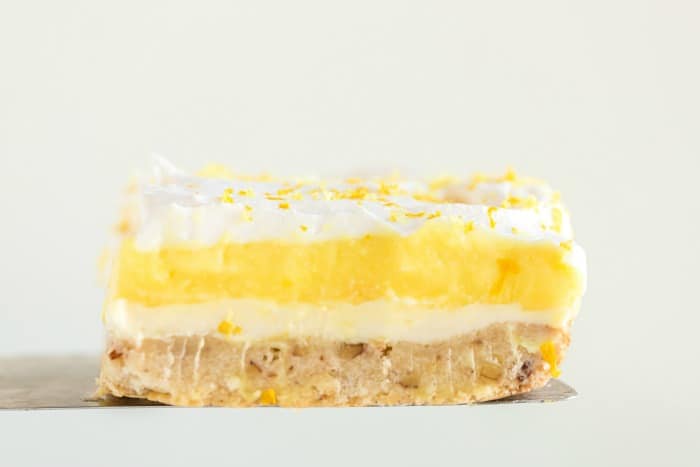 This is the perfect one-pan dessert for end of summer gatherings!
Even people who don't love lemon desserts tend to like this one! The mixture of the creaminess of the cream cheese and crunchy pecan crust help to complement and tone down the lemon flavors so that they aren't too overpowering!
Below, you'll find the ingredients and instructions for this refreshing and delicious lemon dessert.
Lemon Lush Ingredients
Since this recipe is made up of multiple layers, I think it's easiest to break it down that way. Below, I've broken down the ingredients you will need for each separate layer.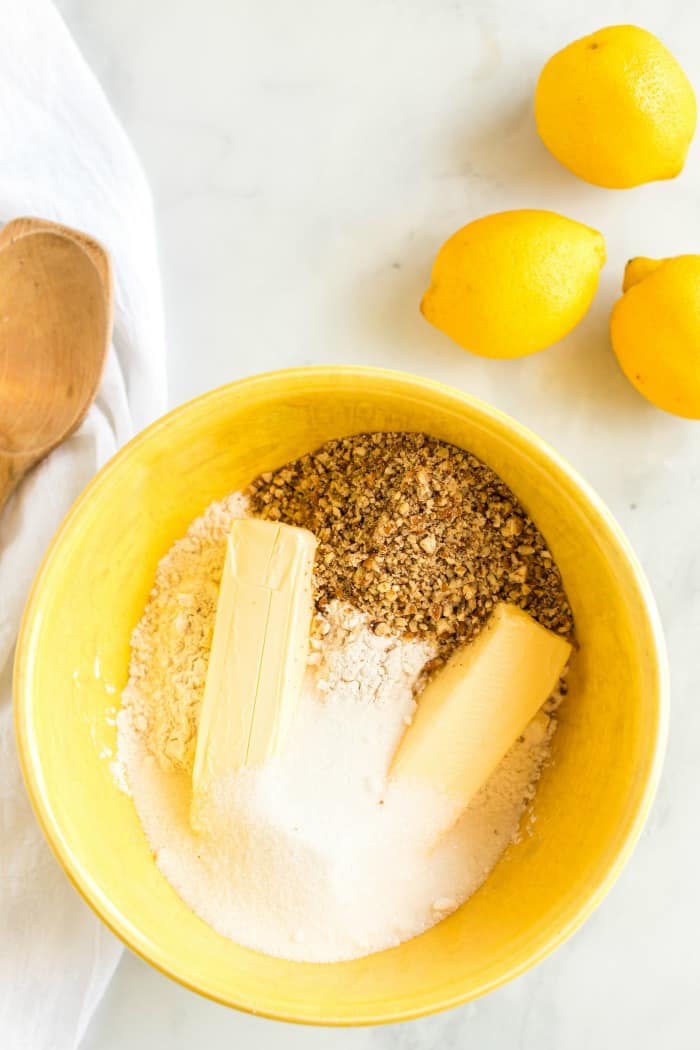 Ingredients Needed for the Pecan Crust Layer:
2 cups of flour
1 cup of butter (softened or almost melted butter)
½ cup of sugar
½ cup of chopped pecans
Ingredients Needed for Cheesecake Layer:
2 8-ounce packages of cream cheese
1 cup of sugar
1 tbsp of lemon juice
1 tbsp of finely grated lemon peel (zest)
Ingredients Needed for Pudding Layer:
1 3.4 ounce lemon pudding mix
3 cups of milk (I like to use 2%)
Last layer on the top:
1 package of Cool Whip
Finely grated lemon peel
How to Make Lemon Lush
Once again, it's easiest to lay out the instructions for making your lemon lush by breaking them down into layers. The first layer is your crust, next is the cheesecake, and finally the pudding layer and cool whip top with a garnish.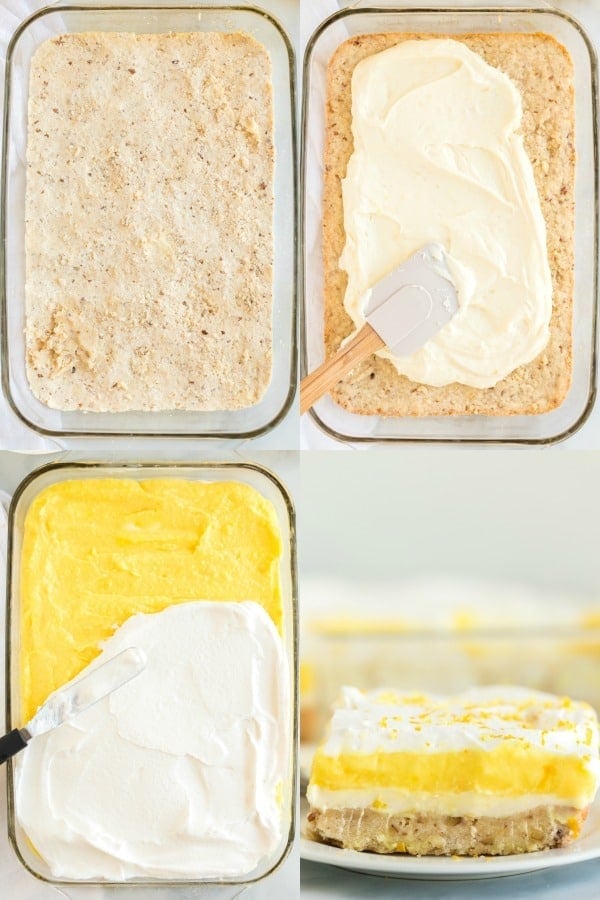 How to Make the Crust Layer:
First, preheat oven to 350 degrees.
Next, stir all of the ingredients for the crust (flour, butter, sugar, crushed pecans) together and then press into the bottom of a 9×13 pan sprayed with nonstick spray.
Note: You may want to crush or chop the pecans in a food processor!
Bake the crust layer at 350 degrees for 20-25 minutes.
Once finished, set the crust aside to let it cool completely.
How to Make the Cheesecake/Cream Cheese Layer:
First, cream the cream cheese and sugar together in a mixing bowl. It will work better if the cream cheese is nice and soft.
To make sure, I like to let it sit out to thaw before making the recipe, but if you're in a bind you can throw it in the microwave for about 15 seconds to soften it up!
Next, mix the lemon juice and lemon peel together in a separate bowl.
Add lemon juice and lemon zest mixture to the cream cheese mixture and mix them all together.
Spread on top of the crust layer. (after the crust has cooled)
How to Make the Pudding Layer:
First, whisk together the pudding and milk until you have a thick, yet pourable consistency.
Immediately pour this mixture on top of the cheesecake layer.
Then, chill the entire cake for at least one hour.
If you won't be serving your lemon lush right away, you can also freeze it instead of putting it in the refrigerator! This will also help define the shape of the dessert, and create more defined slices when you're ready to serve it!
Just before serving, top the entire recipe with a container of Cool Whip and garnish with a bit of grated lemon peel. You might also think about adding a few pecans to the top as a nice crunchy garnish!
How to Store Lemon Lush
When you're not eating your lemon lush, you'll want to be sure to store it in the fridge, so it doesn't melt or lose shape. I tend to make this recipe in a baking dish that has a lid with it. That way, I can pop the lid on and throw it in the fridge between servings!
Another option is to freeze your lemon lush dessert.
You can freeze it overnight before serving to make sure it takes shape in the pan. This will also make it so that you'll have more defined slices when you're ready to cut it.
One thing to note is that you shouldn't put the Cool Whip topping and lemon peel garnish on the top until just before serving!
More Great Easy Desserts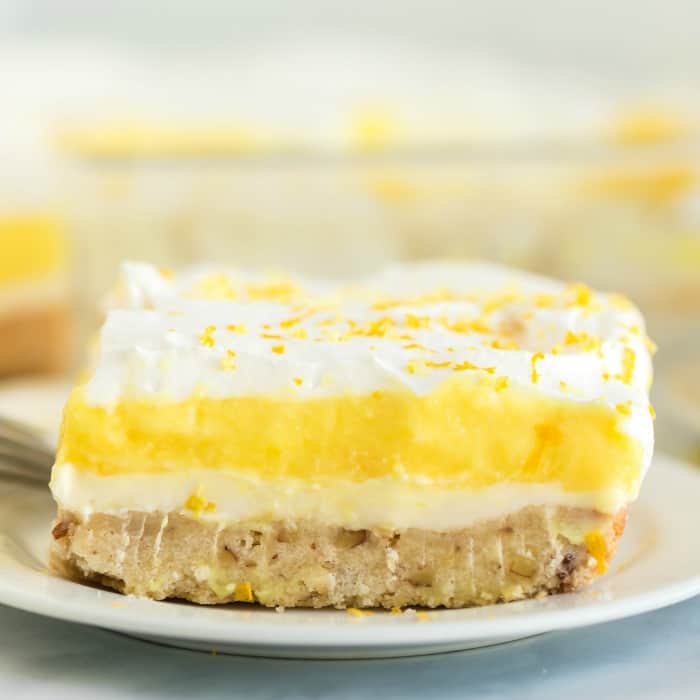 Lemon Lush
Ingredients
Crust ingredients:
2 cups flour
1 cup butter softened
½ cup sugar
½ cup crushed pecans
Cheesecake ingredients:
2 8-ounce packages cream cheese softened
1 cup sugar
1 Tablespoon lemon juice
1 Tablespoon grated lemon peel
Pudding layer:
2 3.4 ounce boxes instant lemon pudding
3 cups milk
Cool Whip for top layer
grated lemon peel for garnish
Instructions
Crust:
Stir all the ingredients together and then press by hand into a 9x13 pan sprayed with nonstick spray.

Bake at 350 degrees for 20-25 minutes.

Let the crust cool.
Cheesecake:
Cream the cream cheese and sugar together.

Add lemon juice and lemon peel and mix.

Spread on top of cooled crust.
Pudding layer:
Whisk together the pudding and milk until a thick yet pourable consistency.

Immediately pour on top of cheesecake layer.

Chill for at least one hour.

Before serving top with Cool Whip and garnish with grated lemon peel.
Nutrition
Calories: 303kcal | Carbohydrates: 36g | Protein: 4g | Fat: 17g | Saturated Fat: 9g | Cholesterol: 38mg | Sodium: 131mg | Potassium: 101mg | Fiber: 1g | Sugar: 23g | Vitamin A: 457IU | Vitamin C: 1mg | Calcium: 64mg | Iron: 1mg
You are going to love this lemon lush dessert. It's become one of my favorites to make for gatherings and get-togethers, and I always have at least one person ask for the recipe. It's easy to put together and it's truly so light, refreshing, and delicious!
Sign up for the Princess Pinky Girl Newsletter and automatically receive our latest & greatest delivered right to your inbox! Follow Princess Pinky Girl on Facebook, Twitter, Pinterest and Instagram for all of the newest recipes, crafts, travels and updates!
If you make a Princess Pinky Girl creation make sure you take a picture and share it on Instagram with @princesspinkygirl ! I love seeing your masterpieces!