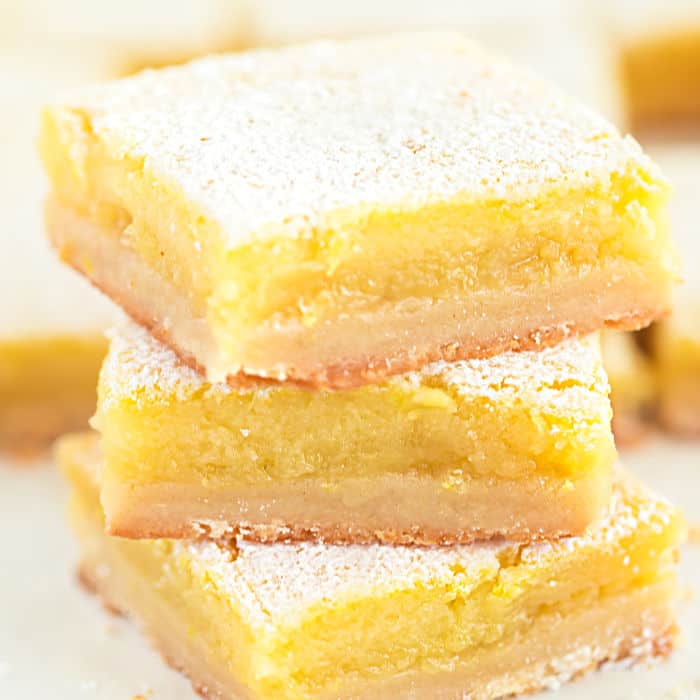 These homemade lemon bars are light, tangy, and easy to make!
Jump to Recipe
These homemade lemon bars are light, tangy, and easy to make! They are a classic dessert with a delicious lemon custard filling and a buttery crust that will simply melt in your mouth.
Is there anything quite like a homemade lemon bar? I think not. Lemon bars are a classic dessert that takes me right back to my grandmother's kitchen!
/div>
Old Fashioned Lemon Bar Recipe
I have always loved a good lemon dessert, but this one might take the cake… or the bars!
It took me years to make the perfect recipe, but this one right here is absolute gold! I can't wait for you to try it out. If you love lemon, like me, then you are in for a real treat!
Continue reading below to find the ingredients list, instructions, and tips I have for making the perfect homemade lemon bars! Happy baking!
Ingredients
To make this a bit easier, I like to break the lemon bars down into two parts: the crust and the lemon filling. Based on this, I make two lists for ingredients and then when I am ready to make my lemon bars, I like to separate the ingredients into two piles. Using the ingredients listed below will make about 24 servings of lemon bars!
Crust:
Filling:
Sugar
Flour
Eggs – you will want these room temperature, so pull them out of the fridge about 1/2 hour or so before you are ready to get started.
Lemon juice (fresh is best, which takes about 4 lemons)
Lemon zest
Confectioners' sugar for dusting (powdered sugar)
*Note: you will also need a silicone baking mat or parchment paper to line your pan. If you don't have this on hand, be sure to add it to your shopping list!
How to Make Lemon Bars
All in all, this is a pretty quick and easy recipe. It takes approximately 15 minutes of prep time, and another 45 minutes to cook. So, in just an hour you can whip up these delicious, light, and lemony bars!
PREPARE THE CRUST: Mix all of the ingredients together, press into the pan and bake.
MAKE THE FILLING: Combine the dry ingredients and whisk together. Add in the egg and lemon. Mix together.
BAKE: Pour the filling on the crust and bake for 30-35 minutes.
(For the Lemon Bar recipe and step-by-step details, see the printable recipe card below)
Pro-Tips
These lemon bars are so fresh and delicious and making them is really quite simple! They are hard to mess up, but as with any recipe, there are a few tips to make sure they turn out just right.
Here are a couple of tips I picked up:
Tip 1: Use a glass pan. A ceramic pan would also be fine, but glass is the best! I really prefer to not use a metal pan. I always detect a slight metallic flavor in the lemon bars when they are baked in metal pans.
Tip 2: Use fresh lemon juice (as stated in the ingredients above). I had to reiterate this point because fresh lemon juice makes a huge difference in the outcome of your lemon bars! Store-bought bottles are convenient, but you miss out on a lot of the natural flavor. You will definitely taste the difference!
Tip 3: Ditto on the lemon zest. This recipe really needs fresh zest. Do not skip this! I love my microplane lemon zester! Don't have a lemon zester, not to worry. See how to zest a lemon without a zester below.
Tip 4: You may see some air bubbles at the top of the bars when they are done baking. This is normal! Don't worry. You won't notice them after you dust with the powdered sugar!
How to Zest a Lemon (or orange or lime)
As I mentioned above, I love my lemon zester, but if you don't have one, you can do it the old fashioned way, with a vegetable peeler and knife.
Step 1: Using a vegetable peeler, peel off a few slices of just the rind of the lemon (don't get any of the pith… that's the white part on the inside)
Step 2: Slice the rind lengthwise as thinly as possible. Then cut them into tiny pieces (like a mince). I like to get them as small as possible. Now, you have your zest.
How to Store Lemon Bars
Store the lemon bars in an airtight container for up to four days in the refrigerator.
You can freeze them for up to three months! Just wrap each bar in wax paper and then with plastic wrap. Store them in either a freezer bag or airtight container.
---
More Lemon Desserts
Lemon Lush Dessert | Lemon Icebox Cake | Lemon Poppy Seed Muffins | Lemon Blueberry Streusel Muffins | Strawberry Lemonade Bars | Lemon Curd
---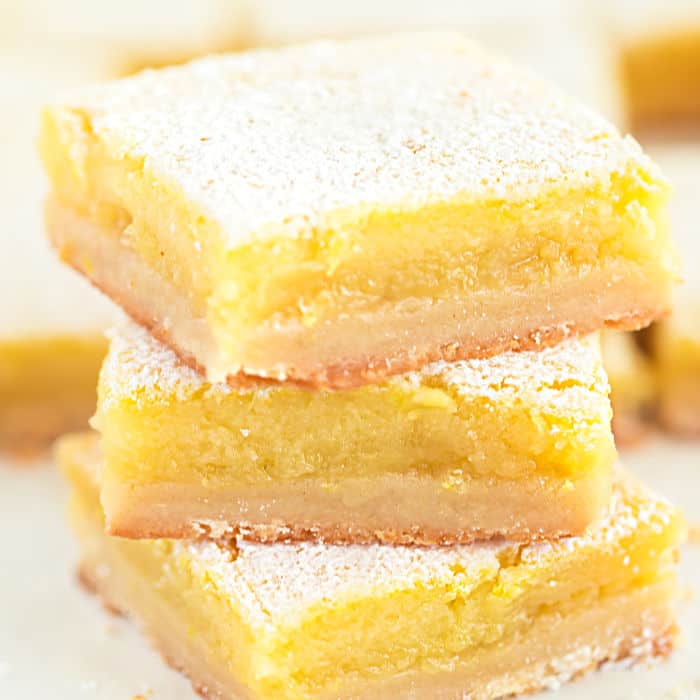 Lemon Bars
Ingredients
Crust Ingredients:
1

cup

butter

melted

½

cup

sugar

1 ½

teaspoons

vanilla

2

cups

flour
Filling ingredients:
3

cups

sugar

1

cup

flour

6

large eggs

room temperature

1

cup

lemon juice

fresh is best, about 4 lemons

2

tablespoons

lemon zest

Confectioners' sugar

for dusting
Instructions
Preheat oven to 350 degrees.

Line a 9×13 pan with parchment paper.

For the crust mix the butter, sugar, and vanilla together in a medium bowl.

Add the flour and stir to combine.

Press firmly into your prepared pan and bake for 15-20 minutes or until the edges are light brown.

Add the sugar and flour into a large bowl. Use a whisk to get out any lumps.

Add the eggs, lemon juice, and lemon zest and whisk until combined.

Pour the filling over the warm crust. Bake for 30-35 minutes until the center is set and doesn't jiggle.

Remove from oven and cool completely at room temperature. Then refrigerate.

Dust with powdered sugar before serving.
Jenn's Notes
TIPS!
Use a glass pan. Ceramic is fine, but glass is best. I sometimes detect a slight metallic flavor in the lemon bars when baked in metal pans.
Use fresh juice. Store-bought bottles are convenient, but you miss out on a lot of flavor. You will definitely taste the difference!
To Slice: Once completely chilled, take a very sharp knife, and rub a little oil on it. Slice, wipe the knife clean and repeat. This will give you those beautiful clean cuts!
Nutrition Info
Calories:
256
kcal
|
Carbohydrates:
42
g
|
Protein:
3
g
|
Fat:
9
g
|
Saturated Fat:
5
g
|
Cholesterol:
61
mg
|
Sodium:
84
mg
|
Potassium:
45
mg
|
Fiber:
1
g
|
Sugar:
30
g
|
Vitamin A:
296
IU
|
Vitamin C:
5
mg
|
Calcium:
12
mg
|
Iron:
1
mg
I'm not lying when I say these homemade lemon bars are one of my all-time favorites. I am a sucker for any kind of dessert that can taste this delicious, yet still be so light!
They are always a huge hit with my friends and family and I can't wait for your friends and family to give them a try, too!