Our banana bread muffins are super moist and loaded with fresh bananas and mini chocolate chips in every bite!
Jump to Recipe
Our mini Banana Muffins taste just like a piece of banana bread but in a mini muffin! These banana bread muffins are super moist and loaded with fresh bananas and mini chocolate chips in every bite!
Banana bread is a staple in our house! We always have fresh, ripe bananas, so we always have banana bread too! We have many versions of our banana bread including our traditional Best Chocolate Chip Banana Bread Recipe and our Nutella Banana Bread Bites! These are not to be missed!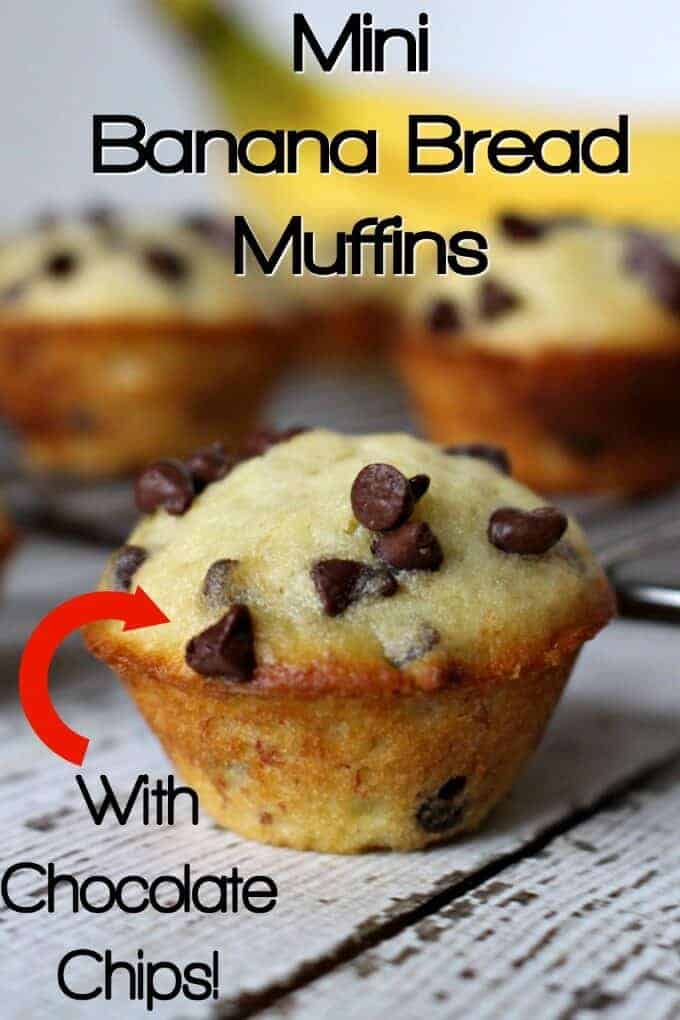 Banana Muffins Recipe
It should come to no surprise to any of you that I love my bite-sized food recipes! Everything is just better as a bite! Bite-sized means fewer calories and less guilt!
More Delicious Bite-Sized Desserts
As I mentioned, we always have bananas on my counter. Many times I will notice the bananas getting a little over ripened, which means only one thing! Time for a loaf of banana bread.
We decided to shake things up a little bit this last time though. Rather than make our traditional banana bread, we decided to make them into banana bread muffins!
I mean, seriously, what could be better than our famous banana bread recipe in a mini muffin? Not much, trust me!
The best news is that the recipe is super easy! It comes from one of my very dear friends, Betsy. She cannot enter my house without at least two loaves of banana bread!
We always have one to put out to share, and the other to put away for our family to enjoy (and not share with anyone!!!) My kids see the familiar loaf of bread sitting on the counter and they get super excited!
Betsy was kind enough to share her delicious banana bread recipe with me and the Princess Pinky Girl audience. I adapted it to make our Chocolate Chip Banana Bread Muffins. Thanks from everyone Betsy! It's the BEST!
Want more banana – ohhhh do I have banana recipes for you:
How to make Banana Bread Muffins
Banana bread muffins are super easy to make. You will need the following ingredients:
Sugar
Butter
Eggs
Bananas
Lemon Juice
Flour
Baking Powder
Salt
Mini Chocolate Chips
Preheat the oven to 350 degrees and spray a mini muffin tin with non-stick spray.
In a small bowl, mash the bananas and set aside.
In a medium-sized bowl, mix together the melted butter and the sugar. Add in the eggs. Take the mashed banana and mix them with butter and sugar.
Stir in the lemon juice. Add in the dry ingredients (flour, baking powder and salt) into the bowl and combine until smooth. Fold in the mini chocolate chips.
Spoon the batter into the prepared mini muffin pan filling each one about 3/4 full. Sprinkle a few chocolate chips on top.
Bake for 15-18 minutes. The sides should start to look a little golden brown and the top of the muffin should not look wet or moist.
Let cool to room temperature, slide a knife around the edge of each muffin to loosen and they should pop right out!
If you love bananas and love muffins you will adore this Mini Banana Bread muffin recipe!
Pro-Tips for making Banana Bread Muffins
All ovens cook differently. To make sure they are done, stick a clean toothpick in the center of a muffin or two. If it comes out wet with batter, they are not done.
Banana bread and banana bread muffins work best with really ripe bananas. The riper, the easier the bananas are to mush into the batter!
Want to top off your muffins with something sweet? After they have finished baking, melt a little butter and brush it on top with a pastry brush. Sprinkle the buttered muffin with sugar and cinnamon (I like to combine them before sprinkling)
Mini Banana Muffins
Our banana bread muffins are super moist and loaded with fresh bananas and mini chocolate chips in every bite!
Ingredients
1

cup

sugar

½

cup

butter

melted

2

eggs

3

bananas

very ripe

1

tablespoon

lemon juice

2

cups

flour

3

teaspoons

baking powder

½

teaspoon

salt

mini chocolate chips
Instructions
Mix together melted butter and sugar

Add eggs

Mush bananas and stir them in with the other ingredients

Stir in lemon juice

Add flour, baking powder and salt

Stir in mini chocolate chips

Spoon into well greased mini muffin pan. Fill about 3/4 full and sprinkle some mini chocolate chips on top of the muffins

Bake at 350 for 15-18 minutes (sides should get golden brown and top should not look moist)

Let cool and then pop out!

Enjoy!
Jenn's Notes
Want to make it into a Banana Bread Loaf? Same ingredients and instructions, just put the batter into a loaf pan and bake for 1 hour on 350 degrees!
Nutrition Info
Calories:
82
kcal
|
Carbohydrates:
13
g
|
Protein:
1
g
|
Fat:
2
g
|
Saturated Fat:
1
g
|
Cholesterol:
15
mg
|
Sodium:
58
mg
|
Potassium:
79
mg
|
Sugar:
6
g
|
Vitamin A:
100
IU
|
Vitamin C:
1
mg
|
Calcium:
18
mg
|
Iron:
0.4
mg
Origionally published November 24, 2014