Are you looking for an easy and delicious cookie recipe? Why not try a cake mix cookie! These cookies are simple to make and come in a variety of flavors. Here are eight great recipes to get you started.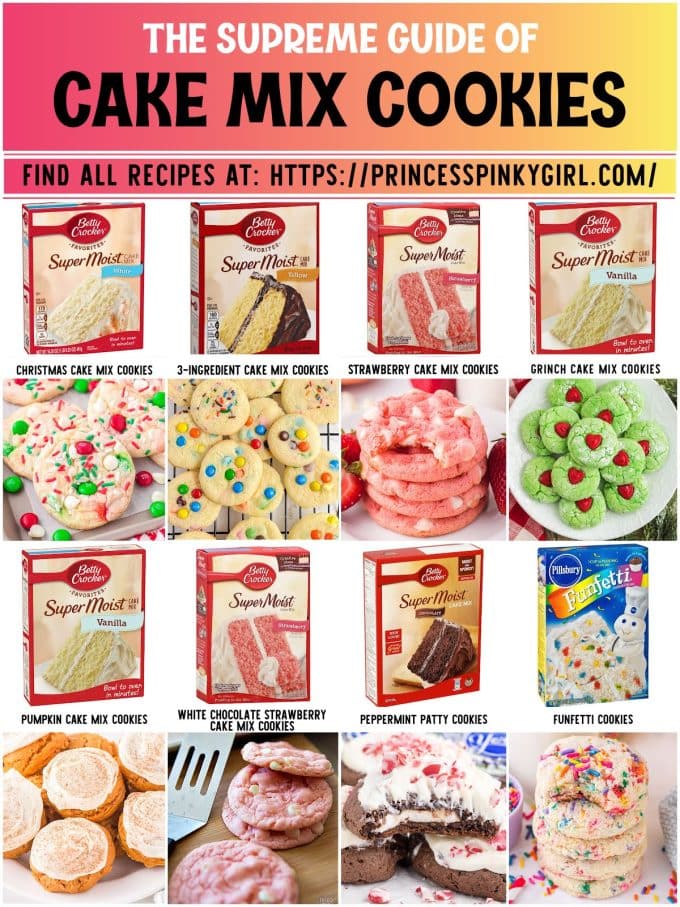 Cookies Made With Cake Mix!
Got a cake mix lurking in your pantry cabinet, just waiting to be put to good use? Well, today is your lucky day! We've rounded up 8 delicious and easy cookie recipes that are made with a cake mix. From chocolate chip cookies to sugar cookies, there's sure to be a recipe here that will satisfy your sweet tooth. So what are you waiting for? Get baking!
Why you'll love making Box Cake Cookies
There are several reasons why you'll love making Box Cake Cookies:
Easy and convenient

: Using a box cake mix as the base for your cookies simplifies the baking process. The mix already contains the essential dry ingredients, saving you time and effort in measuring and combining them individually.

Versatility

: Cake mix cookies offer a wide range of flavor possibilities. With the variety of cake mix flavors available, you can easily customize your cookies to suit your preferences or the occasion.

Soft and chewy texture

: Cake mix cookies tend to result in soft and chewy cookies. If you prefer a softer texture over a crispier one, these cookies are an excellent choice.
Tips to making the Best Cake Mix Cookies every time
Here are some tips to ensure you make the best Cake Mix Cookies every time:
Add extra flavors

: Enhance the flavor profile of your cookies by adding extra mix-ins. You can incorporate chocolate chips, nuts, dried fruits, or even sprinkles to add texture and taste.

Adjust consistency if needed

: Depending on the brand and type of cake mix, you might need to adjust the cookie dough consistency. If the dough seems too sticky or dry, you can add a small amount of flour or water respectively to achieve the desired texture.

Don't overbake

: Keep a close eye on the cookies while they are baking to prevent overbaking. Remember that they will continue to firm up as they cool, so it's better to slightly underbake them to maintain a soft and chewy texture.
By following these tips, you can ensure that your Cake Mix Cookies turn out delicious and satisfying every time you bake them.
The Ultimate Guide to making Cookies from Cake Mix
Anyone who has ever baked a cake from a mix knows that the results are never as good as when you make the batter from scratch. However, what if we told you that there are some ways to make cake mix cookies that taste just as delicious—if not better—than cookies made from scratch? It's true! Keep reading for our favorite recipes.
more favorites from princess pinky girl