This post may contain affiliate links. Read my disclosure policy here.
Tomato Cage Ghosts are a super easy Halloween decoration. You only need 4 materials and 10 minutes for this no fail DIY Halloween decor!
Tomato Cage Ghosts for Halloween! Such an easy DIY Halloween Decoration! This was one of my very first Pinterest inspired projects! We love all things Halloween, but especially our Halloween Spider Cookies, Oreo Witch Hat Cookies and we cannot forget our edible Frankenstein Bowls (made from a balloon mold!)
This project is crazy easy, inexpensive to make and super cute!
How to make your own Tomato Cage Halloween Ghosts!
Tomato Cage Halloween Ghosts are my favorite DIY Halloween decoration. WHY? because it is super easy, you only need 4 things and it takes less than 15 minutes to make!
This was one of my very first Pinterest inspired projects! I was over-the-moon SUPER proud, I must have posted it on Facebook fifteen times!
I also have some fabulous Halloween Desserts and treats to share! Looking for another easy Halloween craft or decoration – our Halloween Witches Cauldron is always a neighborhood favorite for our little trick or treaters!
But back to our tomato cage ghosts. …Let's just say that I am not really the Martha Stewart type. I love to craft, but a lot of times they are total Pinterest fails. Well, not with this easy DIY Halloween craft – this was a total PINTEREST WIN!
This Halloween project is crazy easy, cheap and super cute! Not to mention, your neighbors will love it! Whenever I put it out, I get tons of questions on how to make their own Tomato Cage Ghost!!
After you are done making your decorations, treat the kids to these delicious Meringue Ghosts! They are really easy to make and they are only 30 calories! Win-Win!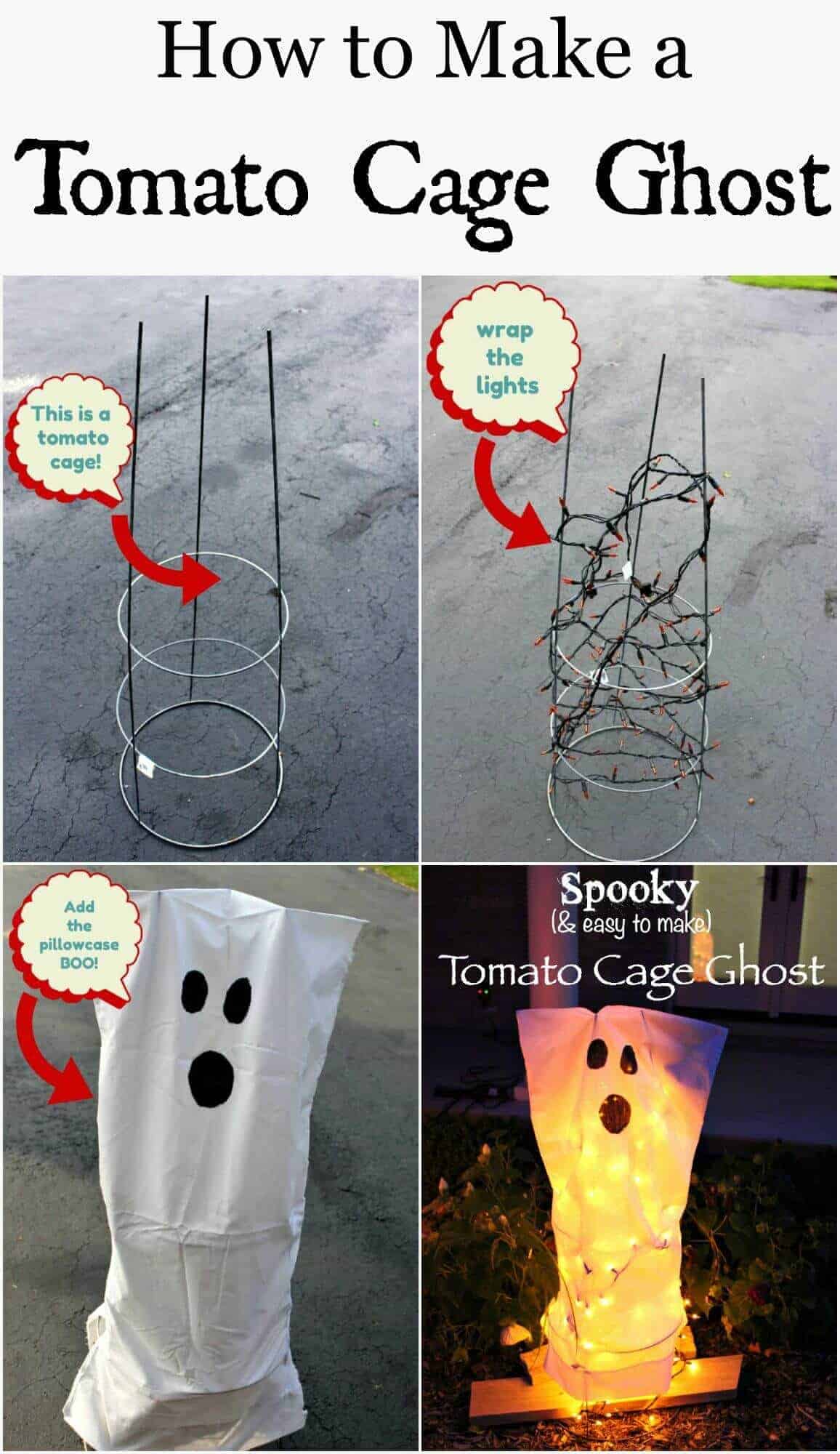 Here is how you make your own Tomato Cage Ghost for Halloween!
Materials needed for Tomato Cage Ghost
King-size pillowcase
Sharpie
String lights (white, orange, purple, etc.)
Here's what you do:
First, once you figure out what a tomato cage is (buy at Home Depot or Lowes) and which way to place it (small end on top) it is easy from there.
Just wrap the cage with the lights (one set per ghost).
Then, make a cut about 1/4 way up both sides of the pillowcase (so it fits better on the tomato cage)
Next, use your sharpie to color some eyes and a mouth.
Finally, slip the case over the cage – and presto – you have floating ghosts!!!!
More Easy Halloween Ideas!
Still not sure if you can pull it off – here is the Anyone-Can-Do-It Tutorial! A step by step pictorial on making your own Tomato Cage Ghost!
Now! Go make your own DIY Tomato Cage Ghost and share your scary pictures with me!!
Sign up for the Princess Pinky Girl Newsletter and automatically receive our latest & greatest delivered right to your inbox! Follow Princess Pinky Girl on Facebook, Twitter, Pinterest and Instagram for all of the newest recipes, crafts, travels and updates!
If you make a Princess Pinky Girl creation make sure you take a picture and share it on Instagram with @princesspinkygirl ! I love seeing your masterpieces!