This post may contain affiliate links. Read my disclosure policy here.
These No-Bake Chocolate Peanut Butter Cookies are moist, chewy, and delicious. They are made from peanut butter, chocolate, oatmeal and will quickly become a fan favorite!
As soon as I saw this easy recipe for these no-bake cookies, I just had to get in my kitchen and start making them! They are better than Reese's Peanut Butter Cups! Now my kids ask for these tasty treats all the time!
No-Bake Chocolate Peanut Butter Cookies Recipe
Who doesn't love the classic combination of creamy peanut butter and rich chocolate?
I know I'm a complete sucker for anything with chocolate and peanut butter! I don't know what it is about this combination, but I can't get enough!
What is great about this recipe is that it is not only easy and delicious, it is no-bake and takes less than 30 minutes to prepare!I
That's right – in now time we were enjoying some amazingly tasty, chewy, and soft cookies! All homemade without even turning on my oven!
It's such an amazing and simple recipe- it should be a no-brainer for anyone who is looking for a chewy, moist cookie recipe that will please everyone!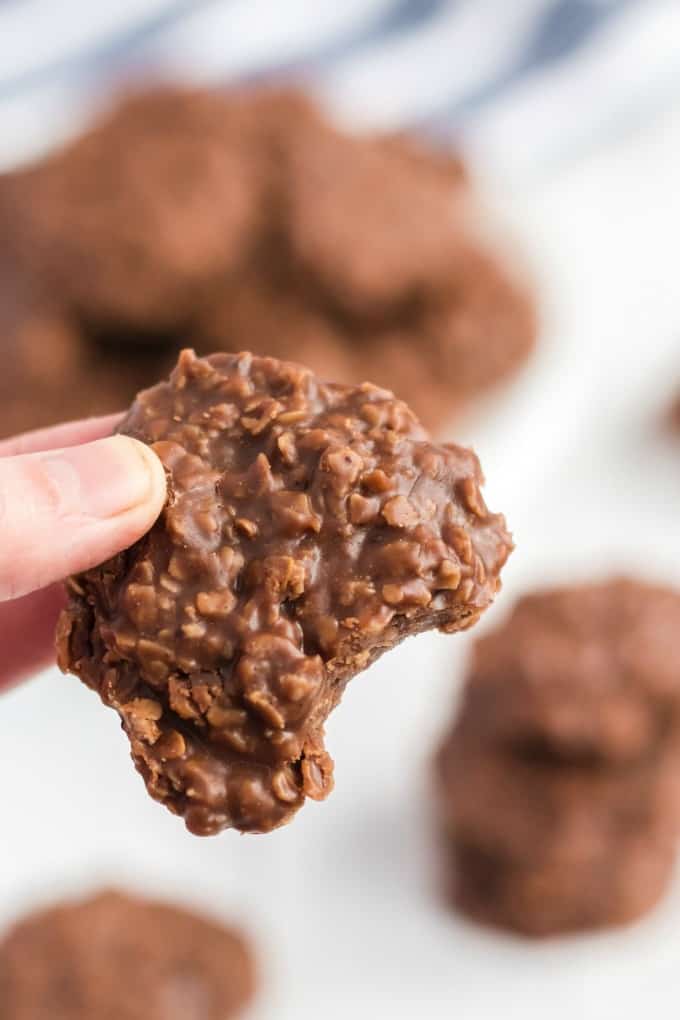 Healthy No-Bake Cookies
I love this recipe because I don't feel as guilty eating a couple extra since they're made with oats instead of refined flour.
I may or may not even be guilty of eating a few for breakfast from time to time! I mean, come on, they've got oats in them practically making them a breakfast food, right?
It's also nice to have an easy dessert recipe that is gluten free!
With so many allergies out there, it can be stressful trying to find a recipe that will suit everyone!
So the next time you are looking for an easy gluten-free recipe that doesn't compromise on taste or texture, remember these cookies!
Although, be aware that while oats are naturally gluten-free, most oats are manufactured in the same places as wheat products so they may contain or be contaminated with gluten so be sure to check the labels!
While we're on the topic of oats, be sure to use quick cook oats! I find that the texture using old fashioned oats makes the cookies tougher.
By the way- if you only have old-fashioned oats, just chuck them in a blender, pulse them a few times and BOOM! You've got quick cook oats!
Ingredients
If you are a baker, then you can be sure that you'll already have the ingredients for these tasty treats already lining the shelves of your cupboards!
You'll just need…
1 stick of butter
2 cups of sugar
½ cup milk
¼ cup of cocoa
1 cup of peanut butter
2 teaspoons of vanilla
3 cups of quick cook oats
¼ teaspoon of salt
How To Make No-Bake Chocolate Peanut Butter Cookies
Okay, let's get started on these bad boys!
First, grab a large bowl, something to stir with, a small saucepan, a whisk and a medium cookie scoop (if you have one!)
Prep a baking sheet with wax paper so you're ready to go when your mixture is done!
In your large mixing bowl, dump your oats and salt and mix them together then set them aside for a few minutes.
Get your remaining ingredients measured and your saucepan ready then whisk together your butter, sugar, milk, and cocoa over medium-high heat.
Bring it all to a boil for about a minute and then remove from heat. Be careful not to overcook the mixture!
Now it's time for the best (in my opinion) part… adding the peanut butter and vanilla! Whisk them both in with the mixture until it's all smooth and completely mixed through.
Pour your chocolate peanut butter mixture over the oats you have set aside and keep stirring until it's completely combined.
Okay, now you're ready to grab your cookie scoop (or just a good ol' spoon!) and drop scoops onto the waxed lined baking sheet.
Wow, how easy was that?
I bet you didn't even get your hands sticky!
Okay, now all that's left to do is let the cookies cool on the countertop! Then, you can store them in the fridge once they are cool.
Why Are My No-Bake Cookies Gooey?
Pro tip– be sure to let your cookies cool completely on the counter BEFORE you pop them in the fridge. Otherwise, they will become very gooey!
Also, I've learned that your chocolate mixture has come to a complete boil and then continue boiling for a full minute in order to give your cookies the best (non-gooey) texture.
How Long Does It Take Them To Harden?
It should only take about 20-30 minutes for your cookies to harden while cooling on the countertop!
Which gives you plenty of time to do a quick clean up of the dishes and the countertops before you are ready to give them a quick taste test!
Can You Freeze No-Bake Peanut Butter Cookies?
Good question and yes!
Although I can almost guarantee that you won't have enough of these cookies last long enough to freeze- it is an option with this recipe!
Just be sure that the cookies have completely cooled while they are separated on the baking sheet and then transfer them into an airtight freezer bag.
I like to freeze some of these delish cookies ahead of time so I can have tasty treats on the go, anytime!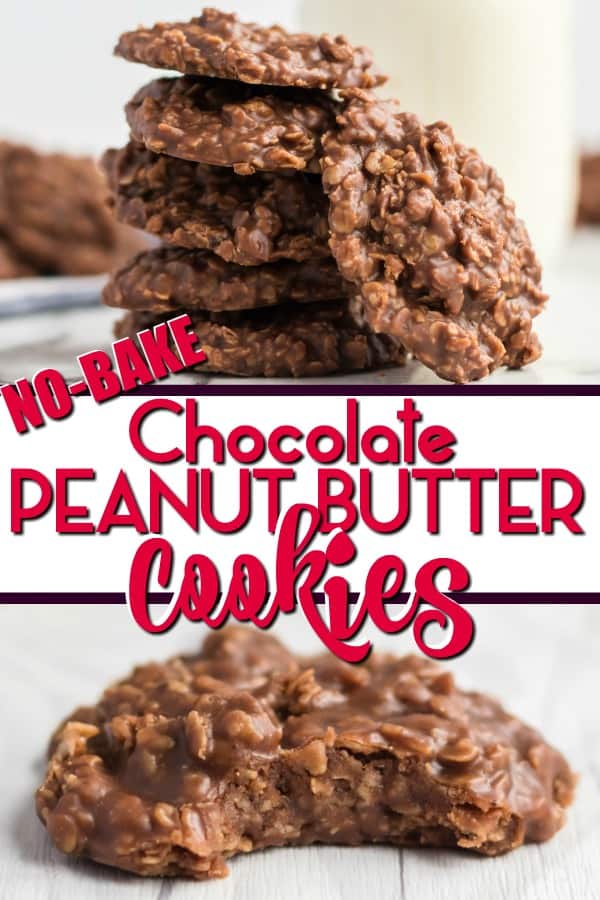 More Great Peanut Butter Recipes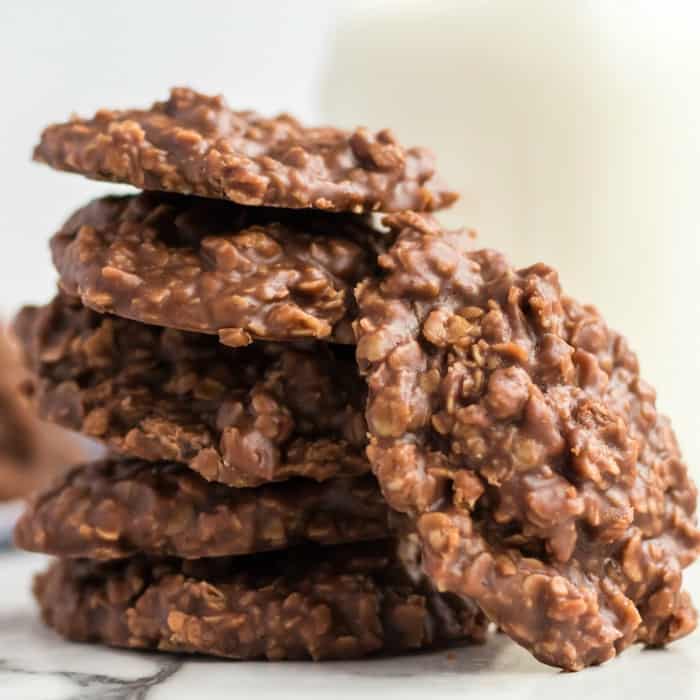 No Bake Peanut Butter Chocolate Cookies
Ingredients
1 stick butter
2 cups sugar
½ cup milk
¼ cup cocoa
1 cup peanut butter
2 tsp vanilla
3 cups quick cook oats
¼ tsp salt
Instructions
In a large bowl stir together oats and salt. Set aside.

In a small saucepan, over medium high heat, whisk together butter, sugar, milk, and cocoa.

Bring the mixture to a boil for about a minute and then remove from heat.

Whisk in peanut butter and vanilla until well combined.

Pour chocolate peanut butter mixture over oats and stir until combined.

Line a baking sheet with wax paper. Drop cookies onto the wax paper using a medium cookie scoop.

Let the cookies cool on the counter top. Store in the refrigerator once cookies are cool and dry.
Video
Notes
**If you don't let them cool on the counter before putting them in the refrigerator they will become very gooey.**
Nutrition
Calories: 123kcal | Carbohydrates: 18g | Protein: 3g | Fat: 5g | Saturated Fat: 1g | Cholesterol: 1mg | Sodium: 73mg | Potassium: 86mg | Fiber: 1g | Sugar: 14g | Vitamin A: 110IU | Calcium: 28mg | Iron: 1.7mg
Nutrition Disclosure
Nutrition information is an estimate. Please utilize your own brand information to double check against our estimates.
I hope your friends and family love these classic chocolate and peanut butter no-bake cookies as much as mine do!
Sign up for the Princess Pinky Girl Newsletter and automatically receive our latest & greatest delivered right to your inbox! Follow Princess Pinky Girl on Facebook, Twitter, Pinterest and Instagram for all of the newest recipes, crafts, travels and updates!
If you make a Princess Pinky Girl creation make sure you take a picture and share it on Instagram with @princesspinkygirl ! I love seeing your masterpieces!