Table of Contents
Good Morning! My name is Diane Roark. I blog about quick and easy recipes at Recipes for our Daily Bread. I also have a travel blog at Our American Travels where I blog about family fun places to visit in America. I am very grateful for a chance to share this No Bake Peanut Butter Chocolate Chip Pie recipe with you. This recipe is quick and easy plus light, creamy, and extremely delicious.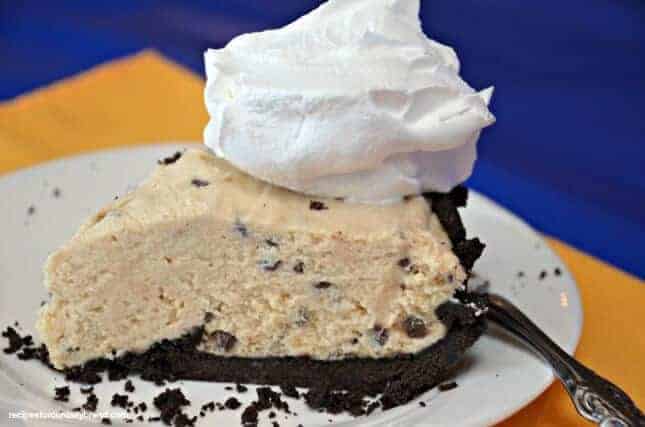 Are you a Peanut Butter Chocolate fan? If so, you will love this Creamy Peanut Butter Chocolate Chip Pie.
This Peanut Butter Chocolate Chip pie blends the best of both worlds; creamy peanut butter and rich milk chocolate. My family craves peanut butter chocolate chip pie from The Original Oyster House. The only problem is it is about eight hours from our home in Arkansas. The Original Oyster House has two locations. One in the beautiful snow white beach of Gulf Shores, Alabama and the other location in my hometown of Mobile, Alabama. If we are visiting family in Mobile or vacationing at the beach, we have to eat at the Original Oyster House not only for their scrumptious seafood but a piece of their Peanut Butter Chocolate Chip Pie. Their pie is piled high, extremely creamy and full of mini chocolate chips.
Graving Peanut Butter Chocolate Chip Pie
As I said, we live eight hours from The Original Oyster House. I had to try making a Peanut Butter Chocolate Chip Pie similar to Original Oyster House. I would normally make my peanut butter pie in my large ceramic pie plate. This time I made it in a store bought eight-inch pie tin. Making it in a smaller pie plate allowed the pie to be piled up higher. I also added some mini chocolate chips. My family loved my Chocolate Chip Peanut Butter Pie just as much as Original Oyster House's pie. It does need to chill overnight in the refrigerator to allow it to firm up.
OREO CRUST:
30 Oreos, crushed
4 tablespoons butter, melted
PEANUT BUTTER PIE FILLING:
16 ounces carton (2 cups) whipped topping
1 cup creamy peanut butter
8 ounces cream cheese, soften
½ box (1¾ cups) confectioners sugar
1 cup mini milk chocolate chips
Instructions
OREO CRUST:
Add the crushed Oreos and butter together in a food processor or blender.
Pack into the bottom of an eight-inch pie plate.
Bake 350 degrees for 20 minutes.
PEANUT BUTTER FILLING:
Using a mixer, beat together the peanut butter, confectioners sugar, and cream cheese.
Slowly add the heavy cream into peanut butter.
Whip on High for 2 to 3 minutes.
Stop the mixer and fold in the mini chocolate chips.
Allow this pie to chill in the refrigerator overnight to firm up.
Just before serving, top with additional whipped cream or non-dairy topping, plus crushed Oreo's or mini chocolate chips.
Looking for some other easy No Bake Desserts? Click on the pictures below!