This post may contain affiliate links. Read my disclosure policy here.
French Toast in a Mug a is quick and easy breakfast that will be a new family favorite. Only dirty one dish and it is ready in 5 minutes! Your kids will beg for it! You can make the single serving French Toast Mug for yourself, or make mugs for the whole family.
We adore quick and easy breakfast ideas! This is one of our favorites! However, if you are looking for others be sure to check out our Nutella French Toast Roll-Ups, our Omelette in a Hole and our easy to make bacon, egg and cheese bites.

French Toast in a Mug Recipe
Making meals in a mug just may be my newest obsession and this French Toast Mug is where it all began! My son, Joey, and I saw a video on the Food Network on how to make 3 quick and easy meals in a mug.
We could hardly wait to try to make our French Toast Mug. Let's just say this recipe speaks to me – First of all, it's one dish (mug) to clean up. Second, it's done in 2 easy steps. When all is said and done, I get a breakfast my kids are begging for more of rather than leaving leftovers.
This is also great for making French Toast for 2…. use two mugs! However, sometimes you may just have a french toast craving, but no one else is on board with that (go figure). In that case, this single serving French Toast Mug is the perfect solution! If you love French Toast, then you will go CRAZY for this quick French Toast recipe in a mug!
We adjusted the Food Network's recipe slightly and I totally recommend using challah bread if you can – the sweetness of the bread just enhances the deliciousness!!
Looking to serve French Toast for a crowd? We have an amazing French Toast Casserole recipe for the Instant Pot (our newest obsession)
These are both total keepers!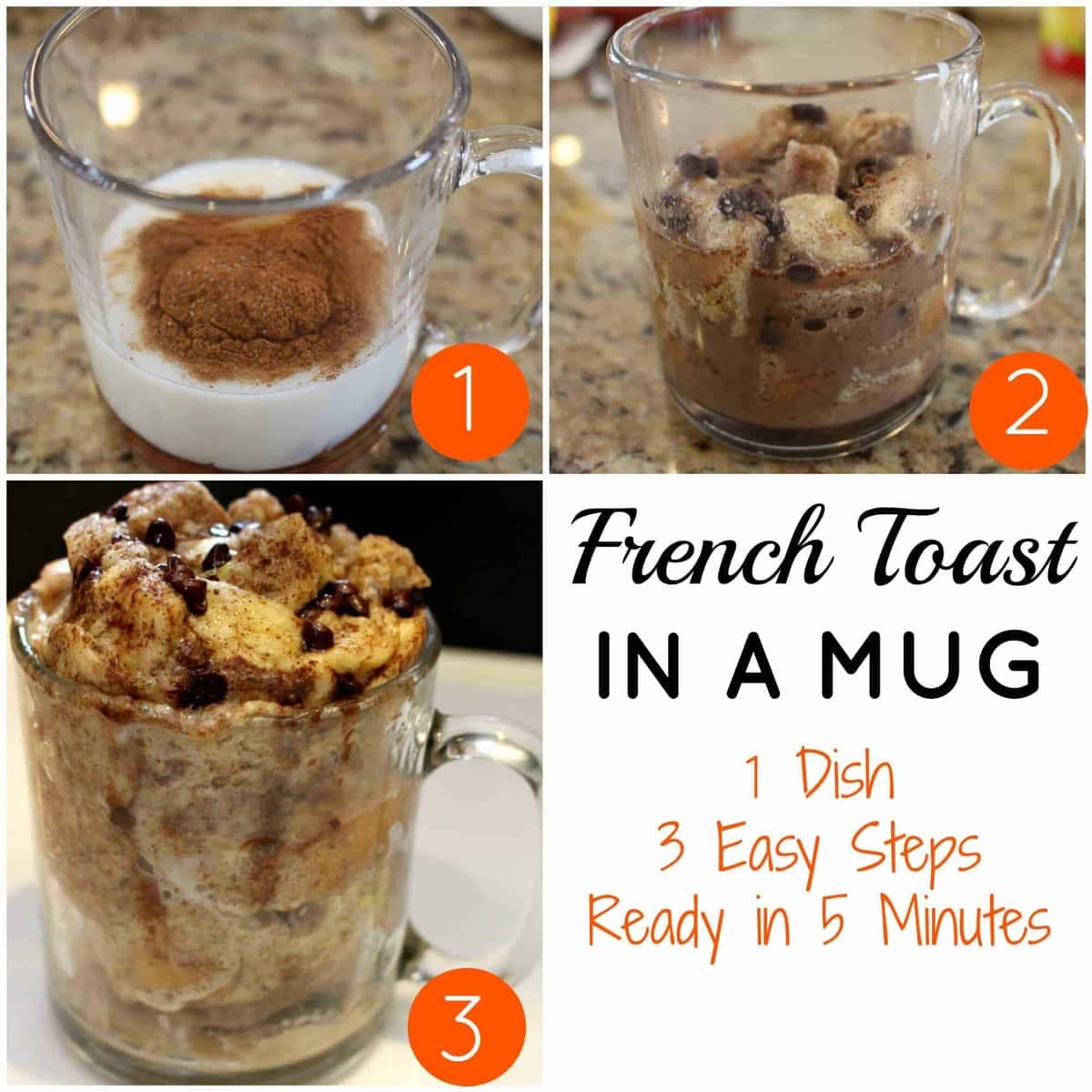 I am telling you, this will be your new favorite weekend recipe! The egg bread mixture, with the hint of cinnamon, all warmed up and ooey gooey, will have your kids begging for it! It is such an easy french toast recipe. Yet, without the hassle of making french toast!
Do you love french toast too? If so, our Nutella French Toast Roll-Ups puts a delicious twist on regular french toast! You must try these too!
French Toast Toppings or Add-Ins
Feel free to shake things up a little and get creative with your french toast in a mug! We love some of these great toppings or add-ins:
Peanut Butter
Cinnamon Chips
Whipped Cream
Cinnamon Raisin Bread
Sprinkles
M&M's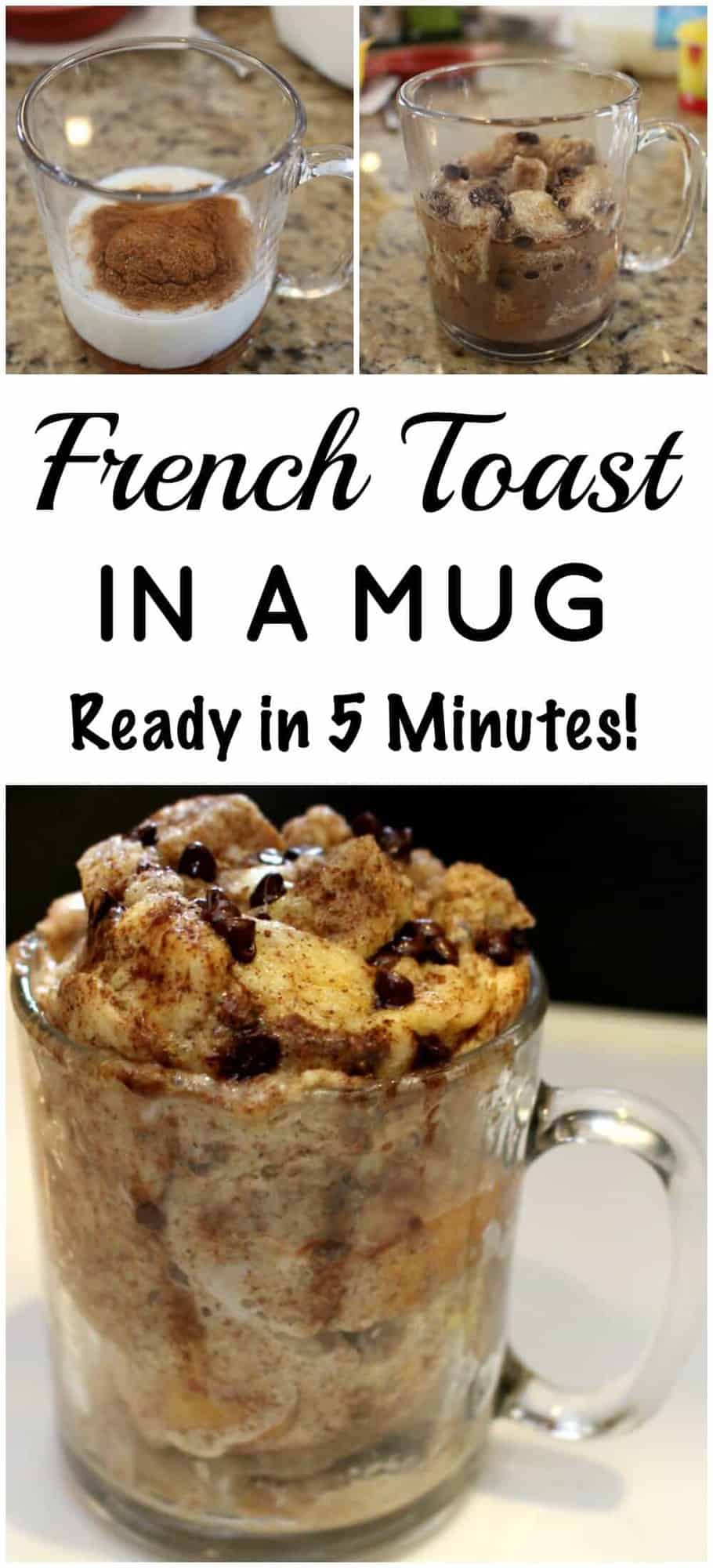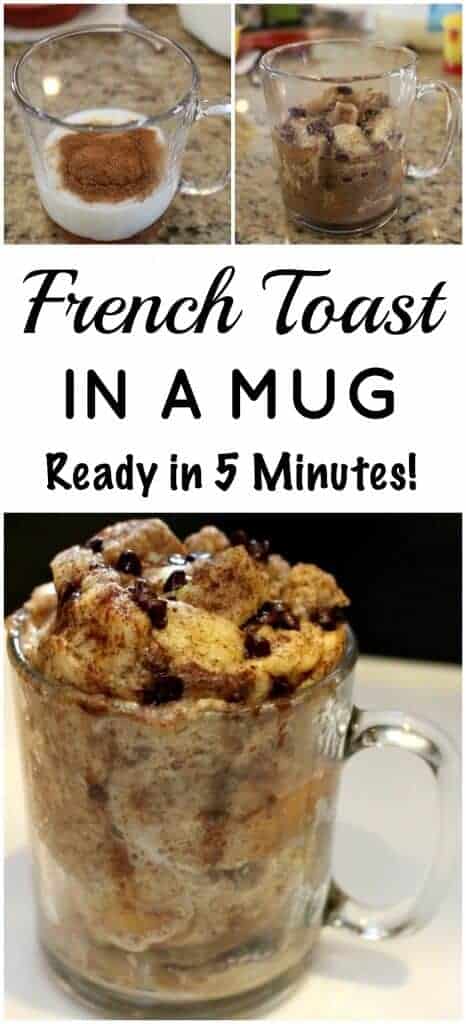 How to make French Toast in a Mug
Like we said, this is the easiest french toast recipe ever! It literally takes less than five minutes. See our video below or print out the full recipe!
French Toast in a Mug
French Toast in a Mug is quick and easy breakfast that will be a new family favorite. It only takes on dish and is ready in 5 minutes! Your kids will beg for it!
Prep Time: 5 minutes
Total Time: 5 minutes
Course: Breakfast
Cuisine: American
Servings: 1
Ingredients
1 piece buttered bread (we used challah and I would totally recommend if you have it)
1/4 cup milk
1 egg
2 tablespoons syrup
1 teaspoon ground cinnamon
a pinch of salt
1 tablespoon of chocolate chips (we used mini chocolate chips which melted really nicely)
Powdered sugar ((optional))
Cinnamon sugar ((optional))
Instructions
In your microwavable mug, mix together the egg, milk, syrup, cinnamon and salt until all combined

Cute off the sides of the bread (crusts) and slice your bread into square bit sized pieces

Add the bread to the mug and press them down so they are submerged within the liquid and the bread soaks in the egg mixture

Add the chocolate chips to the mug and give a little stir to incorporate them in the mixture

Sprinkle the optional cinnamon sugar on top

Microwave for a total of 2 minutes stopping every 30 seconds (count to ten and start again - this is so it doesn't explode in your microwave)

Let cool for about 1-2 minutes

Sprinkle powdered sugar on top

Enjoy!
Recipe Video
Nutrition per serving
Calories: 369kcal | Fat: 10g | Saturated fat: 4g | Cholesterol: 172mg | Sodium: 256mg | Potassium: 141mg | Carbohydrates: 60g | Fiber: 2g | Sugar: 47g | Protein: 10g | Vitamin A: 335% | Calcium: 157% | Iron: 1.7% |
Keyword: breakfast, brunch, meal for one
Looking for some other easy breakfast ideas? Then how about Egg in a Hole (what did YOU call it?)
These Bacon, Egg and Cheese Omelette Bites are a huge hit and can be refrigerated for a quick and easy school day breakfast! They're still just as good!
If you need a great brunch recipe for a crowd, then this is my go to brunch recipe! This egg and cheese souffle can be prepared the night before. Then bake it in the morning right before your guests arrive!
Sign up for the Princess Pinky Girl Newsletter and automatically receive our latest & greatest delivered right to your inbox! Follow Princess Pinky Girl on Facebook, Twitter, Pinterest and Instagram for all of the newest recipes, crafts, travels and updates!
If you make a Princess Pinky Girl creation make sure you take a picture and share it on Instagram with @princesspinkygirl ! I love seeing your masterpieces!