You've Been Booed!! Treat someone special this Halloween with these creative and fun Halloween Boo ideas.
We have some of the Best Boo-ing ideas for Halloween! Links to printables and creative treats to share with your friends and neighbors.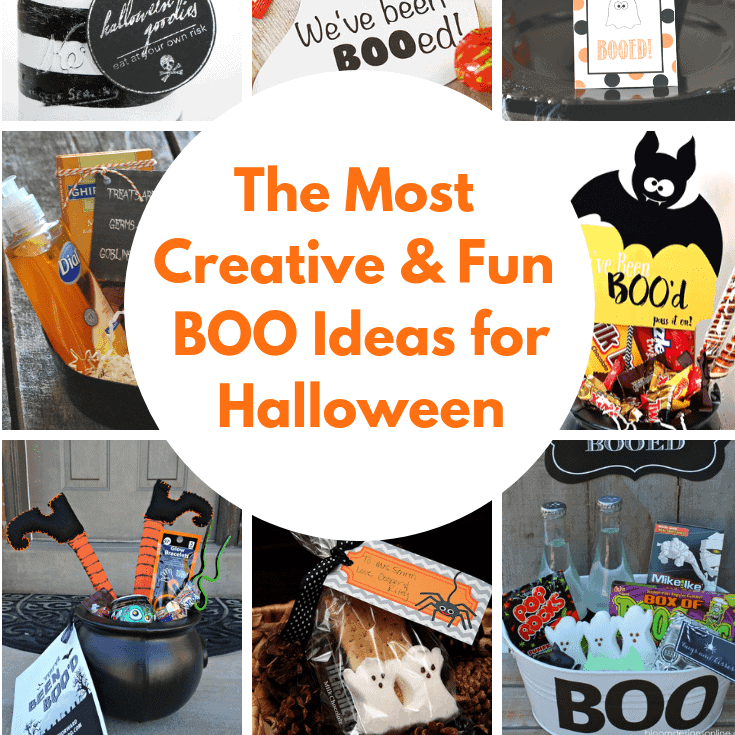 You've Been Booed – Halloween Boo Ideas
One of my very favorite parts of the holidays has to be the boo tradition. At the beginning of October, in our neighborhood, the Halloween fun begins when one family officially starts booing season.
What is Halloween Boo-ing?
Also known as Ghosting, Booed, Boo'd and probably many others – this Halloween Booing tradition is all the rage!
To Boo someone for Halloween is a fun way to spread the Halloween fun with family and friends. You simply put together a bag of Halloween treats along with a note saying "You've Been Booed" and deliver it anonymously to your neighbor.
Typically once it gets dark out you will sneak to your boo-ing subjects home and ring the doorbell, leave the treat on their doorstep and RUN!
Once you receive the Boo, you put a note on your door that says "We've Been Booed" (so that you don't get booed again and someone else gets a chance to feeling booing love). Then you make your own boo treat for 2 other people and spread the Halloween cheer!
Once you participate in the Boo tradition … you are hooked for life! If your neighborhood or office doesn't boo, start one yourself. You will be so glad you did!
What to put in a Halloween Boo Bucket
Filling your Halloween Boo Bag is super easy.
First, you need to find the perfect bag or bucket. Here are some great ideas to hold all of your boo treats:
Next, you need to find the perfect treats:
Slime
Flashlight (for trick or treating)
Halloween Candy
Glow sticks
Glow Necklaces
Basically…anything that glows
Halloween Peep Ghosts
Easy Halloween Treats you can make!
When your Halloween Boo'ers get home make sure to have some special Halloween Treats waiting for them!
Easy Halloween Desserts
Creative Halloween Boo Ideas
Halloween is always so special to me, because it is truly a time to show off your creativity. Fancy costumes, fun Halloween decorations, and yes… tricks and treats.
We love to get super crafty at our house when we boo our neighbors and I can't wait to try out a few of these ideas this year.
The Stylish Nest has created the most adorable witches cauldron. It is bubbling over with treats of all types and the addition of the witch legs is absolutely my favorite part.
Don't you just love it? This would be fun for all ages and I love that it packs a punch with those legs!
This idea from Eighteen 25 has been around for a while, but I still love it and have done it in the past. Just get a white balloon and create a ghost and let him loose for a visit on your neighbor's front porch! Their family will think it is so cool!

Have a lot of treats to share? You can actually go big or small with this idea. Grab a galvanized tray or bucket and spray paint it white… add B-O-O and you have the cutest Boo treat bucket on the planet.
Bloom Designs shares this idea and that awesome printable. It is bold and simple and just so much fun. Go check it out!
Free Boo Printables
There is no shortage of adorable Boo Your Neighbor printables on Pinterest and around the web.
It doesn't get any easier than clicking and printing when you are ready to boo someone. Here are a few of my favorite versions.
I love this sweet ghost Boo printable from Fun Squared. It has all of the classic and fun elements of Halloween and will match just about anything!
Skip to My Lou shares the cutest little ghost with her version of the Boo your neighbor printable. How adorable would this guy be hanging in your window? I love it!
I really love this version of the Boo printable from Happiness is Homemade.
There is just something about it that is so whimsical and makes me nostalgic for the days of enjoying Halloween from the eyes of a child. Sweet, sweet memories.
If you are looking for something a little more spooky… check out this bat version of the Boo Printable that Kim Byers shared on The Idea Room. It is crazy cute!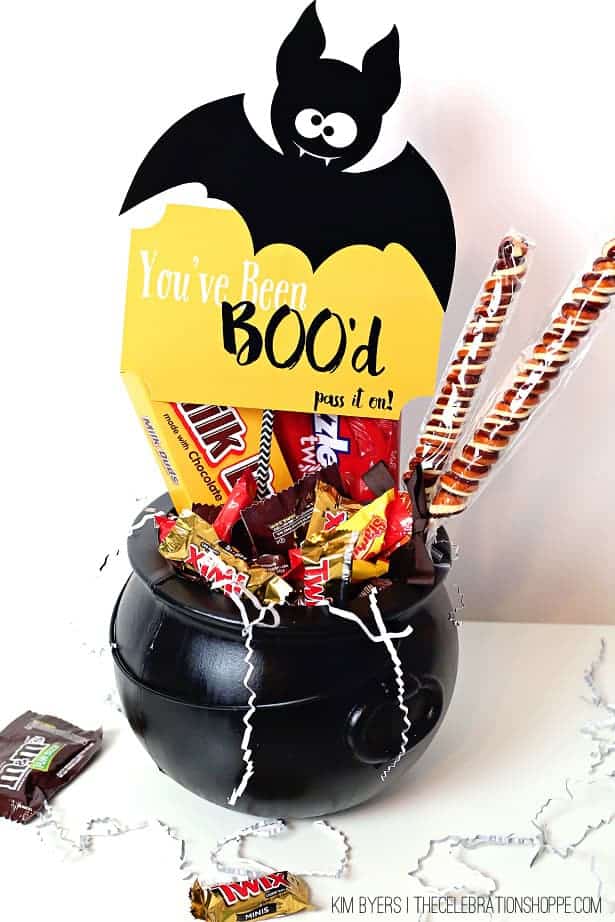 Boo Ideas and Halloween Treats for Teachers
We really need to keep in mind that our teachers are worth celebrating every single day.
Halloween is a great time to show your teacher a little holiday love when you "Boo" your teacher or just give them a really sweet little gift. Just a little something to show them you are thinking of them.
I think every teacher can agree that they've seen their fair share of smelly goblins. They absolutely deserve a chocolate treat, too! That is why I love this sweet idea from Gallamore West. This also comes with a free chalkboard printable that you can attach to make the perfect gift.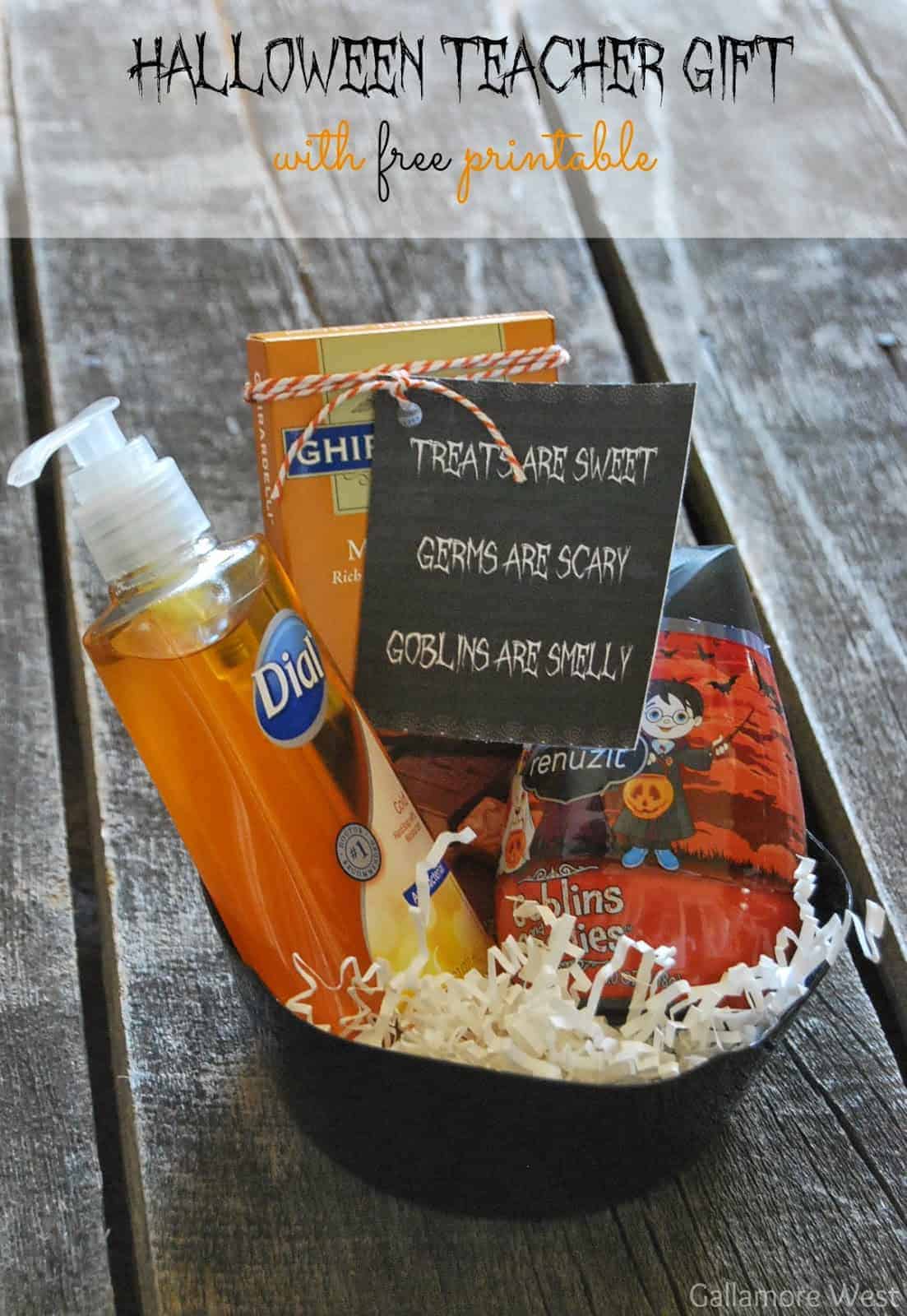 Keeping things simple is the key to a great boo gift for teachers. I love that Yellow Bliss Road made a gift bag for Halloween s'mores with ghost peeps. So fun and when you add the printable tag, tie it with a bow and you are well your way for scoring some brownie points!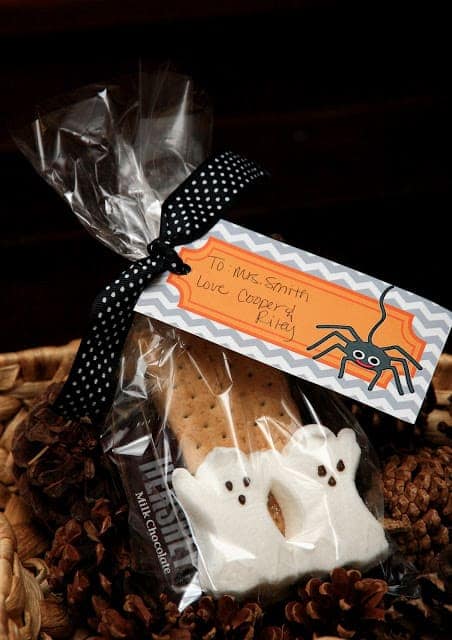 I do love a pretty mason jar gift and this black and white striped beauty from The Idea Room would be the perfect way to treat the teacher. Fill it with cookies, candies or even erasers and your teacher will love you for it!
Be sure to pin this post for later… you will want to!