This post may contain affiliate links. Read my disclosure policy here.
This classic sherbet punch is the easiest, tastiest punch recipe ever and it's sure to be a hit at your next party! We use sherbert, soda and juice in your favorite flavors (we used orange).
Our punch recipe is easy and quick to prepare and looks just gorgeous! It is great for a party or potluck dinner and can be adapted for whatever the party occasion may be! You can even choose the color (pink, green, red, and rainbow sherbet punch!)
Orange Sherbet Punch
This orange sherbet punch recipe is so easy to make and it's the most delicious drink to serve at family gatherings, baby showers, graduation parties, bridal showers, or holiday get-togethers. It makes a pretty large batch, which is great for serving a crowd!
We love to serve this punch at all of our holidays! This recipe is great and can be easily adapted (see below).
With each individual holiday, there comes a big batch of get-togethers! With all these parties, it can be hard to think of creative food items to bring or serve, that everyone will enjoy. Thinking about what to serve as a drink is in a whole other ballpark!
Luckily, I have this punch recipe up my sleeve. The beauty of it is that it's a drink recipe that I can bring for ANY occasion or gathering! It's perfect for a party, no matter the holiday or who will be attending.
Not to mention, it could not possibly be easier to make. It only takes about 10 minutes to put it all together, requires just 4 simple ingredients, and I've got a fun, delicious drink for everyone to enjoy. Plus, it makes about 22 one-cup servings, so like I said, it's great to feed a crowd.
To see how you can also make this versatile punch drink for your next party, keep reading. I promise you that this is so simple and will be the talk of the party. Everyone loves it!
Sherbet Punch Ingredients
Here are the ingredients needed to put together your sherbet punch. There are only 5 simple things you need. I usually just make a quick stop at the grocery store to pick up these items when I know I will be making this punch.
One 12 ounce can of frozen orange juice concentrate, thawed
One 2 liter bottle of lemon-lime soda, chilled
1 can (46 ounces) of pineapple juice, chilled
1 quart of orange sherbet
How to Make Punch with Sherbet
As I said, I don't think this recipe could be any easier to put together. There are only 3 steps it takes to make it.
STEP ONE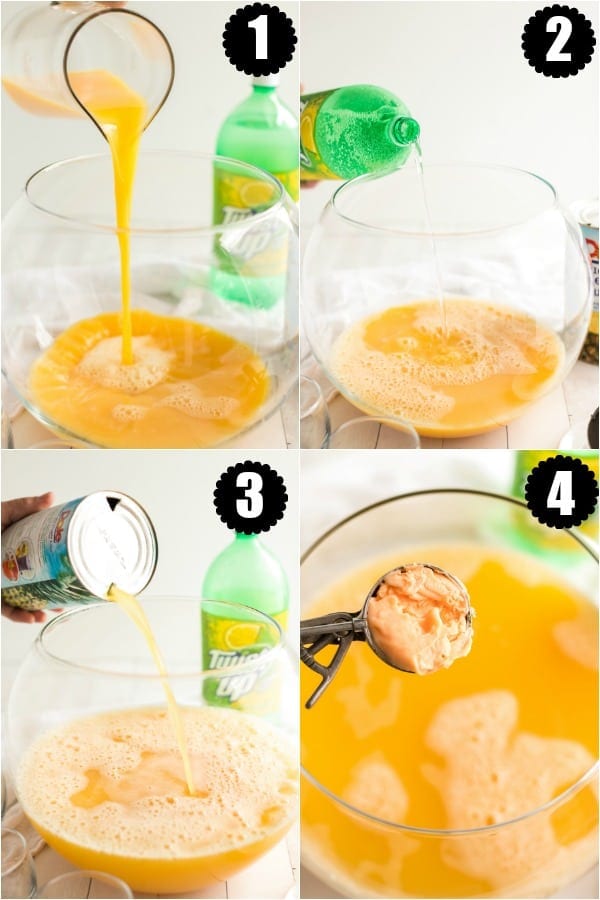 Prepare the orange juice. To do this, just follow the package instructions. Once finished, you can pour the orange juice directly into your punch bowl.
STEP TWO
Stir in the specified amounts of chilled soda and pineapple juice. Add these directly to the punch bowl as well.
STEP THREE
Top the punch with scoops of orange sherbet! I usually do about 9 or 10 scoops. If you notice that all of the scoops are gone and there is still punch left you can always add more later!
It is important to serve your punch immediately, otherwise, the sherbet may totally melt!
Like I mentioned, feel free to play with the flavors and colors! We made this version for Halloween! But it can be easily adapted for Thanksgiving, Christmas, New Years Eve, a birthday party and honestly any holiday or party!
PRO TIPS
Making a sherbet punch is really simple, but as with any recipe, the more you make it the more tricks and tips you find to make it even easier for yourself!
One trick I have learned is that when I am preparing the punch for a group of people, I usually get it all ready in the punch bowl, but I hold off on putting in the scoops of sherbet. I store the liquid in the punch bowl in the fridge up until the second I am ready to serve it. Then, I'll take it out and add in the scoops of sherbet!
Also, another tip is that you can keep adding scoops of sherbet as the day or evening goes on. If all of the scoops are taken right away and there is still liquid left to be served, just add in a few more scoops!
Take the sherbet out of the freezer a few minutes before you plan to scoop it into the punch mix so that it has time to thaw a little bit and you'll be able to get a really nice looking rounded scoop!
I have found that 1 quart of sherbet is plenty, but if you have a big group and everyone loves the sherbet… you can do more! Just keep adding those scoops in.
Adjust the recipe to taste. Want it sweeter, add more juice, less sweet, more soda. Alcohol? Go for it!
As the sherbet melts, the punch will get sweeter, so keep some extra soda and juice on the side to add in as the party goes on.
Want to add a pop of color? Try freezing fruit to add in right before you serve the punch!
Sherbet Punch Variations
Raspberry or Strawberry Sherbet Punch – great for Christmas, Baby Showers, Valentine's Day, Wedding Showers.
Combine:
1-2 quarts of strawberry sherbet
1 -2-liter bottle of lemon-lime soda
32-ounces pineapple juice
Garnish with frozen strawberries or raspberries or both! (for a cute pop of color, add pineapple slices!)
Rainbow Sherbet Punch – great for Baby Showers, Birthday Parties, Bridal Showers, Basically Any Occasion!
Combine:
1-2 quarts of rainbow sherbet
1 -2-liter bottle of lemon-lime soda
32-ounces pineapple juice
Garnish with frozen blueberries, strawberries, raspberries and more!
What type of soda do I use in Orange Sherbet Punch?
I like to use 7-Up, Sierra Mist or Sprite in my punch. I think lemon-lime soda makes for a classic taste. However, I have seen other recipes that get creative and switch this up!
I have seen some use cranberry sprite instead, which gives it a really nice flavor and changes up the color. The red-pink color of the cranberry sprite with the orange sherbet scoops looks really nice!
I have also seen people use ginger ale as well!
If you're unsure, I would say that any lemon-lime or cranberry lemon-lime soda will do the trick for your sherbet punch!
What type of punch bowl should I use to make a Sherbet Punch Recipe?
You really can use any type of large bowl or even a trifle bowl will work. I love to use a clear glass bowl so you can really see the foam! Here are a few punch bowls I love!
Perfect Halloween Punch Recipe!
We love this punch for our Halloween Party! You could even add some fun gummy spiders or gummy worms to really Halloween it up! Be sure to serve it along with your other Halloween Party Food!
Serve this with some other great party recipes
Sherbet Punch Recipe
This sherbet punch recipe is easy and quick to prepare and looks just gorgeous! It is a great for a party or pot luck dinner and can be adapted for whatever the party occasion may be!
Ingredients
1

12-ounce can

Frozen orange juice concentrate

thawed

1

2-liter bottle

lemon-lime soda

chilled

1

46-ounce can

pineapple juice

chilled

1

quart

orange sherbet
Instructions
Prepare orange juice per package instructions. Pour into punch bowl.

Stir in chilled soda and pineapple juice.

Top the punch with scoops of orange sherbet.
Nutrition
Calories:
62
kcal
|
Carbohydrates:
13
g
|
Protein:
1
g
|
Fat:
1
g
|
Saturated Fat:
1
g
|
Cholesterol:
1
mg
|
Sodium:
20
mg
|
Potassium:
41
mg
|
Fiber:
1
g
|
Sugar:
10
g
|
Vitamin A:
20
IU
|
Vitamin C:
1
mg
|
Calcium:
23
mg
|
Iron:
1
mg
Nutrition Disclosure
Nutrition information is an estimate. Please utilize your own brand information to double check against our estimates.
This sherbet punch recipe is most definitely one of my favorite party drinks of all time. It's a wonderful alternative to an alcoholic party drink, which means it can be enjoyed by all!
It's super simple to put together and it's always a big hit at any get-together. I can't wait for you and your friends and family to enjoy it this holiday season.
Sign up for the Princess Pinky Girl Newsletter and automatically receive our latest & greatest delivered right to your inbox! Follow Princess Pinky Girl on Facebook, Twitter, Pinterest and Instagram for all of the newest recipes, crafts, travels and updates!
If you make a Princess Pinky Girl creation make sure you take a picture and share it on Instagram with @princesspinkygirl ! I love seeing your masterpieces!