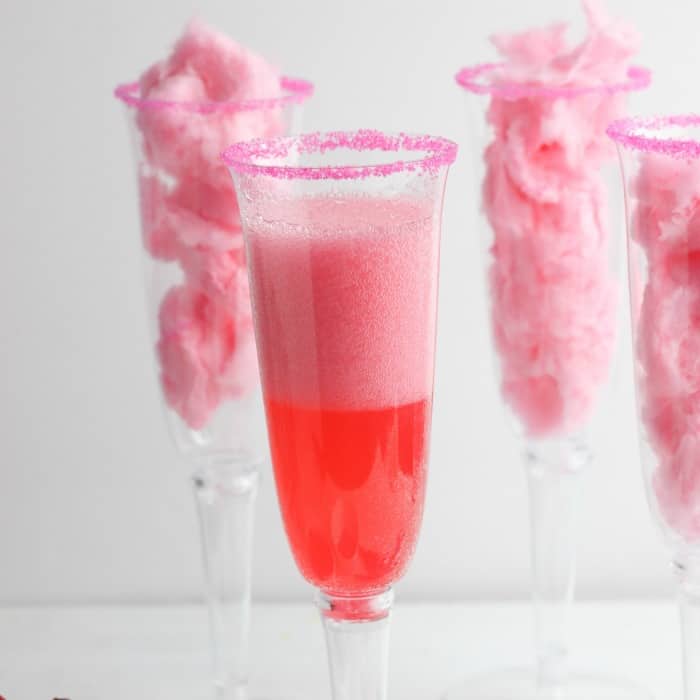 Cotton Candy Mocktails are sure to be a huge hit! With only 2 ingredients they are almost as much fun to make as they are to drink!
Jump to Recipe
Whether you're looking for a fun New Year's Eve drink for the kids or just need a new drink idea for your next party, these fun Cotton Candy Mocktails are sure to be a hit!
Made with only two kid-friendly ingredients, these festive drinks are just as much fun to make as they are to drink.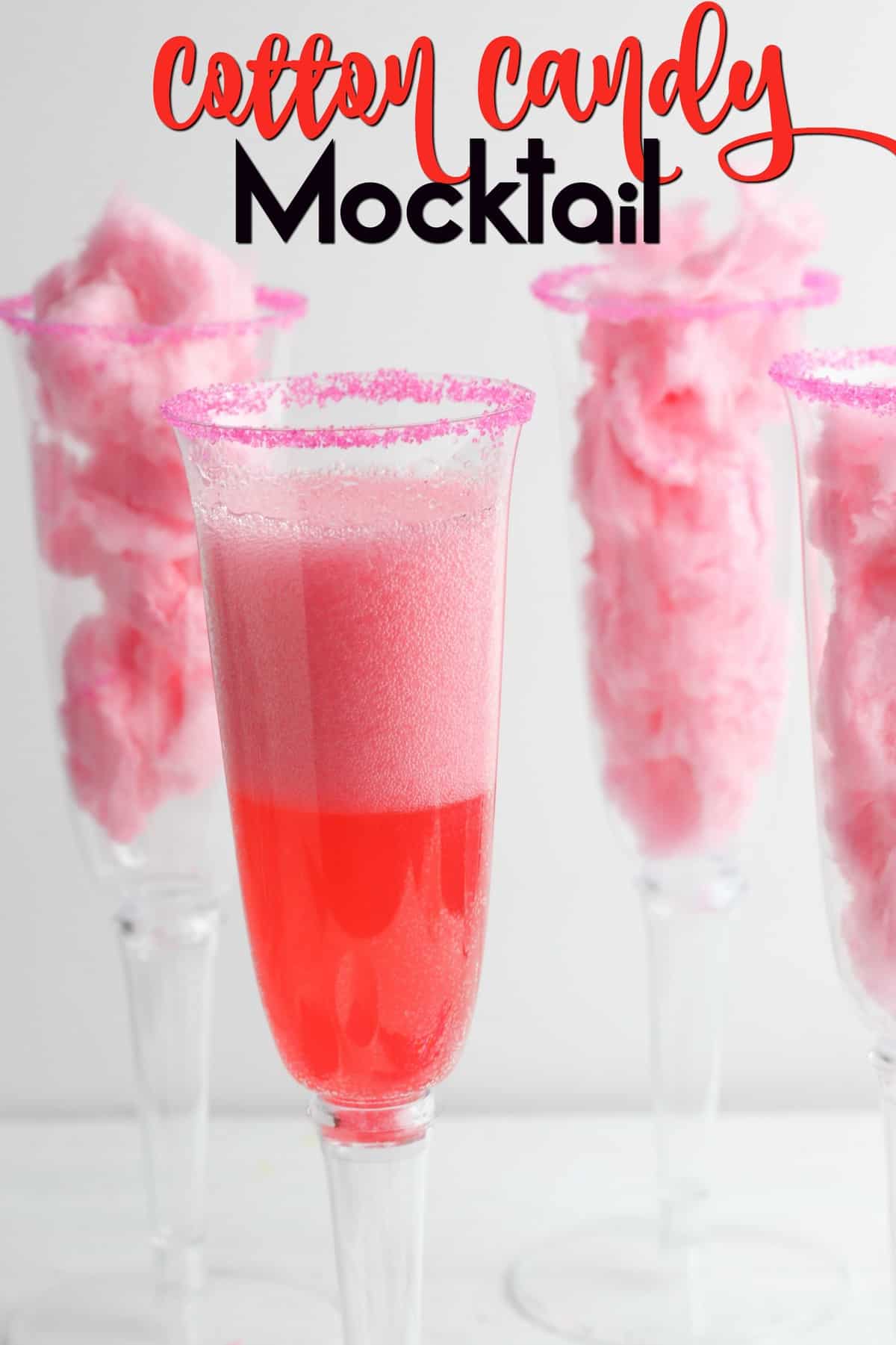 /div>
Want to "adult them up" a little bit! Check out our alcoholic version, our Cotton Candy Champagne Cocktail too!

Cotton Candy Mocktails
These entertaining drinks are the perfect kid-friendly option for New Year's Eve. And what I love most about making these cotton candy mocktails is that they put on a show as you make them.
So, make sure you have an audience while you pour these drinks because you're sure to get a round of applause while you're acting as a bartender.
How to Make Cotton Candy Mocktails
Making these cute mocktails couldn't be any easier. All you need are two ingredients – cotton candy and strawberry soda – to make them. And since you'll be making each drink individually, you can make a batch of 10 or one drink at a time with this simple recipe.
STEP ONE: To make your cotton candy mocktails, start by filling each glass with cotton candy. Pull the cotton candy out of the bag and stretch it out a little bit, then fill up each glass with the fluffy candy.
STEP TWO: Now for the fun part! After each glass is filled, slowly pour the strawberry soda over the top of the cotton candy. As the soda flows over the cotton candy, it will start to bubble and melt, putting on a fun show as you pour.
And you'll get another fun sensation as you drink the mocktail. If you start sipping right after the soda has been poured, you can feel all the tiny bubbles and fizzes pop on your nose! This cute drink is fun for all the senses.
Decorating Your Mocktails and Glasses
This simple two-ingredient drink is fun in itself, but one of my favorite parts about serving drinks is dressing them up with decorations and garnishes. And since this colorful drink is full of style, there are so many great ways to decorate your cotton candy mocktails.
Sugar on the rim. One of the most classic ways to dress up a cocktail is by putting sugar or salt on the rim. Decorate your cotton candy mocktails by matching the sugar on the rim to the color of the drink by using pink sanding sugar.

To put sugar in the rim of your drink, wet paper towel and wring out the excess water.
Then, rub the paper towel around the rim of the glass and dip it into sanding sugar.
Wiggle the rim around the sugar to make sure it's completely covered before carefully lifting the glass from the sugar.
After you've added the sugar to the rim, you can continue filling the glass according to the recipe.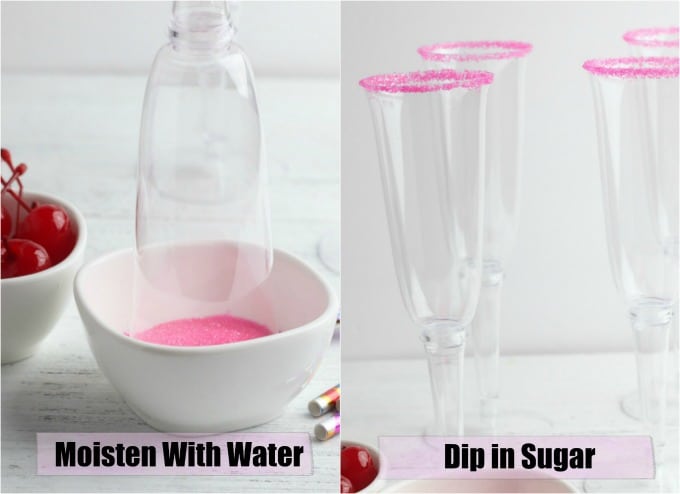 Fruit garnishes. Fruit also makes a great garnish for cocktails and mocktails. And since these drinks are kid-friendly, adding a little fruit to the top of the drink might get your kids to enjoy something healthy before they drink this sugary mocktail. Top this drink with fresh strawberries to match the strawberry soda or add a few maraschino cherries – because what kid can resist a cherry?
More cotton candy. You can never have enough cotton candy, right? Use extra cotton candy as a garnish for your mocktails by placing a bunch of cotton candy on the top of the glass. Just make sure it doesn't touch the drink or it will start to dissolve!
Other candy. This sweet drink is already full of sugar, why not make it sweeter by garnishing with candy? Rock candy, gummy bears, and sour straws are all great options as a garnish for this fun mocktail.
Serving the Mocktails
Making these mocktails is just as fun as drinking them, so you're going to want to make sure they look great in the glasses! That means picking the perfect glasses for your mocktails.
Plastic glassware. If kids will be enjoying these mocktails, I suggest using plastic glassware for your drinks. You can find plastic versions of most glassware in the party section of the store, including champagne glasses like the ones I used. Using plastic glassware to serve your drinks will help prevent broken glass when one of the kids inevitably drops their drink.
Champagne flutes. Since this recipe uses a fizzy drink, champagne flutes are the perfect option for these drinks. The shape of the glasses lets the bubbles from the drink tickle your nose each time you take a drink.
Tumblers. Tall, thin tumblers are another great option for serving these drinks. They allow you to fill the glasses full of cotton candy before you add the drink. And the tall glass makes your drinks look amazing while they're being poured.
More Great Party Food & Tips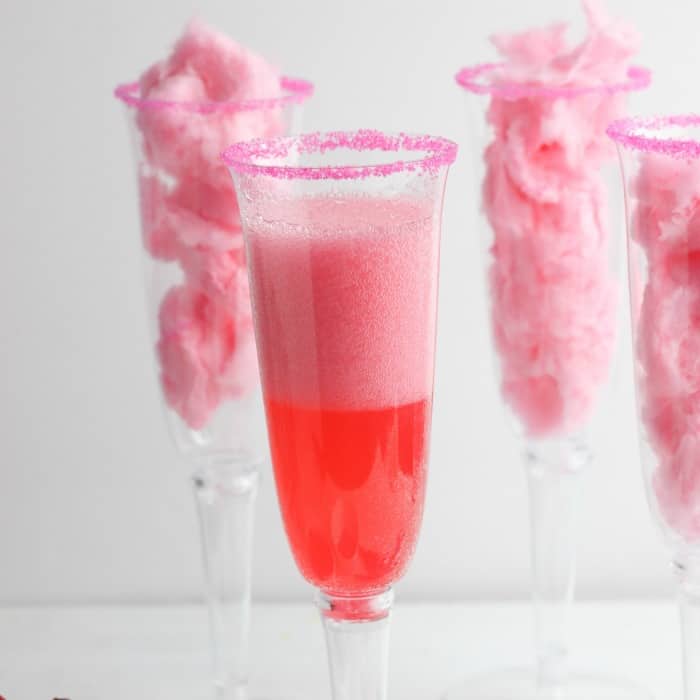 Cotton Candy Mocktails
Cotton Candy Mocktails are sure to be a huge hit! With only 2 ingredients they are almost as much fun to make as they are to drink!
Ingredients
¼

cup

pink decorating sugar

1 2-

liter

bottle strawberry soda

1

bag pink cotton candy

Cherries

for garnish
Instructions
Wet the rim of each plastic glass and dip it into the pink decorating sugar.

Fill each glass with cotton candy.

Pour the strawberry soda into the glass and top with a cherry.
Nutrition Info
Calories:
196
kcal
|
Carbohydrates:
51
g
|
Sodium:
36
mg
|
Sugar:
45
g
|
Calcium:
15
mg
|
Iron:
1
mg