A Mediterranean Cruise is a great way to see a lot of places in a short amount of time. Read about The Royal Princess and see if it is a good ship for your cruise!
My husband and I had the pleasure of being guests of Princess Cruise Line to learn more about what a Mediterranean Cruise and the Royal Princess has to offer.
Granted, on a Mediterranean cruise, you don't spend a tremendous amount of time on the ship. However, you want to make sure your "home base" is everything you dreamed of. Spoiler alert…. you will not be disappointed on this ship.
If you are heading on a Mediterranean Cruise or thinking about a Mediterranean Cruise, you may have stumbled upon one of my other articles, like my Mediterranean Cruise Port Reviews. That article was an overview about going on a Mediterranean cruise in general, the stops we made and what to expect.
Now, I want to share some more specifically about the ship, the Royal Princess from Princess Cruise Lines.
I don't even know where to begin. The Royal Princess was one of the nicest ships I have been on. It was beautiful.
The ship was big, but you never felt like there were 3,500 passengers on board.
We never waited in a line (even to get off or on the ship, which is a first for me). We never waited for food or really anything. Lounge chairs around the beautiful pools were plentiful – and there were tons of great outdoor spaces to relax and enjoy their entertainment or some quiet reading time!
I want to highlight a few of the not to miss aspects of the ship:
One of our favorite places was the Sanctuary (see our "live" video from the Sanctuary). This is an adult only, outdoor area which is wonderful.
You reserve the actual chair, so you get the exact spot you want. The chairs have the most comfortable cushions that you just sink into. They also have cabanas that you can rent, which would be totally over-the-top amazing!
You can even opt for outdoor spa treatments in a gorgeous private cabana. The staff is amazing and will meet your every need (including fruit infused water, which they are always bringing you fresh glasses, high tea and a very nice menu with chair service).
It is truly a luxurious space, which we enjoyed on the sea day (there is a small charge for this and if you are thinking about booking it, do so as soon as you get on the ship – it sells out fast).
The Chef's Table (see my video from the Chef's Table Galley)- hands down, without a doubt, the Chef's Table is not to be missed. This was one of those "experiences" that you just must do.
There is a charge for this, but I am telling you, it is worth every single penny. The Chef's Table starts out in the galley kitchen, where you can see the behind the scene action and hustle and bustle of the wait and kitchen staff hard at work.
You have a white table cloth, appetizer experience with the Head Chef and the Head Maitre d' (check out my Facebook Live video live from this portion of the dinner). You are then shown to a beautiful round table which seats about 12 people.
When you sit down, the magic begins, you are enclosed and surrounded by walls of sparkling lights and served an incredible multiple course dinner. I couldn't even tell you how many courses we ate, but if you choose to do this experience, pace yourself (it is hard to do, because the food is so incredible).
This was the best meal I have ever had (true story – I just drooled on my keyboard thinking about it). Vacations are made up of experiences and this is one you must not let pass you by – if you are thinking about doing it – run, don't walk, to make a reservation as soon as you get on the ship – space is incredibly limited and if you wait, you will not get in!
The Lotus Spa – Wow – this is nicer than any spa I have been to on land. It is gorgeous and the staff is incredibly knowledgeable and talented.
My husband got a massage which he absolutely loved, and I got an express keratin treatment on my hair, which I am still enjoying the benefits of. It is a wonderfully relaxing space with every treatment you can imagine.
The food!! Wow – so I have been on many cruises, but the food was top notch on the Royal Princess. They had something for everyone.
One special treat, which I haven't had on other Princess Cruises, was Alfredo's Pizzeria – they served hand-tossed Neapolitan-style pizza, made to order, hot out of the oven. There is no charge and it is open for lunch and dinner. This was one of my favorite places to grab a quick bite.
The dining room food was great – every meal I had was delicious. The Horizon Court was well laid out and served a quick and good breakfast – we loved the made to order omelettes and never had to wait more than a few minutes.
The premium restaurants, The Crown Grill and Sabatini's, were both amazing and well worth the modest service charge.
Honestly, we couldn't even make it to all of the different dining options that were available to us – let's just say we were well fed and had to workout a bit harder when we got home!
The staterooms – we had a balcony room on the 10th floor (Caribe Deck Room C609). Bottom line, spend the money on a balcony.
I don't care if you are going to the Caribbean, Alaska or the Mediterranean – it makes a world of difference and there is nothing like a cup of coffee or glass of wine (or for me, even a little bit of work) on the balcony looking out at the ocean.
There were some definite upgrades made to this ship in terms of the staterooms. While they may not seem like a big deal here, they were when you are on the ship.
The rooms are laid out very nicely and had more than enough storage space to unpack all of our clothes (and let me tell you, man, did we overpack – packing guide coming soon!) A definite upgrade was the flat screen TV – not only did it free up counter space in the room, they have a great on-demand system where you can watch tons of great movies and tv shows.
In the past, the bathroom showers were very small and not great when it came to water presure, but the water pressure was great and the little extra space they added went a very long way (and thank you to the woman who added the ledge in the shower so you could easily shave your legs – this was the #1 top improvement and I cannot thank you enough).
Overall, we were very happy with the location and the room in general.
The Ship in General – Things to do around the ship – you cannot possibly take advantage of all that this ship has to offer. There were bars and spaces we never even saw.
We walked through the gym, which was beautiful and would have loved to taken a few of the workout classes, but there just wasn't enough time.
We spent a bit of time in the casino, which has everything you could ask for (however, we did not hit the jackpot, but we still had fun).
The shows and entertainment are first class (loved the "Movies Under the Stars – great movies that you can watch on the pool deck in the evening – blankets and popcorn provided! Great way to chill out after a long day of touring!).
There are bars for whatever you are in the mood for (one of our favorite bars was Bellini's – you guessed it, the Bellini's were out of this world).
If you are bringing your kids they have a great kids club and sports deck (with a great basketball court).
Oh wait – How could I forget the beautiful water feature on the pool deck at dusk. It was set to themed music – it was an amazing site to see while sailing across the ocean! I could go on and on and on – there is SO much to do that you need another week, just to experience the ship!
So, if you are looking to do a Mediterranean cruise (or any location really), this is the one to do. It really has the whole package!
This is one of those "life experiences" that you will never forget. Princess is a top notch cruise line that we will keep going back to and the itinerary was unbelievable. Thank you Princess for a week that we will always cherish!
Looking for some more information? See my article on our Mediterranean Port Reviews, packing lists- What to bring on a Mediterranean Cruise and some other inspirational recipes (Rainbow Sangria) and (Tropical Fruit Smoothie) ideas that I brought home with me!!
Take a look at my pictures from my trip on Instagram and follow along on future adventures!
Check out my overall MEDITERRANEAN CRUISE TIPS & PLANNING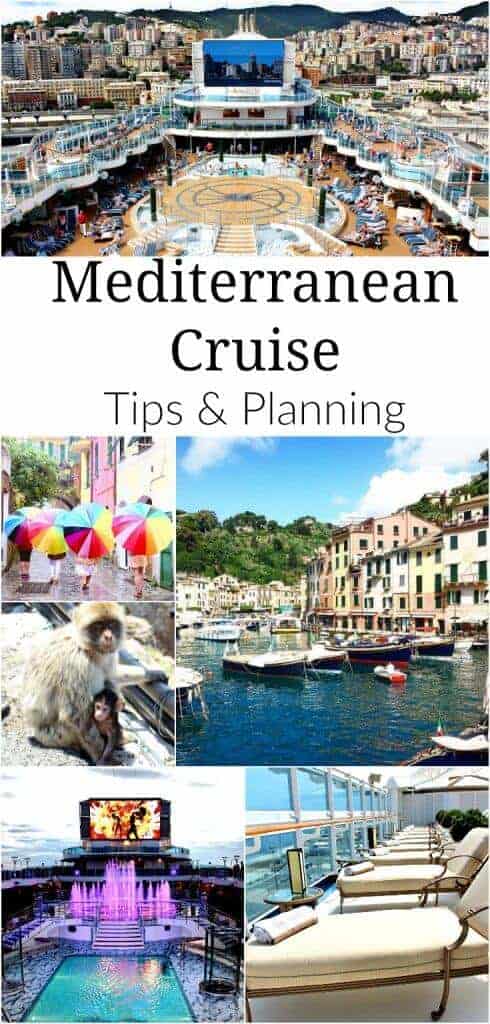 Also, thinking about going to Alaska – Click here to see all of my Alaska posts.
Disclosure: This post is sponsored by Princess Cruise Line