I recently had the amazing opportunity to travel to the all-inclusive resort at Beaches Turks and Caicos. It was a wonderful experience filled with great food, incredible adventures and the quality family time I was craving.
Beaches has created a one-of-a-kind vacation that we'll be talking about for years to come. I'm excited to share the details of our trip with you!
What will you find at Beaches Turks and Caicos?
This post is in partnership with Beaches Resorts
It's truly paradise — an escape from the daily hustle and bustle our family deals with every day.
This resort leaves nothing to chance – each detail is meticulously cared for, all to create an amazing experience for your family. You'll love the 45,000 square-foot water park with five themed villages and a 12-mile beach surrounded by clear turquoise water.
There is something for everyone in the family, making it an unforgettable trip for your entire gang!
Before our trip, I'd heard that it had been voted the world's #1 best beach on TripAdvisor — after experiencing the white sand beaches and the clear, calm waters, it was easy to see why Turks and Caicos is a favorite destination.
We loved the beach best of all during our trip — it was absolutely spectacular!
Our family spent hours floating on rafts that were anchored in the water. It was the clearest, most beautiful water I have ever seen.
Staying at Beaches Turks and Caicos
So let's talk about the accommodations you'll find at Beaches Turks and Caicos. Each village has a theme:
Caribbean & Seaside both offer a garden oasis with incredible views.

Italian offers old world charm with a tropical twist.

Key West offers casual elegance with laid-back style.

The French offers a Caribbean paradise with a French accent.
With such distinct vibes and styles, it's easy to select the style you'd like to enjoy for your vacation.
Activities at Beaches Turks and Caicos
There are a plethora of activities to choose from, no matter what you're in the mood for. I was blown away by all the options for activities for us to enjoy on both land and water.
The resort houses six pools with three swim-up bars. They also have the largest Jacuzzis in the Caribbean! There is also the Pirates Island Waterpark. My son spent a ton of time on the waterslides and had a blast.
If nightlife is your scene, you'll enjoy Liquid at Beaches Nightclub.
If you're traveling with your family, some of the family perks that I loved included the dedicated toddler pool, Xbox Play Lounge, supervised kids camps for kids of any age and the large family suites.
Beaches also offers a comprehensive scuba diving program — it's a top scuba diving destination! Even if you've never dived before, you'll have all the equipment and instruction you need for dives up to 40 feet. I love that it's all inclusive!
We didn't have to leave the resort to do it. You could literally walk right into the water and see amazing fish! It was an incredible experience that we did several times.
There are a lot more water activity ideas as well — Beaches offers the largest water sports option in the Caribbean.
They boast a fleet of over 270 specialty boats as well as paddle boards, wakeboarding, kayaking and more. Each sport has top-of-the-line equipment and professional instruction.
If you're looking for fun on the land, they have lots of options for that as well! Land activities include golf, croquet, basketball, horseshoes, tennis and a full fitness center. There is also pool, beach volleyball, lawn chess and more!
I would also suggest booking some time at the Red Lane Spa! I love to be pampered (who doesn't!?) so I appreciated that they offered a full spa right on site where I could enjoy a facial or massage. It was a great way for me to escape and unwind. You could also go with your honey or friends, making it a great activity option!
Dining at Beaches Turks and Caicos
And of course, I can't skip talking about the incredible food we enjoyed! There are 21 specialty restaurants to choose from — each more delicious than the last! Every restaurant we visited at the resort was a 5-star dining experience.
While we were enjoying time at the pool, there were food trucks nearby that made food on the go easy and tasty.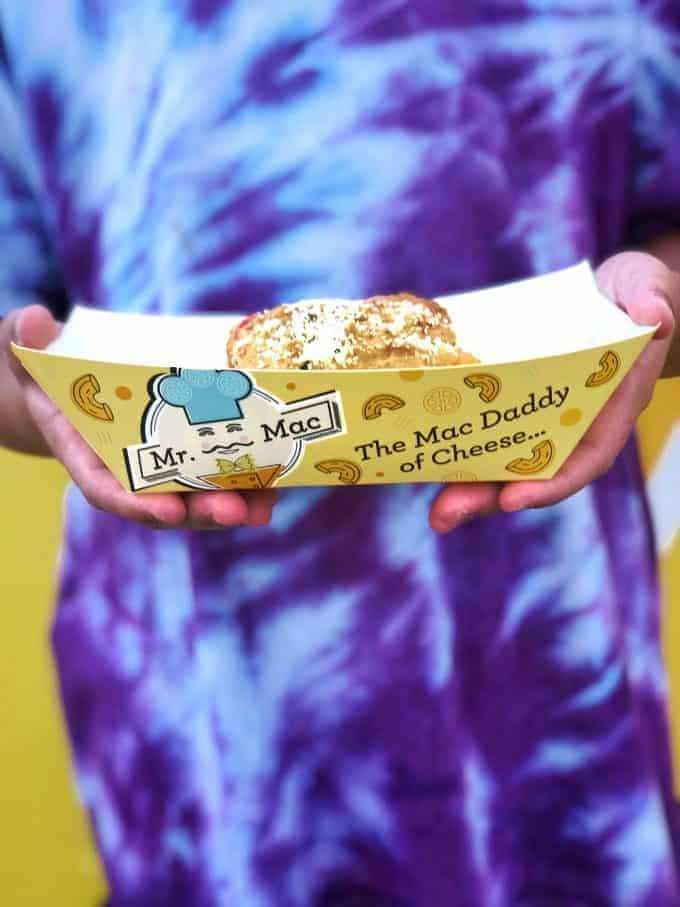 Our favorites included a mac & cheese food truck that was to die for. There was also another food truck that made custom milkshakes. I won't tell you how many times I visited that one. ?
We visited both the Italian and French restaurants for dinner and loved them. Our favorite by far was the hibachi at the Japanese restaurant though!
The hibachi chef exceeded our expectations! Not only did we enjoy an amazing meal, but it was a fun family activity as well.
Our dining experiences really stood out to me as a positive during our trip. At many other inclusive resorts I've visited, the restaurants served basically the same food with a different theme to the décor of the restaurant. That wasn't the case at Beaches Turks and Caicos. Each restaurant was authentic and the food was delicious. It was a fantastic bonus to our trip.
Now that I'm home and the cold air and snow are swirling outside, I am even more anxious to return to the beautiful beaches and teal waters of Turks and Caicos.
I traveled to Beaches Turks and Caicos as part of Social Media on the Sand. I cannot thank Beaches Resorts and the amazing sponsors for the adventure of a lifetime! Until my feet touch the sand again, I'll be daydreaming of our incredible trip and cherishing the memories my family made together.