Looking for what to do in the Amalfi Coast? We have it all planned out for you! Great itinerary, places to eat, where to stay and more!
When we started planning our trip to Rome and the Amalfi Coast, we decided not to use a travel agent or tour company. We wanted to plan it on our own.
We know what we like and what we don't the best, so we sat down, and dug in! We searched blogs and websites for helpful information, but all we found was outdated information on message boards or blogs that talked more about their comped hotels in places we couldn't afford or an article about what they were wearing and where we could buy it!
So, we did our research, made some great decisions based on what we knew and then figured it out from there. However, while we were there, we learned a ton of information that we wished we would have known before we left for Italy.
Don't worry, we took good notes for you.
Let's start out by explaining the Amalfi Coast. When we decided to go there, I had no clue what that actually meant.
What Cities are in the Amalfi Coast, Italy
The Amalfi Coast is a stretch of coastline along the Northern Coastline of the Solerno Coast on the Tyrrhenian Sea.
Some of the most popular cities in the Amalfi Coast are Positano, Ravello and Amalfi. These seem to be the biggest. They are fairly close together. We planted ourselves for a few days in Positano. It seems to be the largest city in that area and was easy to get to the other villages or cities from being based there.
When we planned our trip, I thought that Capri and Sorrento were actually part of the Amalfi Coast, but while they are very close by, they are technically not part of it (just a fun fact for ya).
What city to fly into when visiting the Amalfi Coast and Sorrento?
Naples airport is going to be the largest airport in the area and your closest option, but Rome is going to have the most flights and probably be a lot cheaper.
We flew into Rome, but Naples would have been much easier and if it is a viable option, we would totally recommend it.
How to get from Rome to Sorrento
We took a private car from Rome to Sorrento. This was probably our biggest mistake on the trip! It took about 4 hours, was very expensive and we got caught in a mess of traffic.
If we were to do it again, we would have taken the train from Rome to Naples and then either a car, train or ferry to Sorrento. The car is the most expensive and easiest, but the train and the ferry are probably faster.
Next time, we will take the train from Rome to Naples and then the ferry to Sorrento. The boat is super easy and you cannot ask for a better view or a more relaxing ride.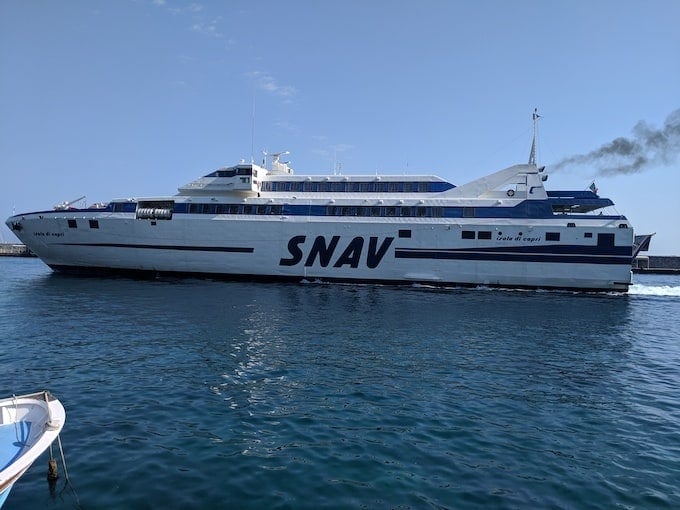 How to get from Sorrento to Capri
Getting from Sorrento to Capri is super easy. Take the ferry for sure! It is cheap, fast, easy and you cannot ask for better views.
You can purchase tickets in the marina. There is the main ticket area (where the bathrooms are). Don't go to the tour companies, you want to buy your tickets from the main ticket counter.
There are ferries that leave pretty much every 20-30 minutes in the busy season. The travel time is between 20-30 minutes depending on if you are on a high-speed ferry or not. The tickets cost about 20 Euros and if you have large bags you need to pay about 2.50 Euros per bag.
We purchased our tickets about 30 minutes before the ferry left. Lines can get long. If you know exactly when you want to leave you can save time by buying them the day before, but it wasn't necessary. Boats can sell out, but we were there at high season and we didn't have trouble getting the ticket that morning. But, as I mentioned, the lines were long and pretty disorganized.
If you are staying in the heart of Sorrento, you need to get down to the marina. There is a pathway that you can walk down, but with luggage that is not easy. You can also take a taxi down to the marina, but honestly, it is easy to do it on your own. We took the lift (elevator) down from the top. It is 1 Euro per person and well worth the small expense. Then it is a short walk to the marina.
How to get from Capri to Positano
There is basically one way to get to and from Capri…. ferry. You can purchase ferry tickets the day of, but during the busy season, I would recommend the night before if possible. They have boats leaving every half an hour or so and the cost is about 20 Euros. Again, you will pay extra for your bags.
Luggage Storage at Rome Airport
We arrived in Rome about 8 hours before our travel companions, so we had some time to kill before our trip to the Amalfi Coast. We decided to spend the day in Rome, however, we had two very large bags to deal with. Problem solved! Rome airport has a luggage check where you can leave your luggage for the day or even overnight or even multiple nights.
The left luggage facility is located in terminal 3 – the international arrivals area. If you are coming from a luggage claim, when you exit into the lobby after picking up your bags, it is to your right (it is a bit of a walk so just keep going). Go past the escalators and past where they keep the luggage carts. There is a small window where you fill out some information, and they make a copy of your passport. Then they will give you a receipt or barcode. Make sure you keep that to pick up your luggage.
The cost is 6 Euros for 24 hour period (they will charge the full day rate even if you are under a day). The hours when we were there were 6:30 AM to 11:30 PM, but I recommend double-checking this information before you go. It was very easy and convenient to use.
What to do for a Day in Rome
There is a TON to do in Rome and if you only have one day you need to really pick and choose. Here are a few of our favorite things that we did.
Scavi Tour at the Vatican: This is literally one of the best-kept secrets in Rome. Probably because you have to book direct and tour companies cannot sell this tour. The Scavi Tour Is bacially the excavation UNDER the Vatican. You will see the catacombs (think of the scene in the Angels and Demons movie where Tom Hanks was running around under the Vatican) and the tomb of St. Peter. You are literally in the city under the city! One of the coolest things we ever did (we actually did it on two separate trips there). Get tickets here – do not wait for this! As soon as you plan your trip, request tickets. They only allow 250 people per day. The tour is about 1.5 hours and you must be at least 15 years old! DO NOT MISS!
Golf Cart Tour of Rome: If you are limited in time, this is a great way to see a ton quickly. They whisk you from site to site in the comfort of your golf cart. This is a great way to get around quickly and see all of the highlights of Rome. We used Roberto and he was excellent! roberto@tours-europe.com
We had a wonderful dinner at Lo Scopettaro. It was a bit out of the way, but worth the short taxi drive.
What to do in Sorrento
Where we stayed: Maison Tofani – We really liked this hotel. It was family-owned and literally in the center of everything. The rooms were clean and well-appointed, the breakfast was great and you couldn't beat the location.
What we did:
Sorrento is a great town to wander. There are lots of shops and restaurants and they are known for their Lemoncello (stop by the Lemoncello store for lots of fun tastings!) There are also a ton of great leather stores and really good deals on handbags, belts, wallets and more.
If you like to hike, we found a total hidden gem of a hike. The hike to Villa Del Capo Di Sorrento (Bagni della Regina Giovanna) is a stunning adventure with a hidden swimming cove that leads to an archway into the Tyrennean Sea. Don't stop here though! After this beautiful view, continue on to Restorante La Solara. This is an outdoor restaurant in the middle of paradise. The views don't get better than this and be sure to order an Aperol Spritz (you will find this cocktail all over Italy, it is Aperol, prosecco, and soda and we got totally hooked on them!) To get here, take the bus from Sorrento to Caposorrento (ask the driver where to get off)
Cooking Class: While we didn't get to any cooking classes, our friends who were there a week before us did. They went to Quanto Basta for a class and dinner. They said it was amazing.
What to do in Capri
Where we stayed: Villa San Felice – This family-owned hotel is very centrally located right by the Piazzetta. They have a nice pool area, which is awesome during the summer (it gets super hot!) There are tons of great hotels from very fancy to even fancier! We visited the Hotel Luna, which has one of the best views ever. Go there for a drink on their rooftop bar at sunset!
What we did:
Boat tour! This is where you want to be on the water! We were fortunate to be guests on a friend's yacht and tooled all around the island of Capri. If you don't have a friend with a big boat, not to worry, you can rent one! I recommend doing at least a half-day on the boat, if you have the time, do a full day. It was one of our favorite days of the trip. We visited the Blue Grotto which you shouldn't miss! TIP: Get to the Blue Grotto VERY EARLY. It gets super busy and you could wait for hours to get in. (if you are claustrophobic, be warned, you have to go through a pretty narrow passage to get in, but once you are in ….. WOW!!! It is like nothing you have ever seen! After visiting the Blue Grotto, have the boat take you to other areas to see the beautiful sites and be sure to jump in and enjoy the amazing blue water!
If you want a nice and easy-ish hike, there is a beautiful walk to Arco Naturale (this it a totally Instagramable shot of the arch that you don't want to miss!
If shopping is your thing, you can get in big trouble on Capri. From the highest-end stores to custom made sandals, you can pretty much buy a whole new wardrobe if you have the budget for it!
What to do in Positano and the Amalfi Coast
Where we stayed: Hotel Buca di Bacco – This was probably my favorite hotel that we stayed at. It was located right on the beach and had the most spectacular view ever. The breakfast was amazing, the service was top-notch and again, the views were unbelievable.
What we did:
There is SO much to do in Positano (and so many great places to eat. I am going to share our highlights!
Hike! The Pathway of the Gods is not to be missed. We used an amazing guide named Lucy! She took us to the top of the mountain and hiked us down the path. We were really glad that we had her to lead us and she was a wealth of knowledge. At the end of the hike, we stopped at a little house/grocery store, where we feasted on fresh mozzarella, homemade bread, and bruschetta. We highly recommend this hike and Lucy – here Is her contact Information: info@zialucy.com
Boat! OMG, we loved this boat ride. We hired a boat for three hours to take along the coast. It was a small rubber boat with a captain and it was so much fun. We got really close to the coastline and stopped along the way to jump in and swim into some beautiful grottos and coves. It was truly a highlight. We used Cassiopea Boat Tours (ask for Captain Roberto – he was the best!)
Drive! We spent one day with a driver/guide going between Positano, Ravello, and Amalfi. We hired Tony Taxi, who is a legend in the area (info@positanotonytaxi.com), but he can be a bit of a character. We loved him! We saw amazing things and ate incredible food. One of the BEST meals that we had was from Tony's recommendation for lunch in Ravello. We went to Trattoria Da Cumpa' Cosimo
TIP: Do NOT order from the menu. Ask for "Mama" and tell her to select your dishes. She will give you a plate with a tasting of a bunch of different kinds of pasta. You will never be happier! This is NOT TO BE MISSED!
Eat! Ristorante Max was one of our favorites. Be sure to make a reservation before you leave! La Tagliata was a restaurant our friends raved about, but we were too late in making reservations. We heard amazing things and were bummed we missed it.
Stop in Pompeii
If anyone tells you to skip Pompeii do not listen! Pompeii is an ancient Roman City that was buried under ash after the eruption of Mount Vesuvius in 79 A.D.
The town was excavated and you will not believe well preserved it is.
You can stop there on the way to the Amalfi Coast or on the way back to Rome. We were there for about 2 hours and it was the perfect amount of time.
TIP: Get a guide! We hired a personal tour guide and it was money very well spent. The town of Pompeii is huge. It goes on forever and you will not only get lost, but you will have no idea the amazing things you are seeing. We used Zia Lucy (who we used for our hike in Positano) and she set up with an excellent guide. info@zialucy.com
Italy Travel Tips
Do laundry using the hotel laundry service and pack half as much. We stayed in a very nice hotel in Positano. While we were there I checked the prices for the laundry service. They give a very generous sized bag and will launder whatever is in there for 20 Euros. Had I known that, I literally would have packed half of the stuff I packed and just sent out my stuff to be cleaned!
Try to book some of your dinner reservations before you go. We were there during peak season and some of the restaurants we would have liked to go to were completely booked even a week out from when we left. I would recommend booking a few places before you go, you can always cancel. However, there are SO many amazing restaurants, even if you just duck into a place, you are sure to have a great meal.
Download Google Translate and a currency converter to your phone. This was super helpful. The Google Translate was great for cab drivers who spoke very little English! It is also just super cool!
Don't bother with heels, the streets are cobblestone and treacherous! I wore these platform sandals EVERY night. They were great for walking and my feet never hurt (and they were cute with a skirt!) My husband swears by these shoes for the perfect nighttime walking shoe!
Take a portable phone charger! We used our phones for everything (maps, photos, directions, Trip Advisor suggestions, etc) and our battery drained quickly. Bring a really good portable charger! You won't regret it!
Italy Packing Tips
Here of some things we couldn't live without on our trip
---
More of our favorite travel trip posts: