These iPhone hacks will change the way you use your phone. I feel like I know how to use my phone pretty well, that is, until I read these game changing iPhone Tips & Tricks!
I thought I was a whiz on my iPhone, that is until I found these mind-blowing iPhone Tips and Tricks! These iPhone hacks will change the way that you use your phone!
Your phone is so much more than just a way to make calls. It gives you the power of a computer in the palm of your hands. BUT, there is so much more you can do with your phone these days and I am going to show you some of my favorites!
It is time to make your phone work for you and these simple iPhone tricks will make you and your phone more efficient, effective and let's just say, better friends!
How to make your iPhone charge faster?
You are in desperate need of your phone and the battery is almost dead. Not a problem. Switch on Airplane mode and your phone will charge faster! Think about it, if your phone is busy searching for wifi and updating background information, it is using it's energy. Give it a quick break and you will see a noticeable difference on how quickly it will charge!
How to make your searches quicker?
This may just be one of those lazy tips, but did you know if you are searching for something in your web browser, you can press and hold the "." and it will pull up the shortcuts for the website suffixes! (i.e. ".com" ".net" ".org")
How to use the iPhone Magnifier!
Have you ever been in a dark restaurant and tried to read the tiny print menu? So you whip out your phone and turn on your camera, but it keeps going in and out of focus and you feel like a moron. Worry no more, did you know the iPhone has a magnifier!! This has been my life saver! Want to know how to turn on your iPhone magnifier? Just go to Settings -> General -> Accessibility -> Magnifier and toggle it to "on". Now when you need it, you can quickly access your magnifier by triple-clicking the Home button! This is seriously one of my favorite things on my iPhone!!! Game changing!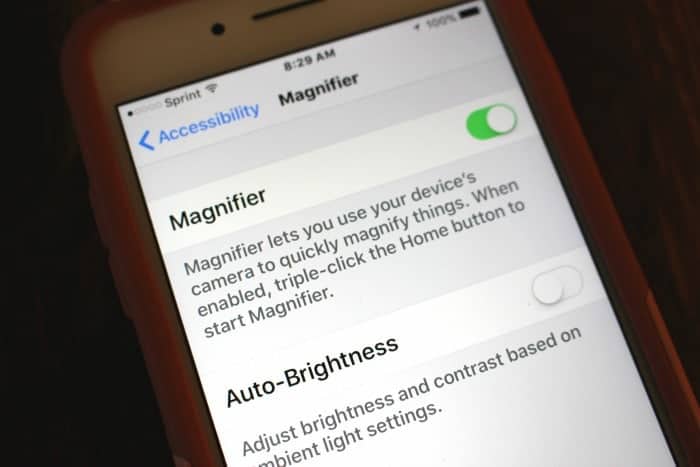 My iphone has a compass…. and a LEVEL!!
Truth – I had no idea that my iPhone had a compass, let alone a level! Do you know how many times I have seriously needed a level and had to dig through my toolbox to find one (I don't visit the toolbox very often!) To get to the level, just open your compass and swipe to the right! How about that!!
How do you correct Siri pronunciation?
Siri is pretty smart, but sometimes she can grate on your every nerve! Especially with a last name like mine, Fishkind. Yes, you pronounce it JUST like it looks FISH KIND (a very nice fish), but she insists on pronouncing it Fish-kend – drives me nuts. So, did you know that you can teach Siri to pronounce names correctly – thank goodness!! All you have to do is activate Siri and say "Can I teach you how to pronounce XXX's name" and she will lead you through the steps!!
How to find your best signal
Are you someplace where your signal leaves little to be desired? Do you keep walking around trying to find "the best" place to make your call from or send your text message? Well, this is a trick that I had NO idea about! Go to your phone dialer and type in *3001#12345#* and press the call button. This will tell you your phones TRUE signal strength by opening up "field test mode". Now you want to look at the tiny numbers in the top left corner of your phone. The numbers are always going to be in the negative, but the closer you are to zero, the better your signal!
Did you know your could create custom replies for missed calls?
This one got me excited! I had no idea how easy it is to create my own custom reply for missed calls! All you have to do is go to Settings -> Phone -> Respond with text to create your own message. Now you can say whatever you want!
Do you love hacks as much as I do? Well, I have a ton of life hacks to share with you!
These Life Hacks are amazing! See them here!
House Hacks that will rock your world!
Genius Parenting Hacks