If you haven't noticed from some of my other holiday posts, I am a little obsessed with Peppermint. It just SCREAMS "It's the Holiday Season" to me! That is why I decided it was time to mash up two of my favorite things – Chex Mix and Peppermint and make this way too addictive Chex Mix Christmas Crack!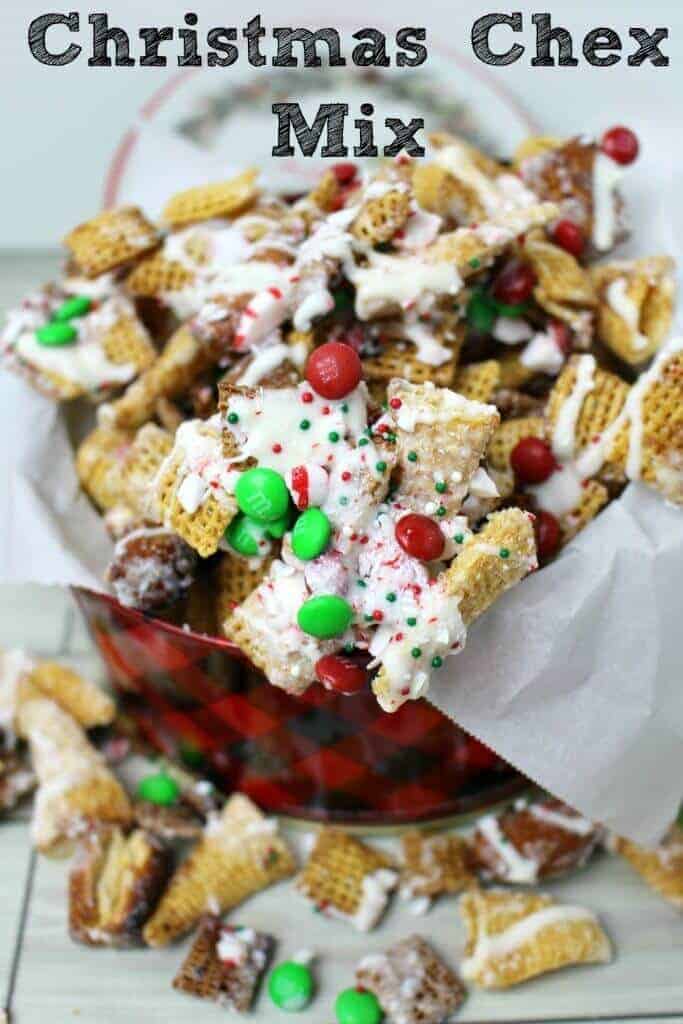 There is nothing more delicious to me that a sweet and salty mix. It is my downfall on my diet. Bad news for those of you with the same downfall because this Chex Mix Christmas Crack is just as the name suggests – hightly addictive and absolutely no good for your diet.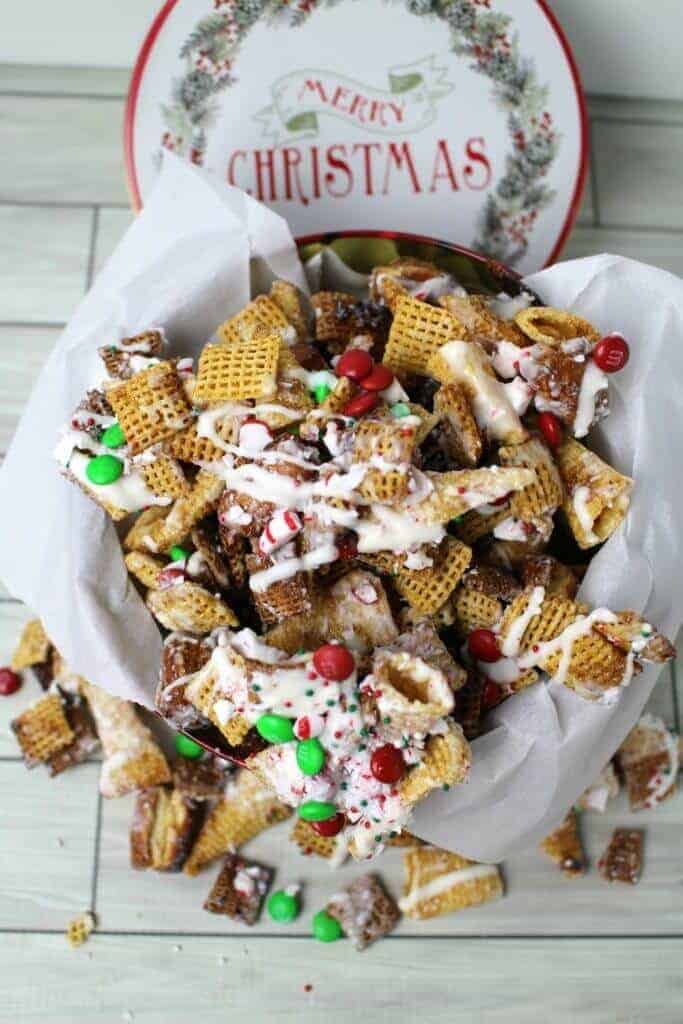 The recipe makes a HUGE batch. If you grab some cute holiday tins, you can make some super cute gifts for friends and family.
Here is what you need:
Two boxes of Chex Cereal – pick TWO DIFFERENT flavors (use smaller sized boxes…i.e. 12 oz box)
One package (16 oz bag) of Snyder's Sourdough Pretzel Nibblers
One package (7.5 oz bag) of Bugles
One package of Christmas mini M&Ms
White Candy Melts – I used CandiQuik, it melts amazing (you will need 1 -2 packages of the CandiQuik candy melts)!
One package of Starlight Peppermints
Christmas Sprinkles
Here is what you do:
Cover two baking sheets with parchment paper or a silicon baking mat
In a ziplock bag, crush approx. 30 peppermints (I used the flat side of a meat tenderizer) to crush them very finely
In a VERY large bowl combine Chex Cereal, Bugles and pretzels
Melt the candy melts according to the instructions on the package
In small increments, drizzle the candy melts over the dry mixture and immediately sprinkle the M&Ms, crushed peppermint and sprinkles on the candy (so it sticks to the candy).
Mix gently with a spoon until all ingredients are evenly coated.
Repeat this step until all of the melted candy is mixed in with the dry mixture.
Divide the mixture in half and spread in even layers on the baking sheets.
Let the candy set (if you are in a rush, you can put it in the refrigerator for a few minutes until it sets)
Break apart and serve – you can store in a airtight container
Looking for some other great holiday treats – just click on the pictures below!
Sign up for the Princess Pinky Girl Newsletter and automatically receive our latest & greatest delivered right to your inbox! Follow Princess Pinky Girl on Facebook, Twitter, Pinterest and Instagram for all of the newest recipes, crafts, travels and updates!
If you make a Princess Pinky Girl creation make sure you take a picture and share it on Instagram with @princesspinkygirl ! I love seeing your masterpieces!